Like some other users I have problems with nvidia drivers and the new Manjaro update.
I was so lucky that I can boot the system as always, mhwd don´t show any nvidia drivers installed, but I can use my previously installed drivers 430xx which for some reason are installed from AUR repositories by Manjaro Kernel Manager.
So the situation right now is: I have aparently no drivers installed, but I have nvidia utils installed from AUR and I can see that I´m using nvidia drivers 430xx right now, but some applications don´t detect it (I need opencl in some apps and they show me a "no gpu acceleration available") warning.
I currently have this packages installed related to nvidia:

What should I do? I tried the instructions here [Stable Update] 2020-12-30 - Kernels, KDE, Cinnamon, LibreOffice, Python 3.9, Mesa 20.3.1
And tried
sudo mhwd -a pci nonfree 0300
but it says
:: nvidia-utils and nvidia-430xx-utils are in conflict
so I tried to uninstall nvidia-430xx-utils from TTY and it says this: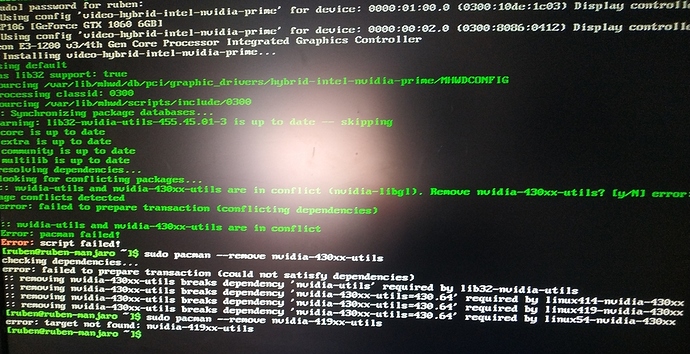 So apparently I have to delete all the linux-nvidia packages, which are the kernels and so I have to delete all the kernels to update the nvidia drivers which has no sense at all. I am using kernel 5.4 right now, and I tried booting 5.10 and it says that it can´t start a graphical session.
What should I do? help me please.