Hello,
I have a Dell XPS 13 9360 with Manjaro stable and the 5.15 kernel and Plasma. I am using btrfs.
I decided to perform an update today, which also included some AUR packages. The AUR packages include ceph-llibs, deadbeef and some others. ceph in particular required a lot of time and resources to build and has failed a few times before. During the update, it seems that I ran out of disk space based on the messages in pamac, and the desktop environment seemed broken (the KDE tray stopped appearing) and I wasn't sure what to do…
When I checked the disk space with df -h, it seemed like I had about 13GB left, which I thought might be due to a cleanup, or maybe it's due to btrfs not being able to calculate free space very well (from what I heard)
I decided to reboot the machine using the shutdown -r command, but that was stuck, so I force switched it off.
Now when I switch it on, it seems to get stuck while booting. this is what I get: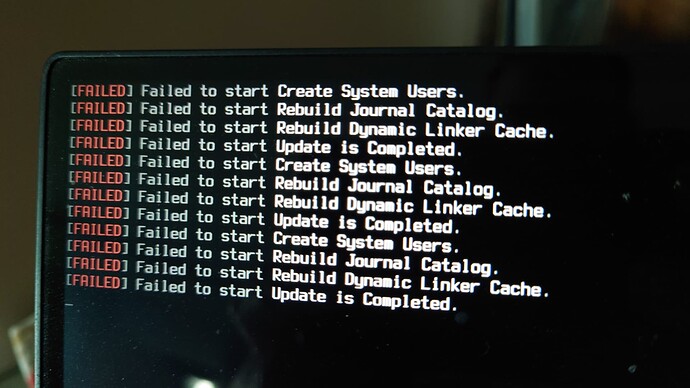 I'm not sure what to do next. I tried to get into grub to enable verbose logging, but I'm not sure how to do that either because it never appears after I power on the computer, and I'm using UEFI.