Hello community,
Another testing branch update with some usual updates for you.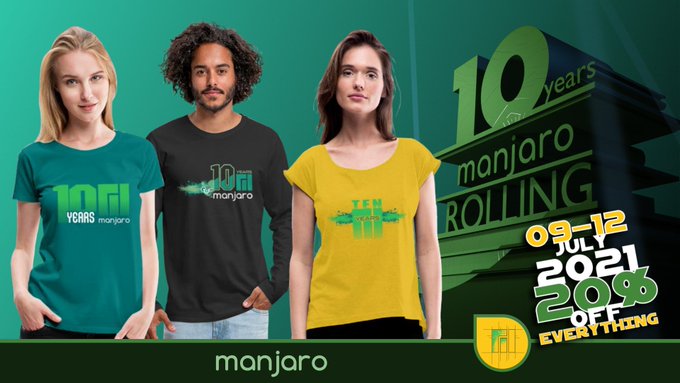 Don't miss out on our 10 years anniversary. Checkout our goodies…
Note: use 'sudo pacman -Syyuu' for this one!
Downgrade Xorg-Server back to 1.20.11 due to reported issues
Most of our Kernels got updated
Systemd is now at 249
KDE Framework got upded to 5.84.0
More KDE-Git updates
Other regular upstream updates
Get our latest daily developer images now from Github: Plasma, Gnome, XFCE. You get the latest stable releases of Manjaro from CDN77.
---
Our current supported kernels
linux44 4.4.275
linux49 4.9.275
linux414 4.14.239
linux419 4.19.197
linux54 5.4.131
linux510 5.10.49
linux512 5.12.16
linux513 5.13.1
linux510-rt 5.10.35_rt39
linux511-rt 5.11.4_rt11
Package Updates (Mon Jul 12 11:48:00 CEST 2021)
testing community x86_64: 34 new and 32 removed package(s)
testing core x86_64: 18 new and 18 removed package(s)
testing extra x86_64: 183 new and 183 removed package(s)
testing kde-unstable x86_64: 71 new and 71 removed package(s)
testing multilib x86_64: 3 new and 3 removed package(s)
:: Different overlay package(s) in repository community x86_64

-------------------------------------------------------------------------------
                             PACKAGE           2021-07-11           2021-07-12
-------------------------------------------------------------------------------
                 breath2-icon-themes             1.0.13-1             1.0.14-1
                   breath2-wallpaper             1.0.13-1             1.0.14-1
                               ferdi             5.5.0-21             5.5.0-22
     ferdi-manjaro 5.6.0.beta.5.r383.gddbf1642-1 5.6.0.beta.5.r394.gf4243601-1
            firefox-gnome-theme-maia           20210522-1           20210711-1
  gnome-shell-extension-dash-to-dock     69+14+g302c693-2     69+14+g302c693-3
                                nemo              5.0.3-2              5.0.3-3
              plasma5-themes-breath2             1.0.13-1             1.0.14-1
       plasma5-themes-breath2-shells             1.0.13-1             1.0.14-1
                  sddm-breath2-theme             1.0.13-1             1.0.14-1


:: Different sync package(s) in repository community x86_64

-------------------------------------------------------------------------------
                             PACKAGE           2021-07-11           2021-07-12
-------------------------------------------------------------------------------
                             chezmoi              2.1.0-1              2.1.1-1
                            cppcheck              2.4.1-2                2.5-1
                         easyeffects              6.0.1-1              6.0.2-1
                         endless-sky             0.9.13-2             0.9.14-1
                endless-sky-high-dpi             0.9.13-2             0.9.14-1
                               gpgit            1:1.4.1-1            1:1.5.0-1
                             haproxy              2.4.1-1              2.4.2-1
                               hexyl              0.8.0-1              0.9.0-1
                            innernet              1.3.1-1              1.4.0-1
                                mako                1.5-1                1.6-1
                    openimagedenoise              1.4.0-1              1.4.1-1
                         openvswitch             2.14.2-1             2.15.1-1
                   python-simplejson             3.17.2-4             3.17.3-1
                       python-sphinx              4.0.3-1              4.1.0-1
                            qtractor             0.9.22-1             0.9.23-1
                             remmina           1:1.4.19-1           1:1.4.20-1
                               tiled              1.7.0-1              1.7.1-1
                          unrealircd            5.2.0.1-1            5.2.1.1-1
                    uutils-coreutils              0.0.6-1              0.0.7-1
         v2ray-domain-list-community     20210709152606-1     20210711091359-1
                           virtualgl              2.6.5-1              2.6.5-2
                              wcslib                7.6-1                7.7-1
                            sqlx-cli                    -              0.5.5-2
                             wmfocus                    -              1.2.0-1


:: Different overlay package(s) in repository core x86_64

-------------------------------------------------------------------------------
                             PACKAGE           2021-07-11           2021-07-12
-------------------------------------------------------------------------------
                            linux414           4.14.238-2           4.14.239-1
                    linux414-headers           4.14.238-2           4.14.239-1
                            linux419           4.19.196-2           4.19.197-1
                    linux419-headers           4.19.196-2           4.19.197-1
                             linux44            4.4.274-2            4.4.275-1
                     linux44-headers            4.4.274-2            4.4.275-1
                             linux49            4.9.274-2            4.9.275-1
                     linux49-headers            4.9.274-2            4.9.275-1
                            linux510            5.10.48-1            5.10.49-1
                    linux510-headers            5.10.48-1            5.10.49-1
                            linux512            5.12.15-1            5.12.16-1
                    linux512-headers            5.12.15-1            5.12.16-1
                             linux54            5.4.130-1            5.4.131-1
                     linux54-headers            5.4.130-1            5.4.131-1
                             systemd              248.3-4                249-2
                        systemd-libs              248.3-4                249-2
                  systemd-resolvconf              248.3-4                249-2
                  systemd-sysvcompat              248.3-4                249-2


:: Different overlay package(s) in repository extra x86_64

-------------------------------------------------------------------------------
                             PACKAGE           2021-07-11           2021-07-12
-------------------------------------------------------------------------------
               calamares-git 3.2.40.r9744.16de7a071-1 3.2.40.r9758.58cafbd98-1
                  linux414-acpi_call            1.1.0-212            1.1.0-213
                   linux414-bbswitch              0.8-212              0.8-213
                linux414-broadcom-wl     6.30.223.271-212     6.30.223.271-213
                linux414-ndiswrapper              1.63-62              1.63-63
               linux414-nvidia-390xx           390.143-10           390.143-11
                     linux414-nvidia          470.42.01-3          470.42.01-4
                   linux414-nvidiabl             0.88-212             0.88-213
                      linux414-r8168           8.049.02-1           8.049.02-2
                  linux414-rt3562sta       2.4.1.1_r4-208       2.4.1.1_r4-209
                   linux414-tp_smapi             0.43-104             0.43-105
                linux414-vhba-module          20210418-10          20210418-11
    linux414-virtualbox-host-modules            6.1.22-10            6.1.22-11
                        linux414-zfs              2.1.0-1              2.1.0-2
                  linux419-acpi_call            1.1.0-190            1.1.0-191
                   linux419-bbswitch              0.8-190              0.8-191
                linux419-broadcom-wl     6.30.223.271-189     6.30.223.271-190
                linux419-ndiswrapper              1.63-80              1.63-81
               linux419-nvidia-390xx           390.143-12           390.143-13
                     linux419-nvidia          470.42.01-3          470.42.01-4
                   linux419-nvidiabl             0.88-189             0.88-190
                      linux419-r8168           8.049.02-1           8.049.02-2
                  linux419-rtl8723bu          20210519-11          20210519-12
                   linux419-tp_smapi             0.43-139             0.43-140
                linux419-vhba-module          20210418-12          20210418-13
    linux419-virtualbox-host-modules            6.1.22-12            6.1.22-13
                        linux419-zfs              2.1.0-1              2.1.0-2
                   linux44-acpi_call            1.1.0-206            1.1.0-207
                    linux44-bbswitch              0.8-206              0.8-207
                 linux44-broadcom-wl     6.30.223.271-176     6.30.223.271-177
                 linux44-ndiswrapper              1.63-54              1.63-55
                linux44-nvidia-390xx           390.143-10           390.143-11
                      linux44-nvidia          470.42.01-3          470.42.01-4
                    linux44-nvidiabl             0.88-206             0.88-207
                       linux44-r8168           8.049.02-1           8.049.02-2
                   linux44-rt3562sta       2.4.1.1_r4-163       2.4.1.1_r4-164
                    linux44-tp_smapi              0.43-85              0.43-86
                 linux44-vhba-module          20210418-10          20210418-11
     linux44-virtualbox-host-modules            6.1.22-10            6.1.22-11
                         linux44-zfs              2.1.0-1              2.1.0-2
                   linux49-acpi_call            1.1.0-220            1.1.0-221
                    linux49-bbswitch              0.8-220              0.8-221
                 linux49-broadcom-wl     6.30.223.271-220     6.30.223.271-221
                 linux49-ndiswrapper              1.63-54              1.63-55
                linux49-nvidia-390xx           390.143-10           390.143-11
                      linux49-nvidia          470.42.01-3          470.42.01-4
                    linux49-nvidiabl             0.88-220             0.88-221
                       linux49-r8168           8.049.02-1           8.049.02-2
                   linux49-rt3562sta       2.4.1.1_r4-204       2.4.1.1_r4-205
                    linux49-tp_smapi              0.43-88              0.43-89
                 linux49-vhba-module          20210418-10          20210418-11
     linux49-virtualbox-host-modules            6.1.22-10            6.1.22-11
                         linux49-zfs              2.1.0-1              2.1.0-2
                  linux510-acpi_call             1.1.0-65             1.1.0-66
                   linux510-bbswitch               0.8-65               0.8-66
                linux510-broadcom-wl      6.30.223.271-66      6.30.223.271-67
               linux510-nvidia-390xx           390.143-20           390.143-21
                     linux510-nvidia          470.42.01-4          470.42.01-5
                      linux510-r8168           8.049.02-2           8.049.02-3
                  linux510-rtl8723bu          20210519-13          20210519-14
                   linux510-tp_smapi              0.43-65              0.43-66
                linux510-vhba-module          20210418-20          20210418-21
    linux510-virtualbox-host-modules            6.1.22-19            6.1.22-20
                        linux510-zfs              2.1.0-2              2.1.0-3
                  linux512-acpi_call             1.1.0-22             1.1.0-23
                   linux512-bbswitch               0.8-22               0.8-23
                linux512-broadcom-wl      6.30.223.271-22      6.30.223.271-23
               linux512-nvidia-390xx           390.143-22           390.143-23
                     linux512-nvidia          470.42.01-4          470.42.01-5
                      linux512-r8168           8.049.02-2           8.049.02-3
                  linux512-rtl8723bu          20210519-15          20210519-16
                   linux512-tp_smapi              0.43-22              0.43-23
                linux512-vhba-module          20210418-22          20210418-23
    linux512-virtualbox-host-modules            6.1.22-21            6.1.22-22
                        linux512-zfs              2.1.0-2              2.1.0-3
                   linux54-acpi_call            1.1.0-140            1.1.0-141
                    linux54-bbswitch              0.8-140              0.8-141
                 linux54-broadcom-wl     6.30.223.271-140     6.30.223.271-141
                 linux54-ndiswrapper              1.63-96              1.63-97
                linux54-nvidia-390xx           390.143-20           390.143-21
                      linux54-nvidia          470.42.01-4          470.42.01-5
                    linux54-nvidiabl             0.88-140             0.88-141
                       linux54-r8168           8.049.02-2           8.049.02-3
                   linux54-rtl8723bu          20210519-13          20210519-14
                    linux54-tp_smapi             0.43-140             0.43-141
                 linux54-vhba-module          20210418-20          20210418-21
     linux54-virtualbox-host-modules            6.1.22-19            6.1.22-20
                         linux54-zfs              2.1.0-2              2.1.0-3
                         xorg-server            1.20.12-1            1.20.11-1
                  xorg-server-common            1.20.12-1            1.20.11-1
                   xorg-server-devel            1.20.12-1            1.20.11-1
                  xorg-server-xephyr            1.20.12-1            1.20.11-1
                   xorg-server-xnest            1.20.12-1            1.20.11-1
                    xorg-server-xvfb            1.20.12-1            1.20.11-1


:: Different sync package(s) in repository extra x86_64

-------------------------------------------------------------------------------
                             PACKAGE           2021-07-11           2021-07-12
-------------------------------------------------------------------------------
                              attica             5.83.0-1             5.84.0-1
                               baloo             5.83.0-1             5.84.0-1
                            bluez-qt             5.83.0-1             5.84.0-1
                        breeze-icons             5.83.0-1             5.84.0-1
                             digikam              7.2.0-5              7.3.0-1
                 extra-cmake-modules             5.83.0-1             5.84.0-1
                frameworkintegration             5.83.0-1             5.84.0-1
                  gnome-disk-utility               40.1-2               40.2-1
                         kactivities             5.83.0-1             5.84.0-1
                   kactivities-stats             5.83.0-1             5.84.0-1
                             kapidox             5.83.0-1             5.84.0-1
                            karchive             5.83.0-1             5.84.0-1
                               kauth             5.83.0-1             5.84.0-1
                          kbookmarks             5.83.0-1             5.84.0-1
                       kcalendarcore             5.83.0-1             5.84.0-1
                            kcmutils             5.83.0-1             5.84.0-1
                             kcodecs             5.83.0-1             5.84.0-1
                         kcompletion             5.83.0-1             5.84.0-1
                             kconfig             5.83.0-1             5.84.0-1
                      kconfigwidgets             5.83.0-1             5.84.0-1
                           kcontacts           1:5.83.0-1           1:5.84.0-1
                         kcoreaddons             5.83.0-1             5.84.0-1
                              kcrash             5.83.0-1             5.84.0-1
                                kdav           1:5.83.0-1           1:5.84.0-1
                         kdbusaddons             5.83.0-1             5.84.0-1
                        kdeclarative             5.83.0-1             5.84.0-1
                                kded             5.83.0-1             5.84.0-1
                     kdelibs4support             5.83.0-1             5.84.0-1
                     kdesignerplugin             5.83.0-1             5.84.0-1
                               kdesu             5.83.0-1             5.84.0-1
                           kdewebkit             5.83.0-1             5.84.0-1
                              kdnssd             5.83.0-1             5.84.0-1
                           kdoctools             5.83.0-1             5.84.0-1
                          kemoticons             5.83.0-1             5.84.0-1
                       kfilemetadata             5.83.0-1             5.84.0-1
                        kglobalaccel             5.83.0-1             5.84.0-1
                          kguiaddons             5.83.0-1             5.84.0-1
                           kholidays           1:5.83.0-1           1:5.84.0-1
                               khtml             5.83.0-1             5.84.0-1
                               ki18n             5.83.0-1             5.84.0-1
                         kiconthemes             5.83.0-1             5.84.0-1
                           kidletime             5.83.0-1             5.84.0-1
                       kimageformats             5.83.0-4             5.84.0-1
                               kinit             5.83.0-1             5.84.0-1
                                 kio             5.83.0-1             5.84.0-1
                           kirigami2             5.83.0-1             5.84.0-1
                         kitemmodels             5.83.0-1             5.84.0-1
                          kitemviews             5.83.0-1             5.84.0-1
                         kjobwidgets             5.83.0-1             5.84.0-1
                                 kjs             5.83.0-1             5.84.0-1
                            kjsembed             5.83.0-1             5.84.0-1
                        kmediaplayer             5.83.0-1             5.84.0-1
                           knewstuff             5.83.0-1             5.84.0-1
                      knotifications             5.83.0-1             5.84.0-1
                       knotifyconfig             5.83.0-1             5.84.0-1
                            kpackage             5.83.0-1             5.84.0-1
                              kparts             5.83.0-1             5.84.0-1
                             kpeople             5.83.0-1             5.84.0-1
                           kplotting             5.83.0-1             5.84.0-1
                                kpty             5.83.0-1             5.84.0-1
                        kquickcharts             5.83.0-1             5.84.0-1
                               kross             5.83.0-1             5.84.0-1
                             krunner             5.83.0-1             5.84.0-1
                            kservice             5.83.0-1             5.84.0-1
                         ktexteditor             5.83.0-1             5.84.0-1
                        ktextwidgets             5.83.0-1             5.84.0-1
                     kunitconversion             5.83.0-1             5.84.0-1
                             kwallet             5.83.0-1             5.84.0-1
                            kwayland             5.83.0-1             5.84.0-1
                      kwidgetsaddons             5.83.0-1             5.84.0-1
                       kwindowsystem             5.83.0-1             5.84.0-1
                             kxmlgui             5.83.0-1             5.84.0-1
                       kxmlrpcclient             5.83.0-1             5.84.0-1
                  mkinitcpio-archiso                 56-1               56.1-1
                     modemmanager-qt             5.83.0-1             5.84.0-1
                   networkmanager-qt             5.83.0-1             5.84.0-1
                        oxygen-icons           1:5.83.0-1           1:5.84.0-1
                    oxygen-icons-svg           1:5.83.0-1           1:5.84.0-1
                    plasma-framework             5.83.0-1             5.84.0-1
                              prison             5.83.0-1             5.84.0-1
                             purpose             5.83.0-1             5.84.0-1
                         python-cffi             1.14.5-1             1.14.6-1
                        python2-cffi             1.14.5-1             1.14.6-1
                  qqc2-desktop-style             5.83.0-1             5.84.0-1
                               solid             5.83.0-1             5.84.0-1
                              sonnet             5.83.0-1             5.84.0-1
                         syndication             5.83.0-1             5.84.0-1
                 syntax-highlighting             5.83.0-1             5.84.0-1
                        threadweaver             5.83.0-1             5.84.0-1


:: Different overlay package(s) in repository kde-unstable x86_64

-------------------------------------------------------------------------------
                             PACKAGE           2021-07-11           2021-07-12
-------------------------------------------------------------------------------
                             akonadi21.04.3.r12516.g93758aa11-121.04.3.r12517.g7849719ad-1
                    akonadi-calendar21.04.3.r1956.gc770d10-121.04.3.r1957.gc471bcd-1
              akonadi-calendar-tools21.04.3.r874.g2e6d552-121.04.3.r876.g6b18da3-1
                    akonadi-contacts21.04.3.r3024.g614a0d92-121.04.3.r3025.gb91ab23d-1
               akonadi-import-wizard21.04.3.r1718.g43e6972-121.04.3.r1720.gf4ac9fa-1
                        akonadi-mime21.04.3.r1628.ge51f753-121.04.3.r1629.ga655c95-1
                       akonadi-notes21.04.3.r1012.g430d2cf-121.04.3.r1013.g3ddecb2-1
                      akonadi-search21.04.3.r1105.gb33ef01-121.04.3.r1106.g49c9837-1
                      akonadiconsole21.04.3.r1500.gd183e56-121.04.3.r1501.g7eef7f3-1
                           akregator21.04.3.r6175.g8c1e30ff-121.04.3.r6176.g372cc909-1
                     calendarsupport21.04.3.r565.g6d850c1-121.04.3.r566.ge222d75-1
                               elisa21.04.3.r2735.gdaf35e3d-121.04.3.r2736.g7fb3d070-1
                          eventviews21.04.3.r668.g3014d55-121.04.3.r669.gff0d774-1
                     grantlee-editor21.04.3.r753.ge9c63a8-121.04.3.r754.g9870fa0-1
                       grantleetheme21.04.3.r330.g34a43de-121.04.3.r331.g05475f0-1
                     incidenceeditor21.04.3.r741.g1fe1af6-121.04.3.r742.gb91c878-1
                        kaddressbook21.04.3.r5997.gfa671ad9-121.04.3.r5998.g79f2457d-1
                              kalarm21.04.3.r6397.g74325f9d-121.04.3.r6398.g503a711e-1
                           kalarmcal21.04.3.r1120.g776f520-121.04.3.r1121.g667bf5f-1
                               kasts 21.06.r63.gbdfa9f0-1 21.06.r66.g17f235f-1
                                kate21.04.3.r18273.ga030beb3c-121.04.3.r18279.g88c6ab08f-1
                       kcalendarcore5.83.0.r1218.gaaab12e32-15.83.0.r1219.ga2df8844b-1
                           kcalutils21.04.3.r853.g4d76234e9-121.04.3.r854.g11d58ffb1-1
                      kconfigwidgets5.83.0.r594.gca482f1-15.83.0.r595.g9381bbe-1
                               kcron21.04.3.r773.gd10d4db-121.04.3.r774.g21f917d-1
                      kdebugsettings21.04.3.r816.gad08719-121.04.3.r824.ga3a6a99-1
                       kdepim-addons21.04.3.r4227.ge5e74b5d-121.04.3.r4231.gd2a16963-1
                      kdepim-runtime21.04.3.r15142.gaa080e4cd-121.04.3.r15145.g74ef1624e-1
                 kidentitymanagement21.04.3.r3790.g13e64e89-121.04.3.r3792.g0b2875ba-1
                               kimap21.04.3.r1099.gf208eda-121.04.3.r1100.ga376bc4-1
                           kirigami25.83.0.r2827.gca0613ce-15.83.0.r2828.ga1b3913e-1
                          kitinerary21.04.3.r1819.g636ed1c-121.04.3.r1820.g5058071-1
                               kldap21.04.3.r867.gabcde43-121.04.3.r868.g174e41b-1
                           kleopatra21.04.3.r5912.g6fcb52f2-121.04.3.r5913.gbb92dfd2-1
                              klines21.04.3.r737.ga8f6a45-121.04.3.r740.g0ab7edb-1
                               kmail21.04.3.r25833.g6d1037b38-121.04.3.r25834.g3d3c8cd4a-1
                kmail-account-wizard21.04.3.r789.gd5dac26-121.04.3.r790.g8a1654a-1
                      kmailtransport21.04.3.r1618.gfc5b498-121.04.3.r1619.gae8911b-1
                               kmbox21.04.3.r527.g83803b0-121.04.3.r528.g3176ee3-1
                               kmime21.04.3.r1439.g54a0081-121.04.3.r1440.g43a6ce0-1
                              knotes21.04.3.r3472.gd80c5215-121.04.3.r3473.g1891433d-1
                             kontact21.04.3.r5334.gee3b44d7-121.04.3.r5335.g829a61e4-1
                    kontactinterface21.04.3.r619.g0a55daa-121.04.3.r620.g9ea7cf2-1
                          korganizer21.04.3.r11402.g0b52665a7-121.04.3.r11403.g281f79894-1
                        kpimtextedit21.04.3.r1391.gd4bd96c-121.04.3.r1392.gc08755a-1
                             kpkpass21.04.3.r228.gae0f666-121.04.3.r229.g16211f8-1
                               ksmtp21.04.3.r355.g568aabe-121.04.3.r357.g6357856-1
                          ksystemlog21.04.3.r647.g73699c0-121.04.3.r648.ga5b2adc-1
                         ktexteditor5.83.0.r2902.g7e7f454d-15.83.0.r2903.g6a7e6286-1
                               ktnef21.04.3.r653.g18465b3-121.04.3.r654.g3cb0be9-1
                              kwrite21.04.3.r18273.ga030beb3c-121.04.3.r18279.g88c6ab08f-1
                          libakonadi21.04.3.r12516.g93758aa11-121.04.3.r12517.g7849719ad-1
                         libgravatar21.04.3.r357.g9f889eb-121.04.3.r358.g027f657-1
                         libkdegames21.04.3.r2180.g2c7d3c92-121.04.3.r2181.g4e7bbf7f-1
                           libkdepim21.04.3.r837.g598ba87-121.04.3.r839.gc514137-1
                            libkgapi21.04.3.r1284.gece0c21-121.04.3.r1285.g9c05e62-1
                             libkleo21.04.3.r912.g959202f-121.04.3.r913.g1ff8583-1
                        libkmahjongg21.04.3.r452.g51782b7-121.04.3.r453.g0d54bba-1
                           libksieve21.04.3.r1544.g46ebfa3b-121.04.3.r1545.g3300d331-1
                          mailcommon21.04.3.r1052.g5c2a5f0-121.04.3.r1053.g53624c3-1
                        mailimporter21.04.3.r460.g44b01f7-121.04.3.r461.g3677c0d-1
                       mbox-importer21.04.3.r501.gf10f3b2-121.04.3.r502.gfe6e5f9-1
                          messagelib21.04.3.r6060.g20eecc71-121.04.3.r6064.g53ee55c8-1
                   pim-data-exporter21.04.3.r2420.g0cea7e4c-121.04.3.r2421.gb2205fd4-1
                    pim-sieve-editor21.04.3.r1492.g08c3b67-121.04.3.r1493.ge0cae80-1
                           pimcommon21.04.3.r1061.gc62573e-121.04.3.r1063.g88519b7-1
          telepathy-kde-auth-handler21.04.2.r276.g48e529c-121.04.3.r277.g1db14c4-1
               telepathy-kde-call-ui21.04.2.r445.g8815182-121.04.3.r445.g8815182-1
          telepathy-kde-contact-list21.04.2.r1084.gd88224a-121.04.3.r1085.g6ede63e-1
             telepathy-kde-send-file21.04.2.r227.g53297c0-121.04.3.r228.g376d937-1
               telepathy-kde-text-ui21.04.2.r2019.g2cae1c7-121.04.3.r2020.gf0e1be3-1


:: Different overlay package(s) in repository multilib x86_64

-------------------------------------------------------------------------------
                             PACKAGE           2021-07-11           2021-07-12
-------------------------------------------------------------------------------
                       lib32-systemd              248.3-1                249-1


:: Different sync package(s) in repository multilib x86_64

-------------------------------------------------------------------------------
                             PACKAGE           2021-07-11           2021-07-12
-------------------------------------------------------------------------------
                        lib32-mpg123             1.28.0-1             1.28.1-1
                               zsnes              2.0.2-1              2.0.8-1




No issue, everything went smoothly
Yes there was an issue. I was able to resolve it myself.(Please post your solution)
Yes i am currently experiencing an issue due to the update. (Please post about it)
Check if your mirror has already synced: