Hello community,
Another unstable branch update with some usual updates for you.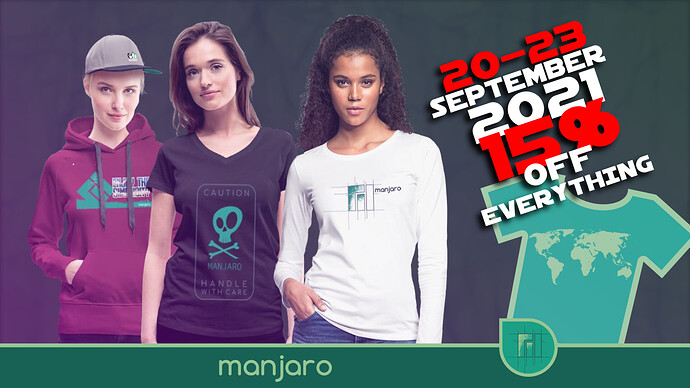 Don't miss out on 15% discount on all of our merch
Nvidia got updated to 470.74
ZFS is now at 2.1.1
Regular KDE-git updates
Other regular upstream updates
Get our latest daily developer images now from Github: Plasma, Gnome, XFCE. You get the latest stable releases of Manjaro from CDN77.
---
Our current supported kernels
linux44 4.4.283
linux49 4.9.282
linux414 4.14.246
linux419 4.19.206
linux54 5.4.147
linux510 5.10.67
linux512 5.12.19 [EOL]
linux513 5.13.19 [EOL]
linux514 5.14.6
linux515 5.15-rc2
linux510-rt 5.10.52_rt47
Package Updates (Tue Sep 21 00:15:46 CEST 2021)
:: Different overlay package(s) in repository community x86_64

-------------------------------------------------------------------------------
                             PACKAGE           2021-09-20           2021-09-21
-------------------------------------------------------------------------------
                  linux510-rt-nvidia          470.63.01-1             470.74-1


:: Different sync package(s) in repository community x86_64

-------------------------------------------------------------------------------
                             PACKAGE           2021-09-20           2021-09-21
-------------------------------------------------------------------------------
                            asciidoc              9.1.0-1              9.1.1-2
                         baidupcs-go              3.8.2-1              3.8.3-1
                                cimg              2.9.8-1              2.9.9-1
                              cobalt             0.17.0-1             0.17.1-1
                             dua-cli             2.14.6-1             2.14.7-1
                       gitlab-gitaly             14.2.3-1             14.2.4-1
                           gscan2pdf             2.12.2-1             2.12.3-1
                      ibus-libpinyin             1.12.0-1             1.12.1-1
                            kylin-nm              3.0.1-1              3.0.2-1
                       libimagequant             2.15.1-1             2.16.0-1
                    maliit-framework              2.0.0-2              2.1.0-1
                     maliit-keyboard              2.0.0-2              2.1.0-1
                     noise-repellent              0.1.5-2              0.1.5-3
      ocaml-compiler-libs-repackaged             0.12.3-2             0.12.4-1
                                 pan              0.146-3              0.147-1
                         perl-dbd-pg              3.9.0-1              3.9.1-1
              perl-proc-processtable               0.59-3               0.60-1
                  phrase-pinyin-data             0.10.5-1             0.11.0-1
                         pinyin-data             0.10.2-1             0.11.0-1
                             postgis              3.1.3-1              3.1.4-1
                               pyenv              2.0.7-1              2.0.7-2
                  python-elementpath              2.3.0-1              2.3.1-1
                  python-google-auth             1.33.0-1             1.33.1-1
           python-jsonschema-objects             0.3.14-1             0.3.15-1
                python-keystoneauth1              4.3.1-2              4.4.0-1
                       python-poetry              1.1.8-1              1.1.9-1
                      python-pyliblo             0.10.0-7             0.10.0-8
              python-pytest-randomly              3.8.0-1              3.9.0-1
                python-pytest-socket              0.4.0-1              0.4.1-1
                       python-thrift             0.14.0-1             0.14.1-1
                     python-watchdog             0.10.6-1             0.10.7-1
                             shotgun              2.2.0-2              2.2.1-1
                       subdownloader              2.1.0-5              2.1.0-6
                               tclap              1.2.2-2              1.2.3-1
                    telegram-desktop              3.0.1-1              3.1.0-1
                        vim-nerdtree            6.10.11-1            6.10.12-1
                               xonsh             0.10.0-1             0.10.1-1


:: Different overlay package(s) in repository core x86_64

-------------------------------------------------------------------------------
                             PACKAGE           2021-09-20           2021-09-21
-------------------------------------------------------------------------------
                         mhwd-nvidia          470.63.01-1             470.74-1
                          mkinitcpio                 30-2                 30-3


:: Different overlay package(s) in repository extra x86_64

-------------------------------------------------------------------------------
                             PACKAGE           2021-09-20           2021-09-21
-------------------------------------------------------------------------------
                     linux414-nvidia          470.63.01-4             470.74-1
                        linux414-zfs              2.1.0-9              2.1.1-1
                     linux419-nvidia          470.63.01-5             470.74-1
                        linux419-zfs             2.1.0-11              2.1.1-1
                      linux44-nvidia          470.63.01-4             470.74-1
                         linux44-zfs             2.1.0-10              2.1.1-1
                      linux49-nvidia          470.63.01-4             470.74-1
                         linux49-zfs              2.1.0-9              2.1.1-1
                     linux510-nvidia         470.63.01-11             470.74-1
                        linux510-zfs             2.1.0-20              2.1.1-1
                     linux512-nvidia          470.63.01-1             470.74-1
                        linux512-zfs              2.1.0-5              2.1.1-1
                     linux513-nvidia         470.63.01-12             470.74-1
                        linux513-zfs             2.1.0-22              2.1.1-1
                     linux514-nvidia          470.63.01-9             470.74-1
                        linux514-zfs              2.1.0-9              2.1.1-1
                     linux515-nvidia        470.63.01-0.2           470.74-0.1
                      linux54-nvidia          470.63.01-9             470.74-1
                         linux54-zfs             2.1.0-18              2.1.1-1
                         nvidia-dkms          470.63.01-1             470.74-1
                        nvidia-utils          470.63.01-1             470.74-1
                       opencl-nvidia          470.63.01-1             470.74-1
                            zfs-dkms              2.1.0-1              2.1.1-1
                           zfs-utils              2.1.0-1              2.1.1-1


:: Different sync package(s) in repository extra x86_64

-------------------------------------------------------------------------------
                             PACKAGE           2021-09-20           2021-09-21
-------------------------------------------------------------------------------
                               msmtp             1.8.15-1             1.8.16-1
                           msmtp-mta             1.8.15-1             1.8.16-1
              perl-crypt-openssl-rsa               0.31-6               0.32-1
                         perl-libwww               6.56-1               6.57-1
                            pstoedit               3.75-5               3.76-1
          unicode-character-database             13.0.0-1             14.0.0-1
                   vulkan-icd-loader            1.2.190-1            1.2.191-1


:: Different overlay package(s) in repository kde-unstable x86_64

-------------------------------------------------------------------------------
                             PACKAGE           2021-09-20           2021-09-21
-------------------------------------------------------------------------------
                             akonadi21.08.1.r12588.g14868f1c9-121.08.1.r12590.g31edb845a-1
                    akonadi-calendar21.08.1.r1987.gd71f672-121.08.1.r1989.g3fd3365-1
              akonadi-calendar-tools21.08.1.r900.g0a8982d-121.08.1.r902.ga5cd50f-1
                    akonadi-contacts21.08.1.r3065.g4b2ab3e6-121.08.1.r3066.g9a05d8d3-1
               akonadi-import-wizard21.08.1.r1743.g225698e-121.08.1.r1745.g0fc338f-1
                        akonadi-mime21.08.1.r1651.g1083dd0-121.08.1.r1652.ga2973ce-1
                       akonadi-notes21.08.1.r1027.g1464a2e-121.08.1.r1028.g6af8bed-1
                      akonadi-search21.08.1.r1127.g8401fa9-121.08.1.r1128.g6664b36-1
                      akonadiconsole21.08.1.r1529.g65a1e13-121.08.1.r1530.gf049430-1
                           akregator21.08.1.r6225.gb5a43fac-121.08.1.r6226.g2fc15739-1
                           angelfish 21.08.r15.gc908fc5-1 21.08.r17.gd4141bf-1
                                 ark21.08.1.r4612.g552afb85-121.08.1.r4613.g3c563880-1
                             blinken21.08.1.r631.g91d0068-121.08.1.r633.g45f323c-1
                              bomber21.08.1.r525.g558fa34-121.08.1.r526.ge70e902-1
                              breeze5.22.5.r2263.g3fc6f79e-15.22.5.r2264.ga348854c-1
                             dolphin21.08.1.r6706.gcaa4afc15-121.08.1.r6708.gf8c292c55-1
                     dolphin-plugins21.08.1.r604.gffad27d-121.08.1.r606.gffcc33d-1
                          eventviews21.08.1.r41.g856e4a0-121.08.1.r44.ge4d1e83-1
                 extra-cmake-modules5.86.0.r3366.g6005d78-15.86.0.r3368.gdc86450-1
                     grantlee-editor21.08.1.r772.g536e258-121.08.1.r774.g4470014-1
                       grantleetheme21.08.1.r345.gc8462fc-121.08.1.r347.g68f3c9e-1
                            gwenview21.08.1.r6677.g2a066715-121.08.1.r6678.gcc4f6463-1
                     incidenceeditor21.08.1.r770.g053b758-121.08.1.r771.g944ba09-1
               kaccounts-integration21.08.1.r1222.g18ac4be-121.08.1.r1223.g926330d-1
                        kaddressbook21.08.1.r6045.ge7cf4a23-121.08.1.r6048.gca4e283a-1
                           kalarmcal21.08.1.r1146.g321d543-121.08.1.r1148.gfe25b13-1
                               kasts 21.08.r19.g6121f66-1 21.08.r20.g4b2da35-1
                                kate21.08.1.r18369.g41e34a863-121.08.1.r18370.g13c00b188-1
                           kbreakout21.08.1.r866.g56f83fc-121.08.1.r867.ge54c382-1
                         kcachegrind21.08.1.r1154.gb65ced6-121.08.1.r1156.g9579e5d-1
                  kcachegrind-common21.08.1.r1154.gb65ced6-121.08.1.r1156.g9579e5d-1
                           kcalutils21.08.1.r873.g6f9860860-121.08.1.r875.gf6da0419b-1
                            kcmutils5.86.0.r548.g5e7c27f-15.86.0.r549.g0ddc970-1
                         kcompletion5.86.0.r458.g6b74042-15.86.0.r459.g764f6bd-1
                             kconfig5.86.0.r864.g0b0a446-15.86.0.r865.g3090534-1
                         kcoreaddons5.86.0.r1297.g7f17d726-15.86.0.r1298.g61ce6c7b-1
                        kdeclarative5.86.0.r923.gefef008-15.86.0.r924.gf55b220-1
                          kdeconnect21.08.1.r3328.g47c34f80-121.08.1.r3329.ga3792aa7-1
              kdenetwork-filesharing21.08.1.r893.g2bb027c-121.08.1.r894.g73404b4-1
                       kdepim-addons21.08.1.r4339.gb392c577-121.08.1.r4343.ga1391f60-1
                      kdepim-runtime21.08.1.r15295.g6662d58bc-121.08.1.r15297.g61bd59e2b-1
                                kget21.08.1.r3122.g01e48861-121.08.1.r3123.g6c7c70c1-1
                 kidentitymanagement21.08.1.r3822.g6472f7ce-121.08.1.r3823.g1aefd8b5-1
                               kimap21.08.1.r1114.g8373182-121.08.1.r1115.g3157210-1
                                 kio5.86.0.r4995.g0da4114e-15.86.0.r5002.gcca84b63-1
                          kio-extras21.08.1.r7119.g2b112d58-121.08.1.r7120.gc22ffae3-1
                           kirigami25.86.0.r2893.gcc0dd9da-15.86.0.r2894.g59e3ee77-1
                          kitemviews5.86.0.r341.g39dc29e-15.86.0.r342.g30e9515-1
                          kitinerary21.08.1.r1941.g909055b-121.08.1.r1943.gc47f77e-1
                               kldap21.08.1.r887.g8d01d48-121.08.1.r888.g0736944-1
                           kleopatra21.08.1.r5998.g107abfdb-121.08.1.r5999.g98a3a257-1
                               kmail21.08.1.r25970.g6b9c2c8dd-121.08.1.r25973.g2b6bdedce-1
                kmail-account-wizard21.08.1.r820.g7cfb5bc-121.08.1.r821.ga909bb0-1
                      kmailtransport21.08.1.r1659.gb49ee72-121.08.1.r1660.g798e269-1
                               kmbox21.08.1.r543.gd622575-121.08.1.r544.g0ac9465-1
                               kmime21.08.1.r1459.gb438f9f-121.08.1.r1460.g1818a41-1
                              knotes21.08.1.r3520.ge4304278-121.08.1.r3522.g8b0d1ff7-1
                      knotifications5.86.0.r681.g37e7a37-15.86.0.r682.gf0ce72d-1
                           konqueror21.08.1.r14950.g631f6df83-121.08.1.r14955.g1414698ee-1
                             konsole21.08.1.r7947.g7383c16d-121.08.1.r7948.ga8a2b9a7-1
                             kontact21.08.1.r5386.g107a6a4b-121.08.1.r5387.gd65cd430-1
                    kontactinterface21.08.1.r634.gaaf989a-121.08.1.r635.g7acfd78-1
                          korganizer21.08.1.r11502.g9e36933f8-121.08.1.r11504.g5a10b2868-1
                        kpimtextedit21.08.1.r1447.g008ea3d-121.08.1.r1450.g977151e-1
                             kpkpass21.08.1.r241.g9730a32-121.08.1.r242.g9dd3732-1
                                krdc21.08.1.r1539.g8111867-121.08.1.r1540.g8610267-1
                             kscreen5.22.5.r1361.g0f5d8dd-15.22.5.r1366.g7ca8821-1
                               ksmtp21.08.1.r374.gb33f063-121.08.1.r375.gc0032d7-1
                        ktextwidgets5.86.0.r414.g8901446-15.86.0.r415.ge76a94f-1
                               ktnef21.08.1.r668.gd23f1e0-121.08.1.r669.g7ab3a4e-1
                     kwayland-server5.22.5.r1391.g7354d8d-15.22.5.r1392.g3551f60-1
                                kwin5.22.5.r20018.gcf7cc0d43-15.22.5.r20028.g095f95384-1
                              kwrite21.08.1.r18369.g41e34a863-121.08.1.r18370.g13c00b188-1
                          libakonadi21.08.1.r12588.g14868f1c9-121.08.1.r12590.g31edb845a-1
                         libgravatar21.08.1.r370.g7a5a285-121.08.1.r371.g3b0380a-1
                           libkdepim21.08.1.r851.g98eefb0-121.08.1.r852.g7b05740-1
                             libkleo21.08.1.r936.gfb48fe2-121.08.1.r937.g1c22ac4-1
                           libksieve21.08.1.r1591.g50f92b36-121.08.1.r1593.g09806745-1
                            lokalize21.08.1.r1777.gb19ef8f3-121.08.1.r1778.g62ba613a-1
                          mailcommon21.08.1.r1116.g2a20c75-121.08.1.r1117.gce67d3e-1
                        mailimporter21.08.1.r474.ga51c10c-121.08.1.r475.ga9dd033-1
                    maliit-framework0.99.1.r81.g75180246-10.99.1.r83.g60f33b08-1
                     maliit-keyboard    r2119.g4b005d09-1    r2121.gbd750b3a-1
                            maui-pix  2.0.0.r9.g43a2ceb-1 2.0.0.r11.g8d11039-1
                       mbox-importer21.08.1.r519.ga2c0a5e-121.08.1.r521.gb839f11-1
                          messagelib21.08.1.r6192.gd09a316a-121.08.1.r6193.gfc3a38fb-1
                   pim-data-exporter21.08.1.r2455.gd16e1bc7-121.08.1.r2457.g6ca2e55f-1
                    pim-sieve-editor21.08.1.r1513.g820300a-121.08.1.r1514.g2934218-1
                           pimcommon21.07.80.r1110.gbbbee26-121.07.80.r1111.gc9284f7-1
          plasma-browser-integration5.22.5.r1280.g6a09d84a-15.22.5.r1281.g50950913-1
                      plasma-desktop5.22.5.r8621.g4d037821e-15.22.5.r8624.g808716db8-1
                     plasma-firewall5.22.5.r517.g878f576-15.22.5.r518.g9a22ae0-1
                    plasma-framework5.86.0.r15986.g7b597edc9-15.86.0.r15987.gf658da9c4-1
                    plasma-mobile-nm5.22.5.r3098.g72dbf30a-15.22.5.r3099.gac5d3fe2-1
                         plasma-nano5.21.5.r159.gd9b5281-15.21.5.r160.ga0f98ca-1
                           plasma-nm5.22.5.r3098.g72dbf30a-15.22.5.r3099.gac5d3fe2-1
                           plasma-pa5.22.5.r969.g9dbf39e-15.22.5.r972.gd1c2014-1
             plasma-phone-components5.22.5.r1470.g1e01aa53-15.22.5.r1471.ge6c27636-1
                    plasma-phonebook  21.08.r8.g129f8dc-1  21.08.r9.g9edaa37-1
                  plasma-thunderbolt5.22.5.r145.g760edc5-15.22.5.r146.gd6ff877-1
              plasma-wayland-session5.22.5.r10655.g5dfcc0374-15.22.5.r10661.g0d66913bb-1
                    plasma-workspace5.22.5.r10655.g5dfcc0374-15.22.5.r10661.g0d66913bb-1
                    polkit-kde-agent5.22.5.r504.ga704857-15.22.5.r505.g4258711-1
                             purpose5.86.0.r885.g14f1182-15.86.0.r886.gaec85f8-1
                         qcachegrind21.08.1.r1154.gb65ced6-121.08.1.r1156.g9579e5d-1
                               solid5.86.0.r707.g483eba0-15.86.0.r708.g66059b9-1
                      systemsettings5.22.5.r2497.g7791a403-15.22.5.r2503.gf5ce0514-1
                         vakzination        r94.aba88d2-1        r96.999d7c2-1


:: Different overlay package(s) in repository multilib x86_64

-------------------------------------------------------------------------------
                             PACKAGE           2021-09-20           2021-09-21
-------------------------------------------------------------------------------
                  lib32-nvidia-utils          470.63.01-1             470.74-1
                 lib32-opencl-nvidia          470.63.01-1             470.74-1


:: Different sync package(s) in repository multilib x86_64

-------------------------------------------------------------------------------
                             PACKAGE           2021-09-20           2021-09-21
-------------------------------------------------------------------------------
             lib32-vulkan-icd-loader            1.2.190-1            1.2.191-1


No issue, everything went smoothly
Yes there was an issue. I was able to resolve it myself.(Please post your solution)
Yes i am currently experiencing an issue due to the update. (Please post about it)
Check if your mirror has already synced: