Hello community,
Another unstable branch update with some usual updates for you.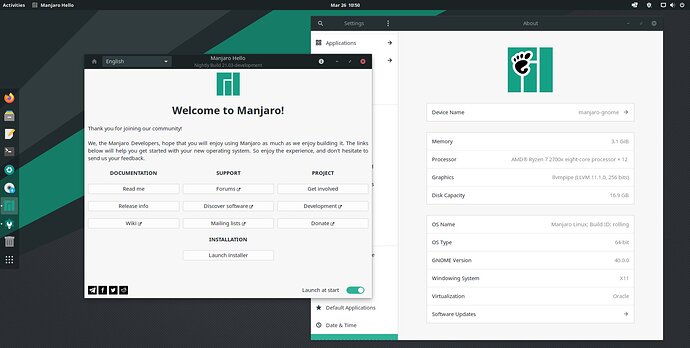 Test Gnome with our latest Developer ISOs, both 3.38 and 40 shell-based!
We continue updateing Gnome to 40
Most of our Kernels got updated
Another Firefox beta update
LibreOffice released another point-release of its fresh series
Systemd is now at 248
Other regular upstream updates including python and haskell
Get our latest daily developer images now from Github: Plasma, Gnome, XFCE. You get the latest stable releases of Manjaro from SourceForge.
---
Our current supported kernels
linux44 4.4.264
linux49 4.9.264
linux414 4.14.228
linux419 4.19.184
linux54 5.4.109
linux59 5.9.16 [EOL]
linux510 5.10.27
linux511 5.11.11
linux512 5.12-rc5
linux54-rt 5.4.106_rt54
linux59-rt 5.9.1_rt19
Packages Changes (Fri Apr 2 08:15:39 CEST 2021)
:: Different overlay package(s) in repository community x86_64

-------------------------------------------------------------------------------
                             PACKAGE           2021-03-27           2021-04-02
-------------------------------------------------------------------------------
                          adwaita-qt              1.2.0-1              1.2.1-1
                           bitwarden             1.25.1-1             1.25.1-3
                               cpu-x  4.2.0.r0.gad8be70-1  4.2.0.r4.g2993c0c-1
                             eog-git40.alpha+1+gb6295f39-1                   -
                        epiphany-git40.alpha+69+gd95a29dc2-1                 -
                             gjs-git1.67.2+21+ged57375a-1                    -
                      glib2-docs-git2.67.5+1+g14c9fc79a-1                    -
                           glib2-git2.67.5+1+g14c9fc79a-1                    -
                gnome-calculator-git             3.38.2-1                    -
                  gnome-calendar-git40.alpha+3+g77f76b6c-1                   -
                   gnome-desktop-dev1:40.alpha+2+g6b2a904a-1                 -
                   gnome-desktop-git1:40.beta+5+g2a7d03c1-1                  -
              gnome-disk-utility-git40.alpha+7+g26372ac3-1                   -
           gnome-layout-switcher-dev              0.6.6-2                    -
                      gnome-maps-git40.alpha+19+g81ffaab6-1                  -
           gnome-settings-daemon-git40.alpha.1+2+gd8112781-1                 -
                     gnome-shell-dev3.29.2+3426+g40877d174-2                 -
       gnome-shell-extension-arcmenu                  8-1                  9-1
  gnome-shell-extension-dash-to-dock                 69-4     69+13+ga081e41-1
     gnome-shell-extension-gsconnect                 45-1                 46-1
gnome-shell-extension-nightthemeswitcher             46-1                 49-1
          gnome-shell-extensions-git40.alpha.1+9+gd7c8a5d-1                  -
                     gnome-shell-git3.29.2+3426+g40877d174-1                 -
            gnome-system-monitor-git40.alpha+19+g0ae6fea6-1                  -
                   gnome-weather-git40.alpha+8+g5310d70-1                    -
       gsettings-desktop-schemas-git40.beta+16+ge1d463f-1                    -
                      gtk3-typeahead            3.24.27-4            3.24.28-1
                                 gwe           0.15.2-2.0           0.15.2-2.1
                     ledger-live-bin             2.20.0-1             2.24.0-1
                     libgweather-git40.beta.r17.gcf1ebbc4-1                  -
     libnautilus-extension-typeahead           3.38.2-1.1               40.0-1
                   manjaro-gdm-theme           20201005-1           20210326-1
               manjaro-jade-settings           20201125-1                    -
                          mutter-git40.alpha.1.1+151+gb55b26661-1            -
                  nautilus-typeahead           3.38.2-1.1               40.0-1
            spectre-meltdown-checker               0.43-1               0.44-1
                           subfinder              2.4.6-5              2.4.7-1
                         sysprof-git 3.39.90+6+gf412126-1                    -
                          vala-panel             0.3.75-1             0.4.92-1
                              ventoy             1.0.39-2             1.0.39-3
                             vivaldi        3.7.2218.52-1                    -
               vivaldi-ffmpeg-codecs      89.0.4389.114-1                    -
                 webkit2gtk-unstable             2.31.1-1                    -
          xfce4-indicator-plugin-git2.3.3.r148.gc99ecc8-1                    -
     xfce4-indicator-plugin-gtk3-git2.3.3.r148.gc99ecc8-1                    -
                                gala                 - 3.3.2.r114.381e1d64-1.1
  gnome-shell-extension-appindicator                    -                 36-1


:: Different sync package(s) in repository community x86_64

-------------------------------------------------------------------------------
                             PACKAGE           2021-03-27           2021-04-02
-------------------------------------------------------------------------------
                       android-tools             30.0.5-3             31.0.0-1
                             ansible              3.1.0-1              3.2.0-1
                             arch-hs            0.8.0.0-2            0.8.0.0-5
                            autopep8            1:1.5.6-1            1:1.5.6-2
                           aws-vault              6.3.0-1              6.3.1-1
                           babel-cli            7.13.10-1            7.13.14-1
                           bctoolbox              4.5.0-1              4.5.1-1
                                borg             1.1.16-1             1.1.16-2
                           borgmatic             1.5.12-4             1.5.13-2
                               bzrtp              4.5.0-1              4.5.1-1
                             chezmoi              2.0.4-1              2.0.7-1
                          cloud-init               20.4-1               21.1-3
                                code             1.54.3-1             1.54.3-3
                   containers-common             0.35.4-1             0.35.4-2
                        cozy-desktop             3.26.1-1             3.26.1-2
                            cppcheck                2.3-2              2.4.1-1
                             cryptol             2.11.0-3             2.11.0-6
                         dark-reader             4.9.29-1             4.9.30-1
                       deepin-mutter            3.20.38-4            3.20.38-5
                          dhall-bash            1.0.36-50            1.0.36-52
                                 din                 50-1               50.1-1
                           docbook2x             0.8.8-17             0.8.8-18
                           drumstick              2.1.0-1              2.1.1-1
                            electron             11.3.0-1             12.0.2-1
                            electrum              4.0.9-1              4.1.0-1
                             element             0.45.1-1             0.46.0-2
                     element-desktop             1.7.23-1             1.7.23-2
                         element-web             1.7.23-1             1.7.23-2
                          fcitx5-gtk              5.0.6-1              5.0.6-2
                 firefox-dark-reader             4.9.29-1             4.9.30-1
           firefox-developer-edition             88.0b4-1             88.0b6-1
  firefox-developer-edition-i18n-ach             88.0b4-1             88.0b6-1
   firefox-developer-edition-i18n-af             88.0b4-1             88.0b6-1
   firefox-developer-edition-i18n-an             88.0b4-1             88.0b6-1
   firefox-developer-edition-i18n-ar             88.0b4-1             88.0b6-1
  firefox-developer-edition-i18n-ast             88.0b4-1             88.0b6-1
   firefox-developer-edition-i18n-az             88.0b4-1             88.0b6-1
   firefox-developer-edition-i18n-be             88.0b4-1             88.0b6-1
   firefox-developer-edition-i18n-bg             88.0b4-1             88.0b6-1
   firefox-developer-edition-i18n-bn             88.0b4-1             88.0b6-1
   firefox-developer-edition-i18n-br             88.0b4-1             88.0b6-1
   firefox-developer-edition-i18n-bs             88.0b4-1             88.0b6-1
   firefox-developer-edition-i18n-ca             88.0b4-1             88.0b6-1
firefox-developer-edition-i18n-ca-valencia       88.0b4-1             88.0b6-1
  firefox-developer-edition-i18n-cak             88.0b4-1             88.0b6-1
   firefox-developer-edition-i18n-cs             88.0b4-1             88.0b6-1
   firefox-developer-edition-i18n-cy             88.0b4-1             88.0b6-1
   firefox-developer-edition-i18n-da             88.0b4-1             88.0b6-1
   firefox-developer-edition-i18n-de             88.0b4-1             88.0b6-1
  firefox-developer-edition-i18n-dsb             88.0b4-1             88.0b6-1
   firefox-developer-edition-i18n-el             88.0b4-1             88.0b6-1
firefox-developer-edition-i18n-en-ca             88.0b4-1             88.0b6-1
firefox-developer-edition-i18n-en-gb             88.0b4-1             88.0b6-1
firefox-developer-edition-i18n-en-us             88.0b4-1             88.0b6-1
   firefox-developer-edition-i18n-eo             88.0b4-1             88.0b6-1
firefox-developer-edition-i18n-es-ar             88.0b4-1             88.0b6-1
firefox-developer-edition-i18n-es-cl             88.0b4-1             88.0b6-1
firefox-developer-edition-i18n-es-es             88.0b4-1             88.0b6-1
firefox-developer-edition-i18n-es-mx             88.0b4-1             88.0b6-1
   firefox-developer-edition-i18n-et             88.0b4-1             88.0b6-1
   firefox-developer-edition-i18n-eu             88.0b4-1             88.0b6-1
   firefox-developer-edition-i18n-fa             88.0b4-1             88.0b6-1
   firefox-developer-edition-i18n-ff             88.0b4-1             88.0b6-1
   firefox-developer-edition-i18n-fi             88.0b4-1             88.0b6-1
   firefox-developer-edition-i18n-fr             88.0b4-1             88.0b6-1
firefox-developer-edition-i18n-fy-nl             88.0b4-1             88.0b6-1
firefox-developer-edition-i18n-ga-ie             88.0b4-1             88.0b6-1
   firefox-developer-edition-i18n-gd             88.0b4-1             88.0b6-1
   firefox-developer-edition-i18n-gl             88.0b4-1             88.0b6-1
   firefox-developer-edition-i18n-gn             88.0b4-1             88.0b6-1
firefox-developer-edition-i18n-gu-in             88.0b4-1             88.0b6-1
   firefox-developer-edition-i18n-he             88.0b4-1             88.0b6-1
firefox-developer-edition-i18n-hi-in             88.0b4-1             88.0b6-1
   firefox-developer-edition-i18n-hr             88.0b4-1             88.0b6-1
  firefox-developer-edition-i18n-hsb             88.0b4-1             88.0b6-1
   firefox-developer-edition-i18n-hu             88.0b4-1             88.0b6-1
firefox-developer-edition-i18n-hy-am             88.0b4-1             88.0b6-1
   firefox-developer-edition-i18n-ia             88.0b4-1             88.0b6-1
   firefox-developer-edition-i18n-id             88.0b4-1             88.0b6-1
   firefox-developer-edition-i18n-is             88.0b4-1             88.0b6-1
   firefox-developer-edition-i18n-it             88.0b4-1             88.0b6-1
   firefox-developer-edition-i18n-ja             88.0b4-1             88.0b6-1
   firefox-developer-edition-i18n-ka             88.0b4-1             88.0b6-1
  firefox-developer-edition-i18n-kab             88.0b4-1             88.0b6-1
   firefox-developer-edition-i18n-kk             88.0b4-1             88.0b6-1
   firefox-developer-edition-i18n-km             88.0b4-1             88.0b6-1
   firefox-developer-edition-i18n-kn             88.0b4-1             88.0b6-1
   firefox-developer-edition-i18n-ko             88.0b4-1             88.0b6-1
  firefox-developer-edition-i18n-lij             88.0b4-1             88.0b6-1
   firefox-developer-edition-i18n-lt             88.0b4-1             88.0b6-1
   firefox-developer-edition-i18n-lv             88.0b4-1             88.0b6-1
   firefox-developer-edition-i18n-mk             88.0b4-1             88.0b6-1
   firefox-developer-edition-i18n-mr             88.0b4-1             88.0b6-1
   firefox-developer-edition-i18n-ms             88.0b4-1             88.0b6-1
   firefox-developer-edition-i18n-my             88.0b4-1             88.0b6-1
firefox-developer-edition-i18n-nb-no             88.0b4-1             88.0b6-1
firefox-developer-edition-i18n-ne-np             88.0b4-1             88.0b6-1
   firefox-developer-edition-i18n-nl             88.0b4-1             88.0b6-1
firefox-developer-edition-i18n-nn-no             88.0b4-1             88.0b6-1
   firefox-developer-edition-i18n-oc             88.0b4-1             88.0b6-1
firefox-developer-edition-i18n-pa-in             88.0b4-1             88.0b6-1
   firefox-developer-edition-i18n-pl             88.0b4-1             88.0b6-1
firefox-developer-edition-i18n-pt-br             88.0b4-1             88.0b6-1
firefox-developer-edition-i18n-pt-pt             88.0b4-1             88.0b6-1
   firefox-developer-edition-i18n-rm             88.0b4-1             88.0b6-1
   firefox-developer-edition-i18n-ro             88.0b4-1             88.0b6-1
   firefox-developer-edition-i18n-ru             88.0b4-1             88.0b6-1
   firefox-developer-edition-i18n-si             88.0b4-1             88.0b6-1
   firefox-developer-edition-i18n-sk             88.0b4-1             88.0b6-1
   firefox-developer-edition-i18n-sl             88.0b4-1             88.0b6-1
  firefox-developer-edition-i18n-son             88.0b4-1             88.0b6-1
   firefox-developer-edition-i18n-sq             88.0b4-1             88.0b6-1
   firefox-developer-edition-i18n-sr             88.0b4-1             88.0b6-1
firefox-developer-edition-i18n-sv-se             88.0b4-1             88.0b6-1
   firefox-developer-edition-i18n-ta             88.0b4-1             88.0b6-1
   firefox-developer-edition-i18n-te             88.0b4-1             88.0b6-1
   firefox-developer-edition-i18n-th             88.0b4-1             88.0b6-1
   firefox-developer-edition-i18n-tl             88.0b4-1             88.0b6-1
   firefox-developer-edition-i18n-tr             88.0b4-1             88.0b6-1
  firefox-developer-edition-i18n-trs             88.0b4-1             88.0b6-1
   firefox-developer-edition-i18n-uk             88.0b4-1             88.0b6-1
   firefox-developer-edition-i18n-ur             88.0b4-1             88.0b6-1
   firefox-developer-edition-i18n-uz             88.0b4-1             88.0b6-1
   firefox-developer-edition-i18n-vi             88.0b4-1             88.0b6-1
   firefox-developer-edition-i18n-xh             88.0b4-1             88.0b6-1
firefox-developer-edition-i18n-zh-cn             88.0b4-1             88.0b6-1
firefox-developer-edition-i18n-zh-tw             88.0b4-1             88.0b6-1
              firefox-tree-style-tab              3.7.3-1              3.7.4-1
                             foliate              2.6.2-2              2.6.3-1
                           git-annex        8.20210310-16         8.20210330-2
                          github-cli              1.7.0-2              1.8.0-1
                             haproxy              2.3.8-1              2.3.9-1
               haskell-binary-parser              0.5.7-4              0.5.7-6
                    haskell-brittany          0.13.1.0-77           0.13.1.1-2
                     haskell-butcher           1.3.3.2-77           1.3.3.2-79
   haskell-bytestring-strict-builder            0.4.5.4-5            0.4.5.4-7
     haskell-bytestring-tree-builder            0.2.7.8-3            0.2.7.9-1
              haskell-deferred-folds            0.9.17-16            0.9.17-18
                       haskell-deque             0.4.3-72             0.4.3-74
                       haskell-hasql              1.4.5-1              1.4.5-3
                  haskell-hasql-pool            0.5.2-183            0.5.2-185
           haskell-hasql-transaction          1.0.0.1-206          1.0.0.1-209
         haskell-hls-brittany-plugin           1.0.0.0-10           1.0.0.0-13
             haskell-language-server           1.0.0.0-10           1.0.0.0-13
          haskell-neat-interpolation          0.5.1.2-109          0.5.1.2-111
                    haskell-polysemy           1.4.0.0-52            1.5.0.0-1
           haskell-postgresql-binary             0.12.4-3             0.12.4-5
                      haskell-rebase               1.11-4           1.12.0.1-1
                    haskell-rerebase               1.11-4           1.12.0.1-1
                         haskell-sbv               8.12-6               8.13-1
                 haskell-strict-list             0.1.5-94             0.1.5-96
                    haskell-summoner          2.0.1.1-144          2.0.1.1-146
                haskell-summoner-tui          2.0.1.1-161          2.0.1.1-163
                haskell-text-builder            0.6.6.2-5            0.6.6.2-7
              haskell-vector-builder            0.3.8.1-7            0.3.8.1-9
                    haskell-versions              4.0.1-3              4.0.3-1
                       haskell-what4                1.1-3                1.1-5
                       haskell-yesod          1.6.1.0-196          1.6.1.0-197
                  haskell-yesod-auth         1.6.10.1-134           1.6.10.2-1
                  haskell-yesod-form            1.6.7-416            1.6.7-417
            haskell-yesod-persistent          1.6.0.5-127            1.6.0.6-1
                haskell-yesod-static          1.6.1.0-220          1.6.1.0-221
                  haskell-yesod-test            1.6.12-98            1.6.12-99
                         hledger-web              1.21-14              1.21-15
                                 iwd               1.12-1               1.13-1
                jedi-language-server             0.30.1-1             0.30.2-1
                             jenkins              2.285-1              2.286-1
                               jruby           9.2.16.0-1           9.2.17.0-1
                               julia            2:1.6.0-6            2:1.6.0-7
                                kbfs              5.6.1-1              5.6.1-2
                             keybase              5.6.1-1              5.6.1-2
                         keybase-gui              5.6.1-1              5.6.1-2
     kodi-addon-inputstream-adaptive              2.6.7-1              2.6.8-1
                           kustomize              4.0.1-1              4.0.5-1
                      libcurl-compat             7.75.0-1             7.76.0-1
                      libcurl-gnutls             7.75.0-1             7.76.0-1
                         lsp-plugins             1.1.29-1             1.1.30-1
                                 m2r              0.2.1-6              0.2.1-7
                                 mac               5.38-1               6.14-1
                                mame              0.229-3              0.230-1
                          mame-tools              0.229-3              0.230-1
                                  mc             4.8.25-3             4.8.26-1
                              mcomix         1.3.0.dev0-3         1.3.0.dev0-4
                       mediastreamer              4.5.0-1              4.5.1-1
                         meilisearch             0.19.0-1             0.20.0-1
                                 min             1.18.1-1             1.19.0-1
                              mopidy              3.1.1-1              3.1.1-2
                                mypy              0.812-1              0.812-2
               netfilter-fullconenat       r73.0cf3b48-99      r73.0cf3b48-100
                      nginx-mainline             1.19.8-1             1.19.9-1
                  nginx-mainline-src             1.19.8-1             1.19.9-1
                           nicotine+              3.0.2-1              3.0.3-1
                              nodejs            15.12.0-1            15.13.0-1
                     openttd-opengfx              0.6.0-1              0.6.1-1
                                ortp              4.5.0-1              4.5.1-1
                              picard              2.5.6-1                2.6-1
                                 pm2              4.5.5-1              4.5.6-1
                              podman              3.0.1-2              3.1.0-1
                       podman-docker              3.0.1-2              3.1.0-1
                           postgrest            7.0.1-289            7.0.1-292
                           py3status               3.35-1               3.35-2
                      python-aiorpcx             0.18.4-3             0.18.7-1
                         python-amqp              5.0.5-1              5.0.6-1
                      python-apispec              4.3.0-1              4.4.0-1
                     python-billiard            3.6.3.0-3            3.6.4.0-1
                      python-breathe             4.27.0-1             4.28.0-1
                        python-click              7.1.2-3              7.1.2-4
                    python-construct            2.10.63-1            2.10.64-1
     python-cucumber-tag-expressions              3.0.0-1              3.0.1-1
        python-django-rest-framework             3.12.3-1             3.12.4-1
                     python-httplib2             0.19.0-1             0.19.1-1
                   python-hypothesis              6.8.3-1              6.8.4-1
            python-jupyter_packaging              0.8.1-1              0.8.2-1
            python-jupyterlab_server              2.3.0-1              2.4.0-1
                  python-marshmallow             3.11.0-1             3.11.1-1
                   python-matplotlib              3.4.0-2              3.4.1-2
                      python-mistune              0.8.4-5              0.8.4-6
                      python-olefile               0.46-3               0.46-4
                      python-pikepdf              2.9.2-1             2.10.0-1
                  python-pycodestyle              2.7.0-1              2.7.0-2
                   python-pyhamcrest              1.9.0-7             1.10.0-1
                  python-statsmodels             0.12.2-1             0.12.2-2
                    python2-autopep8            1:1.5.6-1                    -
                      python2-bcrypt              3.1.7-4                    -
                       python2-click              7.1.2-3                    -
                         python2-m2r              0.2.1-6                    -
                     python2-mistune              0.8.4-5                    -
                     python2-olefile               0.46-3                    -
                      python2-pillow              6.2.1-3                    -
                 python2-pycodestyle              2.7.0-1                    -
                  python2-pyhamcrest              1.9.0-7                    -
                            r2cutter           1:1.12.0-2           1:1.12.0-3
                            r2ghidra              5.1.1-1              5.1.1-2
               react-native-debugger             0.11.5-1             0.11.7-1
                         rednotebook               2.21-1               2.21-2
                      rime-cantonese     0.0.0.20210325-1     0.0.0.20210330-1
                               rtirq           20210319-1           20210329-1
                                 sbt            1:1.4.6-1            1:1.4.7-1
                      soundconverter              3.0.2-3              4.0.0-1
                              spring             104.0-11              105.0-1
                               stack            2.5.1-173            2.5.1-175
                          stone-soup             0.25.1-1             0.26.1-1
                       syncthing-gtk          1:0.9.4.4-2                    -
                      tamarin-prover            1.6.0-177            1.6.0-178
                     taskwarrior-tui             0.12.2-1             0.13.1-1
                             thefuck               3.30-2               3.30-3
             thunderbird-dark-reader             4.9.29-1             4.9.30-1
                   ttf-sarasa-gothic             0.20.0-1             0.20.2-1
         v2ray-domain-list-community     20210329080058-1     20210401091829-1
                         v2ray-geoip       202103250007-1       202104010913-1
                           vidcutter              6.0.5-1              6.0.5-2
                             vivaldi        3.7.2218.49-1        3.7.2218.52-1
               vivaldi-ffmpeg-codecs       89.0.4389.90-1      89.0.4389.114-1
                                vmpk              0.8.1-1              0.8.2-1
                          youtube-dl         2021.03.25-1         2021.04.01-1
                  yubikey-manager-qt              1.2.0-1              1.2.1-1
                          electron11                    -             11.4.1-1
                             mutter6                    -             3.36.8-2
                       python-rzpipe                    -              0.1.0-1
                               rizin                    -              0.1.2-2
                           rz-cutter                    -              2.0.0-1
                           rz-ghidra                    -              0.1.1-1


:: Different overlay package(s) in repository core x86_64

-------------------------------------------------------------------------------
                             PACKAGE           2021-03-27           2021-04-02
-------------------------------------------------------------------------------
                            linux414           4.14.227-1           4.14.228-1
                    linux414-headers           4.14.227-1           4.14.228-1
                            linux419           4.19.183-1           4.19.184-1
                    linux419-headers           4.19.183-1           4.19.184-1
                             linux44            4.4.263-1            4.4.264-1
                     linux44-headers            4.4.263-1            4.4.264-1
                             linux49            4.9.263-1            4.9.264-1
                     linux49-headers            4.9.263-1            4.9.264-1
                            linux510            5.10.26-1            5.10.27-1
                    linux510-headers            5.10.26-1            5.10.27-1
                            linux511            5.11.10-1            5.11.11-1
                    linux511-headers            5.11.10-1            5.11.11-1
                             linux54            5.4.108-1            5.4.109-1
                     linux54-headers            5.4.108-1            5.4.109-1
                             systemd              247.4-1                248-2
                        systemd-libs              247.4-1                248-2
                  systemd-resolvconf              247.4-1                248-2
                  systemd-sysvcompat              247.4-1                248-2


:: Different sync package(s) in repository core x86_64

-------------------------------------------------------------------------------
                             PACKAGE           2021-03-27           2021-04-02
-------------------------------------------------------------------------------
                              cronie              1.5.6-1              1.5.7-2
                                curl             7.75.0-1             7.76.0-1
                                file               5.39-1               5.40-1
                               groff             1.22.4-4             1.22.4-5


:: Different overlay package(s) in repository extra x86_64

-------------------------------------------------------------------------------
                             PACKAGE           2021-03-27           2021-04-02
-------------------------------------------------------------------------------
               calamares-git 3.2.40.r9435.ed29278fd-1 3.2.40.r9494.72257e176-2
                                 gdm         3.38.2.1-1.1               40.0-1
                gnome-control-center             3.38.4-1             40.0-1.1
    gnome-control-center-x11-scaling             3.38.4-1             3.38.5-1
                    gnome-session 3.38.0+14+g87d92fec-1.0 40beta+3+gb5198510-1
                        gnome-tweaks             3.34.1-1               40.0-1
                         kiconthemes             5.80.0-2                    -
                              libgdm         3.38.2.1-1.1               40.0-1
                  linux414-acpi_call            1.1.0-199            1.1.0-200
                   linux414-bbswitch              0.8-199              0.8-200
                linux414-broadcom-wl     6.30.223.271-199     6.30.223.271-200
                linux414-ndiswrapper              1.63-49              1.63-50
               linux414-nvidia-390xx           390.141-15           390.141-16
                     linux414-nvidia             460.67-2             460.67-3
                   linux414-nvidiabl             0.88-199             0.88-200
                      linux414-r8168          8.048.03-46          8.048.03-47
                  linux414-rt3562sta       2.4.1.1_r4-195       2.4.1.1_r4-196
                   linux414-tp_smapi              0.43-91              0.43-92
                linux414-vhba-module          20200106-63          20200106-64
    linux414-virtualbox-host-modules            6.1.18-12            6.1.18-13
                        linux414-zfs              2.0.4-4              2.0.4-5
                  linux419-acpi_call            1.1.0-174            1.1.0-175
                   linux419-bbswitch              0.8-174              0.8-175
                linux419-broadcom-wl     6.30.223.271-173     6.30.223.271-174
                linux419-ndiswrapper              1.63-64              1.63-65
               linux419-nvidia-390xx           390.141-19           390.141-20
                     linux419-nvidia             460.67-3             460.67-4
                   linux419-nvidiabl             0.88-173             0.88-174
                      linux419-r8168          8.048.03-60          8.048.03-61
                  linux419-rtl8723bu           20210324-1           20210324-2
                   linux419-tp_smapi             0.43-123             0.43-124
                linux419-vhba-module          20200106-89          20200106-90
   linux419-virtualbox-guest-modules            6.1.18-15            6.1.18-16
    linux419-virtualbox-host-modules            6.1.18-15            6.1.18-16
                        linux419-zfs              2.0.4-5              2.0.4-6
                   linux44-acpi_call            1.1.0-193            1.1.0-194
                    linux44-bbswitch              0.8-193              0.8-194
                 linux44-broadcom-wl     6.30.223.271-163     6.30.223.271-164
                 linux44-ndiswrapper              1.63-41              1.63-42
                linux44-nvidia-390xx           390.141-14           390.141-15
                      linux44-nvidia             460.67-2             460.67-3
                    linux44-nvidiabl             0.88-193             0.88-194
                       linux44-r8168          8.048.03-38          8.048.03-39
                   linux44-rt3562sta       2.4.1.1_r4-150       2.4.1.1_r4-151
                    linux44-tp_smapi              0.43-72              0.43-73
                 linux44-vhba-module          20200106-55          20200106-56
     linux44-virtualbox-host-modules            6.1.18-11            6.1.18-12
                         linux44-zfs              2.0.4-4              2.0.4-5
                   linux49-acpi_call            1.1.0-207            1.1.0-208
                    linux49-bbswitch              0.8-207              0.8-208
                 linux49-broadcom-wl     6.30.223.271-207     6.30.223.271-208
                 linux49-ndiswrapper              1.63-41              1.63-42
                linux49-nvidia-390xx           390.141-14           390.141-15
                      linux49-nvidia             460.67-2             460.67-3
                    linux49-nvidiabl             0.88-207             0.88-208
                       linux49-r8168          8.048.03-38          8.048.03-39
                   linux49-rt3562sta       2.4.1.1_r4-191       2.4.1.1_r4-192
                    linux49-tp_smapi              0.43-75              0.43-76
                 linux49-vhba-module          20200106-55          20200106-56
     linux49-virtualbox-host-modules            6.1.18-11            6.1.18-12
                         linux49-zfs              2.0.4-4              2.0.4-5
                  linux510-acpi_call             1.1.0-41             1.1.0-42
                   linux510-bbswitch               0.8-41               0.8-42
                linux510-broadcom-wl      6.30.223.271-42      6.30.223.271-43
               linux510-nvidia-390xx           390.141-29           390.141-30
                     linux510-nvidia             460.67-3             460.67-4
                      linux510-r8168          8.048.03-41          8.048.03-42
                  linux510-rtl8723bu           20210324-2           20210324-3
                   linux510-tp_smapi              0.43-41              0.43-42
                linux510-vhba-module          20200106-42          20200106-43
   linux510-virtualbox-guest-modules            6.1.18-21            6.1.18-22
    linux510-virtualbox-host-modules            6.1.18-21            6.1.18-22
                        linux510-zfs              2.0.4-5              2.0.4-6
                  linux511-acpi_call             1.1.0-13             1.1.0-14
                   linux511-bbswitch               0.8-13               0.8-14
                linux511-broadcom-wl      6.30.223.271-13      6.30.223.271-14
               linux511-nvidia-390xx           390.141-13           390.141-14
                     linux511-nvidia             460.67-4             460.67-5
                      linux511-r8168          8.048.03-13          8.048.03-14
                  linux511-rtl8723bu           20210324-2           20210324-3
                   linux511-tp_smapi              0.43-13              0.43-14
                linux511-vhba-module          20200106-14          20200106-15
   linux511-virtualbox-guest-modules            6.1.18-13            6.1.18-14
    linux511-virtualbox-host-modules            6.1.18-13            6.1.18-14
                        linux511-zfs              2.0.4-6              2.0.4-7
                   linux54-acpi_call            1.1.0-116            1.1.0-117
                    linux54-bbswitch              0.8-116              0.8-117
                 linux54-broadcom-wl     6.30.223.271-116     6.30.223.271-117
                 linux54-ndiswrapper              1.63-72              1.63-73
                linux54-nvidia-390xx           390.141-22           390.141-23
                      linux54-nvidia             460.67-3             460.67-4
                    linux54-nvidiabl             0.88-116             0.88-117
                       linux54-r8168          8.048.03-68          8.048.03-69
                   linux54-rtl8723bu           20210324-1           20210324-2
                    linux54-tp_smapi             0.43-116             0.43-117
                 linux54-vhba-module         20200106-102         20200106-103
    linux54-virtualbox-guest-modules            6.1.18-18            6.1.18-19
     linux54-virtualbox-host-modules            6.1.18-18            6.1.18-19
                         linux54-zfs              2.0.4-5              2.0.4-6
                           pamac-cli             10.0.5-1         10.1.0beta-1
                        pamac-common             10.0.5-1         10.1.0beta-1
                pamac-flatpak-plugin             10.0.5-1         10.1.0beta-1
             pamac-gnome-integration             10.0.5-1         10.1.0beta-1
                           pamac-gtk             10.0.5-1         10.1.0beta-1
                   pamac-snap-plugin             10.0.5-1         10.1.0beta-1
                           evolution                    -             3.40.0-1
                evolution-bogofilter                    -             3.40.0-1
               evolution-data-server                    -             3.40.0-1
                       evolution-ews                    -             3.40.0-1
              evolution-spamassassin                    -             3.40.0-1
                               folks                    -               0.14-5
                      gnome-calendar                    -               40.0-1
                        gnome-clocks                    -               40.0-2
                      gnome-contacts                    -               40.0-1
                         gnome-notes                    -               40.0-2
               gnome-settings-daemon                    -               40.0-1
                         gnome-shell                    -             1:40.0-1
              gnome-shell-extensions                    -               40.0-1
                          gnome-todo                    - 3.28.1+34+g1b5336f-1
                       gnome-weather                    -               40.0-1
           gsettings-desktop-schemas                    -               40.0-3
                         libgweather                    -               40.0-1
                              mutter                    -               40.0-2


:: Different sync package(s) in repository extra x86_64

-------------------------------------------------------------------------------
                             PACKAGE           2021-03-27           2021-04-02
-------------------------------------------------------------------------------
                                babl             0.1.84-1             0.1.86-1
                                blas              3.9.0-3              3.9.1-1
                               cblas              3.9.0-3              3.9.1-1
                            celestia            1.6.2.1-1            1.6.2.2-1
                            chromium       89.0.4389.90-1      89.0.4389.114-1
                            coordgen              2.0.0-1              2.0.2-1
                       docbook-utils            0.6.14-11            0.6.14-12
                              dracut                052-1                053-1
                                 ell               0.38-1               0.39-1
                               finch             2.14.1-3             2.14.2-1
                                gegl             0.4.28-2             0.4.30-1
                            ghostpcl             9.53.3-3             9.54.0-2
                         ghostscript             9.53.3-3             9.54.0-2
                            ghostxps             9.53.3-3             9.54.0-2
                           gi-docgen 2021.2+76+g7416fbe-1 2021.2+90+g7fbbaf3-1
                                gimp            2.10.22-2            2.10.24-1
                            graphviz             2.46.1-1             2.47.0-1
                       grilo-plugins           1:0.3.12-2           1:0.3.13-1
           gsettings-desktop-schemas               40.0-1               40.0-2
               gtk-update-icon-cache 1:4.0.3+61+gcb05be0aa5-1        1:4.2.0-2
                                gtk4 1:4.0.3+61+gcb05be0aa5-1        1:4.2.0-2
                            help2man             1.48.2-1             1.48.3-1
                              lapack              3.9.0-3              3.9.1-1
                          lapack-doc              3.9.0-3              3.9.1-1
                             lapacke              3.9.0-3              3.9.1-1
                                 ldb            1:2.2.0-3            1:2.3.0-1
                           libpurple             2.14.1-3             2.14.2-1
                   libreoffice-fresh              7.1.1-1              7.1.2-1
                libreoffice-fresh-af              7.1.1-1              7.1.2-1
                libreoffice-fresh-am              7.1.1-1              7.1.2-1
                libreoffice-fresh-ar              7.1.1-1              7.1.2-1
                libreoffice-fresh-as              7.1.1-1              7.1.2-1
               libreoffice-fresh-ast              7.1.1-1              7.1.2-1
                libreoffice-fresh-be              7.1.1-1              7.1.2-1
                libreoffice-fresh-bg              7.1.1-1              7.1.2-1
                libreoffice-fresh-bn              7.1.1-1              7.1.2-1
             libreoffice-fresh-bn-in              7.1.1-1              7.1.2-1
                libreoffice-fresh-bo              7.1.1-1              7.1.2-1
                libreoffice-fresh-br              7.1.1-1              7.1.2-1
               libreoffice-fresh-brx              7.1.1-1              7.1.2-1
                libreoffice-fresh-bs              7.1.1-1              7.1.2-1
                libreoffice-fresh-ca              7.1.1-1              7.1.2-1
       libreoffice-fresh-ca-valencia              7.1.1-1              7.1.2-1
               libreoffice-fresh-ckb              7.1.1-1              7.1.2-1
                libreoffice-fresh-cs              7.1.1-1              7.1.2-1
                libreoffice-fresh-cy              7.1.1-1              7.1.2-1
                libreoffice-fresh-da              7.1.1-1              7.1.2-1
                libreoffice-fresh-de              7.1.1-1              7.1.2-1
               libreoffice-fresh-dgo              7.1.1-1              7.1.2-1
               libreoffice-fresh-dsb              7.1.1-1              7.1.2-1
                libreoffice-fresh-dz              7.1.1-1              7.1.2-1
                libreoffice-fresh-el              7.1.1-1              7.1.2-1
             libreoffice-fresh-en-gb              7.1.1-1              7.1.2-1
             libreoffice-fresh-en-za              7.1.1-1              7.1.2-1
                libreoffice-fresh-eo              7.1.1-1              7.1.2-1
                libreoffice-fresh-es              7.1.1-1              7.1.2-1
                libreoffice-fresh-et              7.1.1-1              7.1.2-1
                libreoffice-fresh-eu              7.1.1-1              7.1.2-1
                libreoffice-fresh-fa              7.1.1-1              7.1.2-1
                libreoffice-fresh-fi              7.1.1-1              7.1.2-1
                libreoffice-fresh-fr              7.1.1-1              7.1.2-1
               libreoffice-fresh-fur              7.1.1-1              7.1.2-1
                libreoffice-fresh-fy              7.1.1-1              7.1.2-1
                libreoffice-fresh-ga              7.1.1-1              7.1.2-1
                libreoffice-fresh-gd              7.1.1-1              7.1.2-1
                libreoffice-fresh-gl              7.1.1-1              7.1.2-1
                libreoffice-fresh-gu              7.1.1-1              7.1.2-1
               libreoffice-fresh-gug              7.1.1-1              7.1.2-1
                libreoffice-fresh-he              7.1.1-1              7.1.2-1
                libreoffice-fresh-hi              7.1.1-1              7.1.2-1
                libreoffice-fresh-hr              7.1.1-1              7.1.2-1
               libreoffice-fresh-hsb              7.1.1-1              7.1.2-1
                libreoffice-fresh-hu              7.1.1-1              7.1.2-1
                libreoffice-fresh-id              7.1.1-1              7.1.2-1
                libreoffice-fresh-is              7.1.1-1              7.1.2-1
                libreoffice-fresh-it              7.1.1-1              7.1.2-1
                libreoffice-fresh-ja              7.1.1-1              7.1.2-1
                libreoffice-fresh-ka              7.1.1-1              7.1.2-1
               libreoffice-fresh-kab              7.1.1-1              7.1.2-1
                libreoffice-fresh-kk              7.1.1-1              7.1.2-1
                libreoffice-fresh-km              7.1.1-1              7.1.2-1
          libreoffice-fresh-kmr-latn              7.1.1-1              7.1.2-1
                libreoffice-fresh-kn              7.1.1-1              7.1.2-1
                libreoffice-fresh-ko              7.1.1-1              7.1.2-1
               libreoffice-fresh-kok              7.1.1-1              7.1.2-1
                libreoffice-fresh-ks              7.1.1-1              7.1.2-1
                libreoffice-fresh-lb              7.1.1-1              7.1.2-1
                libreoffice-fresh-lo              7.1.1-1              7.1.2-1
                libreoffice-fresh-lt              7.1.1-1              7.1.2-1
                libreoffice-fresh-lv              7.1.1-1              7.1.2-1
               libreoffice-fresh-mai              7.1.1-1              7.1.2-1
                libreoffice-fresh-mk              7.1.1-1              7.1.2-1
                libreoffice-fresh-ml              7.1.1-1              7.1.2-1
                libreoffice-fresh-mn              7.1.1-1              7.1.2-1
               libreoffice-fresh-mni              7.1.1-1              7.1.2-1
                libreoffice-fresh-mr              7.1.1-1              7.1.2-1
                libreoffice-fresh-my              7.1.1-1              7.1.2-1
                libreoffice-fresh-nb              7.1.1-1              7.1.2-1
                libreoffice-fresh-ne              7.1.1-1              7.1.2-1
                libreoffice-fresh-nl              7.1.1-1              7.1.2-1
                libreoffice-fresh-nn              7.1.1-1              7.1.2-1
                libreoffice-fresh-nr              7.1.1-1              7.1.2-1
               libreoffice-fresh-nso              7.1.1-1              7.1.2-1
                libreoffice-fresh-oc              7.1.1-1              7.1.2-1
                libreoffice-fresh-om              7.1.1-1              7.1.2-1
                libreoffice-fresh-or              7.1.1-1              7.1.2-1
             libreoffice-fresh-pa-in              7.1.1-1              7.1.2-1
                libreoffice-fresh-pl              7.1.1-1              7.1.2-1
                libreoffice-fresh-pt              7.1.1-1              7.1.2-1
             libreoffice-fresh-pt-br              7.1.1-1              7.1.2-1
                libreoffice-fresh-ro              7.1.1-1              7.1.2-1
                libreoffice-fresh-ru              7.1.1-1              7.1.2-1
                libreoffice-fresh-rw              7.1.1-1              7.1.2-1
             libreoffice-fresh-sa-in              7.1.1-1              7.1.2-1
               libreoffice-fresh-sat              7.1.1-1              7.1.2-1
                libreoffice-fresh-sd              7.1.1-1              7.1.2-1
               libreoffice-fresh-sdk              7.1.1-1              7.1.2-1
                libreoffice-fresh-si              7.1.1-1              7.1.2-1
               libreoffice-fresh-sid              7.1.1-1              7.1.2-1
                libreoffice-fresh-sk              7.1.1-1              7.1.2-1
                libreoffice-fresh-sl              7.1.1-1              7.1.2-1
                libreoffice-fresh-sq              7.1.1-1              7.1.2-1
                libreoffice-fresh-sr              7.1.1-1              7.1.2-1
           libreoffice-fresh-sr-latn              7.1.1-1              7.1.2-1
                libreoffice-fresh-ss              7.1.1-1              7.1.2-1
                libreoffice-fresh-st              7.1.1-1              7.1.2-1
                libreoffice-fresh-sv              7.1.1-1              7.1.2-1
             libreoffice-fresh-sw-tz              7.1.1-1              7.1.2-1
               libreoffice-fresh-szl              7.1.1-1              7.1.2-1
                libreoffice-fresh-ta              7.1.1-1              7.1.2-1
                libreoffice-fresh-te              7.1.1-1              7.1.2-1
                libreoffice-fresh-tg              7.1.1-1              7.1.2-1
                libreoffice-fresh-th              7.1.1-1              7.1.2-1
                libreoffice-fresh-tn              7.1.1-1              7.1.2-1
                libreoffice-fresh-tr              7.1.1-1              7.1.2-1
                libreoffice-fresh-ts              7.1.1-1              7.1.2-1
                libreoffice-fresh-tt              7.1.1-1              7.1.2-1
                libreoffice-fresh-ug              7.1.1-1              7.1.2-1
                libreoffice-fresh-uk              7.1.1-1              7.1.2-1
                libreoffice-fresh-uz              7.1.1-1              7.1.2-1
                libreoffice-fresh-ve              7.1.1-1              7.1.2-1
               libreoffice-fresh-vec              7.1.1-1              7.1.2-1
                libreoffice-fresh-vi              7.1.1-1              7.1.2-1
                libreoffice-fresh-xh              7.1.1-1              7.1.2-1
             libreoffice-fresh-zh-cn              7.1.1-1              7.1.2-1
             libreoffice-fresh-zh-tw              7.1.1-1              7.1.2-1
                libreoffice-fresh-zu              7.1.1-1              7.1.2-1
                             libupnp             1.14.2-1             1.14.4-1
                             libxres              1.2.0-2              1.2.1-1
                  mkinitcpio-archiso                 51-1                 52-1
                             mutter6             3.36.8-1                    -
              networkmanager-openvpn             1.8.12-1             1.8.14-1
                              ostree             2020.8-1             2021.1-1
                  perl-io-socket-ssl              2.068-1              2.070-1
                        perl-net-dns               1.29-1               1.30-1
                              pidgin             2.14.1-3             2.14.2-1
                          prometheus             2.25.2-1             2.26.0-1
                   python-defusedxml              0.7.1-1              0.7.1-2
                      python-gobject             3.40.0-1             3.40.1-1
                    python-hyperlink             21.0.0-1             21.0.0-2
               python-pyasn1-modules              0.2.8-3              0.2.8-4
                       python-pylint              2.7.3-1              2.7.4-1
                      python-twisted             21.2.0-1             21.2.0-2
                  python2-defusedxml              0.7.1-1                    -
                   python2-hyperlink             21.0.0-1                    -
              python2-pyasn1-modules              0.2.8-3                    -
                              qt6-3d              6.0.2-1              6.0.3-1
                         qt6-5compat              6.0.2-1              6.0.3-1
                            qt6-base              6.0.2-2              6.0.3-1
                     qt6-declarative              6.0.2-2              6.0.3-1
                             qt6-doc              6.0.2-1              6.0.3-1
                        qt6-examples              6.0.2-1              6.0.3-1
                    qt6-imageformats              6.0.2-1              6.0.3-1
                     qt6-networkauth              6.0.2-1              6.0.3-1
                         qt6-quick3d              6.0.2-1              6.0.3-1
                  qt6-quickcontrols2              6.0.2-1              6.0.3-1
                   qt6-quicktimeline              6.0.2-1              6.0.3-1
                     qt6-shadertools              6.0.2-1              6.0.3-1
                             qt6-svg              6.0.2-1              6.0.3-1
                           qt6-tools              6.0.2-2              6.0.3-1
                    qt6-translations              6.0.2-1              6.0.3-1
                         qt6-wayland              6.0.2-1              6.0.3-1
                                   r              4.0.4-1              4.0.5-1
                                 re2         1:20210202-1         1:20210401-1
                           gtk4-docs                    -            1:4.2.0-2


:: Different overlay package(s) in repository kde-unstable x86_64

-------------------------------------------------------------------------------
                             PACKAGE           2021-03-27           2021-04-02
-------------------------------------------------------------------------------
                             akonadi20.12.2.r12472.g22977abb9-120.12.2.r12474.g82c621a1e-1
                    akonadi-calendar20.12.2.r1915.g4e664c9-120.12.2.r1916.geef1bbf-1
              akonadi-calendar-tools20.12.2.r854.g5098025-120.12.2.r855.g9656768-1
                        akonadi-mime20.12.2.r1603.gf50d051-120.12.2.r1604.g7aee356-1
                       akonadi-notes20.12.2.r991.g49bbb2b-120.12.2.r992.g5305c2e-1
                      akonadi-search20.12.2.r1067.g1691c4c-120.12.2.r1073.gbcfb7b9-1
                      akonadiconsole20.12.2.r1474.g6212cf8-120.12.2.r1475.g369dd50-1
                           akregator20.12.2.r6072.ge9e32213-120.12.2.r6081.gd4bf9f88-1
                                 ark20.12.2.r4497.gecc37e6b-120.12.2.r4498.g0171728f-1
                               baloo5.79.0.r2933.g094d1be5-15.79.0.r2935.g45d4bb45-1
                          breeze-gtk5.21.0.r411.g538055e-15.21.0.r412.ge989639-1
                        breeze-icons5.79.0.r1720.gacd26367-15.79.0.r1722.g37323371-1
                             dolphin20.12.2.r6526.g9e8e58147-120.12.2.r6531.g69881f93b-1
                             drkonqi5.21.0.r590.g2e9755e5-15.21.0.r593.g42aca174-1
                               elisa20.12.2.r2651.g806a4c85-120.12.2.r2652.gee66011e-1
                          eventviews20.12.2.r615.gffae56d-120.12.2.r622.ge6933fe-1
                 extra-cmake-modules5.79.0.r3274.g04f4675-15.79.0.r3275.gd88db6a-1
                           granatier20.12.2.r904.g6e060be-120.12.2.r905.g58e3541-1
                     grantlee-editor20.12.2.r733.gc5cbe8f-120.12.2.r734.g7f8d4be-1
                       grantleetheme20.12.2.r308.g12a10c0-120.12.2.r309.ga238ac9-1
                            gwenview20.12.2.r6536.gddcdf454-120.12.2.r6539.g566daa25-1
                           itinerary20.12.2.r1234.g307c31a-120.12.2.r1237.gdcc5069-1
                   kactivitymanagerd5.21.0.r1332.g54a6b40-15.21.0.r1333.g70226e8-1
                              kalarm20.12.2.r6338.g66dd308e-120.12.2.r6339.gaa1327f1-1
                           kalarmcal20.12.2.r1097.g5f77557-120.12.2.r1098.gb6e7ecb-1
                        kapptemplate20.12.2.r945.g0b6f831-120.12.2.r946.gee7d314-1
                                kate20.12.2.r17987.g664722487-120.12.2.r17990.g2d2659878-1
                           kcalutils20.12.2.r821.gcac2f7e68-120.12.2.r822.g20d06ee57-1
                      kconfigwidgets5.79.0.r548.gffd1595-15.79.0.r549.g6610d74-1
                     kde-dev-scripts20.12.2.r4120.gc2523cf-120.12.2.r4123.g1c7b507-1
                          kdeconnect20.12.2.r3169.g7b15f2f9-120.12.2.r3171.g0045902c-1
                       kdepim-addons20.12.2.r4033.gdb3655dc-120.12.2.r4034.gf0e48881-1
                             kdialog20.12.2.r1169.g7293f12d7-120.12.2.r1171.g6657eb574-1
                                kgpg20.12.2.r3108.gd8f8a7bf-120.12.2.r3111.gf3990e47-1
                         kiconthemes5.79.0.r501.g6308161-15.79.0.r504.gf4f337e-1
                 kidentitymanagement20.12.2.r3766.g81a58fb5-120.12.2.r3767.g209c9e5d-1
                               kimap20.12.2.r1074.g0c2b000-120.12.2.r1075.g9a32f1b-1
                                 kio5.79.0.r4598.g6f3f84e1-15.79.0.r4602.ga2b93823-1
                          kio-gdrive20.12.2.r550.g1785cb8-120.12.2.r551.gc1eda10-1
                           kirigami25.79.0.r2720.g21de2a29-15.79.0.r2725.g622fc64c-1
                          kitemviews5.79.0.r312.g66390b1-15.79.0.r313.g3559693-1
                          kitinerary20.12.2.r1670.g95e26ee-120.12.2.r1689.g9fbe983-1
                               kldap20.12.2.r835.g8f77bca-120.12.2.r836.g40e8b49-1
                           kleopatra20.12.2.r5771.gcbdf536d-120.12.2.r5772.g7f416826-1
                                kmag20.12.2.r674.g5d34672-120.12.2.r677.ge892328-1
                               kmail20.12.2.r25631.g9b98b24ae-120.12.2.r25632.g5c6dddbed-1
                kmail-account-wizard20.12.2.r769.g8a36777-120.12.2.r770.g82d977b-1
                      kmailtransport20.12.2.r1585.g4849ce8-120.12.2.r1586.g9ec34d3-1
                               kmbox20.12.2.r505.g5a6c676-120.12.2.r506.g133e1c2-1
                               kmime20.12.2.r1419.gbcd952e-120.12.2.r1420.g0e7ef26-1
                          kmousetool20.12.2.r380.gfabdfe0-120.12.2.r383.gbc1f3f6-1
                              kmouth20.12.2.r680.g651fded-120.12.2.r682.g32f259e-1
                           knewstuff5.79.0.r1066.g4bf684bf-15.79.0.r1067.g61b7bfc6-1
                              knotes20.12.2.r3427.g480145e7-120.12.2.r3428.ga09a5d72-1
                           konqueror20.12.2.r14875.g44a28c5ee-120.12.2.r14877.g0b111ae28-1
                             konsole20.12.2.r7746.gec170136-120.12.2.r7749.gc3982cfb-1
                             kontact20.12.2.r5277.g2a8e3393-120.12.2.r5278.gdc031be5-1
                    kontactinterface20.12.2.r597.g6e957bb-120.12.2.r598.gee97fa8-1
                             kpkpass20.12.2.r203.gfdc36d7-120.12.2.r204.g0b4a6a2-1
                    kpublictransport20.12.2.r1564.gc481bc4-120.12.2.r1566.ga9135c3-1
                             kscreen5.21.0.r1311.g8fbe7ce-15.21.0.r1314.g47006b9-1
                            kservice5.79.0.r883.g3d4bf44-15.79.0.r884.g8480a09-1
                               ksmtp20.12.2.r333.g540819d-120.12.2.r334.g49b2874-1
                           ksysguard5.21.0.r3494.gcd868899-15.21.0.r3495.gbc64affe-1
                          ksystemlog20.12.2.r620.g344e620-120.12.2.r622.g830aa1d-1
                               ktnef20.12.2.r631.g674aef5-120.12.2.r632.ga63e2e1-1
                            ktorrent20.12.2.r2731.ga93634ac-120.12.2.r2732.gfa6b7a38-1
                     kwayland-server5.21.0.r1283.g8c52142-15.21.0.r1286.g9aeff4a-1
                              kwrite20.12.2.r17987.g664722487-120.12.2.r17990.g2d2659878-1
                          libakonadi20.12.2.r12472.g22977abb9-120.12.2.r12474.g82c621a1e-1
                         libgravatar20.12.2.r336.g1a491de-120.12.2.r337.gf4c7eb1-1
                           libkdepim20.12.2.r817.gf924dbf-120.12.2.r818.g5ab293f-1
                             libkleo20.12.2.r781.g84b8db1-120.12.2.r782.ga7f7089-1
                        mailimporter20.12.2.r437.g04bb3e7-120.12.2.r438.g091a271-1
                    maliit-framework0.99.1.r54.gee7d872c-30.99.1.r59.g3d765866-1
                     maliit-keyboard    r2063.gc26efe01-1    r2076.g5a200228-1
                              marble20.12.2.r13285.gb6f01874c-120.12.2.r13287.g2dd192a1c-1
                       marble-common20.12.2.r13285.gb6f01874c-120.12.2.r13287.g2dd192a1c-1
                           marble-qt20.12.2.r13285.gb6f01874c-120.12.2.r13287.g2dd192a1c-1
                          messagelib20.12.2.r5853.g64cb9c53-120.12.2.r5860.g8dc86487-1
                              okular20.12.2.r9252.gd195ab4e9-120.12.2.r9253.g1786e6c99-1
                      plasma-desktop5.21.0.r8282.g3c911926b-15.21.0.r8290.gd9807d361-1
                    plasma-framework5.79.0.r15798.gcde7f8a98-15.79.0.r15805.gf30c84275-1
                           plasma-nm5.21.0.r3021.gbdfa35e8-15.21.0.r3024.g2a974269-1
             plasma-phone-components5.21.0.r1340.g64fe673-15.21.0.r1342.gff6141d-1
                plasma-systemmonitor5.21.0.r386.g29534f0-15.21.0.r387.gb120af5-1
              plasma-wayland-session5.21.0.r10093.g3e309b4ac-15.21.0.r10100.geeb294f5e-1
                    plasma-workspace5.21.0.r10093.g3e309b4ac-15.21.0.r10100.geeb294f5e-1
                            sddm-kcm5.21.0.r569.g1dc118c-15.21.0.r571.g7949a4c-1
                            spacebar      r359.gb8415ef-1      r360.g00fd6b2-1
                             svgpart20.12.2.r154.g7d74b09-120.12.2.r155.g7a8de92-1
               telepathy-kde-text-ui20.12.2.r2018.gab616c1-120.12.2.r2019.g2cae1c7-1


:: Different overlay package(s) in repository multilib x86_64

-------------------------------------------------------------------------------
                             PACKAGE           2021-03-27           2021-04-02
-------------------------------------------------------------------------------
                       lib32-systemd              247.4-1                248-1


:: Different sync package(s) in repository multilib x86_64

-------------------------------------------------------------------------------
                             PACKAGE           2021-03-27           2021-04-02
-------------------------------------------------------------------------------
                          lib32-curl             7.75.0-1             7.76.0-1
                lib32-libcurl-compat             7.75.0-1             7.76.0-1
                lib32-libcurl-gnutls             7.75.0-1             7.76.0-1


No issue, everything went smoothly
Yes there was an issue. I was able to resolve it myself.(Please post your solution)
Yes i am currently experiencing an issue due to the update. (Please post about it)
Check if your mirror has already synced: