Hello community,
Another testing branch update with some usual updates for you.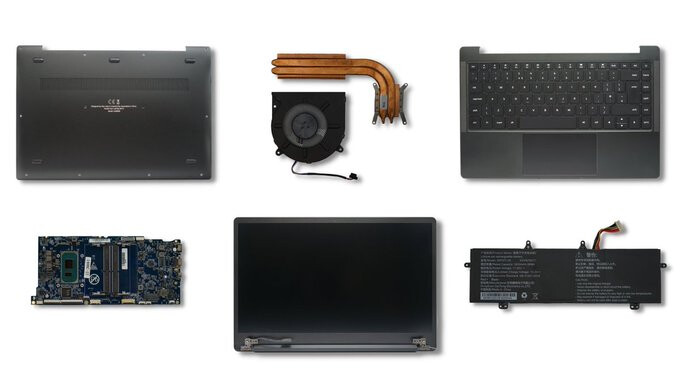 Our friends at Starlabs create laptops to be always repairable and customizable with the intention of creating a seamless experience. Find out more
We readded 4.x kernels. Note that 4.4 series is now marked EOL
linux-firmware we kept split-up, however we ship them uncompressed to support 4.x kernels still
PipeWire got updated to 0.3.45 for fixing Audio issues with Zoom and other communication apps
The usual upstream updates including Haskell and Python

You may need to rebuild any AUR packages that install files to site-packages …

You may need to rebuild any Python packages you've installed from the AUR. To get a list of them, you can run:

pacman -Qoq /usr/lib/python3.9


And to rebuild them all at once with an AUR helper such as yay, you can do:

yay -S $(pacman -Qoq /usr/lib/python3.9) --answerclean All


But if any of the packages don't work with Python 3.10 yet, this might fail halfway through and you'll have to do rebuild the remaining ones one or a few at a time.
Get our latest daily developer images now from Github: Plasma, Gnome, XFCE. You get the latest stable releases of Manjaro from CDN77.
---
Our current supported kernels
linux44 4.4.302 [EOL]
linux49 4.9.299
linux414 4.14.264
linux419 4.19.227
linux54 5.4.176
linux510 5.10.96
linux515 5.15.19
linux516 5.16.5
linux517 5.17-rc2
linux510-rt 5.10.90_rt60
linux515-rt 5.15.18_rt28
linux516-rt 5.16.2_rt18
Package Updates (Fri Feb 4 12:44:29 CET 2022)
testing community x86_64: 80 new and 79 removed package(s)
testing core x86_64: 23 new and 15 removed package(s)
testing extra x86_64: 93 new and 33 removed package(s)
testing kde-unstable x86_64: 0 new and 3 removed package(s)
testing multilib x86_64: 6 new and 6 removed package(s)
:: Different sync package(s) in repository community x86_64

-------------------------------------------------------------------------------
                             PACKAGE           2022-02-03           2022-02-04
-------------------------------------------------------------------------------
                             buildah             1.24.0-1             1.24.1-1
                             calibre             5.35.0-1             5.36.0-1
                          cargo-msrv             0.14.0-1             0.14.1-1
                             cockpit                261-1                262-1
                         cockpit-pcp                261-1                262-1
                      cockpit-podman                 40-1                 41-1
                                code             1.63.2-1             1.64.0-1
                            copr-cli               1.97-1               1.98-1
                              csound             6.16.2-8             6.17.0-1
                          csound-doc             6.16.2-8             6.17.0-1
                              dbmate             1.13.0-1             1.14.0-1
                            goaccess              1.5.4-1              1.5.5-1
                  haskell-call-stack             0.4.0-38             0.4.0-39
                       haskell-clock            0.8.2-127            0.8.2-128
                      haskell-logict          0.7.1.0-100          0.7.1.0-101
                    haskell-nanospec            0.2.2-234            0.2.2-235
                    haskell-splitmix           0.1.0.4-28           0.1.0.4-29
                         haskell-syb          0.7.2.1-104          0.7.2.1-105
                         haskell-x11             1.10.1-2             1.10.2-1
                     haskell-x11-xft            0.3.1-200            0.3.1-201
                            himalaya              0.5.2-1              0.5.3-1
                             jenkins              2.332-1              2.333-1
                                jmol           14.32.19-1           14.32.20-1
                               jsmol           14.32.19-1           14.32.20-1
                           lua53-lgi              0.9.2-4              0.9.2-7
                                 lxc           1:4.0.11-2           1:4.0.12-1
                               lxcfs             4.0.11-1             4.0.12-1
                          mattermost              6.3.2-1              6.3.3-1
                            minitube              3.9.2-1              3.9.3-1
                   npm-check-updates             12.2.0-1             12.2.1-1
                              nuitka           0.6.19.5-1           0.6.19.6-1
                                 pcp              5.3.5-2              5.3.6-1
                             pcp-gui              5.3.5-2              5.3.6-1
                   pcp-pmda-activemq              5.3.5-2              5.3.6-1
                        pcp-pmda-bcc              5.3.5-2              5.3.6-1
                      pcp-pmda-bind2              5.3.5-2              5.3.6-1
                   pcp-pmda-bpftrace              5.3.5-2              5.3.6-1
                    pcp-pmda-libvirt              5.3.5-2              5.3.6-1
                      pcp-pmda-mysql              5.3.5-2              5.3.6-1
                      pcp-pmda-nginx              5.3.5-2              5.3.6-1
                 pcp-pmda-nutcracker              5.3.5-2              5.3.6-1
                pcp-pmda-openmetrics              5.3.5-2              5.3.6-1
                     pcp-pmda-podman              5.3.5-2              5.3.6-1
                 pcp-pmda-postgresql              5.3.5-2              5.3.6-1
                       pcp-pmda-snmp              5.3.5-2              5.3.6-1
                           promscale              0.8.0-1              0.9.0-1
                        python-cbor2              5.4.2-3        5.4.2.post1-1
                         python-copr              1.114-3              1.115-1
               python-django-allauth             0.47.0-2             0.48.0-1
         python-django-debug-toolbar              3.2.2-3              3.2.4-1
                     python-identify              2.4.5-1              2.4.8-1
                      python-pymupdf             1.19.4-1             1.19.5-1
                    python-pywlroots             0.15.6-1             0.15.7-2
                             udiskie              2.4.0-1              2.4.1-1
                               uwsgi             2.0.20-5             2.0.20-6
                    uwsgi-plugin-cgi             2.0.20-5             2.0.20-6
                  uwsgi-plugin-lua51             2.0.20-5             2.0.20-6
                   uwsgi-plugin-mono             2.0.20-5             2.0.20-6
               uwsgi-plugin-notfound             2.0.20-5             2.0.20-6
                    uwsgi-plugin-php             2.0.20-5             2.0.20-6
                   uwsgi-plugin-php7             2.0.20-5             2.0.20-6
                   uwsgi-plugin-psgi             2.0.20-5             2.0.20-6
                   uwsgi-plugin-pypy             2.0.20-5             2.0.20-6
                 uwsgi-plugin-python             2.0.20-5             2.0.20-6
                   uwsgi-plugin-rack             2.0.20-5             2.0.20-6
                 uwsgi-plugin-webdav             2.0.20-5             2.0.20-6
                 uwsgi-plugin-zabbix             2.0.20-5             2.0.20-6
                        vim-himalaya              0.5.2-1              0.5.3-1
           vscode-css-languageserver             1.63.0-2             1.64.0-1
          vscode-html-languageserver             1.63.0-2             1.64.0-1
          vscode-json-languageserver             1.63.0-2             1.64.0-1
                              weston              9.0.0-1             10.0.0-1
                              xmobar              0.39-76              0.39-77
                              xmonad             0.15-168             0.15-169
                      xmonad-contrib             0.16-148             0.16-149
                        xmonad-utils          0.1.3.3-173          0.1.3.3-174
                                xplr             0.17.1-1             0.17.2-1
                yaml-language-server              1.3.0-1              1.4.0-1
                              yt-dlp         2022.01.21-1         2022.02.04-1
                             lua-lgi                    -              0.9.2-7


:: Different overlay package(s) in repository core x86_64

-------------------------------------------------------------------------------
                             PACKAGE           2022-02-03           2022-02-04
-------------------------------------------------------------------------------
                           amd-ucode                    -   20220119.0c6a7b3-3
                      linux-firmware                    -   20220119.0c6a7b3-3
                linux-firmware-bnx2x                    -   20220119.0c6a7b3-3
             linux-firmware-liquidio                    -   20220119.0c6a7b3-3
              linux-firmware-marvell                    -   20220119.0c6a7b3-3
             linux-firmware-mellanox                    -   20220119.0c6a7b3-3
                  linux-firmware-nfp                    -   20220119.0c6a7b3-3
                 linux-firmware-qcom                    -   20220119.0c6a7b3-3
               linux-firmware-qlogic                    -   20220119.0c6a7b3-3
               linux-firmware-whence                    -   20220119.0c6a7b3-3
                            linux414                    -           4.14.264-1
                    linux414-headers                    -           4.14.264-1
                            linux419                    -           4.19.227-1
                    linux419-headers                    -           4.19.227-1
                             linux44                    -            4.4.302-1
                     linux44-headers                    -            4.4.302-1
                             linux49                    -            4.9.299-1
                     linux49-headers                    -            4.9.299-1


:: Different sync package(s) in repository core x86_64

-------------------------------------------------------------------------------
                             PACKAGE           2022-02-03           2022-02-04
-------------------------------------------------------------------------------
                           amd-ucode   20220119.0c6a7b3-2                    -
                          cryptsetup              2.4.3-1              2.4.3-2
                           e2fsprogs             1.46.5-1             1.46.5-2
                             fuse2fs             1.46.5-1             1.46.5-2
                                kmod                 29-1                 29-2
                          libarchive              3.5.2-2              3.5.2-3
                      linux-firmware   20220119.0c6a7b3-2                    -
                linux-firmware-bnx2x   20220119.0c6a7b3-2                    -
             linux-firmware-liquidio   20220119.0c6a7b3-2                    -
              linux-firmware-marvell   20220119.0c6a7b3-2                    -
             linux-firmware-mellanox   20220119.0c6a7b3-2                    -
                  linux-firmware-nfp   20220119.0c6a7b3-2                    -
                 linux-firmware-qcom   20220119.0c6a7b3-2                    -
               linux-firmware-qlogic   20220119.0c6a7b3-2                    -
               linux-firmware-whence   20220119.0c6a7b3-2                    -


:: Different overlay package(s) in repository extra x86_64

-------------------------------------------------------------------------------
                             PACKAGE           2022-02-03           2022-02-04
-------------------------------------------------------------------------------
                            apparmor              3.0.3-2              3.0.3-3
                   apparmor-profiles              3.0.3-2              3.0.3-3
                  linux414-acpi_call                    -              1.2.2-7
                   linux414-bbswitch                    -              0.8-237
                linux414-broadcom-wl                    -     6.30.223.271-238
                linux414-ndiswrapper                    -              1.63-87
               linux414-nvidia-390xx                    -            390.147-6
               linux414-nvidia-470xx                    -         470.103.01-1
                     linux414-nvidia                    -          510.47.03-1
                   linux414-nvidiabl                    -             0.88-237
                      linux414-r8168                    -          8.049.02-26
                  linux414-rt3562sta                    -       2.4.1.1_r4-233
                  linux414-rtl8723bu                    -           20220114-2
                   linux414-tp_smapi                    -             0.43-129
                linux414-vhba-module                    -           20211218-3
    linux414-virtualbox-host-modules                    -             6.1.32-2
                        linux414-zfs                    -              2.1.2-4
                  linux419-acpi_call                    -              1.2.2-7
                   linux419-bbswitch                    -              0.8-220
                linux419-broadcom-wl                    -     6.30.223.271-220
                linux419-ndiswrapper                    -             1.63-110
               linux419-nvidia-390xx                    -            390.147-6
               linux419-nvidia-470xx                    -         470.103.01-1
                     linux419-nvidia                    -          510.47.03-1
                   linux419-nvidiabl                    -             0.88-219
                      linux419-r8168                    -          8.049.02-31
                  linux419-rtl8723bu                    -           20220114-2
                   linux419-tp_smapi                    -             0.43-169
                linux419-vhba-module                    -           20211218-3
    linux419-virtualbox-host-modules                    -             6.1.32-2
                        linux419-zfs                    -              2.1.2-4
                   linux44-acpi_call                    -              1.2.2-8
                    linux44-bbswitch                    -              0.8-233
                 linux44-broadcom-wl                    -     6.30.223.271-204
                 linux44-ndiswrapper                    -              1.63-81
                linux44-nvidia-390xx                    -            390.147-7
                linux44-nvidia-470xx                    -         470.103.01-2
                      linux44-nvidia                    -          510.47.03-2
                    linux44-nvidiabl                    -             0.88-233
                       linux44-r8168                    -          8.049.02-28
                   linux44-rt3562sta                    -       2.4.1.1_r4-190
                   linux44-rtl8723bu                    -           20220114-3
                    linux44-tp_smapi                    -             0.43-112
                 linux44-vhba-module                    -           20211218-4
     linux44-virtualbox-host-modules                    -             6.1.32-3
                         linux44-zfs                    -              2.1.2-5
                   linux49-acpi_call                    -              1.2.2-7
                    linux49-bbswitch                    -              0.8-244
                 linux49-broadcom-wl                    -     6.30.223.271-245
                 linux49-ndiswrapper                    -              1.63-78
                linux49-nvidia-390xx                    -            390.147-6
                linux49-nvidia-470xx                    -         470.103.01-1
                      linux49-nvidia                    -          510.47.03-1
                    linux49-nvidiabl                    -             0.88-244
                       linux49-r8168                    -          8.049.02-25
                   linux49-rt3562sta                    -       2.4.1.1_r4-228
                   linux49-rtl8723bu                    -           20220114-2
                    linux49-tp_smapi                    -             0.43-112
                 linux49-vhba-module                    -           20211218-3
     linux49-virtualbox-host-modules                    -             6.1.32-2
                         linux49-zfs                    -              2.1.2-4
                            qt5-base                    -  5.15.2+kde+r296-2.1
             qt5-xcb-private-headers                    -  5.15.2+kde+r296-2.1


:: Different sync package(s) in repository extra x86_64

-------------------------------------------------------------------------------
                             PACKAGE           2022-02-03           2022-02-04
-------------------------------------------------------------------------------
                  alsa-card-profiles           1:0.3.44-1           1:0.3.45-1
                              brltty                6.4-8                6.4-9
                             digikam              7.5.0-1              7.5.0-3
                            efitools              1.9.2-3              1.9.2-4
                 gst-plugin-pipewire           1:0.3.44-1           1:0.3.45-1
               gtk-update-icon-cache            1:4.6.0-2            1:4.6.0-3
                                gtk4            1:4.6.0-2            1:4.6.0-3
                          gtk4-demos            1:4.6.0-2            1:4.6.0-3
                           gtk4-docs            1:4.6.0-2            1:4.6.0-3
                  jack-example-tools                  1-3                  1-4
                               jack2             1.9.20-3             1.9.20-4
                          jack2-dbus             1.9.20-3             1.9.20-4
                          jack2-docs             1.9.20-3             1.9.20-4
                     kimageannotator              0.5.3-1              0.5.3-2
                       kuserfeedback              1.0.0-2              1.0.0-3
                               lcms2               2.13-2             2.13.1-1
                          libplacebo            4.192.0-1            4.192.1-1
                           mercurial              6.0.1-1              6.0.2-1
                             numactl             2.0.14-1             2.0.14-2
                            pipewire           1:0.3.44-1           1:0.3.45-1
                       pipewire-alsa           1:0.3.44-1           1:0.3.45-1
                       pipewire-docs           1:0.3.44-1           1:0.3.45-1
                       pipewire-jack           1:0.3.44-1           1:0.3.45-1
                      pipewire-pulse           1:0.3.44-1           1:0.3.45-1
                       pipewire-v4l2           1:0.3.44-1           1:0.3.45-1
                   pipewire-x11-bell           1:0.3.44-1           1:0.3.45-1
                   pipewire-zeroconf           1:0.3.44-1           1:0.3.45-1
                      plasma-desktop             5.23.5-1             5.23.5-2
                            qt5-base    5.15.2+kde+r296-2                    -
                                sddm             0.19.0-7             0.19.0-8
                                vde2             2.3.2-18             2.3.2-19


:: Different overlay package(s) in repository kde-unstable x86_64

-------------------------------------------------------------------------------
                             PACKAGE           2022-02-03           2022-02-04
-------------------------------------------------------------------------------
                kde-telephony-daemon21.08.2.r431.gd23a470-1                  -
                  kde-telephony-meta21.12.1.r431.gff84b1c-1                  -
    kde-telephony-plugin-declarative21.12.1.r431.g0e229a0-1                  -


:: Different sync package(s) in repository multilib x86_64

-------------------------------------------------------------------------------
                             PACKAGE           2022-02-03           2022-02-04
-------------------------------------------------------------------------------
                         lib32-jack2             1.9.20-2             1.9.20-3
                      lib32-pipewire           1:0.3.44-1           1:0.3.45-1
                 lib32-pipewire-jack           1:0.3.44-1           1:0.3.45-1
                 lib32-pipewire-v4l2           1:0.3.44-1           1:0.3.45-1
                                wine                7.0-1                7.1-1
                        wine-staging                7.0-1                7.1-1


No issue, everything went smoothly
Yes there was an issue. I was able to resolve it myself.(Please post your solution)
Yes i am currently experiencing an issue due to the update. (Please post about it)
Check if your mirror has already synced: