Hah. Fair enough. Though I dont think I have installed a 'full' version since 0.8.11 or whatever it was.

Just a FYI, I'm testing out/looking at the most recent manjaro-kde-21.2.0-211220-linux515.iso and noto-fonts-emoji is installed.
The screenshot i sent is from the exact same live iso you are talking about .
noto-fonts-emoji doesnt seem to work ? or is it how its supposed to work
Okay, for whatever reason it looks like we still have to make our own fonts.conf file to tell the system which emoji font to use. The instructions I followed (a few years ago) is here, don't worry it still works today and it says it's for Fedora but it works on Manjaro too.
Or you can try the following
Breath Classic (ex-Breath2) packages are in repos now:
plasma5-themes-breath-classic
breath-classic-icon-themes
breath-classic-wallpaper (wallpaper for non-plasma DEs)

@LordTermor I have these packages installed, which ones should I keep and which ones uninstall?
breath-classic-icon-themes 21.2.0-1
breath-classic-wallpaper 21.2.0-1
breath2-git r170.85732de2-1
gtk-theme-breath 5.9.0-1
plasma5-themes-breath-classic 21.2.0-1
plasma5-themes-breath-migration 21.2.0-2

gtk-theme-breath is deprecated but maybe some would like it more than breeze-gtk.
breath2-git can be removed.
breath-migration is for new breath, not breath-classic, and will ensure you won't end up with broken theming if some of it's components will be renamed or removed in future (will replace your local old settings with new suggested values). If you don't use breath this can be removed, breath-classic will not have any braking changes anymore.
Uninstalled breath2-git and messed up my system and icons. Global theme number went from 9 to 6. Had to reinstall it and loving Breath2 2021 Dark.
Breath2 2021 Dark is renamed to Breath Dark and is a part of plasma5-themes-breath. breath2 will not be updated anymore anyway.
So you should install both breath-classic and breath packages if you want Breath theme with Breath Classic icons. Or please provide which themes you use for what as I can't fully understand.
After uninstalling breath2-git there's no such Breath Dark: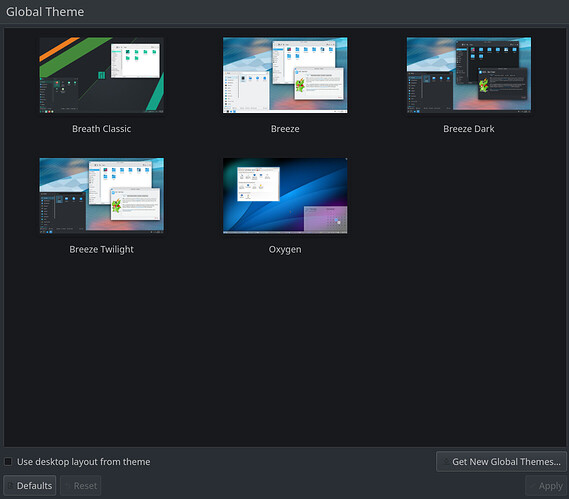 This is before uninstalling, with all 6 packages mentioned previously:
How do I fix this?
Install plasma5-themes-breath to have Breath Dark.
Does KDE need gvfs-* that was preinstalled in ISO?
I read Wiki, that gvfs-* belongs to GNOME, but it does not fit with KDE or I am wrong?
Should I uninstall it?
In and of itself, no.
Indeed, KDE Plasma does not use gvfs. It's strictly a GNOME/GTK thing. It stands for "GNOME Virtual File System".
It may have been installed as a dependency for something, or maybe it was stock issue back on the install image I used at the time.
Either way, I myself have uninstalled it here, and despite the fact that I've got several GTK/GNOME applications installed, I have so far not run into any problems because of it. So I think it would be safe to uninstall. If something depends on it, you should normally get a warning.

Indeed that shouldn't be needed. In addition I found in my istallation that these packages are present as depencency of evince. I'm pretty sure I never installed this, my default pdf viewer always was Okular. I really don't know what think about this

F12 still opens dev tools in Firefox for me. I personally switched my Yatuke shortcut to F9.
We decided to let people choose their preferred key on startup