Hello community,
Another stable branch update with some usual updates for you.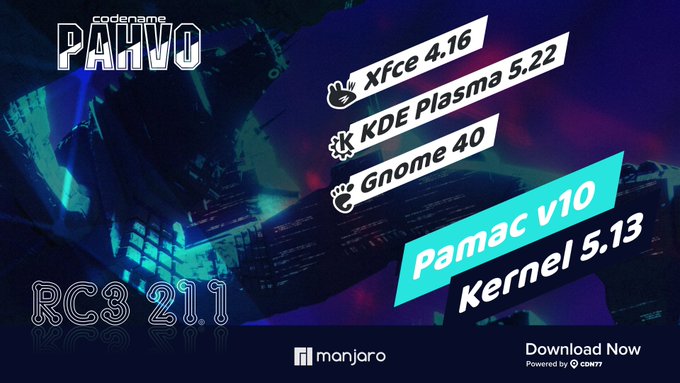 We added automatic backups on any package upgrade action when you use BTRFS as your filesystem. Test it out with our latest Release Candidate!
Most of our Kernels got updated. Note that 5.12 series is now marked EOL.
Systemd is at 248.6
Plasma got updated to 5.22.4
More updates to Cinnamon
Firefox is now at 90.0.2
We updated LibreOffice to 7.1.5
Other regular upstream updates
Get our latest daily developer images now from Github: Plasma, Gnome, XFCE. You get the latest stable releases of Manjaro from CDN77.
---
Our current supported kernels
linux44 4.4.276
linux49 4.9.276
linux414 4.14.240
linux419 4.19.198
linux54 5.4.135
linux510 5.10.53
linux512 5.12.19 [EOL]
linux513 5.13.5
linux510-rt 5.10.52_rt47
Package Updates (Wed Jul 28 10:36:33 CEST 2021)
stable community x86_64: 494 new and 476 removed package(s)
stable core x86_64: 24 new and 22 removed package(s)
stable extra x86_64: 406 new and 406 removed package(s)
stable kde-unstable x86_64: 156 new and 156 removed package(s)
stable multilib x86_64: 14 new and 15 removed package(s)
:: Different overlay package(s) in repository community x86_64

-------------------------------------------------------------------------------
                             PACKAGE           2021-07-23           2021-07-28
-------------------------------------------------------------------------------
                            cinnamon              5.0.5-3              5.0.5-5
                    cinnamon-session              5.0.0-3              5.0.1-1
            cinnamon-settings-daemon              5.0.3-2              5.0.4-1
                               cpu-x4.2.0.r170.g12d5d9f-14.2.0.r173.g6c45bb7-1
            dynamic-wallpaper-editor                2.6-1                2.7-1
                               ferdi            5.6.0-2.1              5.6.0-4
                       ferdi-manjaro5.6.0.beta.8.r6.g42ab38b2-15.6.1.nightly.2.r13.gbab27ed6-1
                        font-manager              0.8.6-1              0.8.7-1
                                 gdu              5.3.0-1              5.4.0-1
               gnome-layout-switcher             0.8.21-1             0.8.22-2
       gnome-shell-extension-arcmenu                 12-2                 14-1
     gnome-shell-extension-pop-shell  1.2.0+82+gd59e373-1 1.2.0+113+g9616931-2
                            gnuradio            3.8.2.0-4          3.9.2.0-2.1
                  gnuradio-companion            3.8.2.0-4          3.9.2.0-2.1
                    gnuradio-osmosdr              0.2.3-3                    -
                      nemo-audio-tab             5.0.0-10             5.0.0-11
                        nemo-compare             5.0.0-10             5.0.0-11
                        nemo-dropbox             5.0.0-10             5.0.0-11
                        nemo-emblems             5.0.0-10             5.0.0-11
                     nemo-fileroller             5.0.0-10             5.0.0-11
                nemo-image-converter             5.0.0-10             5.0.0-11
                  nemo-media-columns             5.0.0-10             5.0.0-11
                       nemo-pastebin             5.0.0-10             5.0.0-11
                        nemo-preview             5.0.0-10             5.0.0-11
                         nemo-python             5.0.0-10             5.0.0-11
                       nemo-repairer             5.0.0-10             5.0.0-11
                       nemo-seahorse             5.0.0-10             5.0.0-11
                          nemo-share             5.0.0-10             5.0.0-11
                       nemo-terminal             5.0.0-10             5.0.0-11
                            popsicle 1.3.0.r42.gb889d40-1 1.3.0.r43.g1a94779-1
                 python-grpcio-tools             1.38.1-1             1.39.0-1
                              thonny             3.3.11-1             3.3.13-1
                  timeshift-autosnap                0.9-1               0.10-1
                          warpinator              1.2.3-5              1.2.4-1
                                xapp              2.2.2-1              2.2.3-1
                  brave-beta-browser                    -            1.28.92-1
                       brave-browser                    -           1.27.109-1
   gnome-shell-extension-no-overview                    -                  8-1
                         linux510-rt                    -       5.10.52_rt47-3
               linux510-rt-acpi_call                    -             1.1.0-61
                linux510-rt-bbswitch                    -                0.8-5
             linux510-rt-broadcom-wl                    -       6.30.223.271-5
                 linux510-rt-headers                    -       5.10.52_rt47-3
            linux510-rt-nvidia-390xx                    -            390.144-3
                  linux510-rt-nvidia                    -          470.57.02-5
                   linux510-rt-r8168                    -           8.049.02-3
               linux510-rt-rtl8723bu                    -           20210519-5
                linux510-rt-tp_smapi                    -               0.43-5
             linux510-rt-vhba-module                    -           20210418-5
 linux510-rt-virtualbox-host-modules                    -             6.1.24-3
                              touche                    -              1.0.6-5


:: Different sync package(s) in repository community x86_64

-------------------------------------------------------------------------------
                             PACKAGE           2021-07-23           2021-07-28
-------------------------------------------------------------------------------
                                 0ad              a24.b-6              a24.b-7
               aarch64-linux-gnu-gcc             11.1.0-1             11.1.0-2
                             absl-py             0.12.0-1             0.13.0-1
                             adlplug              1.0.2-3              1.0.2-4
                          aliyun-cli             3.0.81-1             3.0.82-1
                       android-tools             31.0.0-4             31.0.2-1
                             ansible              4.2.0-1              4.3.0-1
                               antic              0.2.4-1              0.2.4-2
                          apache-orc              1.6.7-4              1.6.9-1
                                 arb             2.19.0-2             2.20.0-1
                             arch-hs           0.9.0.0-20            0.9.1.0-1
                              argocd              2.0.4-1              2.0.5-1
                               arrow              3.0.0-4              3.0.0-5
                  aspnet-runtime-3.1      3.1.16.sdk116-1      3.1.17.sdk117-1
                      aspnet-runtime       5.0.7.sdk204-2       5.0.8.sdk205-1
           aspnet-targeting-pack-3.1      3.1.16.sdk116-1      3.1.17.sdk117-1
               aspnet-targeting-pack       5.0.7.sdk204-2       5.0.8.sdk205-1
                                atom             1.57.0-1             1.58.0-1
                       atomicparsley20210617.200601.1ac7c08-120210715.151551.e7ad03a-1
                            autopep8            1:1.5.7-1            1:1.5.7-2
                           babel-cli             7.14.5-2             7.14.8-1
                         baidupcs-go              3.8.1-1              3.8.2-1
                           bash-bats              1.3.0-1              1.4.1-1
                                 bcc             0.20.0-3             0.21.0-1
                           bcc-tools             0.20.0-3             0.21.0-1
                            birdfont             2.29.4-1             2.29.5-1
                             blender          17:2.93.1-4          17:2.93.1-5
                           blueberry              1.4.2-1              1.4.4-1
                                borg             1.1.16-5             1.1.17-1
                           borgmatic             1.5.15-1             1.5.17-1
                            bpftrace             0.12.0-2             0.13.0-1
                             buildah             1.21.3-1             1.21.4-1
                              camlp4               4.11-1             4.12+1-1
                              camlp5              7.12-11                8.0-1
                    cargo-spellcheck              0.8.9-1             0.8.11-1
                             catfish             4.16.0-4             4.16.1-1
                            cdrtools            3.02a09-4            3.02a09-5
                                ceph            15.2.13-1            15.2.13-2
                           ceph-libs            15.2.13-1            15.2.13-2
                            ceph-mgr            15.2.13-1            15.2.13-2
                          cherrytree            0.99.38-1            0.99.39-2
                         chrono-date              3.0.0-2              3.0.1-1
                             cockpit                248-1                249-1
                    cockpit-machines                247-1                248-1
                         cockpit-pcp                248-1                249-1
                              consul              1.9.7-1              1.9.8-1
                          containerd              1.5.2-1              1.5.4-1
                          converseen            0.9.9.0-2            0.9.9.1-1
                                 coq             8.13.2-1             8.13.2-2
                             coq-doc             8.13.2-1             8.13.2-2
                              coqide             8.13.2-1             8.13.2-2
                              cosign              0.3.1-2              0.6.0-1
                             couchdb              3.1.1-3              3.1.1-4
                          cozy-stack           1:1.4.36-1           1:1.4.36-2
                             crystal              1.0.0-3              1.1.1-1
                             curtail              1.1.0-3              1.2.1-1
                deepin-session-shell             5.4.42-1             5.4.42-2
                        deepin-store              1.2.2-1              1.2.3-1
                               delve              1.6.1-1              1.7.0-1
                                deno             1.12.1-1             1.12.2-1
                                 dmd          1:2.097.0-1          1:2.097.1-1
                            dmd-docs          1:2.097.0-1          1:2.097.1-1
                         dotnet-host       5.0.7.sdk204-2       5.0.8.sdk205-1
                  dotnet-runtime-3.1      3.1.16.sdk116-1      3.1.17.sdk117-1
                      dotnet-runtime       5.0.7.sdk204-2       5.0.8.sdk205-1
                      dotnet-sdk-3.1      3.1.16.sdk116-1      3.1.17.sdk117-1
                          dotnet-sdk       5.0.7.sdk204-2       5.0.8.sdk205-1
           dotnet-targeting-pack-3.1      3.1.16.sdk116-1      3.1.17.sdk117-1
               dotnet-targeting-pack       5.0.7.sdk204-2       5.0.8.sdk205-1
                             drawing              0.8.0-1              0.8.3-1
                              dtools            2.097.0-1            2.097.1-1
                                dune              2.9.0-1              2.9.0-2
                             e-antic              1.0.1-2              1.0.1-3
                               eclib           20210625-1           20210625-2
                      efm-langserver             0.0.35-1             0.0.36-1
                            ejabberd              21.04-2              21.07-1
                        erlang22-nox          22.3.4.11-1          22.3.4.20-1
                     extremetuxracer              0.8.0-1              0.8.1-1
                               faust             2.30.5-3             2.33.1-1
                fcitx5-pinyin-zhwiki   1:0.2.3.20210704-1   1:0.2.3.20210722-1
           firefox-developer-edition             91.0b5-1             91.0b7-1
  firefox-developer-edition-i18n-ach             91.0b5-1             91.0b7-1
   firefox-developer-edition-i18n-af             91.0b5-1             91.0b7-1
   firefox-developer-edition-i18n-an             91.0b5-1             91.0b7-1
   firefox-developer-edition-i18n-ar             91.0b5-1             91.0b7-1
  firefox-developer-edition-i18n-ast             91.0b5-1             91.0b7-1
   firefox-developer-edition-i18n-az             91.0b5-1             91.0b7-1
   firefox-developer-edition-i18n-be             91.0b5-1             91.0b7-1
   firefox-developer-edition-i18n-bg             91.0b5-1             91.0b7-1
   firefox-developer-edition-i18n-bn             91.0b5-1             91.0b7-1
   firefox-developer-edition-i18n-br             91.0b5-1             91.0b7-1
   firefox-developer-edition-i18n-bs             91.0b5-1             91.0b7-1
   firefox-developer-edition-i18n-ca             91.0b5-1             91.0b7-1
firefox-developer-edition-i18n-ca-valencia       91.0b5-1             91.0b7-1
  firefox-developer-edition-i18n-cak             91.0b5-1             91.0b7-1
   firefox-developer-edition-i18n-cs             91.0b5-1             91.0b7-1
   firefox-developer-edition-i18n-cy             91.0b5-1             91.0b7-1
   firefox-developer-edition-i18n-da             91.0b5-1             91.0b7-1
   firefox-developer-edition-i18n-de             91.0b5-1             91.0b7-1
  firefox-developer-edition-i18n-dsb             91.0b5-1             91.0b7-1
   firefox-developer-edition-i18n-el             91.0b5-1             91.0b7-1
firefox-developer-edition-i18n-en-ca             91.0b5-1             91.0b7-1
firefox-developer-edition-i18n-en-gb             91.0b5-1             91.0b7-1
firefox-developer-edition-i18n-en-us             91.0b5-1             91.0b7-1
   firefox-developer-edition-i18n-eo             91.0b5-1             91.0b7-1
firefox-developer-edition-i18n-es-ar             91.0b5-1             91.0b7-1
firefox-developer-edition-i18n-es-cl             91.0b5-1             91.0b7-1
firefox-developer-edition-i18n-es-es             91.0b5-1             91.0b7-1
firefox-developer-edition-i18n-es-mx             91.0b5-1             91.0b7-1
   firefox-developer-edition-i18n-et             91.0b5-1             91.0b7-1
   firefox-developer-edition-i18n-eu             91.0b5-1             91.0b7-1
   firefox-developer-edition-i18n-fa             91.0b5-1             91.0b7-1
   firefox-developer-edition-i18n-ff             91.0b5-1             91.0b7-1
   firefox-developer-edition-i18n-fi             91.0b5-1             91.0b7-1
   firefox-developer-edition-i18n-fr             91.0b5-1             91.0b7-1
firefox-developer-edition-i18n-fy-nl             91.0b5-1             91.0b7-1
firefox-developer-edition-i18n-ga-ie             91.0b5-1             91.0b7-1
   firefox-developer-edition-i18n-gd             91.0b5-1             91.0b7-1
   firefox-developer-edition-i18n-gl             91.0b5-1             91.0b7-1
   firefox-developer-edition-i18n-gn             91.0b5-1             91.0b7-1
firefox-developer-edition-i18n-gu-in             91.0b5-1             91.0b7-1
   firefox-developer-edition-i18n-he             91.0b5-1             91.0b7-1
firefox-developer-edition-i18n-hi-in             91.0b5-1             91.0b7-1
   firefox-developer-edition-i18n-hr             91.0b5-1             91.0b7-1
  firefox-developer-edition-i18n-hsb             91.0b5-1             91.0b7-1
   firefox-developer-edition-i18n-hu             91.0b5-1             91.0b7-1
firefox-developer-edition-i18n-hy-am             91.0b5-1             91.0b7-1
   firefox-developer-edition-i18n-ia             91.0b5-1             91.0b7-1
   firefox-developer-edition-i18n-id             91.0b5-1             91.0b7-1
   firefox-developer-edition-i18n-is             91.0b5-1             91.0b7-1
   firefox-developer-edition-i18n-it             91.0b5-1             91.0b7-1
   firefox-developer-edition-i18n-ja             91.0b5-1             91.0b7-1
   firefox-developer-edition-i18n-ka             91.0b5-1             91.0b7-1
  firefox-developer-edition-i18n-kab             91.0b5-1             91.0b7-1
   firefox-developer-edition-i18n-kk             91.0b5-1             91.0b7-1
   firefox-developer-edition-i18n-km             91.0b5-1             91.0b7-1
   firefox-developer-edition-i18n-kn             91.0b5-1             91.0b7-1
   firefox-developer-edition-i18n-ko             91.0b5-1             91.0b7-1
  firefox-developer-edition-i18n-lij             91.0b5-1             91.0b7-1
   firefox-developer-edition-i18n-lt             91.0b5-1             91.0b7-1
   firefox-developer-edition-i18n-lv             91.0b5-1             91.0b7-1
   firefox-developer-edition-i18n-mk             91.0b5-1             91.0b7-1
   firefox-developer-edition-i18n-mr             91.0b5-1             91.0b7-1
   firefox-developer-edition-i18n-ms             91.0b5-1             91.0b7-1
   firefox-developer-edition-i18n-my             91.0b5-1             91.0b7-1
firefox-developer-edition-i18n-nb-no             91.0b5-1             91.0b7-1
firefox-developer-edition-i18n-ne-np             91.0b5-1             91.0b7-1
   firefox-developer-edition-i18n-nl             91.0b5-1             91.0b7-1
firefox-developer-edition-i18n-nn-no             91.0b5-1             91.0b7-1
   firefox-developer-edition-i18n-oc             91.0b5-1             91.0b7-1
firefox-developer-edition-i18n-pa-in             91.0b5-1             91.0b7-1
   firefox-developer-edition-i18n-pl             91.0b5-1             91.0b7-1
firefox-developer-edition-i18n-pt-br             91.0b5-1             91.0b7-1
firefox-developer-edition-i18n-pt-pt             91.0b5-1             91.0b7-1
   firefox-developer-edition-i18n-rm             91.0b5-1             91.0b7-1
   firefox-developer-edition-i18n-ro             91.0b5-1             91.0b7-1
   firefox-developer-edition-i18n-ru             91.0b5-1             91.0b7-1
   firefox-developer-edition-i18n-si             91.0b5-1             91.0b7-1
   firefox-developer-edition-i18n-sk             91.0b5-1             91.0b7-1
   firefox-developer-edition-i18n-sl             91.0b5-1             91.0b7-1
  firefox-developer-edition-i18n-son             91.0b5-1             91.0b7-1
   firefox-developer-edition-i18n-sq             91.0b5-1             91.0b7-1
   firefox-developer-edition-i18n-sr             91.0b5-1             91.0b7-1
firefox-developer-edition-i18n-sv-se             91.0b5-1             91.0b7-1
   firefox-developer-edition-i18n-ta             91.0b5-1             91.0b7-1
   firefox-developer-edition-i18n-te             91.0b5-1             91.0b7-1
   firefox-developer-edition-i18n-th             91.0b5-1             91.0b7-1
   firefox-developer-edition-i18n-tl             91.0b5-1             91.0b7-1
   firefox-developer-edition-i18n-tr             91.0b5-1             91.0b7-1
  firefox-developer-edition-i18n-trs             91.0b5-1             91.0b7-1
   firefox-developer-edition-i18n-uk             91.0b5-1             91.0b7-1
   firefox-developer-edition-i18n-ur             91.0b5-1             91.0b7-1
   firefox-developer-edition-i18n-uz             91.0b5-1             91.0b7-1
   firefox-developer-edition-i18n-vi             91.0b5-1             91.0b7-1
   firefox-developer-edition-i18n-xh             91.0b5-1             91.0b7-1
firefox-developer-edition-i18n-zh-cn             91.0b5-1             91.0b7-1
firefox-developer-edition-i18n-zh-tw             91.0b5-1             91.0b7-1
               firefox-ublock-origin             1.36.2-1             1.37.0-1
                           flameshot             0.10.0-1             0.10.1-1
                               flint              2.7.1-2              2.8.0-1
                                fltk              1.3.6-1              1.3.7-1
                           fltk-docs              1.3.6-1              1.3.7-1
                       fltk-examples              1.3.6-1              1.3.7-1
                             fluxctl             1.23.0-1             1.23.1-1
                           freedroid             1.0.2-11              1.2.1-1
                                gala              6.0.0-1              6.0.0-2
                         geckodriver             0.26.0-1             0.29.1-1
                            geogebra          6.0.654.0-1          6.0.656.0-1
                         ghostwriter              2.0.1-1              2.0.2-1
                               giada           0.18.0.1-1             0.18.1-1
                          github-cli             1.12.1-1             1.13.1-1
                       gitlab-gitaly             14.0.3-1             14.0.4-1
                             glances              3.2.0-1              3.2.1-1
                      gnuradio-iqbal             0.38.1-4             0.38.2-1
                         go-ethereum             1.10.5-1             1.10.6-1
                             go-ipfs              0.9.0-2              0.9.1-1
                           go-md2man              2.0.0-4              2.0.1-1
                             gpg-tui              0.7.2-1              0.7.3-1
                              gpxsee                9.0-1                9.3-1
                                gqrx             2.14.4-1             2.14.4-2
                                grpc             1.38.1-1             1.39.0-1
                            grpc-cli             1.38.1-1             1.39.0-1
                               gsoap            2.8.115-1            2.8.116-1
                              hamlib               3.3-10               3.3-11
                    haskell-cracknum                2.4-5                3.1-1
                                helm              3.6.2-1              3.6.3-1
                            helmfile            0.139.9-1            0.140.0-1
                               hivex             1.3.20-5             1.3.20-6
                      home-assistant           2021.5.3-2           2021.7.4-2
                                hugo             0.85.0-1             0.86.0-1
                          ibus-table             1.13.3-1             1.14.0-1
                             in-toto              1.0.1-1              1.1.1-1
                                ipxe             1.21.1-1             1.21.1-2
                               jack2             1.9.19-1                    -
                          jack2-dbus             1.9.19-1                    -
                             jenkins              2.302-1              2.304-1
                       jitterentropy              3.0.2-1              3.1.0-1
                                jmol           14.31.45-1           14.31.48-1
                               jsmol           14.31.45-1           14.31.48-1
                      jupyter-server              1.9.0-2             1.10.1-1
                          jupyterlab             3.0.16-1              3.1.0-1
                                just              0.9.8-1              0.9.9-1
                               kitty             0.21.2-2             0.22.0-1
                      kitty-terminfo             0.21.2-2             0.22.0-1
                             klayout             0.27.2-1             0.27.3-1
                              kresus             0.17.4-1             0.17.4-2
                              kstars            1:3.5.3-1            1:3.5.4-1
                kubectl-cert-manager              1.4.0-1              1.4.1-1
                           kustomize              4.1.3-1              4.2.0-1
               kvantum-theme-materia           20210624-1           20210722-1
                            lablgtk3              3.1.1-2              3.1.1-3
                    libcontentaction              0.4.0-1              0.4.1-1
                      libcurl-compat             7.77.0-1             7.78.0-1
                      libcurl-gnutls             7.77.0-1             7.78.0-1
                          libguestfs             1.44.1-5             1.44.1-6
                           libphobos          1:2.097.0-1          1:2.097.1-1
                             libpoly              0.1.9-1             0.1.10-1
            libretro-beetle-pce-fast               1127-1               1129-1
                 libretro-beetle-psx               2538-1               2544-1
              libretro-beetle-psx-hw               2538-1               2544-1
                    libretro-dolphin              32990-2              32990-3
                   libretro-gambatte                908-1                912-1
                       libretro-mgba               7842-1               7979-1
           libretro-mupen64plus-next              1:343-1              1:374-1
                       libretro-play               6549-1               6630-1
                     libretro-ppsspp              29976-1              30121-1
              libretro-shaders-slang                814-1                816-1
                    libretro-yabause               3311-1               3312-1
                       libsemigroups              1.3.7-2              1.3.7-3
                              libuhd            4.0.0.0-2            4.1.0.1-2
                     libuhd-firmware            4.0.0.0-1            4.1.0.1-1
                             libvolk            2:2.4.1-1            2:2.5.0-1
                 lua-language-server              2.3.2-1              2.3.3-1
                               lxcfs              4.0.8-1              4.0.9-1
                                mame              0.233-1              0.234-1
                          mame-tools              0.233-1              0.234-1
                         materia-kde           20210624-1           20210722-1
                          mattermost             5.37.0-1             5.37.0-2
                              mdbook             0.4.10-1             0.4.11-1
                          metasploit             6.0.48-1             6.0.53-1
                               mgard              0.1.0-1              0.1.0-2
                               minio         2021.07.08-1         2021.07.22-1
                        minio-client         2021.06.08-1         2021.06.13-1
                      mongo-c-driver             1.17.5-1             1.18.0-1
                              mumble              1.3.4-7              1.3.4-8
                              murmur              1.3.4-7              1.3.4-8
                  nemo-qt-components             2.0.15-4                    -
               netfilter-fullconenat      r73.0cf3b48-131      r73.0cf3b48-133
          netstandard-targeting-pack       5.0.7.sdk204-2       5.0.8.sdk205-1
           networkmanager-strongswan              1.5.2-1              1.5.2-2
                            newsboat               2.24-1               2.24-2
                           newsflash              1.4.1-1              1.4.2-1
             nextcloud-app-bookmarks            1:4.3.0-1            1:4.4.0-1
                           nicotine+              3.0.6-1              3.1.0-1
             nomad-driver-containerd                0.8-2                0.9-1
                            normaliz              3.9.0-1              3.9.0-2
                                 npm             7.17.0-1             7.20.2-1
                                 nsd              4.3.6-1              4.3.7-1
                               nvtop              1.2.1-1              1.2.2-1
                          ocaml-base             0.14.1-1             0.14.1-2
                         ocaml-cairo              0.6.2-1              0.6.2-2
      ocaml-compiler-libs-repackaged             0.12.3-1             0.12.3-2
                         ocaml-csexp              1.3.2-1              1.3.2-2
                       ocaml-findlib              1.9.1-1              1.9.1-2
                      ocaml-hashcons                1.3-1                1.3-2
                        ocaml-lablgl               1.06-8               1.06-9
                           ocaml-num                1.4-2                1.4-3
                  ocaml-ppx_derivers              1.2.1-5              1.2.1-6
                      ocaml-sexplib0             0.14.0-2             0.14.0-3
                         ocaml-stdio             0.14.0-2             0.14.0-3
                  ocaml-stdlib-shims              0.3.0-1              0.3.0-2
                        ocaml-zarith               1.11-1               1.11-2
                                opam              2.0.8-1              2.0.9-1
                             opendht           1:2.1.10-2           1:2.1.10-3
                               opera      77.0.4054.254-1      77.0.4054.277-1
                 opera-ffmpeg-codecs      91.0.4472.124-1      91.0.4472.164-1
                        operator-sdk              1.9.0-1             1.10.0-1
                             opnplug              1.0.2-3              1.0.2-4
                           osdlyrics              0.4.3-7              0.5.6-1
                   pantheon-calendar              5.1.1-3              6.0.0-1
                     pantheon-camera              1.0.6-4              6.0.0-1
                         pcsx2 1.7.0.r1296.d310ae948-2 1.7.0.r1545.34e779a65-1
                               pdfjs            2.9.359-1           2.10.377-1
                          pdfmixtool                0.6-2              1.0.2-1
                         perl-specio               0.43-2               0.47-1
                       perl-sys-virt              7.1.0-1              7.2.0-1
                    perl-test-simple           1.302185-2           1.302186-1
                    perl-test2-suite           0.000140-2           0.000141-1
                            php-grpc             1.38.1-1             1.39.0-1
                        php-igbinary              3.2.3-1              3.2.4-1
                         php-imagick              3.5.0-1              3.5.1-1
                           php7-grpc             1.38.1-1             1.39.0-1
                       php7-igbinary              3.2.3-1              3.2.4-1
                        php7-imagick              3.5.0-1              3.5.1-1
                               piper              0.5.1-2                0.6-1
                       piping-server              0.8.4-1              0.8.5-1
                            polymake                4.4-4                4.4-5
                             postgis              3.1.2-1              3.1.3-1
                            powerdns              4.5.0-1              4.5.1-1
                 processing-examples              3.3.3-3                    -
                      proxychains-ng               4.14-2               4.15-1
                              pulumi              3.7.0-1              3.7.1-1
                               pyenv              2.0.3-1              2.0.4-1
                               pynac             0.7.29-2             0.7.29-3
                             pyright            1.1.157-1            1.1.158-1
                      python-aiogram             2.14.2-1             2.14.3-1
                        python-anyio              3.2.1-1              3.3.0-1
           python-aws-sam-translator             1.37.0-1             1.38.0-1
                          python-bcc             0.20.0-3             0.21.0-1
                        python-black             21.6b0-3             21.7b0-1
                      python-breathe             4.30.0-1             4.30.0-2
                        python-btrfs                 12-2                 13-1
                 python-cinderclient              7.4.0-1              8.0.0-1
                      python-confuse              1.4.0-1              1.5.0-1
                    python-dbus-next              0.2.2-2              0.2.3-1
                       python-dotenv             0.18.0-1             0.19.0-1
                  python-entrypoint2                0.2-3              0.2.4-1
                        python-faker             8.10.1-1             8.10.3-1
                 python-flake8-black              0.2.1-5              0.2.2-1
                         python-flit              3.2.0-2              3.2.0-3
                    python-flit-core              3.2.0-2              3.2.0-3
                    python-fonttools             4.25.1-1             4.25.2-1
                       python-grpcio             1.38.1-1             1.39.0-1
                       python-hcloud             1.12.0-1             1.13.0-1
                       python-hunter              3.3.7-1              3.3.8-1
                   python-hypothesis             6.14.3-1             6.14.5-1
                  python-json-logger             0.1.11-5              2.0.0-1
           python-jsonschema-objects             0.3.13-1             0.3.14-1
                  python-marshmallow             3.12.2-1             3.13.0-1
                   python-matrix-nio             0.18.4-1             0.18.5-1
                python-matrix_client              0.3.2-3                    -
                     python-networkx              2.5.1-2              2.6.2-1
                       python-pandas              1.3.0-1              1.3.1-1
                         python-path             16.0.0-1             16.2.0-1
                 python-phonenumbers            8.12.27-1            8.12.28-1
                      python-pikepdf             2.15.1-1             2.16.1-1
                     python-prawcore              2.2.0-1              2.3.0-1
                         python-py3c                1.3-1              1.3.1-1
                        python-pygls             0.11.1-1             0.11.2-1
                   python-pyhamcrest             1.10.0-1             1.10.1-1
                    python-pykeepass              4.0.0-1              4.0.1-1
                  python-pyotherside              1.5.8-3              1.5.9-1
                      python-pyscard              2.0.0-2              2.0.1-1
                python-pytest-runner                5.2-3              5.3.0-1
               python-pytest-twisted             1.13.2-3             1.13.3-1
                        python-pyzmq             22.0.3-1             22.1.0-1
             python-ruamel.yaml.clib              0.2.4-1              0.2.6-1
                       python-sphinx              4.1.1-1              4.1.2-1
                python-threadpoolctl              2.1.0-3              2.2.0-1
                     python-watchgod                0.6-2                0.7-1
                    python-xmlschema              1.2.4-1              1.2.5-1
               python-zita-jacktools              1.5.2-1              1.5.3-1
                   python-zope-proxy              4.3.5-3              4.4.0-1
               python2-pytest-runner                5.2-3                5.2-4
                                qcad           3.26.4.2-1           3.26.4.5-1
                                 qmk              0.1.0-1              0.2.2-1
                            radicale              3.0.6-2              3.0.6-3
               react-native-debugger             0.11.9-1             0.12.1-1
                          rebuilderd             0.12.0-1             0.13.0-1
                               redis              6.2.4-1              6.2.5-1
                               renpy              7.4.6-1              7.4.7-1
                         renpy-demos              7.4.6-1              7.4.7-1
                           retroarch              1.9.6-3              1.9.7-1
                      rime-cantonese     0.0.0.20210715-1     0.0.0.20210717-1
                  rime-pinyin-zhwiki   1:0.2.3.20210704-1   1:0.2.3.20210722-1
                       rust-analyzer           20210719-1           20210726-1
                        rust-bindgen             0.58.1-1             0.59.1-1
                            sagemath               9.3-10               9.3-11
                              sakura              3.8.2-1              3.8.3-1
                               scite              5.0.3-1              5.1.0-1
                               scrot                1.5-1                1.6-1
                           seamonkey             2.53.8-1           2.53.8.1-1
                              shards             0.14.1-1             0.15.0-1
                      signal-desktop              5.9.0-1             5.10.0-1
                            sigutils              0.1.0-3              0.1.0-4
                            singular              4.2.1-2              4.2.1-3
                            skaffold             1.28.0-1             1.28.1-1
                              smtube             20.6.0-1             21.7.0-1
                           soapyosmo             0.2.5-11             0.2.5-12
                            soapyuhd              0.4.1-3              0.4.1-4
                              spdlog              1.8.5-2              1.9.0-1
                      squashfs-tools          4.4_git.1-1                    -
                               squid               4.15-1               4.16-1
                              srslte            20.04.2-8            20.04.2-9
                         srslte-avx2            20.04.2-8            20.04.2-9
                             step-ca            0.15.15-1             0.16.0-1
                          strongswan              5.9.2-1              5.9.3-1
                              suscan              0.1.0-4              0.1.0-5
                          svgcleaner              0.9.5-2              0.9.5-3
           switchboard-plug-printers              2.1.9-2             2.1.10-1
                           symengine              0.7.0-1              0.7.0-2
                             systemc              2.3.3-1              2.3.3-2
                           tailscale             1.10.2-1             1.12.0-1
                           terraform              1.0.2-1              1.0.3-1
                          terragrunt             0.30.7-1             0.31.1-1
                               tint2               17.0-1             17.0.1-1
                                tldr              1.2.1-1              2.0.0-1
                        ttf-ibm-plex              5.1.3-1              5.2.1-1
                   ttf-sarasa-gothic            0.32.12-1             0.33.0-1
                           uglify-js            3.13.10-1             3.14.1-1
                             unbound             1.13.1-1             1.13.1-2
                                 urh              2.9.2-1              2.9.2-2
                            urlwatch               2.23-2               2.23-3
         v2ray-domain-list-community     20210718155822-1     20210727125446-1
                         v2ray-geoip       202107150023-1       202107220025-1
                         vapoursynth                R53-1                R54-1
                         vaultwarden             1.22.1-1             1.22.2-1
                     vaultwarden-web           2.20.4.b-1             2.21.1-1
                           vidcutter              6.0.5-2            6.0.5.1-1
                            vim-clap               0.26-1               0.27-1
                         warzone2100              4.1.0-1              4.1.1-1
                           watchexec             1.15.3-1             1.17.0-1
                              waybar              0.9.7-2              0.9.7-5
                             whipper             0.10.0-2             0.10.0-3
                             wings3d              2.2.5-4                    -
                                woob                3.0-1                3.0-2
                                  xh             0.10.0-1             0.11.0-1
                               xonsh             0.9.27-1             0.10.0-1
                               yaegi             0.9.19-1             0.9.21-1
                                yarn            1.22.10-1            1.22.11-1
                     yubikey-manager              4.0.3-2              4.0.5-1
                               b3sum                    -              1.0.0-2
                           cabal-fmt                    -            0.1.5.1-1
                        cargo-expand                    -              1.0.7-1
                              fulcio                    -              0.1.0-1
                    gnuradio-osmosdr                    -              0.2.3-4
                haskell-unicode-data                    -            0.1.0.1-1
                       pantheon-mail                    -              6.0.0-1
                   pantheon-sideload                    -              6.0.0-1
                      pantheon-tasks                    -              6.0.0-1
                           python-jq                    -              1.1.3-3


:: Different overlay package(s) in repository core x86_64

-------------------------------------------------------------------------------
                             PACKAGE           2021-07-23           2021-07-28
-------------------------------------------------------------------------------
                            linux510            5.10.52-1            5.10.53-1
                    linux510-headers            5.10.52-1            5.10.53-1
                            linux513             5.13.4-1             5.13.5-1
                    linux513-headers             5.13.4-1             5.13.5-1
                  linux514 5.14.rc2.d0718.g2734d6c-1 5.14.rc3.d0725.gff11764-1
          linux514-headers 5.14.rc2.d0718.g2734d6c-1 5.14.rc3.d0725.gff11764-1
                             linux54            5.4.134-1            5.4.135-1
                     linux54-headers            5.4.134-1            5.4.135-1
                     manjaro-release          21.1.0rc2-1          21.1.0rc3-1
                      pacman-mirrors             4.21.3-2             4.21.5-1
                             systemd              248.5-1              248.6-1
                        systemd-libs              248.5-1              248.6-1
                  systemd-resolvconf              248.5-1              248.6-1
                  systemd-sysvcompat              248.5-1              248.6-1


:: Different sync package(s) in repository core x86_64

-------------------------------------------------------------------------------
                             PACKAGE           2021-07-23           2021-07-28
-------------------------------------------------------------------------------
                                curl             7.77.0-1             7.78.0-1
                             libldap             2.4.59-1             2.4.59-2
                          libnghttp2             1.43.0-1             1.44.0-1
                           man-pages               5.12-1               5.12-2
                            openldap             2.4.59-1             2.4.59-2
                                perl             5.34.0-1             5.34.0-2
                          util-linux               2.37-3             2.37.1-1
                     util-linux-libs               2.37-3             2.37.1-1
                              python                    -              3.9.6-1
                        python-tests                    -              3.9.6-1


:: Different overlay package(s) in repository extra x86_64

-------------------------------------------------------------------------------
                             PACKAGE           2021-07-23           2021-07-28
-------------------------------------------------------------------------------
                                 gdm               40.0-6                    -
                        gdm-plymouth               40.0-2               40.1-1
                              libgdm               40.0-6                    -
                     libgdm-plymouth               40.0-2               40.1-1
                  linux510-acpi_call             1.1.0-68             1.1.0-69
                   linux510-bbswitch               0.8-68               0.8-69
                linux510-broadcom-wl      6.30.223.271-69      6.30.223.271-70
               linux510-nvidia-390xx            390.144-1            390.144-2
                     linux510-nvidia          470.57.02-1          470.57.02-2
                      linux510-r8168           8.049.02-5           8.049.02-6
                  linux510-rtl8723bu          20210519-16          20210519-17
                   linux510-tp_smapi              0.43-68              0.43-69
                linux510-vhba-module          20210418-23          20210418-24
    linux510-virtualbox-host-modules             6.1.24-1             6.1.24-2
                        linux510-zfs              2.1.0-5              2.1.0-6
                  linux513-acpi_call              1.1.0-7              1.1.0-8
                   linux513-bbswitch                0.8-7                0.8-8
                linux513-broadcom-wl       6.30.223.271-7       6.30.223.271-8
               linux513-nvidia-390xx            390.144-1            390.144-2
                     linux513-nvidia          470.57.02-1          470.57.02-2
                      linux513-r8168           8.049.02-6           8.049.02-7
                  linux513-rtl8723bu           20210519-8           20210519-9
                   linux513-tp_smapi               0.43-7               0.43-8
                linux513-vhba-module           20210418-7           20210418-8
    linux513-virtualbox-host-modules             6.1.24-1             6.1.24-2
                        linux513-zfs              2.1.0-6              2.1.0-7
                  linux514-acpi_call            1.1.0-0.2            1.1.0-0.3
                   linux514-bbswitch              0.8-0.2              0.8-0.3
                linux514-broadcom-wl     6.30.223.271-0.2     6.30.223.271-0.3
               linux514-nvidia-390xx          390.144-0.1          390.144-0.3
                     linux514-nvidia          470.57.02-1        470.57.02-1.1
                      linux514-r8168         8.049.02-0.2         8.049.02-0.3
                  linux514-rtl8723bu         20210519-0.2         20210519-0.3
                   linux514-tp_smapi             0.43-0.2             0.43-0.3
                linux514-vhba-module         20210418-0.2         20210418-0.3
    linux514-virtualbox-host-modules           6.1.24-0.1           6.1.24-0.3
                   linux54-acpi_call            1.1.0-143            1.1.0-144
                    linux54-bbswitch              0.8-143              0.8-144
                 linux54-broadcom-wl     6.30.223.271-143     6.30.223.271-144
                 linux54-ndiswrapper              1.63-99             1.63-100
                linux54-nvidia-390xx            390.144-1            390.144-2
                      linux54-nvidia          470.57.02-1          470.57.02-2
                    linux54-nvidiabl             0.88-143             0.88-144
                       linux54-r8168           8.049.02-5           8.049.02-6
                   linux54-rtl8723bu          20210519-16          20210519-17
                    linux54-tp_smapi             0.43-143             0.43-144
                 linux54-vhba-module          20210418-23          20210418-24
     linux54-virtualbox-host-modules             6.1.24-1             6.1.24-2
                         linux54-zfs              2.1.0-5              2.1.0-6
                       manjaro-hello              0.6.7-2              0.6.6-6
                   manjaro-hello-dev              0.6.5-1                    -
                               snapd             2.51.3-1             2.51.3-2
               softmaker-office-2021               1032-1               1034-1
                          libxnvctrl                    -          470.57.02-2


:: Different sync package(s) in repository extra x86_64

-------------------------------------------------------------------------------
                             PACKAGE           2021-07-23           2021-07-28
-------------------------------------------------------------------------------
                         389-ds-base              2.0.3-2              2.0.7-1
                              amdvlk          2021.Q3.1-1          2021.Q3.2-1
                                 aom              3.1.1-1              3.1.2-1
                            aom-docs              3.1.1-1              3.1.2-1
            archlinux-appstream-data           20210612-1           20210723-1
                           bluedevil           1:5.22.3-1           1:5.22.4-1
                             booster                0.5-1                0.6-1
                              breeze             5.22.3-1             5.22.4-1
                         breeze-grub             5.22.3-1             5.22.4-1
                          breeze-gtk             5.22.3-1             5.22.4-1
                              brltty                6.3-3                6.3-4
                               clazy                1.9-3               1.10-1
                               cmake             3.21.0-1             3.21.1-1
                            composer              2.1.3-1              2.1.5-1
                         dbus-python             1.2.16-4             1.2.18-1
                             digikam              7.3.0-2              7.3.0-4
                            discover             5.22.3-1             5.22.4-1
                             drkonqi             5.22.3-1             5.22.4-1
                              evince               40.3-1               40.4-1
                          f2fs-tools             1.14.0-1             1.14.0-2
                              facile             1.1.3-12             1.1.3-13
                                 feh                3.7-1              3.7.1-1
                             firefox             90.0.1-1             90.0.2-1
                    firefox-i18n-ach             90.0.1-1             90.0.2-1
                     firefox-i18n-af             90.0.1-1             90.0.2-1
                     firefox-i18n-an             90.0.1-1             90.0.2-1
                     firefox-i18n-ar             90.0.1-1             90.0.2-1
                    firefox-i18n-ast             90.0.1-1             90.0.2-1
                     firefox-i18n-az             90.0.1-1             90.0.2-1
                     firefox-i18n-be             90.0.1-1             90.0.2-1
                     firefox-i18n-bg             90.0.1-1             90.0.2-1
                     firefox-i18n-bn             90.0.1-1             90.0.2-1
                     firefox-i18n-br             90.0.1-1             90.0.2-1
                     firefox-i18n-bs             90.0.1-1             90.0.2-1
                     firefox-i18n-ca             90.0.1-1             90.0.2-1
            firefox-i18n-ca-valencia             90.0.1-1             90.0.2-1
                    firefox-i18n-cak             90.0.1-1             90.0.2-1
                     firefox-i18n-cs             90.0.1-1             90.0.2-1
                     firefox-i18n-cy             90.0.1-1             90.0.2-1
                     firefox-i18n-da             90.0.1-1             90.0.2-1
                     firefox-i18n-de             90.0.1-1             90.0.2-1
                    firefox-i18n-dsb             90.0.1-1             90.0.2-1
                     firefox-i18n-el             90.0.1-1             90.0.2-1
                  firefox-i18n-en-ca             90.0.1-1             90.0.2-1
                  firefox-i18n-en-gb             90.0.1-1             90.0.2-1
                  firefox-i18n-en-us             90.0.1-1             90.0.2-1
                     firefox-i18n-eo             90.0.1-1             90.0.2-1
                  firefox-i18n-es-ar             90.0.1-1             90.0.2-1
                  firefox-i18n-es-cl             90.0.1-1             90.0.2-1
                  firefox-i18n-es-es             90.0.1-1             90.0.2-1
                  firefox-i18n-es-mx             90.0.1-1             90.0.2-1
                     firefox-i18n-et             90.0.1-1             90.0.2-1
                     firefox-i18n-eu             90.0.1-1             90.0.2-1
                     firefox-i18n-fa             90.0.1-1             90.0.2-1
                     firefox-i18n-ff             90.0.1-1             90.0.2-1
                     firefox-i18n-fi             90.0.1-1             90.0.2-1
                     firefox-i18n-fr             90.0.1-1             90.0.2-1
                  firefox-i18n-fy-nl             90.0.1-1             90.0.2-1
                  firefox-i18n-ga-ie             90.0.1-1             90.0.2-1
                     firefox-i18n-gd             90.0.1-1             90.0.2-1
                     firefox-i18n-gl             90.0.1-1             90.0.2-1
                     firefox-i18n-gn             90.0.1-1             90.0.2-1
                  firefox-i18n-gu-in             90.0.1-1             90.0.2-1
                     firefox-i18n-he             90.0.1-1             90.0.2-1
                  firefox-i18n-hi-in             90.0.1-1             90.0.2-1
                     firefox-i18n-hr             90.0.1-1             90.0.2-1
                    firefox-i18n-hsb             90.0.1-1             90.0.2-1
                     firefox-i18n-hu             90.0.1-1             90.0.2-1
                  firefox-i18n-hy-am             90.0.1-1             90.0.2-1
                     firefox-i18n-ia             90.0.1-1             90.0.2-1
                     firefox-i18n-id             90.0.1-1             90.0.2-1
                     firefox-i18n-is             90.0.1-1             90.0.2-1
                     firefox-i18n-it             90.0.1-1             90.0.2-1
                     firefox-i18n-ja             90.0.1-1             90.0.2-1
                     firefox-i18n-ka             90.0.1-1             90.0.2-1
                    firefox-i18n-kab             90.0.1-1             90.0.2-1
                     firefox-i18n-kk             90.0.1-1             90.0.2-1
                     firefox-i18n-km             90.0.1-1             90.0.2-1
                     firefox-i18n-kn             90.0.1-1             90.0.2-1
                     firefox-i18n-ko             90.0.1-1             90.0.2-1
                    firefox-i18n-lij             90.0.1-1             90.0.2-1
                     firefox-i18n-lt             90.0.1-1             90.0.2-1
                     firefox-i18n-lv             90.0.1-1             90.0.2-1
                     firefox-i18n-mk             90.0.1-1             90.0.2-1
                     firefox-i18n-mr             90.0.1-1             90.0.2-1
                     firefox-i18n-ms             90.0.1-1             90.0.2-1
                     firefox-i18n-my             90.0.1-1             90.0.2-1
                  firefox-i18n-nb-no             90.0.1-1             90.0.2-1
                  firefox-i18n-ne-np             90.0.1-1             90.0.2-1
                     firefox-i18n-nl             90.0.1-1             90.0.2-1
                  firefox-i18n-nn-no             90.0.1-1             90.0.2-1
                     firefox-i18n-oc             90.0.1-1             90.0.2-1
                  firefox-i18n-pa-in             90.0.1-1             90.0.2-1
                     firefox-i18n-pl             90.0.1-1             90.0.2-1
                  firefox-i18n-pt-br             90.0.1-1             90.0.2-1
                  firefox-i18n-pt-pt             90.0.1-1             90.0.2-1
                     firefox-i18n-rm             90.0.1-1             90.0.2-1
                     firefox-i18n-ro             90.0.1-1             90.0.2-1
                     firefox-i18n-ru             90.0.1-1             90.0.2-1
                     firefox-i18n-si             90.0.1-1             90.0.2-1
                     firefox-i18n-sk             90.0.1-1             90.0.2-1
                     firefox-i18n-sl             90.0.1-1             90.0.2-1
                    firefox-i18n-son             90.0.1-1             90.0.2-1
                     firefox-i18n-sq             90.0.1-1             90.0.2-1
                     firefox-i18n-sr             90.0.1-1             90.0.2-1
                  firefox-i18n-sv-se             90.0.1-1             90.0.2-1
                     firefox-i18n-ta             90.0.1-1             90.0.2-1
                     firefox-i18n-te             90.0.1-1             90.0.2-1
                     firefox-i18n-th             90.0.1-1             90.0.2-1
                     firefox-i18n-tl             90.0.1-1             90.0.2-1
                     firefox-i18n-tr             90.0.1-1             90.0.2-1
                    firefox-i18n-trs             90.0.1-1             90.0.2-1
                     firefox-i18n-uk             90.0.1-1             90.0.2-1
                     firefox-i18n-ur             90.0.1-1             90.0.2-1
                     firefox-i18n-uz             90.0.1-1             90.0.2-1
                     firefox-i18n-vi             90.0.1-1             90.0.2-1
                     firefox-i18n-xh             90.0.1-1             90.0.2-1
                  firefox-i18n-zh-cn             90.0.1-1             90.0.2-1
                  firefox-i18n-zh-tw             90.0.1-1             90.0.2-1
                                 fmt              8.0.0-2              8.0.1-1
                         gdk-pixbuf2             2.42.6-1             2.42.6-2
                    gdk-pixbuf2-docs             2.42.6-1             2.42.6-2
                                gegl             0.4.30-4             0.4.30-5
                      geoip-database           20210622-1           20210727-1
                geoip-database-extra           20210622-1           20210727-1
                       gnome-desktop             1:40.2-1             1:40.3-1
                        gnome-sudoku               40.1-1               40.2-1
                            graphviz             2.48.0-1             2.48.0-2
                                jack            0.125.0-9                    -
                         jdk-openjdk          16.0.1.u9-1          16.0.2.u7-1
                         jre-openjdk          16.0.1.u9-1          16.0.2.u7-1
                jre-openjdk-headless          16.0.1.u9-1          16.0.2.u7-1
                   kactivitymanagerd             5.22.3-1             5.22.4-1
                       kde-cli-tools             5.22.3-1             5.22.4-1
                      kde-gtk-config             5.22.3-1             5.22.4-1
                         kdecoration             5.22.3-1             5.22.4-1
                    kdeplasma-addons             5.22.3-1             5.22.4-1
                             kgamma5             5.22.3-1             5.22.4-1
                            khotkeys             5.22.3-1             5.22.4-1
                         kinfocenter             5.22.3-1             5.22.4-1
                           kmenuedit             5.22.3-1             5.22.4-1
                             kscreen             5.22.3-1             5.22.4-1
                       kscreenlocker             5.22.3-1             5.22.4-1
                         ksshaskpass             5.22.3-1             5.22.4-1
                        ksystemstats             5.22.3-1             5.22.4-1
                         kwallet-pam             5.22.3-1             5.22.4-1
                kwayland-integration             5.22.3-1             5.22.4-1
                     kwayland-server             5.22.3-1             5.22.4-1
                                kwin             5.22.3-1             5.22.4-1
                             kwrited             5.22.3-1             5.22.4-1
                            lablgtk2            2.18.11-6            2.18.11-7
                      layer-shell-qt             5.22.3-1             5.22.4-1
                          libadwaita       1.0.0alpha.1-1       1.0.0alpha.2-1
                     libadwaita-docs       1.0.0alpha.1-1       1.0.0alpha.2-1
                              libidn               1.37-1               1.38-1
                          libkscreen             5.22.3-1             5.22.4-1
                        libksysguard             5.22.3-1             5.22.4-1
                          libmm-glib             1.16.6-1             1.16.8-1
                   libreoffice-fresh              7.1.4-1              7.1.5-1
                libreoffice-fresh-af              7.1.4-1              7.1.5-1
                libreoffice-fresh-am              7.1.4-1              7.1.5-1
                libreoffice-fresh-ar              7.1.4-1              7.1.5-1
                libreoffice-fresh-as              7.1.4-1              7.1.5-1
               libreoffice-fresh-ast              7.1.4-1              7.1.5-1
                libreoffice-fresh-be              7.1.4-1              7.1.5-1
                libreoffice-fresh-bg              7.1.4-1              7.1.5-1
                libreoffice-fresh-bn              7.1.4-1              7.1.5-1
             libreoffice-fresh-bn-in              7.1.4-1              7.1.5-1
                libreoffice-fresh-bo              7.1.4-1              7.1.5-1
                libreoffice-fresh-br              7.1.4-1              7.1.5-1
               libreoffice-fresh-brx              7.1.4-1              7.1.5-1
                libreoffice-fresh-bs              7.1.4-1              7.1.5-1
                libreoffice-fresh-ca              7.1.4-1              7.1.5-1
       libreoffice-fresh-ca-valencia              7.1.4-1              7.1.5-1
               libreoffice-fresh-ckb              7.1.4-1              7.1.5-1
                libreoffice-fresh-cs              7.1.4-1              7.1.5-1
                libreoffice-fresh-cy              7.1.4-1              7.1.5-1
                libreoffice-fresh-da              7.1.4-1              7.1.5-1
                libreoffice-fresh-de              7.1.4-1              7.1.5-1
               libreoffice-fresh-dgo              7.1.4-1              7.1.5-1
               libreoffice-fresh-dsb              7.1.4-1              7.1.5-1
                libreoffice-fresh-dz              7.1.4-1              7.1.5-1
                libreoffice-fresh-el              7.1.4-1              7.1.5-1
             libreoffice-fresh-en-gb              7.1.4-1              7.1.5-1
             libreoffice-fresh-en-za              7.1.4-1              7.1.5-1
                libreoffice-fresh-eo              7.1.4-1              7.1.5-1
                libreoffice-fresh-es              7.1.4-1              7.1.5-1
                libreoffice-fresh-et              7.1.4-1              7.1.5-1
                libreoffice-fresh-eu              7.1.4-1              7.1.5-1
                libreoffice-fresh-fa              7.1.4-1              7.1.5-1
                libreoffice-fresh-fi              7.1.4-1              7.1.5-1
                libreoffice-fresh-fr              7.1.4-1              7.1.5-1
               libreoffice-fresh-fur              7.1.4-1              7.1.5-1
                libreoffice-fresh-fy              7.1.4-1              7.1.5-1
                libreoffice-fresh-ga              7.1.4-1              7.1.5-1
                libreoffice-fresh-gd              7.1.4-1              7.1.5-1
                libreoffice-fresh-gl              7.1.4-1              7.1.5-1
                libreoffice-fresh-gu              7.1.4-1              7.1.5-1
               libreoffice-fresh-gug              7.1.4-1              7.1.5-1
                libreoffice-fresh-he              7.1.4-1              7.1.5-1
                libreoffice-fresh-hi              7.1.4-1              7.1.5-1
                libreoffice-fresh-hr              7.1.4-1              7.1.5-1
               libreoffice-fresh-hsb              7.1.4-1              7.1.5-1
                libreoffice-fresh-hu              7.1.4-1              7.1.5-1
                libreoffice-fresh-id              7.1.4-1              7.1.5-1
                libreoffice-fresh-is              7.1.4-1              7.1.5-1
                libreoffice-fresh-it              7.1.4-1              7.1.5-1
                libreoffice-fresh-ja              7.1.4-1              7.1.5-1
                libreoffice-fresh-ka              7.1.4-1              7.1.5-1
               libreoffice-fresh-kab              7.1.4-1              7.1.5-1
                libreoffice-fresh-kk              7.1.4-1              7.1.5-1
                libreoffice-fresh-km              7.1.4-1              7.1.5-1
          libreoffice-fresh-kmr-latn              7.1.4-1              7.1.5-1
                libreoffice-fresh-kn              7.1.4-1              7.1.5-1
                libreoffice-fresh-ko              7.1.4-1              7.1.5-1
               libreoffice-fresh-kok              7.1.4-1              7.1.5-1
                libreoffice-fresh-ks              7.1.4-1              7.1.5-1
                libreoffice-fresh-lb              7.1.4-1              7.1.5-1
                libreoffice-fresh-lo              7.1.4-1              7.1.5-1
                libreoffice-fresh-lt              7.1.4-1              7.1.5-1
                libreoffice-fresh-lv              7.1.4-1              7.1.5-1
               libreoffice-fresh-mai              7.1.4-1              7.1.5-1
                libreoffice-fresh-mk              7.1.4-1              7.1.5-1
                libreoffice-fresh-ml              7.1.4-1              7.1.5-1
                libreoffice-fresh-mn              7.1.4-1              7.1.5-1
               libreoffice-fresh-mni              7.1.4-1              7.1.5-1
                libreoffice-fresh-mr              7.1.4-1              7.1.5-1
                libreoffice-fresh-my              7.1.4-1              7.1.5-1
                libreoffice-fresh-nb              7.1.4-1              7.1.5-1
                libreoffice-fresh-ne              7.1.4-1              7.1.5-1
                libreoffice-fresh-nl              7.1.4-1              7.1.5-1
                libreoffice-fresh-nn              7.1.4-1              7.1.5-1
                libreoffice-fresh-nr              7.1.4-1              7.1.5-1
               libreoffice-fresh-nso              7.1.4-1              7.1.5-1
                libreoffice-fresh-oc              7.1.4-1              7.1.5-1
                libreoffice-fresh-om              7.1.4-1              7.1.5-1
                libreoffice-fresh-or              7.1.4-1              7.1.5-1
             libreoffice-fresh-pa-in              7.1.4-1              7.1.5-1
                libreoffice-fresh-pl              7.1.4-1              7.1.5-1
                libreoffice-fresh-pt              7.1.4-1              7.1.5-1
             libreoffice-fresh-pt-br              7.1.4-1              7.1.5-1
                libreoffice-fresh-ro              7.1.4-1              7.1.5-1
                libreoffice-fresh-ru              7.1.4-1              7.1.5-1
                libreoffice-fresh-rw              7.1.4-1              7.1.5-1
             libreoffice-fresh-sa-in              7.1.4-1              7.1.5-1
               libreoffice-fresh-sat              7.1.4-1              7.1.5-1
                libreoffice-fresh-sd              7.1.4-1              7.1.5-1
               libreoffice-fresh-sdk              7.1.4-1              7.1.5-1
                libreoffice-fresh-si              7.1.4-1              7.1.5-1
               libreoffice-fresh-sid              7.1.4-1              7.1.5-1
                libreoffice-fresh-sk              7.1.4-1              7.1.5-1
                libreoffice-fresh-sl              7.1.4-1              7.1.5-1
                libreoffice-fresh-sq              7.1.4-1              7.1.5-1
                libreoffice-fresh-sr              7.1.4-1              7.1.5-1
           libreoffice-fresh-sr-latn              7.1.4-1              7.1.5-1
                libreoffice-fresh-ss              7.1.4-1              7.1.5-1
                libreoffice-fresh-st              7.1.4-1              7.1.5-1
                libreoffice-fresh-sv              7.1.4-1              7.1.5-1
             libreoffice-fresh-sw-tz              7.1.4-1              7.1.5-1
               libreoffice-fresh-szl              7.1.4-1              7.1.5-1
                libreoffice-fresh-ta              7.1.4-1              7.1.5-1
                libreoffice-fresh-te              7.1.4-1              7.1.5-1
                libreoffice-fresh-tg              7.1.4-1              7.1.5-1
                libreoffice-fresh-th              7.1.4-1              7.1.5-1
                libreoffice-fresh-tn              7.1.4-1              7.1.5-1
                libreoffice-fresh-tr              7.1.4-1              7.1.5-1
                libreoffice-fresh-ts              7.1.4-1              7.1.5-1
                libreoffice-fresh-tt              7.1.4-1              7.1.5-1
                libreoffice-fresh-ug              7.1.4-1              7.1.5-1
                libreoffice-fresh-uk              7.1.4-1              7.1.5-1
                libreoffice-fresh-uz              7.1.4-1              7.1.5-1
                libreoffice-fresh-ve              7.1.4-1              7.1.5-1
               libreoffice-fresh-vec              7.1.4-1              7.1.5-1
                libreoffice-fresh-vi              7.1.4-1              7.1.5-1
                libreoffice-fresh-xh              7.1.4-1              7.1.5-1
             libreoffice-fresh-zh-cn              7.1.4-1              7.1.5-1
             libreoffice-fresh-zh-tw              7.1.4-1              7.1.5-1
                libreoffice-fresh-zu              7.1.4-1              7.1.5-1
                        libsidplayfp              2.2.0-1              2.2.1-1
                                llvm             12.0.1-1             12.0.1-2
                           llvm-libs             12.0.1-1             12.0.1-2
                          llvm-ocaml             12.0.1-1             12.0.1-2
                              maxima             5.45.1-1             5.45.1-2
                           memcached              1.6.9-1             1.6.10-1
                               meson             0.58.1-1             0.59.0-2
                               milou             5.22.3-1             5.22.4-1
                      mkvtoolnix-cli             58.0.0-6             59.0.0-1
                      mkvtoolnix-gui             58.0.0-6             59.0.0-1
                        modemmanager             1.16.6-1             1.16.8-1
                              mtools           1:4.0.33-1           1:4.0.34-1
                             nghttp2             1.43.0-1             1.44.0-1
                               ocaml             4.11.1-1             4.12.0-1
                 ocaml-compiler-libs             4.11.1-1             4.12.0-1
                        ocaml-ctypes             0.17.1-5             0.17.1-6
                      ocaml-integers              0.4.0-3              0.4.0-4
                        ocaml-result                1.5-3                1.5-4
                         ocaml-topkg              1.0.3-1              1.0.3-2
                          ocamlbuild             0.14.0-9            0.14.0-10
                         openjdk-doc          16.0.1.u9-1          16.0.2.u7-1
                         openjdk-src          16.0.1.u9-1          16.0.2.u7-1
                              oxygen             5.22.3-1             5.22.4-1
                     perl-dbd-sqlite               1.66-2               1.68-1
          plasma-browser-integration             5.22.3-1             5.22.4-1
                      plasma-desktop             5.22.3-1             5.22.4-1
                        plasma-disks             5.22.3-1             5.22.4-1
                     plasma-firewall             5.22.3-1             5.22.4-1
                  plasma-integration             5.22.3-1             5.22.4-1
                           plasma-nm             5.22.3-1             5.22.4-1
                           plasma-pa             5.22.3-1             5.22.4-1
                          plasma-sdk             5.22.3-1             5.22.4-1
                plasma-systemmonitor             5.22.3-2             5.22.4-1
                  plasma-thunderbolt             5.22.3-1             5.22.4-1
                        plasma-vault             5.22.3-1             5.22.4-1
              plasma-wayland-session             5.22.3-1             5.22.4-1
                    plasma-workspace             5.22.3-1             5.22.4-1
         plasma-workspace-wallpapers             5.22.3-1             5.22.4-1
                    polkit-kde-agent             5.22.3-1             5.22.4-1
                             poppler            21.07.0-1            21.07.0-3
                        poppler-glib            21.07.0-1            21.07.0-3
                         poppler-qt5            21.07.0-1            21.07.0-3
                         poppler-qt6            21.07.0-1            21.07.0-3
                             postfix              3.6.1-1              3.6.2-1
                         postfix-cdb              3.6.1-1              3.6.2-1
                        postfix-ldap              3.6.1-1              3.6.2-1
                        postfix-lmdb              3.6.1-1              3.6.2-1
                       postfix-mysql              3.6.1-1              3.6.2-1
                        postfix-pcre              3.6.1-1              3.6.2-1
                       postfix-pgsql              3.6.1-1              3.6.2-1
                      postfix-sqlite              3.6.1-1              3.6.2-1
                          powerdevil             5.22.3-1             5.22.4-1
                              python              3.9.6-1                    -
                      python-astroid              2.5.8-1              2.6.0-1
                     python-dbusmock             0.23.0-1             0.23.1-1
                       python-pylint              2.7.4-1              2.8.0-1
                        python-tests              3.9.6-1                    -
                        python-tomli              1.0.4-1              1.1.0-2
                                 qbs             1.19.1-1             1.19.2-1
                                sbcl              2.1.1-1              2.1.6-1
                            sddm-kcm             5.22.3-1             5.22.4-1
                              strace               5.12-1               5.13-1
                      systemsettings             5.22.3-1             5.22.4-1
                                 tdb              1.4.4-1              1.4.5-1
                      vulkan-headers          1:1.2.184-1          1:1.2.185-1
                   vulkan-icd-loader            1.2.184-1            1.2.185-1
                          webkit2gtk             2.32.2-1             2.32.3-1
                           wpewebkit             2.32.2-1             2.32.3-1
              xdg-desktop-portal-kde             5.22.3-1             5.22.4-1
                xfce4-sensors-plugin             1.3.95-1              1.4.1-1
                        zabbix-agent              5.4.2-1              5.4.3-1
                       zabbix-agent2              5.4.2-1              5.4.3-1
                 zabbix-frontend-php              5.4.2-1              5.4.3-1
                        zabbix-proxy              5.4.2-1              5.4.3-1
                       zabbix-server              5.4.2-1              5.4.3-1
                                 gdm                    -               40.1-1
                               jack2                    -             1.9.19-2
                          jack2-dbus                    -             1.9.19-2
                              libgdm                    -               40.1-1
                      squashfs-tools                    -                4.5-1


:: Different overlay package(s) in repository kde-unstable x86_64

-------------------------------------------------------------------------------
                             PACKAGE           2021-07-23           2021-07-28
-------------------------------------------------------------------------------
                             akonadi21.04.3.r12527.g78ccf477a-121.04.3.r12530.g4c8cccb19-1
                      akonadi-search21.04.3.r1107.g26c21d0-121.04.3.r1108.g51f8114-1
                           akregator21.04.3.r6188.g12c82b62-121.04.3.r6190.ge54d48e1-1
                           alligator 21.06.r11.g7c37563-1  21.07.r0.g7c37563-1
                           angelfish 21.06.r26.g6c07c3d-1  21.07.r1.g76419ba-1
                                 ark21.04.3.r4604.g6548b395-121.04.3.r4606.g8330d104-1
                       baloo-widgets21.04.3.r680.g5a3b20a-121.04.3.r681.gd686783-1
                           bluedevil1:5.22.3.r2269.gfaade374-11:5.22.3.r2271.gd506eedd-1
                              breeze5.22.3.r2222.g5b0ea0f6-15.22.3.r2224.gb6374c27-1
                        breeze-icons5.84.0.r1759.ge396413f-15.84.0.r1760.gbf37a9d3-1
                                buho 1.2.2.r31.g0db48ec-1 1.2.2.r36.g54ea38b-1
                     calendarsupport21.04.3.r567.ga773765-121.04.3.r575.g6d55d7f-1
                           calindori 21.06.r13.g08c5859-1  21.07.r0.g08c5859-1
                            discover5.22.3.r8234.ga75a100c-15.22.3.r8240.gbcc7b53c-1
                             dolphin21.04.3.r6656.g32c1bd718-121.04.3.r6661.g393c659c9-1
                     dolphin-plugins21.04.3.r593.g87e219d-121.04.3.r596.g773e4b2-1
                               elisa21.04.3.r2736.g7fb3d070-121.04.3.r2742.g77152c3a-1
                          eventviews21.04.3.r670.g381f3ec-121.04.3.r674.g4e41f50-1
                 extra-cmake-modules5.84.0.r3351.g027797a-15.84.0.r3352.g72e9fb9-1
                            gwenview21.04.3.r6646.g5681c504-121.04.3.r6649.gb10fe5b8-1
                     incidenceeditor21.04.3.r743.gf49fe33-121.04.3.r747.gfcc5ae2-1
                            index-fm 1.2.2.r99.gace6e6b-11.2.2.r109.ga923568-1
                           itinerary21.04.3.r1378.gfff8e96-121.04.3.r1398.ga158782-1
                                 k3b1:21.04.3.r6654.gc63fd9665-11:21.04.3.r6655.g3456f6562-1
                 kaccounts-providers21.04.3.r382.g2f7fb54-121.04.3.r383.gaf778e5-1
                   kactivitymanagerd5.22.3.r1355.g9cabb88-15.22.3.r1358.gc237fe5-1
                        kaddressbook21.04.3.r6003.gdec73264-121.04.3.r6005.g4606130d-1
                              kalarm21.04.3.r6410.g503c8fd5-121.04.3.r6418.gf9aa4353-1
                                kalk 21.06.r10.g2412914-1  21.07.r0.g2412914-1
                              kamera21.04.3.r654.g9eadd76-121.04.3.r655.g975c8f5-1
                              kamoso21.04.3.r1427.gfda571b-121.04.3.r1428.gda4ba0d-1
                            kanagram21.04.3.r1280.g871912c-121.04.3.r1283.g2bd976e-1
                             kapidox5.84.0.r542.g0326b90-15.84.0.r548.gcf9ced6-1
                        kapptemplate21.04.3.r953.g27f61d7-121.04.3.r954.g39dbb12-1
                               kasts 21.06.r78.gfc99ec5-1  21.07.r3.ga15e2db-1
                                kate21.04.3.r18293.gd317129cd-121.04.3.r18299.g8328b53fb-1
                             kbackup21.04.3.r387.g54d03c1-121.04.3.r389.g54a4a86-1
                             kblocks21.04.3.r664.g59ca52a-121.04.3.r665.gc497aa0-1
                              kclock 21.06.r28.g71d7c4b-1 21.07.r19.g56f360a-1
                            kcmutils5.84.0.r528.ge7ef632-15.84.0.r529.g431b5db-1
                       kcolorchooser21.04.3.r224.g29e79c1-121.04.3.r225.gf937de8-1
                      kconfigwidgets5.84.0.r599.g83a1edf-15.84.0.r602.gbcde63c-1
                         kcoreaddons5.84.0.r1247.gc1eea322-15.84.0.r1248.gc31262d9-1
                       kde-cli-tools5.22.3.r1845.gddccf63-15.22.3.r1851.gaa866b6-1
                       kde-dev-utils21.04.3.r556.g6d918c3-121.04.3.r558.geff6b70-1
                      kde-gtk-config5.22.3.r895.g93da65a-15.22.3.r896.g971adfc-1
                          kdeconnect21.04.3.r3289.gac53f3f3-121.04.3.r3295.gec88335b-1
                     kdelibs4support5.84.0.r1027.gbd5c6518-15.84.0.r1028.g16e15649-1
                    kdeplasma-addons5.22.3.r8557.g718cbaede-15.22.3.r8562.g85a88ebc6-1
                             kdialog21.04.3.r1183.g3c9c5e3a9-121.04.3.r1184.g4c144a1f6-1
                           kdoctools5.84.0.r616.g1a544d9-15.84.0.r617.g7f217be-1
                            keysmith  21.06.r8.g818ed69-1  21.07.r1.g503fdde-1
                                kget21.04.3.r3117.g003064ad-121.04.3.r3118.g0012b007-1
                           kholidays1:5.84.0.r945.ga00d0fe-11:5.84.0.r947.ga0bb438-1
                            khotkeys5.22.3.r2078.ge95171d-15.22.3.r2086.g1b06be5-1
                 kidentitymanagement21.04.3.r3795.g5a86412f-121.04.3.r3796.g8c900018-1
                       kimageformats5.84.0.r347.g7f56d83-15.84.0.r348.gfbeef55-1
                         kinfocenter5.22.3.r1861.g07fdf4a-15.22.3.r1862.ga30e76b-1
                               kinit5.84.0.r405.ge6668c4-15.84.0.r406.g2a5d047-1
                                 kio5.84.0.r4857.gf070c2a8-15.84.0.r4869.g63df4f25-1
                          kio-extras21.04.3.r7092.g2f2f6253-121.04.3.r7094.g5dff395e-1
                          kio-gdrive21.04.3.r562.g7b06d00-121.04.3.r564.g20d635f-1
                           kirigami25.84.0.r2839.g6297355f-15.84.0.r2842.g253eedef-1
                          kitinerary21.04.3.r1832.g964e622-121.04.3.r1843.gedce84c-1
                               kldap21.04.3.r869.g4ae869e-121.04.3.r870.g7b455c9-1
                            klettres21.04.3.r912.g6f0aff5-121.04.3.r913.gda6529b-1
                              klines21.04.3.r755.g37f5f5f-121.04.3.r761.g2b02c75-1
                               kmail21.04.3.r25846.gbb906806c-121.04.3.r25853.g732cb2fb3-1
                kmail-account-wizard21.04.3.r791.gd0b9f1a-121.04.3.r793.gf4aab22-1
                              kmines21.04.3.r1715.g58f37a8-121.04.3.r1716.ga7fef85-1
                                kmix21.04.3.r2372.g04491098-121.04.3.r2374.g9f1eeb70-1
                          kmousetool21.04.3.r387.g3e256a8-121.04.3.r388.gc4b2d98-1
                              kmplot21.04.3.r1459.g6cdacb6-121.04.3.r1461.g2a626fb-1
                            knetwalk21.04.3.r651.g71b9db7-121.04.3.r653.g0fb8139-1
                              knotes21.04.3.r3473.g1891433d-121.04.3.r3475.g119c4da8-1
                                koko 21.06.r23.g1b02c9d-1  21.07.r7.g7f7d241-1
                         kolourpaint21.04.3.r2349.g5849a5f2-121.04.3.r2350.g48141741-1
                            kongress  21.06.r7.g8150560-1  21.07.r0.g8150560-1
                           konqueror21.04.3.r14917.gd825e73d9-121.04.3.r14922.g7c14c663d-1
                             konsole21.04.3.r7892.gfb69c183-121.04.3.r7899.g67c7cc98-1
                             kontact21.04.3.r5346.ged3f1b15-121.04.3.r5347.gb9c29459-1
                    kontactinterface21.04.3.r621.g7bec405-121.04.3.r622.gb5c1933-1
                            kontrast21.04.3.r169.gb64bb54-121.04.3.r170.gc62ac8f-1
                        konversation21.04.3.r8987.geb3708e7-121.04.3.r8988.ge7560658-1
                          korganizer21.04.3.r11411.g0e4318377-121.04.3.r11420.gdbd8f4552-1
                              kparts5.84.0.r514.g8b81bf4-15.84.0.r515.g5d0c684-1
                    kpublictransport21.04.3.r1692.g7d976ae-121.04.3.r1703.gf36365e-1
                                krdc21.04.3.r1529.gdb18bb3-121.04.3.r1531.gd7c1899-1
                           krecorder  21.06.r7.gb90079d-1  21.07.r0.gb90079d-1
                              kruler21.04.3.r691.gbdd7e07-121.04.3.r692.gf64ae61-1
                             krunner5.84.0.r646.ge067c4f-15.84.0.r648.g9fe605e-1
                             kscreen5.22.3.r1337.g413adfe-15.22.3.r1338.g845c8ab-1
                       kscreenlocker5.22.3.r858.gf78ccfc-15.22.3.r860.g5be21fb-1
                             ksudoku21.04.3.r1046.g245abab-121.04.3.r1047.g7a05a76-1
                        ksystemstats5.22.3.r176.g5f93a3f-15.22.3.r177.g65c605e-1
                               ktrip 21.06.r26.g4e972de-1  21.07.r0.g4e972de-1
                     kunitconversion5.84.0.r369.geed860d-15.84.0.r370.g92eea5a-1
                            kwayland5.84.0.r1098.g05ded8f-15.84.0.r1101.g311f60b-1
                     kwayland-server5.22.3.r1345.g9fe2aa5-15.22.3.r1354.gff642af-1
                            kweather 21.06.r39.g992f065-1  21.07.r4.gf0e720e-1
                      kwidgetsaddons5.84.0.r837.ga4b21dac-15.84.0.r838.g21f35a46-1
                                kwin5.22.3.r19651.gb344afd8c-15.22.3.r19688.g5317ca9da-1
                              kwrite21.04.3.r18293.gd317129cd-121.04.3.r18299.g8328b53fb-1
                             kwrited5.22.3.r479.g8d34f29-15.22.3.r480.g682279c-1
                          libakonadi21.04.3.r12527.g78ccf477a-121.04.3.r12530.g4c8cccb19-1
                             libkleo21.04.3.r914.g9f79f52-121.04.3.r915.g30afaf4-1
                     libkomparediff221.04.3.r337.g9827753-121.04.3.r339.ge9ed555-1
                            libksane21.04.3.r549.gcd38e98-121.04.3.r550.g8f338bd-1
                           libksieve21.04.3.r1551.gfc1ed601-121.04.3.r1552.gc4525c0b-1
                        libksysguard5.22.3.r2252.g375ee5b-15.22.3.r2259.g2dac54c-1
                          mailcommon21.04.3.r1057.gc8d5a1d-121.04.3.r1058.g1a92909-1
                              marble21.04.3.r13317.gf08f15fd3-121.04.3.r13322.gb973663cb-1
                       marble-common21.04.3.r13317.gf08f15fd3-121.04.3.r13322.gb973663cb-1
                           marble-qt21.04.3.r13317.gf08f15fd3-121.04.3.r13322.gb973663cb-1
                           maui-clip  1.1.1.r8.gb3d9db9-2 1.1.1.r10.gdaaa293-1
                           maui-nota 1.2.2.r52.gf3a839c-1 1.2.2.r58.g05d675a-1
                            maui-pix 1.2.2.r62.ge828aa0-1 1.2.2.r67.g1736d0f-1
                             mauikit2.2.2.r114.g9ec618c8-11.2.2.r165.gfe6ccb40-1
                    mauikit-accounts         r9.398b635-1        r10.d9f46d9-1
                mauikit-filebrowsing 1.2.2.r66.g0ffb296-1 1.2.2.r71.ged8ac30-1
                  mauikit-imagetools 1.2.2.r17.g470723e-1 1.2.2.r18.ge45ee3c-1
                              minuet21.04.3.r577.ga4303ed-121.04.3.r579.gdc33ba7-1
                              okular21.04.3.r9397.g1d9081766-121.04.3.r9403.g21bc8bd02-1
                              oxygen5.22.3.r4422.g5c8c3271-15.22.3.r4423.g9de84e89-1
                              parley21.04.3.r4414.gdc7ae8d4-121.04.3.r4416.g1f5f767e-1
                           pimcommon21.04.3.r1064.g6dfebc4-121.04.3.r1068.gd756b01-1
          plasma-browser-integration5.22.2.1.r1267.gb9e54d8c-15.22.2.1.r1269.g4c28b9a1-1
                      plasma-desktop5.22.3.r8553.g54e5468e5-15.22.3.r8559.g4dd957eb2-1
                       plasma-dialer 21.06.r11.gfcc384e-1  21.07.r2.gde002cf-1
                        plasma-disks5.22.3.r221.gaaf1ef6-15.22.3.r223.g83a08fd-1
                    plasma-framework5.84.0.r15921.g75c31c08d-15.84.0.r15923.g32bfd1ed0-1
                  plasma-integration5.22.3.r519.gf7c25d9-15.22.3.r520.g9a2ef93-1
                           plasma-pa5.22.3.r951.ge87dcf3-15.22.3.r953.ga765482-1
             plasma-phone-components5.22.3.r1427.g27a3d33b-15.22.3.r1440.g66411f24-1
                    plasma-phonebook 21.06.r10.gc909758-1  21.07.r5.g7f2dac8-1
                     plasma-settings 21.06.r12.gc824f2a-1  21.07.r6.gc2abe77-1
                plasma-systemmonitor5.22.3.r468.ge20cb86-15.22.3.r470.g5ae5742-1
                        plasma-vault5.22.3.r336.g2b49118-15.22.3.r337.g299b13f-1
              plasma-wayland-session5.22.3.r10449.g746ac9503-15.22.3.r10469.g32c9f4a5f-1
                    plasma-workspace5.22.3.r10449.g746ac9503-15.22.3.r10469.g32c9f4a5f-1
         plasma-workspace-wallpapers5.22.3.r280.ge462299-15.22.3.r281.g4fc06b7-1
                    polkit-kde-agent5.22.3.r498.g12157d1-15.22.3.r499.g6aa608d-1
                          powerdevil5.22.3.r2442.g93e441d9-15.22.3.r2449.ga2f04548-1
                             purpose5.84.0.r864.g3469d7c-15.84.0.r866.gdf5ee75-1
                          qmlkonsole  21.06.r7.g6b630f5-1  21.07.r0.g6b630f5-1
                            sddm-kcm5.22.3.r588.gc51c2a1-15.22.3.r590.gd77c138-1
                               solid5.84.0.r690.g9829c51-15.84.0.r693.g80310ba-1
                            spacebar 21.06.r27.g5ce9e9e-1  21.07.r1.gbbf0609-1
                           spectacle21.04.3.r1132.g874b5b0-121.04.3.r1133.g56f50c5-1
                             svgpart21.04.3.r174.g4fd95bd-121.04.3.r176.ga5f3adc-1
                 syntax-highlighting5.84.0.r1630.ga2bb6f45-15.84.0.r1635.g90f56236-1
                      systemsettings5.22.3.r2453.g07fcc030-15.22.3.r2456.gc7cbb9c9-1
                             tokodon 21.06.r17.gb8d7ab8-1  21.07.r5.g9f88f8d-1
                               vvave 1.2.2.r55.g4b8fb82-1 1.2.2.r58.g5ca7e7d-1
                             yakuake21.04.3.r724.gc1a2abe-121.04.3.r727.g76c4132-1
                    zeroconf-ioslave21.04.3.r355.g370f3e4-121.04.3.r356.g0bb67c4-1


:: Different overlay package(s) in repository multilib x86_64

-------------------------------------------------------------------------------
                             PACKAGE           2021-07-23           2021-07-28
-------------------------------------------------------------------------------
                       lib32-systemd              248.5-1              248.6-1
                       steam-manjaro           1.0.0.70-1           1.0.0.71-1


:: Different sync package(s) in repository multilib x86_64

-------------------------------------------------------------------------------
                             PACKAGE           2021-07-23           2021-07-28
-------------------------------------------------------------------------------
                        lib32-amdvlk          2021.Q3.1-1          2021.Q3.2-1
                          lib32-curl             7.77.0-1             7.78.0-1
                   lib32-gdk-pixbuf2             2.42.6-1             2.42.6-2
                          lib32-jack            0.125.0-3                    -
                         lib32-jack2             1.9.19-1             1.9.19-2
                lib32-libcurl-compat             7.77.0-1             7.78.0-1
                lib32-libcurl-gnutls             7.77.0-1             7.78.0-1
                        lib32-libidn               1.37-1               1.38-1
                     lib32-libxfixes              5.0.3-2              6.0.0-1
                      lib32-pipewire           1:0.3.31-2           1:0.3.32-1
                 lib32-pipewire-jack           1:0.3.31-2           1:0.3.32-1
                           lib32-tdb              1.4.4-1              1.4.5-1
                    lib32-util-linux               2.37-1             2.37.1-1




No issue, everything went smoothly
Yes there was an issue. I was able to resolve it myself.(Please post your solution)
Yes i am currently experiencing an issue due to the update. (Please post about it)
Check if your mirror has already synced: