The Manjaro ARM project is proud to announce the second BETA release of Plasma-Mobile for the PinePhone!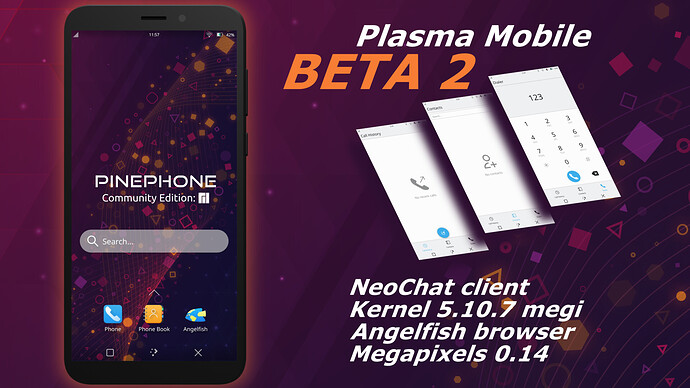 This image uses kernel 5.10.7 optimized for the Pinephone (megi)
Since our first beta release in December we were able to fix a lot of important bugs, namely concerning call stability and connectivity for all carriers.
The new desktop version features KDE Frameworks 5.78.0, snapshots of Plasma 5.20.5 and latest
versions of plasma-mobile- and mauikit-apps in our dedicated [mobile] overlay repo.
Preinstalled apps include basically everything you expect from your typical smartphone, including a torch, camera app megapixels and many applications familiar from a plasma desktop.
Known issues
Wakeup from standby somtimes takes more than one press of the power button.
Camera image in megapixels camera app currently doesn't properly rotate to landscape with the app window.
Screen sometimes fails to wakeup when receiving a call.
Keyboard sometimes doesn't slide down completely.
The kernel currently used for the Pinephone allows charging of the battery only to about 80% capacity as a security measure to prevent overheating.
Download Pinephone PlaMo Beta2
Download Pinephone PlaMo Nightly
About the device
PinePhone:
Perhaps you're in a line of work where security is a must, or a hard-core Linux enthusiast, or perhaps you've just got enough of Android and iOS and you're ready for something else – the PinePhone may be the next Phone for you. Powered by the same Quad-Core ARM Cortex A53 64-Bit SOC used in our popular PINE A64 Single Board Computer, the PinePhone runs mainline Linux as well as anything else you'll get it to run.
The purpose of the PinePhone isn't only to deliver a functioning Linux phone to end-users, but also to actively create a market for such a device, as well as to support existing and well established Linux-on-Phone projects. All major Linux Phone-oriented projects, as well as other FOSS OS', are represented on the PinePhone and developers work together on our platform to bring support this this community driven device.
Order
Both the Manjaro Edition and the KDE Community Edition (based on Manjaro) of the PinePhone are already sold out


Currently the PinePhone ships as the Mobian CE, but of course still runs any distro/DE from SD-Card or internal eMMC

How to install
Download the image/xz file from the download location. Verify that the download completed successfully.
After that, install Etcher ( sudo pacman -S etcher if on Manjaro) and burn the image to an SD card (8 GB or larger).
The PinePhone should recognize the SD card as a bootable device and boot from it.
The preconfigured users are:
User: kde
Password: 123456
User: root
password: root
Donate
Please consider supporting Manjaro ARM directly via Patreon , Ko-Fi or Open Collective.
You can also donate to our upstream, which is Arch Linux ARM .
---
Bugtracker
If you face issues with this editon, please open a new issue on our bug-tracker
Development Changelog
We will list our progress to Beta3 here
Beta2 (2021-01-22) Download
Dev (2021-01-31) Download

based on unstable branch
Kernel got updated to 5.10.12
we are using now eg25-manager in combination with ofonoctl to manage the modem
Mesa is now at 20.3.4
shipping Plasma-Git, Frameworks-Git and Plasma-Mobile-Git packages

Frameworks at 5.79
Plasma at 5.20.90

regular upstream updates

Dev (2021-02-11) Download

based on unstable branch
Kernel got updated to 5.10.15
eg25-manager support got improved
we switched to the new kde-unstable repo
lots of fixes to Plasma, Frameworks, Apps and Plasma-Mobile packages
regular upstream updates