On a Thinkpad T15g, I can get an Aftershockz OpenComm headphones to work over Bluetooth, but not the microphone. With Google Meet, the options don't show the Aftershockz mic.
This Aftershockz mic show up on Google Meet with Chrome on Windows 10.

It doesn't show up with:
Linux 5.12.9-1
Linux 5.10.42-1
Linux 5.4.124-1
Here's the same Google Meet panel with Chrome on Manjaro.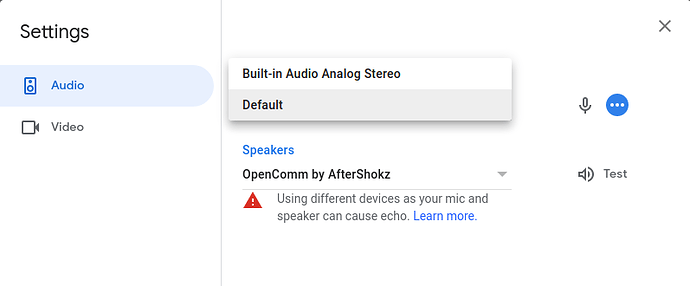 Here's the inxi.
$ inxi -F
System:    Host: di-20urs01k00 Kernel: 5.12.9-1-MANJARO x86_64 bits: 64 Desktop: KDE Plasma 5.21.5 Distro: Manjaro Linux 
Machine:   Type: Laptop System: LENOVO product: 20URS01K00 v: ThinkPad T15g Gen 1 serial: <superuser required> 
           Mobo: LENOVO model: 20URS01K00 v: SDK0T08861 WIN serial: <superuser required> UEFI: LENOVO v: N30ET38W (1.21 ) 
           date: 04/19/2021 
Battery:   ID-1: BAT0 charge: 92.7 Wh (97.6%) condition: 95.0/94.0 Wh (101.1%) 
CPU:       Info: 8-Core model: Intel Core i9-10885H bits: 64 type: MT MCP cache: L2: 16 MiB 
           Speed: 3016 MHz min/max: 800/5300 MHz Core speeds (MHz): 1: 842 2: 802 3: 1532 4: 2536 5: 1262 6: 1668 7: 1935 
           8: 2285 9: 1224 10: 1281 11: 1011 12: 811 13: 886 14: 2408 15: 1607 16: 2145 
Graphics:  Device-1: Intel UHD Graphics driver: i915 v: kernel 
           Device-2: NVIDIA TU104M [GeForce RTX 2070 SUPER Mobile / Max-Q] driver: nvidia v: 465.31 
           Device-3: Acer Integrated Camera type: USB driver: uvcvideo 
           Display: x11 server: X.Org 1.20.11 driver: loaded: modesetting,nvidia resolution: 1: 1920x1080~60Hz 
           2: 1200x1920~60Hz 
           OpenGL: renderer: Mesa Intel UHD Graphics (CML GT2) v: 4.6 Mesa 21.1.2 
Audio:     Device-1: Intel Comet Lake PCH cAVS driver: snd_hda_intel 
           Sound Server-1: ALSA v: k5.12.9-1-MANJARO running: yes 
           Sound Server-2: PulseAudio v: 14.2 running: yes 
           Sound Server-3: PipeWire v: 0.3.30 running: yes 
Network:   Device-1: Intel Comet Lake PCH CNVi WiFi driver: iwlwifi 
           IF: wlp0s20f3 state: up mac: 2c:db:07:b4:24:90 
           Device-2: Intel Ethernet I219-LM driver: e1000e 
           IF: enp0s31f6 state: down mac: 54:05:db:f3:6b:d2 
Bluetooth: Device-1: Intel type: USB driver: btusb 
           Report: rfkill ID: hci0 state: up address: see --recommends 
Drives:    Local Storage: total: 942.7 GiB used: 109.44 GiB (11.6%) 
           ID-1: /dev/nvme0n1 vendor: Samsung model: SSD 970 EVO Plus 500GB size: 465.76 GiB 
           ID-2: /dev/nvme1n1 vendor: Western Digital model: PC SN730 SDBQNTY-512G-1001 size: 476.94 GiB 
Partition: ID-1: / size: 33.35 GiB used: 13.44 GiB (40.3%) fs: ext4 dev: /dev/nvme0n1p2 
           ID-2: /boot/efi size: 246.1 MiB used: 6.8 MiB (2.8%) fs: vfat dev: /dev/nvme0n1p1 
           ID-3: /home size: 374.54 GiB used: 5.45 GiB (1.5%) fs: ext4 dev: /dev/nvme0n1p4 
Swap:      ID-1: swap-1 type: partition size: 15.62 GiB used: 0 KiB (0.0%) dev: /dev/nvme0n1p5 
Sensors:   System Temperatures: cpu: 53.0 C mobo: N/A 
           Fan Speeds (RPM): N/A 
Info:      Processes: 361 Uptime: 19m Memory: 15.27 GiB used: 3.87 GiB (25.3%) Shell: Bash inxi: 3.3.04 

I see that @nikgnomic and @Olli were helpful on " Headphone Mic doesn't get detected in February , but I'm not sure if I have the same issue.
Additional guidance or diagnostics would be welcomed. Thanks.