The ping.manjaro.org thing was easy to figure out. So were a couple others. Maybe it's because of the required terms to search for the problem, but this one's not so easy.
We're not in quite Windows or Android territory, but it's still pretty annoying how much different behind-the-scenes phoning home (or elsewhere) that I've discovered Manjaro is doing.
Pihole screenshot attached. Every three minutes, ten times a second, 24/7/365, my PC is hitting example.org for something. (Couldn't get a whole set in any one screenshot, sorry. It's close.)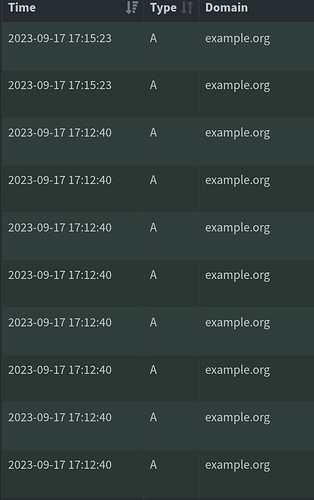 Why is my PC doing this? What is the rationale? A connectivity test? A speed test of sorts?
What is it caused by? Some piece of software? A gnome extension? The network stack? Or the OS itself?
example.org is a real site that you can visit. It looks like it's run by IANA, so I doubt it's anything shady.
Still, I didn't ask for it, and I don't want it doing that. I can block this from my pihole and it doesn't appear to affect anything so, as far as I'm concerned, it's unneeded.
How do I make this stop?