Hello community,
Another testing branch update with some usual updates for you.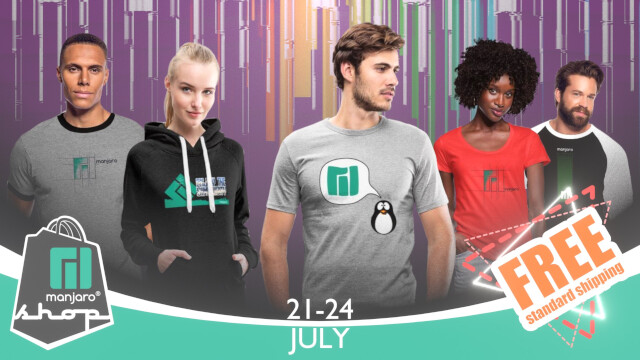 Checkout the store now for next weekend with free shipping!
Additional Info
Info about AUR packages

AUR (Arch User Repository) packages are neither supported by Arch nor Manjaro. Posts about them in Announcement topics are off-topic and will be flagged, moved or removed without warning.

You may need to rebuild any AUR packages that install files to site-packages …
Get our latest daily developer images now from Github: Plasma, GNOME, XFCE. You get the latest stable releases of Manjaro from CDN77.
---
Our current supported kernels
linux419 4.19.252
linux54 5.4.206
linux510 5.10.131
linux515 5.15.55
linux517 5.17.15 (EOL)
linux518 5.18.12
linux519 5.19-rc6
linux515-rt 5.15.49_rt47
linux518-rt 5.18.0_rt11
Package Changes (Sat Jul 16 08:47:35 CEST 2022)
testing core x86_64: 6 new and 6 removed package(s)
testing multilib x86_64: 7 new and 7 removed package(s)
testing community x86_64: 268 new and 267 removed package(s)
testing extra x86_64: 34 new and 34 removed package(s)
Overlay Package Changes
testing core x86_64: 18 new and 18 removed package(s)
testing kde-unstable x86_64: 243 new and 243 removed package(s)
testing extra x86_64: 53 new and 53 removed package(s)
testing community x86_64: 17 new and 11 removed package(s)
:: Different overlay package(s) in repository community x86_64

-------------------------------------------------------------------------------
                             PACKAGE           2022-04-13           2022-04-16
-------------------------------------------------------------------------------
                         caffeine-ng              4.0.1-1              4.0.2-1
                           calindori              21.05-1              22.06-1
                                kalk              21.05-1              22.06-1
                              kclock              21.05-1              22.06-1
                                koko              21.05-1              22.06-1
                            kongress              21.05-1              22.06-1
                           krecorder              21.05-1              22.06-1
                               ktrip              22.04-2              22.06-1
                         mint-themes            1:2.0.1-1            1:2.0.2-1
                           timeshift            22.06.3-1            22.06.4-1
                      webapp-manager              1.2.2-1              1.2.3-1
                         kpeoplesink                    -       r81.g4f129cb-2
                            kweather                    -              22.06-1
                        kweathercore                    -                0.5-1
                       plasma-mobile                    -             5.24.6-1
                plasma-mobile-sounds                    -                0.1-1
                       plymouth-shim                    -    0.1+r11.6b21ad7-1


:: Different sync package(s) in repository community x86_64

-------------------------------------------------------------------------------
                             PACKAGE           2022-04-13           2022-04-16
-------------------------------------------------------------------------------
                                 0ad              a25.b-5              a25.b-6
                             aegisub             3.2.2-50             3.2.2-51
                                 aml              0.2.1-2              0.2.2-1
                               amule            1:2.3.3-4            1:2.3.3-5
                             asunder              2.9.7-3              2.9.7-4
                            audacity            1:2.4.1-7            1:2.4.1-9
                             avrdude              1:7.0-1              1:7.0-2
                               boinc             7.18.0-1             7.18.1-1
                           boinc-nox             7.18.0-1             7.18.1-1
                               brook           20210701-2           20220401-1
                                cage              0.1.4-8              0.1.4-9
                       cargo-nextest             0.9.25-1             0.9.26-1
                       cargo-release             0.21.0-1             0.21.1-1
                                cmus              2.9.1-2             2.10.0-1
                          codeblocks              20.03-2              20.03-4
                      csound-plugins              1.0.2-2              1.0.2-3
                                 dht               0.27-1               0.27-2
                          diffoscope                218-2                219-1
                          displaycal              3.9.4-1              3.9.6-1
                                dust              0.8.0-1              0.8.1-1
                           dvdstyler              3.1.2-5              3.2.1-1
                              erlang             24.3.2-3             25.0.2-1
                     erlang-unixodbc             24.3.2-3             25.0.2-1
                              fdkaac              1.0.2-2              1.0.3-1
                           filezilla             3.60.1-1             3.60.1-2
               firefox-decentraleyes             2.0.17-1             2.0.17-2
           firefox-developer-edition            103.0b8-2            103.0b9-1
  firefox-developer-edition-i18n-ach            103.0b8-2            103.0b9-1
   firefox-developer-edition-i18n-af            103.0b8-2            103.0b9-1
   firefox-developer-edition-i18n-an            103.0b8-2            103.0b9-1
   firefox-developer-edition-i18n-ar            103.0b8-2            103.0b9-1
  firefox-developer-edition-i18n-ast            103.0b8-2            103.0b9-1
   firefox-developer-edition-i18n-az            103.0b8-2            103.0b9-1
   firefox-developer-edition-i18n-be            103.0b8-2            103.0b9-1
   firefox-developer-edition-i18n-bg            103.0b8-2            103.0b9-1
   firefox-developer-edition-i18n-bn            103.0b8-2            103.0b9-1
   firefox-developer-edition-i18n-br            103.0b8-2            103.0b9-1
   firefox-developer-edition-i18n-bs            103.0b8-2            103.0b9-1
   firefox-developer-edition-i18n-ca            103.0b8-2            103.0b9-1
firefox-developer-edition-i18n-ca-valencia      103.0b8-2            103.0b9-1
  firefox-developer-edition-i18n-cak            103.0b8-2            103.0b9-1
   firefox-developer-edition-i18n-cs            103.0b8-2            103.0b9-1
   firefox-developer-edition-i18n-cy            103.0b8-2            103.0b9-1
   firefox-developer-edition-i18n-da            103.0b8-2            103.0b9-1
   firefox-developer-edition-i18n-de            103.0b8-2            103.0b9-1
  firefox-developer-edition-i18n-dsb            103.0b8-2            103.0b9-1
   firefox-developer-edition-i18n-el            103.0b8-2            103.0b9-1
firefox-developer-edition-i18n-en-ca            103.0b8-2            103.0b9-1
firefox-developer-edition-i18n-en-gb            103.0b8-2            103.0b9-1
firefox-developer-edition-i18n-en-us            103.0b8-2            103.0b9-1
   firefox-developer-edition-i18n-eo            103.0b8-2            103.0b9-1
firefox-developer-edition-i18n-es-ar            103.0b8-2            103.0b9-1
firefox-developer-edition-i18n-es-cl            103.0b8-2            103.0b9-1
firefox-developer-edition-i18n-es-es            103.0b8-2            103.0b9-1
firefox-developer-edition-i18n-es-mx            103.0b8-2            103.0b9-1
   firefox-developer-edition-i18n-et            103.0b8-2            103.0b9-1
   firefox-developer-edition-i18n-eu            103.0b8-2            103.0b9-1
   firefox-developer-edition-i18n-fa            103.0b8-2            103.0b9-1
   firefox-developer-edition-i18n-ff            103.0b8-2            103.0b9-1
   firefox-developer-edition-i18n-fi            103.0b8-2            103.0b9-1
   firefox-developer-edition-i18n-fr            103.0b8-2            103.0b9-1
firefox-developer-edition-i18n-fy-nl            103.0b8-2            103.0b9-1
firefox-developer-edition-i18n-ga-ie            103.0b8-2            103.0b9-1
   firefox-developer-edition-i18n-gd            103.0b8-2            103.0b9-1
   firefox-developer-edition-i18n-gl            103.0b8-2            103.0b9-1
   firefox-developer-edition-i18n-gn            103.0b8-2            103.0b9-1
firefox-developer-edition-i18n-gu-in            103.0b8-2            103.0b9-1
   firefox-developer-edition-i18n-he            103.0b8-2            103.0b9-1
firefox-developer-edition-i18n-hi-in            103.0b8-2            103.0b9-1
   firefox-developer-edition-i18n-hr            103.0b8-2            103.0b9-1
  firefox-developer-edition-i18n-hsb            103.0b8-2            103.0b9-1
   firefox-developer-edition-i18n-hu            103.0b8-2            103.0b9-1
firefox-developer-edition-i18n-hy-am            103.0b8-2            103.0b9-1
   firefox-developer-edition-i18n-ia            103.0b8-2            103.0b9-1
   firefox-developer-edition-i18n-id            103.0b8-2            103.0b9-1
   firefox-developer-edition-i18n-is            103.0b8-2            103.0b9-1
   firefox-developer-edition-i18n-it            103.0b8-2            103.0b9-1
   firefox-developer-edition-i18n-ja            103.0b8-2            103.0b9-1
   firefox-developer-edition-i18n-ka            103.0b8-2            103.0b9-1
  firefox-developer-edition-i18n-kab            103.0b8-2            103.0b9-1
   firefox-developer-edition-i18n-kk            103.0b8-2            103.0b9-1
   firefox-developer-edition-i18n-km            103.0b8-2            103.0b9-1
   firefox-developer-edition-i18n-kn            103.0b8-2            103.0b9-1
   firefox-developer-edition-i18n-ko            103.0b8-2            103.0b9-1
  firefox-developer-edition-i18n-lij            103.0b8-2            103.0b9-1
   firefox-developer-edition-i18n-lt            103.0b8-2            103.0b9-1
   firefox-developer-edition-i18n-lv            103.0b8-2            103.0b9-1
   firefox-developer-edition-i18n-mk            103.0b8-2            103.0b9-1
   firefox-developer-edition-i18n-mr            103.0b8-2            103.0b9-1
   firefox-developer-edition-i18n-ms            103.0b8-2            103.0b9-1
   firefox-developer-edition-i18n-my            103.0b8-2            103.0b9-1
firefox-developer-edition-i18n-nb-no            103.0b8-2            103.0b9-1
firefox-developer-edition-i18n-ne-np            103.0b8-2            103.0b9-1
   firefox-developer-edition-i18n-nl            103.0b8-2            103.0b9-1
firefox-developer-edition-i18n-nn-no            103.0b8-2            103.0b9-1
   firefox-developer-edition-i18n-oc            103.0b8-2            103.0b9-1
firefox-developer-edition-i18n-pa-in            103.0b8-2            103.0b9-1
   firefox-developer-edition-i18n-pl            103.0b8-2            103.0b9-1
firefox-developer-edition-i18n-pt-br            103.0b8-2            103.0b9-1
firefox-developer-edition-i18n-pt-pt            103.0b8-2            103.0b9-1
   firefox-developer-edition-i18n-rm            103.0b8-2            103.0b9-1
   firefox-developer-edition-i18n-ro            103.0b8-2            103.0b9-1
   firefox-developer-edition-i18n-ru            103.0b8-2            103.0b9-1
   firefox-developer-edition-i18n-si            103.0b8-2            103.0b9-1
   firefox-developer-edition-i18n-sk            103.0b8-2            103.0b9-1
   firefox-developer-edition-i18n-sl            103.0b8-2            103.0b9-1
  firefox-developer-edition-i18n-son            103.0b8-2            103.0b9-1
   firefox-developer-edition-i18n-sq            103.0b8-2            103.0b9-1
   firefox-developer-edition-i18n-sr            103.0b8-2            103.0b9-1
firefox-developer-edition-i18n-sv-se            103.0b8-2            103.0b9-1
   firefox-developer-edition-i18n-ta            103.0b8-2            103.0b9-1
   firefox-developer-edition-i18n-te            103.0b8-2            103.0b9-1
   firefox-developer-edition-i18n-th            103.0b8-2            103.0b9-1
   firefox-developer-edition-i18n-tl            103.0b8-2            103.0b9-1
   firefox-developer-edition-i18n-tr            103.0b8-2            103.0b9-1
  firefox-developer-edition-i18n-trs            103.0b8-2            103.0b9-1
   firefox-developer-edition-i18n-uk            103.0b8-2            103.0b9-1
   firefox-developer-edition-i18n-ur            103.0b8-2            103.0b9-1
   firefox-developer-edition-i18n-uz            103.0b8-2            103.0b9-1
   firefox-developer-edition-i18n-vi            103.0b8-2            103.0b9-1
   firefox-developer-edition-i18n-xh            103.0b8-2            103.0b9-1
firefox-developer-edition-i18n-zh-cn            103.0b8-2            103.0b9-1
firefox-developer-edition-i18n-zh-tw            103.0b8-2            103.0b9-1
              firefox-tree-style-tab             3.8.25-1             3.8.26-1
                              fluidd             1.18.2-1             1.19.0-1
                               go-yq             4.25.3-1             4.26.1-1
                            goaccess              1.6.1-1              1.6.2-1
                              gradle              7.4.2-1                7.5-1
                          gradle-doc              7.4.2-1                7.5-1
                          gradle-src              7.4.2-1                7.5-1
                     gtk-layer-shell              0.7.0-2              0.7.0-3
                       haskell-brick               0.69-3               0.69-4
                          haskell-ci           0.12.1-261           0.12.1-262
                      haskell-ghcide            1.4.2.3-1            1.4.2.3-2
                      haskell-hakyll          4.15.1.1-80          4.15.1.1-81
                       haskell-hasql            1.5.0.2-2            1.5.0.2-3
    haskell-hasql-dynamic-statements            0.3.1-142            0.3.1-143
             haskell-hasql-implicits            0.1.0.4-4            0.1.0.4-5
         haskell-hasql-notifications           0.2.0.1-15           0.2.0.1-16
                  haskell-hasql-pool           0.5.2.2-64           0.5.2.2-65
           haskell-hasql-transaction           1.0.1.1-82           1.0.1.1-83
   haskell-hls-call-hierarchy-plugin          1.0.0.0-193          1.0.0.0-194
             haskell-hls-eval-plugin          1.1.2.0-196          1.1.2.0-197
 haskell-hls-explicit-imports-plugin          1.0.1.0-193          1.0.1.0-194
         haskell-hls-floskell-plugin          1.0.0.1-195          1.0.0.1-196
         haskell-hls-fourmolu-plugin          1.0.0.2-202          1.0.0.2-203
 haskell-hls-haddock-comments-plugin          1.0.0.3-193          1.0.0.3-194
            haskell-hls-hlint-plugin          1.0.1.1-193          1.0.1.1-194
      haskell-hls-module-name-plugin          1.0.0.1-193          1.0.0.1-194
           haskell-hls-ormolu-plugin          1.0.1.0-199          1.0.1.0-200
          haskell-hls-pragmas-plugin          1.0.1.0-193          1.0.1.0-194
           haskell-hls-retrie-plugin          1.0.1.1-193          1.0.1.1-194
  haskell-hls-stylish-haskell-plugin          1.0.0.2-196          1.0.0.2-197
              haskell-hls-test-utils          1.1.0.0-194          1.1.0.0-195
             haskell-language-server          1.3.0.0-229          1.3.0.0-230
                        haskell-lpeg             1.0.2-18              1.0.3-1
     haskell-record-dot-preprocessor            0.2.14-38             0.2.15-1
                haskell-summoner-tui          2.0.1.1-372          2.0.1.1-373
                haskell-text-builder           0.6.6.6-13           0.6.6.6-14
            haskell-text-builder-dev              0.3.1-3              0.3.2-1
                 haskell-text-zipper             0.11-102               0.12-1
                        hledger-iadd            1.3.17-57            1.3.17-58
                          hledger-ui              1.25-83              1.25-84
                      home-assistant         1:2022.6.7-1         1:2022.7.4-2
                               hugin           2021.0.0-3           2021.0.0-4
     interception-dual-function-keys              1.5.0-1              1.5.0-2
                  interception-tools              0.6.8-3              0.6.8-4
                                jrnl              2.8.4-1                3.0-1
              jupyter-server-mathjax              0.2.5-1              0.2.6-1
                              kanshi              1.2.0-3              1.2.0-4
                               kicad              6.0.6-1              6.0.6-2
                               lapce              0.1.2-1              0.1.3-1
                             libicns              0.8.1-8              0.8.1-9
                           limesuite            20.10.0-3            20.10.0-4
                                mako              1.7.1-1              1.7.1-2
                              marked              4.0.3-1              4.0.4-1
                        mate-applets             1.26.0-1             1.26.1-1
                          mattermost              7.0.1-1              7.1.1-1
                              mdbook             0.4.19-1             0.4.20-1
                           mediainfo              22.06-1              22.06-2
                       mediainfo-gui              22.06-1              22.06-2
                           megaglest             3.13.0-7             3.13.0-8
                            minikube             1.25.2-1             1.26.0-1
               netfilter-fullconenat      r73.0cf3b48-218      r73.0cf3b48-219
                            node-gyp              9.0.0-1              9.1.0-1
                              nodejs             18.5.0-1             18.6.0-1
                   npm-check-updates             14.0.0-1             14.0.2-1
                            pageedit              1.7.0-1             1.9.10-1
                              pandoc               2.18-6               2.18-7
                     pandoc-crossref         0.3.12.2-133         0.3.12.2-134
                               pcsx2           1.7.2678-1           1.7.3074-1
                    perl-test-simple           1.302190-2           1.302191-1
                      perl-test-utf8               1.01-6               1.02-1
                              poedit            1:3.0.1-3              1:3.1-1
              pop-icon-theme 2.1.0.r2446.baf29712c7-1 2.1.0.r2450.b6b5d437ec-1
                           postgrest              9.0.0-3              9.0.0-4
                        prusa-slicer              2.4.2-4              2.4.2-6
                      python-astroid             2.11.6-1             2.12.2-1
           python-aws-sam-translator             1.46.0-1             1.47.0-1
                      python-dulwich            0.20.44-1            0.20.45-1
                     python-filelock              3.5.1-1              3.6.0-1
                    python-fonttools             4.34.3-1             4.34.4-1
                 python-glanceclient              4.0.0-1              4.0.1-1
               python-jaraco.classes              3.2.1-3              3.2.2-1
             python-jaraco.functools              3.5.0-2              3.5.1-1
                  python-jaraco.text              3.8.0-2              3.8.1-1
                    python-libcharon             4.13.0-1              5.0.0-1
                      python-nodeenv              1.6.0-3              1.7.0-1
                        python-odfpy              1.4.2-1              1.4.2-2
                      python-osc-lib              2.5.0-1              2.6.0-1
                      python-oslo-db             11.3.0-1             12.0.0-1
           python-oslo-serialization              4.3.0-1              5.0.0-1
                    python-pip-shims              0.7.0-1              0.7.1-1
              python-pytest-randomly             3.10.2-1             3.10.3-1
                      python-pytools           2022.1.5-1           2022.1.6-1
                    python-rapidjson                1.6-1                1.7-1
                   python-tldextract              3.3.0-1              3.3.1-1
                   python-voluptuous             0.13.0-1             0.13.1-1
             python-websocket-client              1.3.3-1              1.3.3-2
                     python-wxpython          1:4.0.7.2-3            1:4.1.1-3
                         python-zipp              3.8.0-2              3.8.1-1
              qt5-ukui-platformtheme              1.0.7-4              1.0.8-1
                      rime-cantonese     0.0.0.20211029-1     0.0.0.20211213-1
                               scdoc             1.11.2-3             1.11.2-4
                       scummvm-tools              2.5.0-2              2.5.0-3
                               seatd              0.7.0-1              0.7.0-2
                          sequoia-sq             0.26.0-1             0.27.0-1
                          serverless             3.20.0-1             3.21.0-1
                          shellcheck            0.8.0-140            0.8.0-141
                      signal-desktop             5.49.0-1             5.50.1-1
                                sile             0.13.2-2             0.13.3-1
                                  sl               5.05-2               5.05-3
                         slicer-udev              2.4.2-4              2.4.2-6
                               slurp              1.3.2-2              1.3.2-3
                            smplayer             22.2.0-2             22.7.0-1
                              spdlog             1.10.0-1             1.10.0-2
                           spice-gtk               0.41-1               0.41-2
                       spice-vdagent             0.22.1-1             0.22.1-2
                         springlobby              0.273-1              0.273-2
                         superslicer         1:2.4.58.2-2         1:2.4.58.2-3
                            swayidle              1.7.1-2              1.7.1-3
                            swaylock                1.6-1                1.6-2
                             taskell           1.11.4-186           1.11.4-187
                                tepl              6.1.1-1              6.1.2-1
                                tldr              3.1.0-1              3.1.0-2
                               trivy             0.29.2-1             0.30.0-1
                             ts-node             10.8.2-1             10.9.0-1
                        ttf-ionicons              6.0.2-1              6.0.2-2
                         uboot-tools            2022.04-1            2022.07-1
                             ucblogo              6.2.2-2              6.2.2-3
                                 uqm              0.8.0-1              0.8.0-2
                             urlscan              0.9.9-1              0.9.9-2
         v2ray-domain-list-community     20220712102738-1     20220715033720-1
                         v2ray-geoip       202207070057-1       202207140057-1
                            vbam-sdl2.1.4.r453.65b5affe-22.1.4.r453.65b5affe-3
                             vbam-wx2.1.4.r453.65b5affe-22.1.4.r453.65b5affe-3
                           veracrypt             1.25.9-1             1.25.9-2
                             weechat                3.5-2                3.6-1
                         wf-recorder              0.3.0-1              0.3.0-2
                          wine-gecko             2.47.2-3             2.47.3-1
                        wl-clipboard            1:2.1.0-1            1:2.1.0-2
                             wlroots             0.15.1-5             0.15.1-6
                           wxsqlite3              4.7.8-1              4.7.8-2
                               wxsvg             1.5.23-3             1.5.23-4
                                xchm               1.32-2               1.33-1
                              xmonad             0.17.0-3             0.17.0-4
                      xmonad-contrib             0.17.0-3             0.17.0-4
                         cargo-tauri                    -              1.0.4-1


:: Different overlay package(s) in repository core x86_64

-------------------------------------------------------------------------------
                             PACKAGE           2022-04-13           2022-04-16
-------------------------------------------------------------------------------
                           amd-ucode   20220610.7b71b75-1   20220708.be7798e-1
                      linux-firmware   20220610.7b71b75-1   20220708.be7798e-1
                linux-firmware-bnx2x   20220610.7b71b75-1   20220708.be7798e-1
             linux-firmware-liquidio   20220610.7b71b75-1   20220708.be7798e-1
              linux-firmware-marvell   20220610.7b71b75-1   20220708.be7798e-1
             linux-firmware-mellanox   20220610.7b71b75-1   20220708.be7798e-1
                  linux-firmware-nfp   20220610.7b71b75-1   20220708.be7798e-1
                 linux-firmware-qcom   20220610.7b71b75-1   20220708.be7798e-1
               linux-firmware-qlogic   20220610.7b71b75-1   20220708.be7798e-1
               linux-firmware-whence   20220610.7b71b75-1   20220708.be7798e-1
                            linux510           5.10.130-1           5.10.131-1
                    linux510-headers           5.10.130-1           5.10.131-1
                            linux515            5.15.54-1            5.15.55-1
                    linux515-headers            5.15.54-1            5.15.55-1
                            linux518            5.18.11-1            5.18.12-1
                    linux518-headers            5.18.11-1            5.18.12-1
                             linux54            5.4.205-1            5.4.206-1
                     linux54-headers            5.4.205-1            5.4.206-1


:: Different sync package(s) in repository core x86_64

-------------------------------------------------------------------------------
                             PACKAGE           2022-04-13           2022-04-16
-------------------------------------------------------------------------------
                   archlinux-keyring           20220424-1           20220713-1
                               lemon             3.39.0-2             3.39.1-1
                              sqlite             3.39.0-2             3.39.1-1
                     sqlite-analyzer             3.39.0-2             3.39.1-1
                          sqlite-doc             3.39.0-2             3.39.1-1
                          sqlite-tcl             3.39.0-2             3.39.1-1


:: Different overlay package(s) in repository extra x86_64

-------------------------------------------------------------------------------
                             PACKAGE           2022-04-13           2022-04-16
-------------------------------------------------------------------------------
                                dkms            3.0.5-1.0                    -
                       gnome-console               42.1-1               42.2-1
                  linux510-acpi_call             1.2.2-48             1.2.2-49
                   linux510-bbswitch              0.8-149              0.8-150
                linux510-broadcom-wl     6.30.223.271-151     6.30.223.271-152
               linux510-nvidia-390xx           390.151-17           390.151-18
               linux510-nvidia-470xx        470.129.06-16        470.129.06-17
                     linux510-nvidia             515.57-5             515.57-6
                      linux510-r8168          8.049.02-86          8.049.02-87
                  linux510-rtl8723bu          20220114-42          20220114-43
                   linux510-tp_smapi             0.43-149             0.43-150
                linux510-vhba-module          20211218-44          20211218-45
    linux510-virtualbox-host-modules            6.1.34-22            6.1.34-23
                        linux510-zfs              2.1.5-6              2.1.5-7
                  linux515-acpi_call             1.2.2-50             1.2.2-51
                   linux515-bbswitch               0.8-65               0.8-66
                linux515-broadcom-wl      6.30.223.271-65      6.30.223.271-66
               linux515-nvidia-390xx           390.151-50           390.151-51
               linux515-nvidia-470xx        470.129.06-17        470.129.06-18
                     linux515-nvidia             515.57-5             515.57-6
                      linux515-r8168          8.049.02-65          8.049.02-66
                  linux515-rtl8723bu          20220114-44          20220114-45
                   linux515-tp_smapi              0.43-65              0.43-66
                linux515-vhba-module          20211218-46          20211218-47
    linux515-virtualbox-host-modules            6.1.34-23            6.1.34-24
                        linux515-zfs              2.1.5-6              2.1.5-7
                  linux518-acpi_call             1.2.2-13             1.2.2-14
                   linux518-bbswitch               0.8-13               0.8-14
                linux518-broadcom-wl      6.30.223.271-12      6.30.223.271-13
               linux518-nvidia-390xx           390.151-14           390.151-15
               linux518-nvidia-470xx        470.129.06-14        470.129.06-15
                     linux518-nvidia             515.57-5             515.57-6
                      linux518-r8168          8.049.02-13          8.049.02-14
                  linux518-rtl8723bu          20220522-13          20220522-14
                   linux518-tp_smapi              0.43-13              0.43-14
                linux518-vhba-module          20211218-13          20211218-14
    linux518-virtualbox-host-modules            6.1.34-14            6.1.34-15
                        linux518-zfs              2.1.5-6              2.1.5-7
                   linux54-acpi_call             1.2.2-44             1.2.2-45
                    linux54-bbswitch              0.8-218              0.8-219
                 linux54-broadcom-wl     6.30.223.271-219     6.30.223.271-220
                 linux54-ndiswrapper             1.63-174             1.63-175
                linux54-nvidia-390xx           390.151-14           390.151-15
                linux54-nvidia-470xx        470.129.06-14        470.129.06-15
                      linux54-nvidia             515.57-5             515.57-6
                    linux54-nvidiabl             0.88-218             0.88-219
                       linux54-r8168          8.049.02-80          8.049.02-81
                   linux54-rtl8723bu          20220114-38          20220114-39
                    linux54-tp_smapi             0.43-218             0.43-219
                 linux54-vhba-module          20211218-40          20211218-41
     linux54-virtualbox-host-modules            6.1.34-18            6.1.34-19
                         linux54-zfs              2.1.5-6              2.1.5-7
               tuxedo-control-center              1.1.4-2              1.1.5-1
                   qqc2-breeze-style                    -             5.24.6-1


:: Different sync package(s) in repository extra x86_64

-------------------------------------------------------------------------------
                             PACKAGE           2022-04-13           2022-04-16
-------------------------------------------------------------------------------
                                dkms              3.0.5-1              3.0.5-2
                        gnome-tweaks 42beta+r9+gc66d8c3-142beta+r14+g2d9d76c-1
                             gnuplot              5.4.3-5              5.4.3-6
                       gnuplot-demos              5.4.3-5              5.4.3-6
                             gtk-vnc              1.3.0-1              1.3.1-1
                            inkscape                1.2-5              1.2.1-1
                          latex2html             2020.2-1             2022.2-1
                              libgsf            1.14.49-1            1.14.50-1
                           libnotify             0.7.12-1              0.8.0-1
                              libzip              1.8.0-1              1.9.2-1
                           mercurial              6.1.4-1                6.2-1
                      mkvtoolnix-cli             68.0.0-1             69.0.0-1
                      mkvtoolnix-gui             68.0.0-1             69.0.0-1
                           openbabel              3.1.1-3              3.1.1-4
                    perl-alien-build               2.49-1               2.50-1
                perl-crypt-passwdmd5               1.41-3               1.42-1
                     perl-date-manip               6.86-2               6.88-1
                  perl-file-mimeinfo               0.32-2               0.33-1
                            perl-uri               5.11-1               5.12-1
                         python-lxml              4.9.0-1              4.9.1-1
                    python-lxml-docs              4.9.0-1              4.9.1-1
                    python-openbabel              3.1.1-3              3.1.1-4
                       tomcat-native             1.2.34-1             1.2.35-1
                            tomcat10            10.0.22-1            10.0.23-1
                             tomcat9             9.0.64-1             9.0.65-1
                                vala             0.56.1-1             0.56.2-1
                      vulkan-headers          1:1.3.217-1          1:1.3.221-1
                    vulkan-html-docs          1:1.3.217-1          1:1.3.221-1
                   vulkan-icd-loader            1.3.217-1            1.3.221-1
                        wxgtk-common            3.0.5.1-3                    -
                              wxgtk2            3.0.5.1-3                    -
                              wxgtk3            3.0.5.1-3                    -
                    xf86-input-wacom              1.0.0-1              1.1.0-1
                    xfce4-xkb-plugin              0.8.2-1              0.8.3-1


:: Different overlay package(s) in repository kde-unstable x86_64

-------------------------------------------------------------------------------
                             PACKAGE           2022-04-13           2022-04-16
-------------------------------------------------------------------------------
                    akonadi-calendar22.04.3.r2137.g3a40acb-122.04.3.r2141.g3aea1a4-1
              akonadi-calendar-tools22.04.3.r955.g78bc490-122.04.3.r957.g97ab528-1
                    akonadi-contacts22.04.3.r3224.gfabe3063-122.04.3.r3228.gaae941f7-1
               akonadi-import-wizard22.04.3.r1836.gcaddfee-122.04.3.r1838.gd58fa64-1
                        akonadi-mime22.04.3.r1743.g6e384f4-122.04.3.r1746.g8e3618b-1
                       akonadi-notes22.04.3.r1079.gdcf26c6-122.04.3.r1081.ge598e6a-1
                      akonadi-search22.04.3.r1246.gd72f68e-122.04.3.r1250.g996f4a5-1
                      akonadiconsole22.04.3.r1598.g71db2cb-122.04.3.r1600.g7ca31e0-1
                           akregator22.04.3.r6445.g5d85737b-122.04.3.r6447.g6af68bec-1
                           alligator 22.06.r18.gac7190b-1 22.06.r21.gd6f7dc5-1
                           angelfish  22.06.r9.g486ec6d-1 22.06.r20.g4e294ff-1
                                 ark22.04.3.r4816.g45dbec6a-122.04.3.r4818.g59745c8f-1
                          artikulate22.04.3.r1423.g3453e95-122.04.3.r1424.g5696807-1
                         audiocd-kio22.04.3.r1086.g3c95b24-122.04.3.r1090.gb36c01e-1
                       baloo-widgets22.04.3.r761.g1390bc7-122.04.3.r762.g66425c4-1
                             blinken22.04.3.r673.gb516001-122.04.3.r674.gd2f67e7-1
                           bluedevil1:5.25.3.r2415.g84feb9ae-11:5.25.3.r2416.g65656cba-1
                              bomber22.04.3.r568.g34e6fee-122.04.3.r569.g56cdf3c-1
                                bovo22.04.3.r781.g9974daa-122.04.3.r782.ga336e2a-1
                              breeze5.25.3.r2429.g770cb950-15.25.3.r2430.g224f6c37-1
                     calendarsupport22.04.2.r713.geed496f-122.04.2.r716.g955489f-1
                           calindori  22.06.r6.g819ecec-1  22.06.r7.g53c09da-1
                              cantor22.04.3.r3365.ged52c4f8-122.04.3.r3366.gc9d7b646-1
                             dolphin22.04.3.r7039.g8d7e600f6-122.04.3.r7046.gd4ed58f6a-1
                     dolphin-plugins22.04.3.r667.g4549db0-122.04.3.r668.g0db9289-1
                              dragon22.04.3.r1047.gc4ec64b-122.04.3.r1048.ge20da44-1
                             drkonqi5.25.3.r801.g00b3f48e-15.25.3.r803.gba2a47e0-1
                               elisa22.04.3.r2998.g0968c47a-122.04.3.r3000.g137dc97f-1
                          elisa-qtmm22.04.3.r2998.g0968c47a-122.04.3.r3000.g137dc97f-1
                          eventviews22.04.2.r854.g0c983d6-122.04.2.r857.gb612b23-1
                 extra-cmake-modules5.96.0.r3505.g7d9d14e7-15.96.0.r3506.gce726d38-1
                        ffmpegthumbs22.04.3.r223.g15e8b7e-122.04.3.r224.gd56f12a-1
                           filelight22.04.3.r1148.g5578aac-122.04.3.r1154.g97fbbd4-1
                           granatier22.04.3.r985.g1886588-122.04.3.r986.gb00b485-1
                     grantlee-editor22.04.3.r827.ge1a2d72-122.04.3.r829.gb276c90-1
                       grantleetheme22.04.3.r404.g1cc8b0b-122.04.3.r406.g6816d83-1
                     incidenceeditor22.04.3.r908.gd73a8db-122.04.3.r910.gbb19ea1-1
                           itinerary22.04.3.r1948.g2b8f969-122.04.3.r1951.g6c85057-1
                                 juk22.04.3.r3162.g08916e2c-122.04.3.r3166.ge471f665-1
                                 k3b1:22.04.3.r6804.ge177b799c-11:22.04.3.r6807.ga8f810d6a-1
               kaccounts-integration22.04.3.r1265.g4ef5490-122.04.3.r1266.g6e872ab-1
                 kaccounts-providers22.04.3.r399.g2025b96-122.04.3.r400.gdeeece1-1
                        kaddressbook22.04.3.r6215.g410af27e-122.04.3.r6220.gf472e064-1
                             kajongg22.04.3.r4346.gf6db963c-122.04.3.r4347.g86f0115c-1
                              kalarm22.04.3.r7953.g53c45fb9-122.04.3.r7956.gef920816-1
                            kalgebra22.04.3.r2068.g8f4b41d-122.04.3.r2070.g0c74265-1
                             kalzium22.04.3.r4369.gfba333f7-122.04.3.r4370.g254ff1d8-1
                              kamera22.04.3.r727.g906f8ca-122.04.3.r728.gf685528-1
                              kamoso22.04.3.r1469.g0553dd7-122.04.3.r1470.gc7d4dd4-1
                            kanagram22.04.3.r1317.g4817007-122.04.3.r1318.g8437164-1
                              kapman22.04.3.r663.gd2e5fbf-122.04.3.r665.g6e39899-1
                        kapptemplate22.04.3.r996.g16a48d2-122.04.3.r997.g20b2c62-1
                               kasts 22.06.r23.ga2096c0-1 22.06.r27.gce45074-1
                                kate22.04.3.r19236.g29d09b437-122.04.3.r19238.g2403075c3-1
                             katomic22.04.3.r966.gb49eb3c-122.04.3.r967.gf5c1e78-1
                             kbackup22.04.3.r446.ge10a50f-122.04.3.r447.gc03a8d9-1
                           kblackbox22.04.3.r773.g0aef645-122.04.3.r774.g8428377-1
                             kbounce22.04.3.r855.g464052c-122.04.3.r856.gaec2598-1
                           kbreakout22.04.3.r929.g23f6617-122.04.3.r930.gb90aab3-1
                              kbruch22.04.3.r871.g1a2963b-122.04.3.r872.gbe4aa00-1
                         kcachegrind22.04.3.r1188.g2a19a76-122.04.3.r1189.gbdeab59-1
                  kcachegrind-common22.04.3.r1188.g2a19a76-122.04.3.r1189.gbdeab59-1
                               kcalc22.04.3.r1621.gbd8a0dd-122.04.3.r1622.ga2ad8a3-1
                           kcalutils22.04.3.r971.g47c43cb1c-122.04.3.r978.g9a68537fa-1
                         kcharselect22.04.3.r537.gec69d84-122.04.3.r538.g9c2bd2e-1
                            kcmutils5.96.0.r647.gc6a4512-15.96.0.r650.g03804c1-1
                       kcolorchooser22.04.3.r276.ga066dc4-122.04.3.r277.gdb41f6d-1
                      kconfigwidgets5.96.0.r749.g31243e0-15.96.0.r750.geb393b1-1
                         kcoreaddons5.96.0.r1529.g3b3d1fea-15.96.0.r1531.gd1f29806-1
                       kde-dev-utils22.04.3.r593.g7d26ddb-122.04.3.r594.gb8df7e2-1
                      kdebugsettings22.04.3.r938.g73eaaa9-122.04.3.r944.ge4f6a25-1
                          kdeconnect22.04.3.r3488.gfd8b8078-122.04.3.r3491.g182fd5f2-1
                       kdepim-addons22.04.3.r4716.g73d2af517-122.04.3.r4720.g59b1456d0-1
                      kdepim-runtime22.04.3.r15556.gab5efce87-122.04.3.r15560.ga9f36a1b6-1
                    kdeplasma-addons5.25.3.r8923.gb16b11aa4-15.25.3.r8930.g0d3c669f0-1
                 kdesdk-thumbnailers22.04.3.r92.g5da979d-122.04.3.r93.g7ff219f-1
                                 kdf22.04.3.r865.gd4118a0-122.04.3.r866.g2d1bcf1-1
                            kdiamond22.04.3.r730.g8f8734b-122.04.3.r731.gd2acca8-1
                             kfloppy22.04.3.r797.g875b74c-122.04.3.r798.ged6a909-1
                         kfourinline22.04.3.r1030.g789e233-122.04.3.r1031.ga76109c-1
                          kgeography22.04.3.r1160.geb6d9dd-122.04.3.r1161.g65d2576-1
                                kget22.04.3.r3214.g36e7c4a2-122.04.3.r3215.g827824c6-1
                         kgoldrunner22.04.3.r1289.g70f24e5-122.04.3.r1290.g9270c9b-1
                                kgpg22.04.3.r3196.g07882605-122.04.3.r3197.gc45271cd-1
                            khangman22.04.3.r1617.gbb373d1-122.04.3.r1618.gb49b93f-1
                         khelpcenter22.04.3.r2755.gafd3ed9c-122.04.3.r2757.g460a5dff-1
                 kidentitymanagement22.04.3.r3892.gb54c71bc-122.04.3.r3894.g490e2cd4-1
                                kigo22.04.3.r575.gf780c4c-122.04.3.r576.g0bcdcce-1
                            killbots22.04.3.r799.gedca99c-122.04.3.r800.g5357bac-1
                     kimagemapeditor22.04.3.r499.gb51736e-122.04.3.r500.g98044a1-1
                               kimap22.04.3.r1198.gdb6c159-122.04.3.r1200.gc0d4834-1
                         kinfocenter5.25.3.r2116.gcc19207f-15.25.3.r2123.gc9e7a6cb-1
                                 kio5.96.0.r5576.g6a183b0c2-15.96.0.r5587.gb323a33c9-1
                          kio-extras22.04.3.r7295.gdbbfd4e1-122.04.3.r7298.g52a56adc-1
                          kio-gdrive22.04.3.r619.gf84abdc-122.04.3.r620.g8a6015c-1
                     kirigami-addons  1:0.3.r3.gca4fb6d-1  1:0.3.r5.g1468d70-1
                    kirigami-gallery22.04.3.r252.g9a237ed-122.04.3.r255.gca484dc-1
                           kirigami25.96.0.r3176.g3671e95f-15.96.0.r3182.gb6e57d84-1
                              kiriki22.04.3.r456.ge4464f0-122.04.3.r457.gf91e1d2-1
                          kitinerary22.04.3.r2298.g46ce330-122.04.3.r2306.gaf30845-1
                        kjumpingcube22.04.3.r828.g4359e77-122.04.3.r829.gec18caf-1
                               kldap22.04.3.r956.gc8c4d6a-122.04.3.r958.g09889e4-1
                           kleopatra22.04.3.r6669.g9a8722cb-122.04.3.r6676.ged516693-1
                            klettres22.04.3.r969.g5e4ed27-122.04.3.r970.g2f8b05f-1
                              klines22.04.3.r823.g24962cf-122.04.3.r824.g7911d74-1
                                kmag22.04.3.r741.gd34fabe-122.04.3.r742.gb02aa68-1
                           kmahjongg22.04.3.r1558.g4cb8617-122.04.3.r1559.g96f1bbf-1
                               kmail22.04.3.r26448.ga9e8cfd9a-122.04.3.r26452.g31aedafc7-1
                kmail-account-wizard22.04.3.r890.g5b15131-122.04.3.r892.ge755820-1
                      kmailtransport22.04.3.r1749.ge3d7fbf-122.04.3.r1751.gd05322e-1
                               kmbox22.04.3.r601.g07a272c-122.04.3.r603.g29bb1b6-1
                               kmime22.04.3.r1520.gbe8aa96-122.04.3.r1522.g16fb26b-1
                              kmines22.04.3.r1770.g859e949-122.04.3.r1771.gd14a074-1
                                kmix22.04.3.r2454.g0abe8a6b-122.04.3.r2455.g77494fc6-1
                          kmousetool22.04.3.r448.gd1fc84e-122.04.3.r449.gf5bc443-1
                              kmplot22.04.3.r1499.g2b18400-122.04.3.r1501.gd71227e-1
                        knavalbattle22.04.3.r1439.g1742404-122.04.3.r1440.g442257c-1
                            knetwalk22.04.3.r705.g3cf77a1-122.04.3.r706.g4c5c5f5-1
                             knights22.04.3.r1150.g90391df-122.04.3.r1151.g5a6ba8b-1
                              knotes22.04.3.r3676.g75d403e5-122.04.3.r3678.ga5bdec93-1
                                kolf22.04.3.r1513.g500da49-122.04.3.r1514.ge9edb64-1
                           kollision22.04.3.r540.g2f219f1-122.04.3.r541.g9e8398b-1
                         kolourpaint22.04.3.r2424.gc817608b-122.04.3.r2425.g8b6d4d1b-1
                             kompare22.04.3.r1144.g344ec8d-122.04.3.r1145.gf7b472b-1
                           konqueror22.04.3.r15127.g75407f8da-122.04.3.r15130.g90807e9fa-1
                            konquest22.04.3.r936.g5115000-122.04.3.r937.g82baf47-1
                             konsole22.04.3.r8550.ga49dfc0f-122.04.3.r8551.gf7a05efa-1
                             kontact22.04.3.r5549.g6aeb5c5c-122.04.3.r5552.g580666f7-1
                    kontactinterface22.04.3.r699.g0742fb4-122.04.3.r701.g8dc1cca-1
                            kontrast22.04.3.r210.gf0e87e4-122.04.3.r211.gde0b942-1
                        konversation22.04.3.r9129.g5a9b8e2f-122.04.3.r9130.g08bfe884-1
                       kopeninghours22.04.3.r332.g37dacc1-122.04.3.r333.g79db379-1
                          korganizer22.04.3.r11764.g45a959da9-122.04.3.r11766.g9467d76e4-1
                       kosmindoormap22.04.3.r744.gd3d9d0f-122.04.3.r745.gd64ad4d-1
                                kpat22.04.3.r2625.g5e59e5b2-122.04.3.r2626.g6d53abc5-1
                         kpeoplesink       r81.g4f129cb-1       r81.g4f129cb-3
                        kpimtextedit22.04.3.r1602.ge2c7bf1-122.04.3.r1609.g9095e0b-1
                             kpkpass22.04.3.r300.gefa8479-122.04.3.r302.g19d9f17-1
                             kpmcore22.04.3.r1292.g3dc4b78-122.04.3.r1293.g1ec8b8b-1
                    kpublictransport22.04.3.r2031.g6b2a87e6-122.04.3.r2033.g58994c55-1
                                krdc22.04.3.r1608.geac8dc6-122.04.3.r1609.g194d0c5-1
                            kreversi22.04.3.r1275.gcffcd49-122.04.3.r1276.gd267028-1
                                krfb22.04.3.r1506.gd1d0850-122.04.3.r1507.g2cd15b6-1
                              kruler22.04.3.r738.g96cf3a0-122.04.3.r739.g56ea9fe-1
                           ksanecore      r621.g953124a-1      r622.g181a0bb-1
                            kservice5.96.0.r1022.g03376d7-15.96.0.r1023.g5b12b2d-1
                             kshisen22.04.3.r1250.g250c4f1-122.04.3.r1251.gc911899-1
                               ksirk22.04.3.r1036.g294de44-122.04.3.r1037.gaefec34-1
                               ksmtp22.04.3.r451.g266ed11-122.04.3.r453.g09909c6-1
                          ksnakeduel22.04.3.r859.g558b861-122.04.3.r860.gd452466-1
                          kspaceduel22.04.3.r678.g21c85b3-122.04.3.r679.g9766b8b-1
                            ksquares22.04.3.r565.gda9f023-122.04.3.r566.g608dcbf-1
                             ksudoku22.04.3.r1121.g0c28bd9-122.04.3.r1122.g5057715-1
                          ksystemlog22.04.3.r737.gdc39a2c-122.04.3.r738.g75a35bc-1
                        ksystemstats5.25.3.r231.g442ec4f-15.25.3.r232.g5ae8db9-1
                            kteatime22.04.3.r762.g3987165-122.04.3.r763.g24b20aa-1
                         ktexteditor5.96.0.r3439.gfb610965-15.96.0.r3440.g623703c7-1
                              ktimer22.04.3.r523.ge2061c7-122.04.3.r524.gafb0cec-1
                               ktnef22.04.3.r721.g855853f-122.04.3.r723.gd2cd453-1
                            ktorrent22.04.3.r2866.ge7a394ae-122.04.3.r2867.gcb0986aa-1
                              ktouch22.04.3.r2190.g27ae52f-122.04.3.r2191.gdfd4dfa-1
                          ktuberling22.04.3.r1064.g06d2867-122.04.3.r1065.g75e542e-1
                             kturtle22.04.3.r1177.g1c2f5d1-122.04.3.r1178.gbe120d4-1
                             kubrick22.04.3.r412.ge19d338-122.04.3.r413.gb7f7406-1
                             kwallet5.96.0.r1162.g6239a80-15.96.0.r1163.g47ed32b-1
                      kwalletmanager22.04.3.r1279.g1bddc05-122.04.3.r1280.gb6c61f2-1
                               kwave22.04.3.r3799.g56b8c294-122.04.3.r3800.gb5ccf044-1
                kwayland-integration5.25.3.r211.g0e502d8-15.25.3.r212.gef63862-1
                            kweather 22.06.r13.ga6ba449-1 22.06.r15.g1d904fb-1
                        kweathercore    0.6.r3.g405594f-1    0.6.r6.gee49ab6-1
                                kwin5.25.2.r22726.g7d0076662-15.25.3.r22762.ge801819a2-1
                           kwordquiz22.04.3.r1188.g394d0cd-122.04.3.r1189.g589682f-1
                              kwrite22.04.3.r19236.g29d09b437-122.04.3.r19238.g2403075c3-1
                             kxmlgui5.96.0.r893.gde0790fe-15.96.0.r894.g59affd7d-1
                         libgravatar22.04.3.r427.gd78f119-122.04.3.r429.ge635e38-1
                           libkdepim22.04.3.r911.g4cae214-122.04.3.r918.g9472b5b-1
                            libksane22.04.3.r603.geb2cf97-122.04.3.r604.g779611e-1
                           libksieve22.04.3.r1723.g911ef126-122.04.3.r1725.g654ee845-1
                        libksysguard5.25.3.r2417.gccb0a41-15.25.3.r2419.gabe0012-1
                         libktorrent22.04.3.r551.g66cdae3-122.04.3.r552.g4f6c01c-1
                            lokalize22.04.3.r1838.gf13738b3-122.04.3.r1840.gdab52c0c-1
                               lskat22.04.3.r859.g956bab5-122.04.3.r860.gbf65356-1
                          mailcommon22.04.3.r1256.g9b0d0d3-122.04.3.r1258.ged48665-1
                        mailimporter22.04.3.r524.g20a7033-122.04.3.r526.g68b0d50-1
                              marble22.04.3.r13456.g8c82cd59d-122.04.3.r13457.g9549f409a-1
                       marble-common22.04.3.r13456.g8c82cd59d-122.04.3.r13457.g9549f409a-1
                           marble-qt22.04.3.r13456.g8c82cd59d-122.04.3.r13457.g9549f409a-1
                        markdownpart22.04.3.r129.g21207fc-122.04.3.r130.gaabaf84-1
                            maui-pix 2.1.2.r17.g68f91a1-1 2.1.2.r18.g1ea25f0-1
                          maui-shell 0.5.0.r50.g3dda003-1 0.5.0.r52.gb0ccd14-1
                             mauiman        r21.8863ae6-1        r22.f42eb96-1
                       mbox-importer22.04.3.r572.g286306b-122.04.3.r574.g5b13d24-1
                          messagelib22.04.3.r6623.ga1a1ee1b7-122.04.3.r6625.gdcf6101e2-1
                               milou5.25.3.r779.g0363d7a-15.25.3.r780.ga50415d-1
                              minuet22.04.3.r615.g5b74c41-122.04.3.r618.gd5a8e59-1
                             neochat22.06.r24.g4337d0d5-122.06.r43.gf80039a5-1
                              okular22.04.3.r9786.gd2674bd7a-122.04.3.r9792.g37dd66593-1
                              oxygen5.25.3.r4496.g7457d10b-15.25.3.r4497.g489752e0-1
                            palapeli22.04.3.r1292.g6306068-122.04.3.r1293.gb8840f4-1
                              parley22.04.3.r4530.g31e5011a-122.04.3.r4531.g5d76d7d5-1
                    partitionmanager22.04.3.r1636.g283d3a2-122.04.3.r1637.g799603c-1
                   pim-data-exporter22.04.3.r2766.gd3faa685-122.04.3.r2768.gd13b75a7-1
                    pim-sieve-editor22.04.3.r1635.gaf6aa2b-122.04.3.r1637.g8a4e21c-1
                        plank-player        r29.f536191-1        r30.7520b22-1
                    plasma-bigscreen      r484.g8d946c5-1      r486.g8952b8f-1
                      plasma-desktop5.25.3.r9414.g358e4e40c-15.25.3.r9428.g582571ad2-1
                       plasma-dialer 22.06.r14.gf3119e1-1 22.06.r15.g5714110-1
                     plasma-firewall5.25.3.r641.gf8135dd-15.25.3.r642.gbbdfe7b-1
                    plasma-framework5.96.0.r16364.gbea3b07c3-15.96.0.r16366.g50eaece7a-1
                       plasma-mobile5.25.3.r1903.g88417b3e0-15.25.3.r1911.g29d5afaac-1
                    plasma-mobile-nm5.25.3.r3293.ge1f2739c-15.25.3.r3294.g141ce673-1
                           plasma-nm5.25.3.r3293.ge1f2739c-15.25.3.r3294.g141ce673-1
                          plasma-sdk5.25.3.r2376.gd5fae7b4-15.25.3.r2377.g29f3ee38-1
                     plasma-settings 22.06.r23.g0dfe7f1-1 22.06.r29.gaed5bc7-1
                plasma-systemmonitor5.25.3.r589.g32f0e54-15.25.3.r594.g30b8d8b-1
              plasma-wayland-session5.25.3.r12066.g950a7db44-15.25.3.r12082.gc07d105ad-1
                    plasma-workspace5.25.3.r12066.g950a7db44-15.25.3.r12082.gc07d105ad-1
         plasma-workspace-wallpapers5.25.3.r359.gc755f8f-15.25.3.r360.g7705661-1
                       print-manager22.04.3.r1144.g43da5c4-122.04.3.r1145.g5d29881-1
                         qcachegrind22.04.3.r1188.g2a19a76-122.04.3.r1189.gbdeab59-1
                          qmlkonsole  22.06.r8.ge54d9b8-1  22.06.r9.g3b1160f-1
            signon-kwallet-extension22.04.3.r81.gd26709f-122.04.3.r82.g67533cf-1
                               solid5.96.0.r782.g806fb38-15.96.0.r783.gc6adb1e-1
                            spacebar 22.06.r13.g1d4e5d4-1 22.06.r21.g2eb01a9-1
                           spectacle22.04.3.r1372.g1b3dd8e-122.04.3.r1373.gba86116-1
                                step22.04.3.r1199.g733e773-122.04.3.r1200.g64a0495-1
                             svgpart22.04.3.r231.g0eaa001-122.04.3.r232.g9279041-1
                             sweeper22.04.3.r577.g00d5ee3-122.04.3.r578.g89755e6-1
          telepathy-kde-accounts-kcm22.04.3.r1219.g9ec4fad-122.04.3.r1220.g5d7feff-1
              telepathy-kde-approver22.04.3.r305.gcc15f81-122.04.3.r306.g53cec00-1
          telepathy-kde-auth-handler22.04.3.r283.gece2e65-122.04.3.r284.gc59f7d0-1
               telepathy-kde-call-ui22.04.3.r449.g4c30cd2-122.04.3.r450.ga1ee093-1
      telepathy-kde-common-internals22.04.3.r2021.g0f4205e-122.04.3.r2022.g09a775a-1
          telepathy-kde-contact-list22.04.3.r1092.gfa49eb5-122.04.3.r1093.g9c27117-1
        telepathy-kde-contact-runner22.04.3.r262.g1dd12e4-122.04.3.r263.gac42a1d-1
       telepathy-kde-desktop-applets22.04.3.r1005.g18d27bc-122.04.3.r1006.gb0a027c-1
  telepathy-kde-filetransfer-handler22.04.3.r226.g89862cf-122.04.3.r227.ga6083c9-1
    telepathy-kde-integration-module22.04.3.r401.ge4be972-122.04.3.r402.ga5572ce-1
             telepathy-kde-send-file22.04.3.r235.ga2969bb-122.04.3.r236.gcac0c0c-1
               telepathy-kde-text-ui22.04.3.r2047.g8999016-122.04.3.r2048.g596eeaf-1
                             tokodon 22.06.r12.g244e3e2-1 22.06.r13.g21aae2b-1
                            umbrello22.04.3.r8485.ge4d79cfe8-122.04.3.r8486.g4f81aaa82-1
                         vakzination  22.06.r8.g4b730a0-1  22.06.r9.g872245a-1


:: Different sync package(s) in repository multilib x86_64

-------------------------------------------------------------------------------
                             PACKAGE           2022-04-13           2022-04-16
-------------------------------------------------------------------------------
                        lib32-libdrm            2.4.111-1            2.4.112-1
                    lib32-libxrender             0.9.10-2             0.9.10-3
                       lib32-libxtst              1.2.3-2              1.2.3-3
                         lib32-libxv             1.0.11-2             1.0.11-3
                        lib32-sqlite             3.38.5-1             3.39.0-1
             lib32-vulkan-icd-loader            1.3.217-1            1.3.221-1
                                wine               7.12-1               7.13-1


No issue, everything went smoothly
Yes there was an issue. I was able to resolve it myself.(Please post your solution)
Yes i am currently experiencing an issue due to the update. (Please post about it)
Check if your mirror has already synced: