Hello community,
Another testing branch update with some usual updates for you.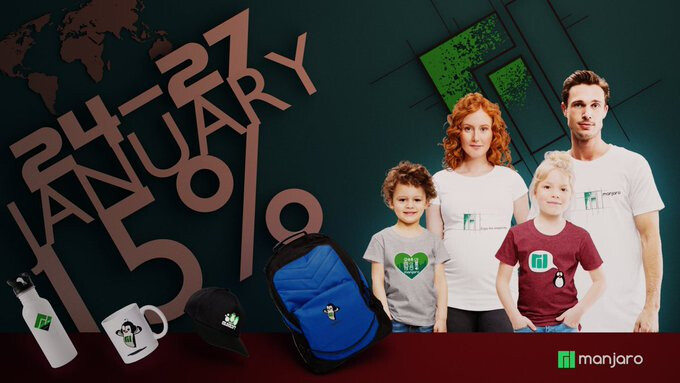 Don't miss out on our current discounts on Manjaro Merch
Some of the Kernels got updated
linux514 got dropped, as well as all our 4.x kernels
linux-firmware got split up. More info here
OpenSearch is at 1.2.4
VirtualBox got updated to 6.1.32
Systemd is now at 250.3
Firefox got renewed to 96.0.2
AMDVLK is at 22.Q1.1
The usual upstream updates including Haskell and Python

You may need to rebuild any AUR packages that install files to site-packages …

You may need to rebuild any Python packages you've installed from the AUR. To get a list of them, you can run:

pacman -Qoq /usr/lib/python3.9


And to rebuild them all at once with an AUR helper such as yay, you can do:

yay -S $(pacman -Qoq /usr/lib/python3.9) --answerclean All


But if any of the packages don't work with Python 3.10 yet, this might fail halfway through and you'll have to do rebuild the remaining ones one or a few at a time.
Get our latest daily developer images now from Github: Plasma, Gnome, XFCE. You get the latest stable releases of Manjaro from CDN77.
---
Our current supported kernels
linux54 5.4.173
linux510 5.10.93
linux515 5.15.16
linux516 5.16.2
linux517 5.17-rc1
linux510-rt 5.10.90_rt60
linux515-rt 5.15.14_rt27
linux516-rt 5.16.2_rt18
Package Updates (Mon Jan 24 07:37:48 CET 2022)
testing community x86_64: 1319 new and 1283 removed package(s)
testing core x86_64: 27 new and 28 removed package(s)
testing extra x86_64: 211 new and 374 removed package(s)
testing kde-unstable x86_64: 245 new and 242 removed package(s)
testing multilib x86_64: 17 new and 18 removed package(s)
All package changes are listed here.
No issue, everything went smoothly
Yes there was an issue. I was able to resolve it myself.(Please post your solution)
Yes i am currently experiencing an issue due to the update. (Please post about it)
Check if your mirror has already synced: