Hello community,
Another testing branch update with some usual updates for you.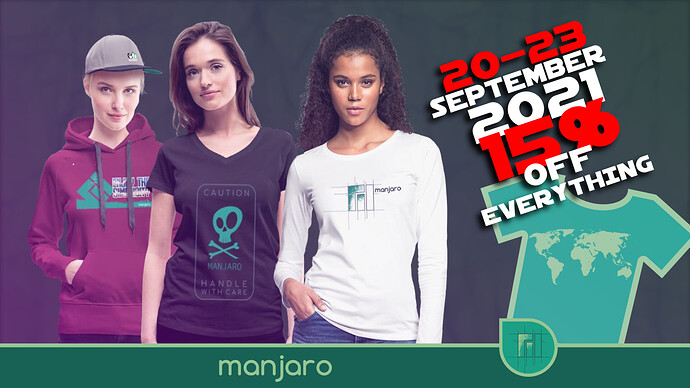 Don't miss out on 15% discount on all of our merch
Most of our Kernels got updated. Note: 5.13 series is now marked EOL
Another beta release of Firefox got added
Some updates to XFCE and KDE software
Other regular upstream updates
Get our latest daily developer images now from Github: Plasma, Gnome, XFCE. You get the latest stable releases of Manjaro from CDN77.
---
Our current supported kernels
linux44 4.4.283
linux49 4.9.282
linux414 4.14.246
linux419 4.19.206
linux54 5.4.147
linux510 5.10.67
linux512 5.12.19 [EOL]
linux513 5.13.19 [EOL]
linux514 5.14.6
linux515 5.15-rc2
linux510-rt 5.10.52_rt47
Package Updates (Mon Sep 20 20:49:53 CEST 2021)
testing community x86_64: 211 new and 210 removed package(s)
testing core x86_64: 19 new and 17 removed package(s)
testing extra x86_64: 64 new and 121 removed package(s)
testing kde-unstable x86_64: 103 new and 103 removed package(s)
testing multilib x86_64: 4 new and 4 removed package(s)
:: Different overlay package(s) in repository community x86_64

-------------------------------------------------------------------------------
                             PACKAGE           2021-09-17           2021-09-20
-------------------------------------------------------------------------------
                         needrestart   3.5.r28.ge4c352a-1   3.5.r38.g5c20a9e-1


:: Different sync package(s) in repository community x86_64

-------------------------------------------------------------------------------
                             PACKAGE           2021-09-17           2021-09-20
-------------------------------------------------------------------------------
                               acpid             2.0.32-2             2.0.33-1
                                anki             2.1.35-3                    -
                    autoconf-archive       1:2021.02.19-1       1:2021.02.19-2
                          babel-core             7.15.4-1             7.15.5-1
                             cargo-c              0.9.2-1              0.9.3-1
                      cargo-generate              0.9.0-1             0.10.0-1
                           catatonit              0.1.5-2              0.1.6-1
                          cloud-init               21.3-2               21.3-3
                        coffeescript              2.5.1-1              2.6.0-1
                   containers-common             0.44.0-1             0.44.1-1
                                crun                1.0-1                1.0-2
                           darktable            2:3.6.0-3            2:3.6.1-1
                                dart             2.14.1-1             2.14.2-1
                          deepin-api              5.4.9-1             5.4.11-1
                          diffoscope                183-1                184-1
                      dns-over-https              2.2.5-1              2.3.0-1
                           drumstick              2.3.1-1              2.4.0-1
                                dust              0.6.2-1              0.7.5-1
                         easyeffects              6.1.0-1              6.1.2-1
                              facter            3.14.16-5            3.14.18-1
           firefox-developer-edition             93.0b4-1             93.0b7-1
  firefox-developer-edition-i18n-ach             93.0b4-1             93.0b7-1
   firefox-developer-edition-i18n-af             93.0b4-1             93.0b7-1
   firefox-developer-edition-i18n-an             93.0b4-1             93.0b7-1
   firefox-developer-edition-i18n-ar             93.0b4-1             93.0b7-1
  firefox-developer-edition-i18n-ast             93.0b4-1             93.0b7-1
   firefox-developer-edition-i18n-az             93.0b4-1             93.0b7-1
   firefox-developer-edition-i18n-be             93.0b4-1             93.0b7-1
   firefox-developer-edition-i18n-bg             93.0b4-1             93.0b7-1
   firefox-developer-edition-i18n-bn             93.0b4-1             93.0b7-1
   firefox-developer-edition-i18n-br             93.0b4-1             93.0b7-1
   firefox-developer-edition-i18n-bs             93.0b4-1             93.0b7-1
   firefox-developer-edition-i18n-ca             93.0b4-1             93.0b7-1
firefox-developer-edition-i18n-ca-valencia       93.0b4-1             93.0b7-1
  firefox-developer-edition-i18n-cak             93.0b4-1             93.0b7-1
   firefox-developer-edition-i18n-cs             93.0b4-1             93.0b7-1
   firefox-developer-edition-i18n-cy             93.0b4-1             93.0b7-1
   firefox-developer-edition-i18n-da             93.0b4-1             93.0b7-1
   firefox-developer-edition-i18n-de             93.0b4-1             93.0b7-1
  firefox-developer-edition-i18n-dsb             93.0b4-1             93.0b7-1
   firefox-developer-edition-i18n-el             93.0b4-1             93.0b7-1
firefox-developer-edition-i18n-en-ca             93.0b4-1             93.0b7-1
firefox-developer-edition-i18n-en-gb             93.0b4-1             93.0b7-1
firefox-developer-edition-i18n-en-us             93.0b4-1             93.0b7-1
   firefox-developer-edition-i18n-eo             93.0b4-1             93.0b7-1
firefox-developer-edition-i18n-es-ar             93.0b4-1             93.0b7-1
firefox-developer-edition-i18n-es-cl             93.0b4-1             93.0b7-1
firefox-developer-edition-i18n-es-es             93.0b4-1             93.0b7-1
firefox-developer-edition-i18n-es-mx             93.0b4-1             93.0b7-1
   firefox-developer-edition-i18n-et             93.0b4-1             93.0b7-1
   firefox-developer-edition-i18n-eu             93.0b4-1             93.0b7-1
   firefox-developer-edition-i18n-fa             93.0b4-1             93.0b7-1
   firefox-developer-edition-i18n-ff             93.0b4-1             93.0b7-1
   firefox-developer-edition-i18n-fi             93.0b4-1             93.0b7-1
   firefox-developer-edition-i18n-fr             93.0b4-1             93.0b7-1
firefox-developer-edition-i18n-fy-nl             93.0b4-1             93.0b7-1
firefox-developer-edition-i18n-ga-ie             93.0b4-1             93.0b7-1
   firefox-developer-edition-i18n-gd             93.0b4-1             93.0b7-1
   firefox-developer-edition-i18n-gl             93.0b4-1             93.0b7-1
   firefox-developer-edition-i18n-gn             93.0b4-1             93.0b7-1
firefox-developer-edition-i18n-gu-in             93.0b4-1             93.0b7-1
   firefox-developer-edition-i18n-he             93.0b4-1             93.0b7-1
firefox-developer-edition-i18n-hi-in             93.0b4-1             93.0b7-1
   firefox-developer-edition-i18n-hr             93.0b4-1             93.0b7-1
  firefox-developer-edition-i18n-hsb             93.0b4-1             93.0b7-1
   firefox-developer-edition-i18n-hu             93.0b4-1             93.0b7-1
firefox-developer-edition-i18n-hy-am             93.0b4-1             93.0b7-1
   firefox-developer-edition-i18n-ia             93.0b4-1             93.0b7-1
   firefox-developer-edition-i18n-id             93.0b4-1             93.0b7-1
   firefox-developer-edition-i18n-is             93.0b4-1             93.0b7-1
   firefox-developer-edition-i18n-it             93.0b4-1             93.0b7-1
   firefox-developer-edition-i18n-ja             93.0b4-1             93.0b7-1
   firefox-developer-edition-i18n-ka             93.0b4-1             93.0b7-1
  firefox-developer-edition-i18n-kab             93.0b4-1             93.0b7-1
   firefox-developer-edition-i18n-kk             93.0b4-1             93.0b7-1
   firefox-developer-edition-i18n-km             93.0b4-1             93.0b7-1
   firefox-developer-edition-i18n-kn             93.0b4-1             93.0b7-1
   firefox-developer-edition-i18n-ko             93.0b4-1             93.0b7-1
  firefox-developer-edition-i18n-lij             93.0b4-1             93.0b7-1
   firefox-developer-edition-i18n-lt             93.0b4-1             93.0b7-1
   firefox-developer-edition-i18n-lv             93.0b4-1             93.0b7-1
   firefox-developer-edition-i18n-mk             93.0b4-1             93.0b7-1
   firefox-developer-edition-i18n-mr             93.0b4-1             93.0b7-1
   firefox-developer-edition-i18n-ms             93.0b4-1             93.0b7-1
   firefox-developer-edition-i18n-my             93.0b4-1             93.0b7-1
firefox-developer-edition-i18n-nb-no             93.0b4-1             93.0b7-1
firefox-developer-edition-i18n-ne-np             93.0b4-1             93.0b7-1
   firefox-developer-edition-i18n-nl             93.0b4-1             93.0b7-1
firefox-developer-edition-i18n-nn-no             93.0b4-1             93.0b7-1
   firefox-developer-edition-i18n-oc             93.0b4-1             93.0b7-1
firefox-developer-edition-i18n-pa-in             93.0b4-1             93.0b7-1
   firefox-developer-edition-i18n-pl             93.0b4-1             93.0b7-1
firefox-developer-edition-i18n-pt-br             93.0b4-1             93.0b7-1
firefox-developer-edition-i18n-pt-pt             93.0b4-1             93.0b7-1
   firefox-developer-edition-i18n-rm             93.0b4-1             93.0b7-1
   firefox-developer-edition-i18n-ro             93.0b4-1             93.0b7-1
   firefox-developer-edition-i18n-ru             93.0b4-1             93.0b7-1
   firefox-developer-edition-i18n-si             93.0b4-1             93.0b7-1
   firefox-developer-edition-i18n-sk             93.0b4-1             93.0b7-1
   firefox-developer-edition-i18n-sl             93.0b4-1             93.0b7-1
  firefox-developer-edition-i18n-son             93.0b4-1             93.0b7-1
   firefox-developer-edition-i18n-sq             93.0b4-1             93.0b7-1
   firefox-developer-edition-i18n-sr             93.0b4-1             93.0b7-1
firefox-developer-edition-i18n-sv-se             93.0b4-1             93.0b7-1
   firefox-developer-edition-i18n-ta             93.0b4-1             93.0b7-1
   firefox-developer-edition-i18n-te             93.0b4-1             93.0b7-1
   firefox-developer-edition-i18n-th             93.0b4-1             93.0b7-1
   firefox-developer-edition-i18n-tl             93.0b4-1             93.0b7-1
   firefox-developer-edition-i18n-tr             93.0b4-1             93.0b7-1
  firefox-developer-edition-i18n-trs             93.0b4-1             93.0b7-1
   firefox-developer-edition-i18n-uk             93.0b4-1             93.0b7-1
   firefox-developer-edition-i18n-ur             93.0b4-1             93.0b7-1
   firefox-developer-edition-i18n-uz             93.0b4-1             93.0b7-1
   firefox-developer-edition-i18n-vi             93.0b4-1             93.0b7-1
   firefox-developer-edition-i18n-xh             93.0b4-1             93.0b7-1
firefox-developer-edition-i18n-zh-cn             93.0b4-1             93.0b7-1
firefox-developer-edition-i18n-zh-tw             93.0b4-1             93.0b7-1
                              gensio              2.2.8-1              2.2.9-1
                            geogebra          6.0.664.0-1          6.0.665.0-1
                            go-tools            4:0.1.5-1            4:0.1.6-1
                       grafana-agent             0.18.2-1             0.18.4-1
                    grafana-agentctl             0.18.2-1             0.18.4-1
                                helm              3.6.3-1              3.7.0-1
                           i2c-tools                4.2-3                4.3-1
                            innernet              1.4.1-1              1.5.0-1
                       inotify-tools          3.20.11.0-1           3.21.9.0-1
                               irker               2.19-1               2.20-1
                              jgmenu              4.3.0-1              4.4.0-1
                   jupyter-nbclassic              0.3.1-1              0.3.2-1
                             kak-lsp             11.0.0-2             11.0.1-1
                           leiningen              2.9.6-1              2.9.7-1
                      libcurl-compat             7.78.0-1             7.79.0-2
                      libcurl-gnutls             7.78.0-1             7.79.0-2
                        lksctp-tools             1.0.17-3             1.0.19-1
               matrix-appservice-irc             0.30.0-1             0.31.0-1
                             mauikit              2.0.1-1              2.0.2-1
                mauikit-filebrowsing              2.0.1-1              2.0.2-1
                            molecule              3.4.0-1              3.5.1-1
               netfilter-fullconenat      r73.0cf3b48-147      r73.0cf3b48-148
              nextcloud-app-contacts              4.0.2-1              4.0.3-1
                nextcloud-app-spreed           1:12.1.1-1           1:12.2.0-1
                    nextcloud-client            1:3.3.3-1            1:3.3.3-2
     nextcloud-client-cloudproviders            1:3.3.3-1            1:3.3.3-2
                            node-gyp              8.1.0-2              8.2.0-1
                             notmuch             0.32.3-1             0.33.1-1
                        notmuch-mutt             0.32.3-1             0.33.1-1
                     notmuch-runtime             0.32.3-1             0.33.1-1
                         notmuch-vim             0.32.3-1             0.33.1-1
                                 npm             7.23.0-1             7.24.0-1
                          open-iscsi              2.1.4-1              2.1.5-1
                      opentimelineio               0.13-1               0.13-2
                       optional-lite              3.4.0-1              3.5.0-1
                     owncloud-client         2.9.0.5150-1         2.9.0.5150-2
                   perl-email-sender           1.300031-8              2.500-1
                    perl-test-simple           1.302186-1           1.302187-1
                   perl-yaml-libyaml               0.75-6               0.83-1
                               pyenv              2.0.6-1              2.0.7-1
                      python-aiogram             2.14.3-1               2.15-1
                      python-breathe             4.30.0-2             4.31.0-1
                       python-cvxopt              1.2.6-1              1.2.7-1
                       python-debian             0.1.40-2             0.1.41-1
                  python-elementpath              2.2.3-2              2.3.0-1
                        python-faker             8.12.1-2             8.12.3-1
                     python-flexmock             0.10.9-1            0.10.10-1
                    python-gitpython             3.1.18-1             3.1.24-1
     python-google-api-python-client             2.19.1-1             2.21.0-1
                     python-identify             2.2.14-1             2.2.15-1
               python-keystoneclient              4.2.0-1              4.3.0-1
                         python-moto              2.2.6-1              2.2.7-1
                python-mypy-protobuf                2.9-1                    -
                       python-pandas              1.3.2-1              1.3.3-1
                       python-pefile          2021.5.24-1           2021.9.3-1
                       python-pg8000             1.21.1-1             1.21.2-1
                       python-pylint             2.11.0-1             2.11.1-1
                      python-pymupdf            1.18.18-1            1.18.19-1
                   python-pynitrokey            0.4.3.1-1              0.4.4-1
                     python-pypandoc              1.6.3-2              1.6.4-1
         python-pytest-rerunfailures               10.1-1               10.2-1
                    python-pywlroots             0.14.3-1             0.14.4-1
                       python-qasync             0.21.0-1             0.22.0-1
                    python-rapidjson                1.1-1                1.2-1
                        python-regex           2021.7.6-1          2021.8.28-1
                         python-rich             10.9.0-1            10.10.0-1
                     python-sqlparse              0.4.1-3              0.4.2-1
                               qtile             0.18.0-2             0.18.1-2
                                r10k             3.10.0-1             3.11.0-1
                              rclone             1.56.0-1             1.56.1-1
                        ruby-faraday              1.7.2-1              1.8.0-1
                          ruby-hocon              1.3.1-3              1.3.1-4
                        ruby27-hocon              1.3.1-2              1.3.1-3
                             shutter               0.98-1               0.99-1
                      signal-desktop             5.17.1-1             5.17.2-1
                            sonic-pi              3.2.2-3              3.3.1-1
                    sonic-visualiser                4.3-3                4.4-1
                                sslh             1.22.b-1             1.22.c-1
                           syncthing             1.18.1-1             1.18.2-1
                  syncthing-relaysrv             1.18.1-1             1.18.2-1
                           tailscale             1.14.2-1             1.14.3-1
                             tinyxml              2.6.2-7              2.6.2-8
                   ttf-sarasa-gothic             0.34.2-1             0.34.3-1
                          ukui-panel            3.0.3.1-1              3.0.4-1
                        ukui-sidebar              3.0.1-1              3.1.1-1
                    uutils-coreutils              0.0.7-1              0.0.7-2
                               v2ray             4.41.1-1             4.42.2-1
         v2ray-domain-list-community     20210910080130-1     20210920023411-1
                             wavemon              0.9.3-1              0.9.4-1
            xfce4-whiskermenu-plugin              2.5.3-1              2.6.0-1
                                 zig              0.8.0-1              0.8.1-1
                                 zim             0.73.5-1             0.74.0-1
                         python-fire                    -              0.4.0-1
                        python-nkdfu                    -                0.1-1
                            ruby-jwt                    -              2.2.3-1


:: Different overlay package(s) in repository core x86_64

-------------------------------------------------------------------------------
                             PACKAGE           2021-09-17           2021-09-20
-------------------------------------------------------------------------------
                            linux510            5.10.66-1            5.10.67-1
                    linux510-headers            5.10.66-1            5.10.67-1
                            linux513            5.13.18-1            5.13.19-2
                    linux513-headers            5.13.18-1            5.13.19-2
                            linux514             5.14.5-1             5.14.6-2
                    linux514-headers             5.14.5-1             5.14.6-2
                            linux515              - 5.15.rc2.210920.ge4e737b-1
                    linux515-headers              - 5.15.rc2.210920.ge4e737b-1


:: Different sync package(s) in repository core x86_64

-------------------------------------------------------------------------------
                             PACKAGE           2021-09-17           2021-09-20
-------------------------------------------------------------------------------
                               audit              3.0.4-1              3.0.5-1
                          cryptsetup              2.4.0-1              2.4.1-1
                                curl             7.78.0-1             7.79.0-3
                                grep                3.6-1                3.7-1
                           inetutils                2.1-1                2.2-1
                              libcap               2.57-1               2.58-1
                             libedit       20210714_3.1-1       20210910_3.1-1
                             openssh              8.7p1-1              8.7p1-2
                             pkgconf              1.7.3-1              1.8.0-1
                        python-audit              3.0.4-1              3.0.5-1
                                  xz              5.2.5-1              5.2.5-2


:: Different overlay package(s) in repository extra x86_64

-------------------------------------------------------------------------------
                             PACKAGE           2021-09-17           2021-09-20
-------------------------------------------------------------------------------
               calamares-git 3.2.43.r9956.396623963-1 3.2.43.r9972.52ef084c3-1
                             firefox               92.0-2                    -
                  linux510-acpi_call             1.1.0-82             1.1.0-83
                   linux510-bbswitch               0.8-82               0.8-83
                linux510-broadcom-wl      6.30.223.271-84      6.30.223.271-85
               linux510-nvidia-390xx           390.144-15           390.144-16
                     linux510-nvidia         470.63.01-10         470.63.01-11
                      linux510-r8168          8.049.02-19          8.049.02-20
                  linux510-rtl8723bu          20210806-10          20210806-11
                   linux510-tp_smapi              0.43-82              0.43-83
                linux510-vhba-module          20210418-37          20210418-38
    linux510-virtualbox-host-modules            6.1.26-13            6.1.26-14
                        linux510-zfs             2.1.0-19             2.1.0-20
                  linux513-acpi_call             1.1.0-21             1.1.0-23
                   linux513-bbswitch               0.8-21               0.8-23
                linux513-broadcom-wl      6.30.223.271-22      6.30.223.271-24
               linux513-nvidia-390xx           390.144-15           390.144-17
                     linux513-nvidia         470.63.01-10         470.63.01-12
                      linux513-r8168          8.049.02-20          8.049.02-22
                  linux513-rtl8723bu          20210806-10          20210806-12
                   linux513-tp_smapi              0.43-21              0.43-23
                linux513-vhba-module          20210418-21          20210418-23
    linux513-virtualbox-host-modules            6.1.26-13            6.1.26-15
                        linux513-zfs             2.1.0-20             2.1.0-22
                  linux514-acpi_call              1.1.0-7              1.1.0-9
                   linux514-bbswitch                0.8-7                0.8-9
                linux514-broadcom-wl       6.30.223.271-7       6.30.223.271-9
               linux514-nvidia-390xx            390.144-7            390.144-9
                     linux514-nvidia          470.63.01-7          470.63.01-9
                      linux514-r8168           8.049.02-7           8.049.02-9
                  linux514-rtl8723bu           20210806-7           20210806-9
                   linux514-tp_smapi               0.43-7               0.43-9
                linux514-vhba-module           20210418-7           20210418-9
    linux514-virtualbox-host-modules             6.1.26-7             6.1.26-9
                        linux514-zfs              2.1.0-7              2.1.0-9
                         thunderbird             91.1.1-1                    -
                 thunderbird-i18n-af             91.1.1-1                    -
                 thunderbird-i18n-ar             91.1.1-1                    -
                thunderbird-i18n-ast             91.1.1-1                    -
                 thunderbird-i18n-be             91.1.1-1                    -
                 thunderbird-i18n-bg             91.1.1-1                    -
                 thunderbird-i18n-br             91.1.1-1                    -
                 thunderbird-i18n-ca             91.1.1-1                    -
                thunderbird-i18n-cak             91.1.1-1                    -
                 thunderbird-i18n-cs             91.1.1-1                    -
                 thunderbird-i18n-cy             91.1.1-1                    -
                 thunderbird-i18n-da             91.1.1-1                    -
                 thunderbird-i18n-de             91.1.1-1                    -
                thunderbird-i18n-dsb             91.1.1-1                    -
                 thunderbird-i18n-el             91.1.1-1                    -
              thunderbird-i18n-en-gb             91.1.1-1                    -
              thunderbird-i18n-en-us             91.1.1-1                    -
              thunderbird-i18n-es-ar             91.1.1-1                    -
              thunderbird-i18n-es-es             91.1.1-1                    -
                 thunderbird-i18n-et             91.1.1-1                    -
                 thunderbird-i18n-eu             91.1.1-1                    -
                 thunderbird-i18n-fi             91.1.1-1                    -
                 thunderbird-i18n-fr             91.1.1-1                    -
              thunderbird-i18n-fy-nl             91.1.1-1                    -
              thunderbird-i18n-ga-ie             91.1.1-1                    -
                 thunderbird-i18n-gd             91.1.1-1                    -
                 thunderbird-i18n-gl             91.1.1-1                    -
                 thunderbird-i18n-he             91.1.1-1                    -
                 thunderbird-i18n-hr             91.1.1-1                    -
                thunderbird-i18n-hsb             91.1.1-1                    -
                 thunderbird-i18n-hu             91.1.1-1                    -
              thunderbird-i18n-hy-am             91.1.1-1                    -
                 thunderbird-i18n-id             91.1.1-1                    -
                 thunderbird-i18n-is             91.1.1-1                    -
                 thunderbird-i18n-it             91.1.1-1                    -
                 thunderbird-i18n-ja             91.1.1-1                    -
                 thunderbird-i18n-ka             91.1.1-1                    -
                thunderbird-i18n-kab             91.1.1-1                    -
                 thunderbird-i18n-kk             91.1.1-1                    -
                 thunderbird-i18n-ko             91.1.1-1                    -
                 thunderbird-i18n-lt             91.1.1-1                    -
                 thunderbird-i18n-ms             91.1.1-1                    -
              thunderbird-i18n-nb-no             91.1.1-1                    -
                 thunderbird-i18n-nl             91.1.1-1                    -
              thunderbird-i18n-nn-no             91.1.1-1                    -
              thunderbird-i18n-pa-in             91.1.1-1                    -
                 thunderbird-i18n-pl             91.1.1-1                    -
              thunderbird-i18n-pt-br             91.1.1-1                    -
              thunderbird-i18n-pt-pt             91.1.1-1                    -
                 thunderbird-i18n-rm             91.1.1-1                    -
                 thunderbird-i18n-ro             91.1.1-1                    -
                 thunderbird-i18n-ru             91.1.1-1                    -
                 thunderbird-i18n-sk             91.1.1-1                    -
                 thunderbird-i18n-sl             91.1.1-1                    -
                 thunderbird-i18n-sq             91.1.1-1                    -
                 thunderbird-i18n-sr             91.1.1-1                    -
              thunderbird-i18n-sv-se             91.1.1-1                    -
                 thunderbird-i18n-th             91.1.1-1                    -
                 thunderbird-i18n-tr             91.1.1-1                    -
                 thunderbird-i18n-uk             91.1.1-1                    -
                 thunderbird-i18n-uz             91.1.1-1                    -
                 thunderbird-i18n-vi             91.1.1-1                    -
              thunderbird-i18n-zh-cn             91.1.1-1                    -
              thunderbird-i18n-zh-tw             91.1.1-1                    -
                  linux515-acpi_call                    -            1.1.0-0.2
                   linux515-bbswitch                    -              0.8-0.2
                linux515-broadcom-wl                    -     6.30.223.271-0.2
               linux515-nvidia-390xx                    -          390.144-0.2
                     linux515-nvidia                    -        470.63.01-0.2
                      linux515-r8168                    -         8.049.02-0.2
                   linux515-tp_smapi                    -             0.43-0.2
    linux515-virtualbox-host-modules                    -           6.1.26-0.2


:: Different sync package(s) in repository extra x86_64

-------------------------------------------------------------------------------
                             PACKAGE           2021-09-17           2021-09-20
-------------------------------------------------------------------------------
                         bdf-unifont            13.0.06-1            14.0.01-1
                               bftpd                5.7-1                6.0-1
                                bind            9.16.20-1            9.16.21-1
                            c-client             2007f-11             2007f-13
                               cmake             3.21.2-2             3.21.3-1
                             firefox               92.0-1               92.0-2
                         imagemagick            7.1.0.7-1            7.1.0.8-1
                     imagemagick-doc            7.1.0.7-1            7.1.0.8-1
                                imap             2007f-11             2007f-13
                           konqueror            21.08.1-1            21.08.1-2
                            libfido2              1.7.0-2              1.8.0-1
                           libnotify              0.7.9-1              0.7.9-2
                   libreoffice-fresh              7.2.1-1              7.2.1-2
               libreoffice-fresh-sdk              7.2.1-1              7.2.1-2
                          prometheus             2.29.2-1             2.30.0-1
                   python-virtualenv             20.7.2-1             20.8.0-1
                  python2-virtualenv             20.7.2-1             20.8.0-1
                                qtav             1.13.0-1             1.13.0-2
                              thunar             4.16.9-1            4.16.10-1
                         thunderbird             91.1.0-2             91.1.1-1
                 thunderbird-i18n-af             91.1.0-2             91.1.1-1
                 thunderbird-i18n-ar             91.1.0-2             91.1.1-1
                thunderbird-i18n-ast             91.1.0-2             91.1.1-1
                 thunderbird-i18n-be             91.1.0-2             91.1.1-1
                 thunderbird-i18n-bg             91.1.0-2             91.1.1-1
                 thunderbird-i18n-br             91.1.0-2             91.1.1-1
                 thunderbird-i18n-ca             91.1.0-2             91.1.1-1
                thunderbird-i18n-cak             91.1.0-2             91.1.1-1
                 thunderbird-i18n-cs             91.1.0-2             91.1.1-1
                 thunderbird-i18n-cy             91.1.0-2             91.1.1-1
                 thunderbird-i18n-da             91.1.0-2             91.1.1-1
                 thunderbird-i18n-de             91.1.0-2             91.1.1-1
                thunderbird-i18n-dsb             91.1.0-2             91.1.1-1
                 thunderbird-i18n-el             91.1.0-2             91.1.1-1
              thunderbird-i18n-en-gb             91.1.0-2             91.1.1-1
              thunderbird-i18n-en-us             91.1.0-2             91.1.1-1
              thunderbird-i18n-es-ar             91.1.0-2             91.1.1-1
              thunderbird-i18n-es-es             91.1.0-2             91.1.1-1
                 thunderbird-i18n-et             91.1.0-2             91.1.1-1
                 thunderbird-i18n-eu             91.1.0-2             91.1.1-1
                 thunderbird-i18n-fi             91.1.0-2             91.1.1-1
                 thunderbird-i18n-fr             91.1.0-2             91.1.1-1
              thunderbird-i18n-fy-nl             91.1.0-2             91.1.1-1
              thunderbird-i18n-ga-ie             91.1.0-2             91.1.1-1
                 thunderbird-i18n-gd             91.1.0-2             91.1.1-1
                 thunderbird-i18n-gl             91.1.0-2             91.1.1-1
                 thunderbird-i18n-he             91.1.0-2             91.1.1-1
                 thunderbird-i18n-hr             91.1.0-2             91.1.1-1
                thunderbird-i18n-hsb             91.1.0-2             91.1.1-1
                 thunderbird-i18n-hu             91.1.0-2             91.1.1-1
              thunderbird-i18n-hy-am             91.1.0-2             91.1.1-1
                 thunderbird-i18n-id             91.1.0-2             91.1.1-1
                 thunderbird-i18n-is             91.1.0-2             91.1.1-1
                 thunderbird-i18n-it             91.1.0-2             91.1.1-1
                 thunderbird-i18n-ja             91.1.0-2             91.1.1-1
                 thunderbird-i18n-ka             91.1.0-2             91.1.1-1
                thunderbird-i18n-kab             91.1.0-2             91.1.1-1
                 thunderbird-i18n-kk             91.1.0-2             91.1.1-1
                 thunderbird-i18n-ko             91.1.0-2             91.1.1-1
                 thunderbird-i18n-lt             91.1.0-2             91.1.1-1
                 thunderbird-i18n-ms             91.1.0-2             91.1.1-1
              thunderbird-i18n-nb-no             91.1.0-2             91.1.1-1
                 thunderbird-i18n-nl             91.1.0-2             91.1.1-1
              thunderbird-i18n-nn-no             91.1.0-2             91.1.1-1
              thunderbird-i18n-pa-in             91.1.0-2             91.1.1-1
                 thunderbird-i18n-pl             91.1.0-2             91.1.1-1
              thunderbird-i18n-pt-br             91.1.0-2             91.1.1-1
              thunderbird-i18n-pt-pt             91.1.0-2             91.1.1-1
                 thunderbird-i18n-rm             91.1.0-2             91.1.1-1
                 thunderbird-i18n-ro             91.1.0-2             91.1.1-1
                 thunderbird-i18n-ru             91.1.0-2             91.1.1-1
                 thunderbird-i18n-sk             91.1.0-2             91.1.1-1
                 thunderbird-i18n-sl             91.1.0-2             91.1.1-1
                 thunderbird-i18n-sq             91.1.0-2             91.1.1-1
                 thunderbird-i18n-sr             91.1.0-2             91.1.1-1
              thunderbird-i18n-sv-se             91.1.0-2             91.1.1-1
                 thunderbird-i18n-th             91.1.0-2             91.1.1-1
                 thunderbird-i18n-tr             91.1.0-2             91.1.1-1
                 thunderbird-i18n-uk             91.1.0-2             91.1.1-1
                 thunderbird-i18n-uz             91.1.0-2             91.1.1-1
                 thunderbird-i18n-vi             91.1.0-2             91.1.1-1
              thunderbird-i18n-zh-cn             91.1.0-2             91.1.1-1
              thunderbird-i18n-zh-tw             91.1.0-2             91.1.1-1
                   wayland-protocols               1.22-1               1.23-1
                          webkit2gtk             2.32.3-1             2.32.4-1
                           wpewebkit             2.32.3-1             2.32.4-1
                 xf86-input-libinput              1.1.0-1              1.2.0-1


:: Different overlay package(s) in repository kde-unstable x86_64

-------------------------------------------------------------------------------
                             PACKAGE           2021-09-17           2021-09-20
-------------------------------------------------------------------------------
                    akonadi-contacts21.08.1.r3064.g3849f713-121.08.1.r3065.g4b2ab3e6-1
                           angelfish 21.08.r10.g909da15-1 21.08.r15.gc908fc5-1
                           bluedevil1:5.22.5.r2286.gecfbaddd-11:5.22.5.r2287.g6555054b-1
                              breeze5.22.5.r2259.g660b7ecc-15.22.5.r2263.g3fc6f79e-1
                     calendarsupport21.08.1.r36.g5449ae3-121.08.1.r38.g00fa3cc-1
                           calindori  21.08.r1.g5add1b8-1  21.08.r2.g5217d44-1
                              dragon21.08.1.r1011.gaeba124-121.08.1.r1012.g1f1d89c-1
                            gwenview21.08.1.r6676.g69e0d06e-121.08.1.r6677.g2a066715-1
                            index-fm 2.0.0.r20.g4415642-1 2.0.0.r21.g00e5b39-1
                           itinerary21.08.1.r1450.g35704d3-121.08.1.r1456.g4d15bb8-1
                                 k3b1:21.08.1.r6675.g9e099ffe9-11:21.08.1.r6677.gae173289a-1
               kaccounts-integration21.08.1.r1221.g4c3deb8-121.08.1.r1222.g18ac4be-1
                              kapman21.08.1.r606.g4c5d88b-121.08.1.r608.gdcad1c6-1
                               kasts 21.08.r10.g5c8a6ea-1 21.08.r19.g6121f66-1
                                kate21.08.1.r18368.g87bf0ed6d-121.08.1.r18369.g41e34a863-1
                             katomic21.08.1.r920.g7b5c821-121.08.1.r921.g482ba5a-1
                           kblackbox21.08.1.r727.g865ff49-121.08.1.r728.g90fc514-1
                              kbruch21.08.1.r817.gfed951b-121.08.1.r818.g8f9399b-1
                               kcalc21.08.1.r1531.gf1d8605-121.08.1.r1536.g671e923-1
                       kcalendarcore5.86.0.r1239.g10cfe8918-15.86.0.r1240.g8da06215b-1
                             kcodecs5.86.0.r386.g5e7feae-15.86.0.r388.gbf88853-1
                         kcompletion5.86.0.r457.g04f8bcb-15.86.0.r458.g6b74042-1
                             kconfig5.86.0.r863.g7827501-15.86.0.r864.g0b0a446-1
                        kdeclarative5.86.0.r922.gbfe8ca1-15.86.0.r923.gefef008-1
                          kdeconnect21.08.1.r3327.g3a8d3c37-121.08.1.r3328.g47c34f80-1
                         kdecoration5.22.5.r271.g957feca-15.22.5.r273.g343cade-1
                      kdepim-runtime21.08.1.r15288.gaeb77f624-121.08.1.r15295.g6662d58bc-1
                    kdeplasma-addons5.22.5.r8585.g9e62a25f0-15.22.5.r8587.g93c87009c-1
                            kdiamond21.08.1.r671.g0e63a0f-121.08.1.r672.gf4459d8-1
                          kguiaddons5.86.0.r391.ga846d64-15.86.0.r392.g22c428e-1
                            khangman21.08.1.r1565.ga82efb3-121.08.1.r1566.g58a1700-1
                         khelpcenter21.08.1.r2678.gebc327a7-121.08.1.r2679.gaa802c99-1
                            khotkeys5.22.5.r2094.gc6f4cb9-15.22.5.r2095.g3bfd01f-1
                            killbots21.08.1.r738.gee08736-121.08.1.r740.g8a2b782-1
                               kinit5.86.0.r413.ga0c6715-15.86.0.r414.g11a0ffc-1
                                 kio5.86.0.r4984.gfb48159b-15.86.0.r4995.g0da4114e-1
                          kio-extras21.08.1.r7118.g6ae681f7-121.08.1.r7119.g2b112d58-1
                          kio-gdrive21.08.1.r568.g7607e00-121.08.1.r569.gfaab51e-1
                           kirigami25.86.0.r2891.gf31d6cfc-15.86.0.r2893.gcc0dd9da-1
                               kiten21.08.1.r1147.gf71fae4-121.08.1.r1148.g3eeccd9-1
                          kitinerary21.08.1.r1940.g731b078-121.08.1.r1941.g909055b-1
                        kjumpingcube21.08.1.r788.g458b5ce-121.08.1.r789.g53fde8d-1
                           kleopatra21.08.1.r5996.g24dd062d-121.08.1.r5998.g107abfdb-1
                            klettres21.08.1.r915.gabb53f5-121.08.1.r916.gd84f133-1
                            klickety21.08.1.r637.gc086690-121.08.1.r638.g30e0336-1
                              klines21.08.1.r769.g33a870b-121.08.1.r771.gb28676e-1
                               kmail21.08.1.r25969.g286d71fab-121.08.1.r25970.g6b9c2c8dd-1
                              kmines21.08.1.r1722.gb8a94d6-121.08.1.r1724.g7fa5e75-1
                            knetwalk21.08.1.r659.gf294dfd-121.08.1.r660.g83c5aa5-1
                             knights21.08.1.r1050.gbc8f3d2-121.08.1.r1051.g6cfa479-1
                              knotes21.08.1.r3519.g4d173e29-121.08.1.r3520.ge4304278-1
                      knotifications5.86.0.r680.g471bd77-15.86.0.r681.g37e7a37-1
                                kolf21.08.1.r1443.g6ea5e84-121.08.1.r1444.g7dc7698-1
                         kolourpaint21.08.1.r2363.gcfe3d636-121.08.1.r2364.g85bdf6d6-1
                           konqueror21.08.1.r14936.g80c20b528-121.08.1.r14950.g631f6df83-1
                             konsole21.08.1.r7943.g217ed276-121.08.1.r7947.g7383c16d-1
                              kopete21.08.1.r16397.ga5ea75f5f-121.08.1.r16399.gec24d08f0-1
                        kpimtextedit21.08.1.r1434.gfaff888-121.08.1.r1447.g008ea3d-1
                            kservice5.86.0.r944.g927daaf-15.86.0.r947.g362951e-1
                             kshisen21.08.1.r1202.ge43cf2c-121.08.1.r1203.ge0961d9-1
                          ksnakeduel21.08.1.r809.g27dabac-121.08.1.r810.ga84f637-1
                          kspaceduel21.08.1.r634.gb10a003-121.08.1.r635.geb4e797-1
                            ksquares21.08.1.r517.gcf195bb-121.08.1.r518.g3c1a44e-1
                        ksystemstats5.22.5.r195.g328fb1f-15.22.5.r197.gc5aba84-1
                            ktorrent21.08.1.r2777.gc87029dd-121.08.1.r2778.ge4a201b9-1
                     kwayland-server5.22.5.r1388.gf6fa493-15.22.5.r1391.g7354d8d-1
                            kweather 21.08.r11.g1208e0a-1 21.08.r12.g4de9ad6-1
                      kwidgetsaddons5.86.0.r876.gbd1be632-15.86.0.r878.g76ecd700-1
                                kwin5.22.5.r20000.g35ff7eb0e-15.22.5.r20018.gcf7cc0d43-1
                           kwordquiz21.08.1.r1146.g6ca5430-121.08.1.r1147.gc5725a0-1
                              kwrite21.08.1.r18368.g87bf0ed6d-121.08.1.r18369.g41e34a863-1
                             libkleo21.08.1.r935.gadc7cac-121.08.1.r936.gfb48fe2-1
                            lokalize21.08.1.r1769.gfccb25a7-121.08.1.r1777.gb19ef8f3-1
                     maliit-keyboard    r2117.ge8f810d0-1    r2119.g4b005d09-1
                           maui-nota  2.0.0.r7.g40c1cef-1  2.0.0.r8.gbfe9d04-1
                             mauikit2.0.1.r18.g2ff8ef1e-1 2.0.2.r4.gcccbdf31-1
                mauikit-filebrowsing  2.0.1.r4.g7b9f7d4-1  2.0.2.r1.g817b688-1
                          messagelib21.08.1.r6191.g42131120-121.08.1.r6192.gd09a316a-1
                              okular21.08.1.r9476.gf5b67b746-121.08.1.r9479.gd5b20d761-1
                              oxygen5.22.5.r4429.g1afa6e27-15.22.5.r4430.gd29cd5a0-1
                              parley21.08.1.r4455.g55172e88-121.08.1.r4456.g10cf6ea4-1
                   pim-data-exporter21.08.1.r2454.gee3deea9-121.08.1.r2455.gd16e1bc7-1
                      plasma-desktop5.22.5.r8617.gf0f7f8ded-15.22.5.r8621.g4d037821e-1
                     plasma-firewall5.22.5.r516.g785acb5-15.22.5.r517.g878f576-1
                    plasma-framework5.86.0.r15980.g56b14a777-15.86.0.r15986.g7b597edc9-1
                    plasma-mobile-nm5.22.3.r3097.g9ddd19e1-15.22.5.r3098.g72dbf30a-1
                           plasma-nm5.22.5.r3097.g9ddd19e1-15.22.5.r3098.g72dbf30a-1
                           plasma-pa5.22.5.r968.g61a0851-15.22.5.r969.g9dbf39e-1
             plasma-phone-components5.22.5.r1468.gc4903c25-15.22.5.r1470.g1e01aa53-1
                  plasma-thunderbolt5.22.5.r143.g6d4ef24-15.22.5.r145.g760edc5-1
              plasma-wayland-session5.22.5.r10651.g47c897e94-15.22.5.r10655.g5dfcc0374-1
                    plasma-workspace5.22.5.r10651.g47c897e94-15.22.5.r10655.g5dfcc0374-1
         plasma-workspace-wallpapers5.22.5.r290.ga50a8dc-15.22.5.r292.g55d7b3b-1
                          powerdevil5.22.5.r2474.gc3efed30-15.22.5.r2476.gd68a8365-1
                             purpose5.86.0.r884.g14e76f7-15.86.0.r885.g14f1182-1
                  qqc2-desktop-style5.86.0.r524.gedc9094-15.86.0.r525.gd726db4-1
                            sddm-kcm5.22.5.r603.g5e09c6b-15.22.5.r606.g8c7624a-1
                            spacebar  21.08.r4.g7cb0f94-1  21.08.r5.g7f4a52a-1
                           spectacle21.08.1.r1167.gf89f2bc-121.08.1.r1168.g9e04460-1
                      systemsettings5.22.5.r2496.g8f9b9c88-15.22.5.r2497.g7791a403-1
          telepathy-kde-accounts-kcm21.08.1.r1195.gd0ffbec-121.08.1.r1196.g27af480-1
                            umbrello21.08.1.r8264.g7a8d1cfb0-121.08.1.r8265.g50ef037a5-1
                               vvave 2.0.0.r19.ga185d28-1 2.0.0.r22.g61b6756-1


:: Different sync package(s) in repository multilib x86_64

-------------------------------------------------------------------------------
                             PACKAGE           2021-09-17           2021-09-20
-------------------------------------------------------------------------------
                          lib32-curl             7.78.0-1             7.79.0-2
                        lib32-libcap               2.57-1               2.58-1
                lib32-libcurl-compat             7.78.0-1             7.79.0-2
                lib32-libcurl-gnutls             7.78.0-1             7.79.0-2

No issue, everything went smoothly
Yes there was an issue. I was able to resolve it myself.(Please post your solution)
Yes i am currently experiencing an issue due to the update. (Please post about it)
Check if your mirror has already synced: