Hello community,
Another testing branch update with some usual updates for you.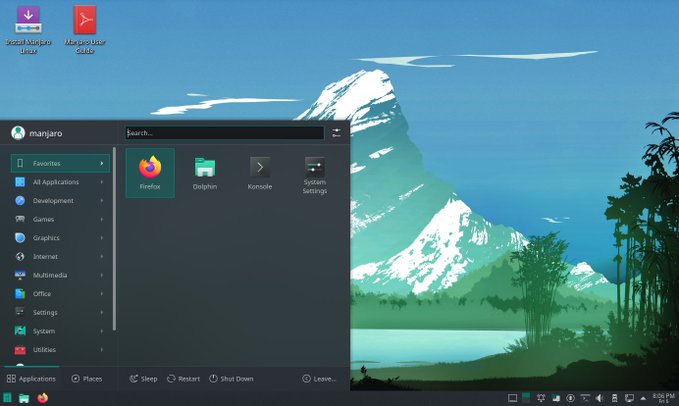 Get the latest KDE Plasma images!
Some of our Kernels got updated. Note that 5.12 series is now marked EOL.
Mate 1.26.0 got released
Thunderbird and Firefox got renewed
Latest Nvidia driver brings in Vulkan fixes
A new AMDVLK driver update got added
Some KDE-git and Python updates
Other regular upstream updates
Get our latest daily developer images now from Github: Plasma, Gnome, XFCE. You get the latest stable releases of Manjaro from CDN77.
---
Our current supported kernels
linux44 4.4.280
linux49 4.9.279
linux414 4.14.243
linux419 4.19.203
linux54 5.4.140
linux510 5.10.58
linux512 5.12.19 [EOL]
linux513 5.13.10
linux514 5.14-rc5
linux510-rt 5.10.52_rt47
Package Updates (Thu Aug 12 23:39:21 CEST 2021)
testing community x86_64: 392 new and 373 removed package(s)
testing core x86_64: 31 new and 31 removed package(s)
testing extra x86_64: 335 new and 497 removed package(s)
testing kde-unstable x86_64: 171 new and 171 removed package(s)
testing multilib x86_64: 10 new and 10 removed package(s)
:: Different overlay package(s) in repository community x86_64

-------------------------------------------------------------------------------
                             PACKAGE           2021-08-06            2021-08-13
-------------------------------------------------------------------------------
                           bitwarden             1.27.1-2             1.27.1-3
                       brave-browser           1.27.110-1           1.27.111-1
                 breath2-icon-themes             1.0.17-1             1.0.18-1
                   breath2-wallpaper             1.0.17-1             1.0.18-1
     gnome-shell-extension-pop-shell 1.2.0+113+g9616931-4 1.2.0+119+gab87042-1
                  linux510-rt-nvidia          470.57.02-5          470.63.01-1
               linux510-rt-rtl8723bu           20210519-5           20210806-1
                                 lsd             0.20.1-1             0.20.1-2
              plasma5-themes-breath2             1.0.17-1             1.0.18-2
       plasma5-themes-breath2-shells             1.0.17-1             1.0.18-2
                  sddm-breath2-theme             1.0.17-1             1.0.18-1
                             vivaldi        4.1.2369.16-1                    -
                      webapp-manager              1.1.5-1   1.1.5+1+g2f3e132-1


:: Different sync package(s) in repository community x86_64

-------------------------------------------------------------------------------
                             PACKAGE           2021-08-06            2021-08-13
-------------------------------------------------------------------------------
                                 0ad              a24.b-7                a25-1
                            0ad-data              a24.b-1                a25-1
          aarch64-linux-gnu-binutils             2.36.1-1               2.37-1
                             angband              4.2.1-1              4.2.3-1
                             ansible              4.3.0-1              4.4.0-1
                   arch-repro-status              1.2.3-1              1.2.4-1
              arm-none-eabi-binutils             2.36.1-2               2.37-1
                         asciidoctor             2.0.15-1             2.0.16-1
                               atril             1.24.1-1             1.26.0-1
                        avr-binutils             2.36.1-2               2.37-1
                bash-language-server             1.17.0-4              2.0.0-2
                           bctoolbox              5.0.3-1              5.0.5-1
                             blueman              2.2.1-1              2.2.2-1
                           borgmatic             1.5.17-1             1.5.18-1
                               brook           20210401-1           20210601-1
                               broot              1.6.2-1              1.6.3-1
                                buho              1.2.2-1              2.0.0-1
                             buildah             1.21.4-1             1.22.0-1
                               bzrtp              5.0.0-1              5.0.5-1
                                caja             1.24.1-1             1.26.0-1
              caja-extensions-common             1.24.1-1             1.26.0-1
                caja-image-converter             1.24.1-1             1.26.0-1
                  caja-open-terminal             1.24.1-1             1.26.0-1
                         caja-sendto             1.24.1-1             1.26.0-1
                          caja-share             1.24.1-1             1.26.0-1
                      caja-wallpaper             1.24.1-1             1.26.0-1
                     caja-xattr-tags             1.24.1-1             1.26.0-1
                             cargo-c              0.9.1-1              0.9.2-1
                    cargo-spellcheck             0.8.11-1             0.8.12-1
                               carla              2.3.1-2              2.3.2-1
                             catfish             4.16.1-1             4.16.2-1
                             chezmoi              2.1.4-1              2.1.5-1
                    cockpit-machines                249-1              249.1-1
                      cockpit-podman                 32-1                 33-1
                        communicator              1.2.2-1              2.0.0-1
                          containerd              1.5.4-1              1.5.5-1
                   containers-common             0.41.0-2             0.43.0-1
                                croc              9.2.0-1              9.2.1-1
                                deno             1.12.2-1             1.13.0-1
                          diffoscope                179-1                180-1
                       distrobuilder                1.2-2                1.3-1
                              docopt              0.6.2-2              0.6.3-1
                               doctl             1.62.0-1             1.63.1-1
                              dqlite              1.8.0-1              1.9.0-1
                                 dub             1.26.0-1             1.26.1-1
                                dune              2.9.0-2              2.9.0-3
                            electron             13.1.8-1             13.1.9-1
                            engrampa             1.24.2-1             1.26.0-1
                                 eom             1.24.2-1             1.26.0-1
                           fetchmail             6.4.20-1             6.4.21-1
                           filezilla             3.55.0-2             3.55.1-1
                           findomain              4.3.0-1              5.0.0-1
           firefox-developer-edition             91.0b9-1             92.0b2-1
  firefox-developer-edition-i18n-ach             91.0b9-1             92.0b2-1
   firefox-developer-edition-i18n-af             91.0b9-1             92.0b2-1
   firefox-developer-edition-i18n-an             91.0b9-1             92.0b2-1
   firefox-developer-edition-i18n-ar             91.0b9-1             92.0b2-1
  firefox-developer-edition-i18n-ast             91.0b9-1             92.0b2-1
   firefox-developer-edition-i18n-az             91.0b9-1             92.0b2-1
   firefox-developer-edition-i18n-be             91.0b9-1             92.0b2-1
   firefox-developer-edition-i18n-bg             91.0b9-1             92.0b2-1
   firefox-developer-edition-i18n-bn             91.0b9-1             92.0b2-1
   firefox-developer-edition-i18n-br             91.0b9-1             92.0b2-1
   firefox-developer-edition-i18n-bs             91.0b9-1             92.0b2-1
   firefox-developer-edition-i18n-ca             91.0b9-1             92.0b2-1
firefox-developer-edition-i18n-ca-valencia       91.0b9-1             92.0b2-1
  firefox-developer-edition-i18n-cak             91.0b9-1             92.0b2-1
   firefox-developer-edition-i18n-cs             91.0b9-1             92.0b2-1
   firefox-developer-edition-i18n-cy             91.0b9-1             92.0b2-1
   firefox-developer-edition-i18n-da             91.0b9-1             92.0b2-1
   firefox-developer-edition-i18n-de             91.0b9-1             92.0b2-1
  firefox-developer-edition-i18n-dsb             91.0b9-1             92.0b2-1
   firefox-developer-edition-i18n-el             91.0b9-1             92.0b2-1
firefox-developer-edition-i18n-en-ca             91.0b9-1             92.0b2-1
firefox-developer-edition-i18n-en-gb             91.0b9-1             92.0b2-1
firefox-developer-edition-i18n-en-us             91.0b9-1             92.0b2-1
   firefox-developer-edition-i18n-eo             91.0b9-1             92.0b2-1
firefox-developer-edition-i18n-es-ar             91.0b9-1             92.0b2-1
firefox-developer-edition-i18n-es-cl             91.0b9-1             92.0b2-1
firefox-developer-edition-i18n-es-es             91.0b9-1             92.0b2-1
firefox-developer-edition-i18n-es-mx             91.0b9-1             92.0b2-1
   firefox-developer-edition-i18n-et             91.0b9-1             92.0b2-1
   firefox-developer-edition-i18n-eu             91.0b9-1             92.0b2-1
   firefox-developer-edition-i18n-fa             91.0b9-1             92.0b2-1
   firefox-developer-edition-i18n-ff             91.0b9-1             92.0b2-1
   firefox-developer-edition-i18n-fi             91.0b9-1             92.0b2-1
   firefox-developer-edition-i18n-fr             91.0b9-1             92.0b2-1
firefox-developer-edition-i18n-fy-nl             91.0b9-1             92.0b2-1
firefox-developer-edition-i18n-ga-ie             91.0b9-1             92.0b2-1
   firefox-developer-edition-i18n-gd             91.0b9-1             92.0b2-1
   firefox-developer-edition-i18n-gl             91.0b9-1             92.0b2-1
   firefox-developer-edition-i18n-gn             91.0b9-1             92.0b2-1
firefox-developer-edition-i18n-gu-in             91.0b9-1             92.0b2-1
   firefox-developer-edition-i18n-he             91.0b9-1             92.0b2-1
firefox-developer-edition-i18n-hi-in             91.0b9-1             92.0b2-1
   firefox-developer-edition-i18n-hr             91.0b9-1             92.0b2-1
  firefox-developer-edition-i18n-hsb             91.0b9-1             92.0b2-1
   firefox-developer-edition-i18n-hu             91.0b9-1             92.0b2-1
firefox-developer-edition-i18n-hy-am             91.0b9-1             92.0b2-1
   firefox-developer-edition-i18n-ia             91.0b9-1             92.0b2-1
   firefox-developer-edition-i18n-id             91.0b9-1             92.0b2-1
   firefox-developer-edition-i18n-is             91.0b9-1             92.0b2-1
   firefox-developer-edition-i18n-it             91.0b9-1             92.0b2-1
   firefox-developer-edition-i18n-ja             91.0b9-1             92.0b2-1
   firefox-developer-edition-i18n-ka             91.0b9-1             92.0b2-1
  firefox-developer-edition-i18n-kab             91.0b9-1             92.0b2-1
   firefox-developer-edition-i18n-kk             91.0b9-1             92.0b2-1
   firefox-developer-edition-i18n-km             91.0b9-1             92.0b2-1
   firefox-developer-edition-i18n-kn             91.0b9-1             92.0b2-1
   firefox-developer-edition-i18n-ko             91.0b9-1             92.0b2-1
  firefox-developer-edition-i18n-lij             91.0b9-1             92.0b2-1
   firefox-developer-edition-i18n-lt             91.0b9-1             92.0b2-1
   firefox-developer-edition-i18n-lv             91.0b9-1             92.0b2-1
   firefox-developer-edition-i18n-mk             91.0b9-1             92.0b2-1
   firefox-developer-edition-i18n-mr             91.0b9-1             92.0b2-1
   firefox-developer-edition-i18n-ms             91.0b9-1             92.0b2-1
   firefox-developer-edition-i18n-my             91.0b9-1             92.0b2-1
firefox-developer-edition-i18n-nb-no             91.0b9-1             92.0b2-1
firefox-developer-edition-i18n-ne-np             91.0b9-1             92.0b2-1
   firefox-developer-edition-i18n-nl             91.0b9-1             92.0b2-1
firefox-developer-edition-i18n-nn-no             91.0b9-1             92.0b2-1
   firefox-developer-edition-i18n-oc             91.0b9-1             92.0b2-1
firefox-developer-edition-i18n-pa-in             91.0b9-1             92.0b2-1
   firefox-developer-edition-i18n-pl             91.0b9-1             92.0b2-1
firefox-developer-edition-i18n-pt-br             91.0b9-1             92.0b2-1
firefox-developer-edition-i18n-pt-pt             91.0b9-1             92.0b2-1
   firefox-developer-edition-i18n-rm             91.0b9-1             92.0b2-1
   firefox-developer-edition-i18n-ro             91.0b9-1             92.0b2-1
   firefox-developer-edition-i18n-ru             91.0b9-1             92.0b2-1
   firefox-developer-edition-i18n-si             91.0b9-1             92.0b2-1
   firefox-developer-edition-i18n-sk             91.0b9-1             92.0b2-1
   firefox-developer-edition-i18n-sl             91.0b9-1             92.0b2-1
  firefox-developer-edition-i18n-son             91.0b9-1             92.0b2-1
   firefox-developer-edition-i18n-sq             91.0b9-1             92.0b2-1
   firefox-developer-edition-i18n-sr             91.0b9-1             92.0b2-1
firefox-developer-edition-i18n-sv-se             91.0b9-1             92.0b2-1
   firefox-developer-edition-i18n-ta             91.0b9-1             92.0b2-1
   firefox-developer-edition-i18n-te             91.0b9-1             92.0b2-1
   firefox-developer-edition-i18n-th             91.0b9-1             92.0b2-1
   firefox-developer-edition-i18n-tl             91.0b9-1             92.0b2-1
   firefox-developer-edition-i18n-tr             91.0b9-1             92.0b2-1
  firefox-developer-edition-i18n-trs             91.0b9-1             92.0b2-1
   firefox-developer-edition-i18n-uk             91.0b9-1             92.0b2-1
   firefox-developer-edition-i18n-ur             91.0b9-1             92.0b2-1
   firefox-developer-edition-i18n-uz             91.0b9-1             92.0b2-1
   firefox-developer-edition-i18n-vi             91.0b9-1             92.0b2-1
   firefox-developer-edition-i18n-xh             91.0b9-1             92.0b2-1
firefox-developer-edition-i18n-zh-cn             91.0b9-1             92.0b2-1
firefox-developer-edition-i18n-zh-tw             91.0b9-1             92.0b2-1
                               forge            2:1.0.7-1            2:1.0.8-1
                      fuse-overlayfs                1.7-1              1.7.1-1
                               fwupd              1.6.2-1              1.6.3-1
                                gala              6.0.0-2              6.0.0-4
                         gcompris-qt                1.0-1                1.1-1
                               gcovr                4.2-3                5.0-1
                              ghidra             10.0.1-1             10.0.2-1
                          github-cli             1.13.1-1             1.14.0-1
                             gpg-tui              0.7.3-1              0.7.4-1
                                gpsd               3.22-2               3.23-1
                             grafana              8.1.0-1              8.1.1-1
                                 grc               1.12-1               1.13-1
                              hcloud             1.25.1-1             1.26.1-1
                               helix              0.3.0-2              0.3.0-4
                            himalaya              0.4.0-1              0.4.0-3
                      home-assistant           2021.8.1-1           2021.8.4-1
                               icewm              2.6.0-1              2.7.0-1
                                 imv              4.2.0-3              4.3.0-1
                            index-fm              1.2.2-1              2.0.0-1
                            ipv6calc              2.2.0-2              3.2.0-1
                                ispc             1.16.0-1             1.16.1-1
                               isync              1.4.2-1              1.4.3-1
                             jenkins              2.305-1              2.306-1
                                jmol           14.31.48-1           14.31.51-1
                               jsmol           14.31.48-1           14.31.51-1
                          jupyterlab              3.1.4-1              3.1.6-1
                            keycloak             15.0.0-1             15.0.1-1
                               khard             0.17.0-4             0.17.0-5
                                kmon              1.5.4-1              1.5.5-1
                kubectl-cert-manager              1.4.1-1              1.4.3-1
                          latte-dock             0.9.12-1             0.10.0-1
                           leptonica             1.81.0-1             1.81.1-1
                            lesspipe               1.86-1               1.87-1
                        libfilezilla             0.31.0-1             0.31.1-1
                               libhx               3.25-1               3.26-1
                          libmatekbd             1.24.1-1             1.26.0-1
                        libmatemixer             1.24.1-1             1.26.0-1
                      libmateweather             1.24.1-1             1.26.0-1
                             libmgba              0.9.1-1              0.9.2-1
                       libredefender              0.3.0-1              0.3.1-1
                          libtracefs              1.2.4-1              1.2.5-1
                                lnav              0.9.0-2             0.10.0-1
                           log4cplus              2.0.6-1              2.0.7-1
                              logcli              2.2.1-3              2.3.0-1
                                loki              2.2.1-3              2.3.0-1
                         loki-canary              2.2.1-3              2.3.0-1
                                lshw          B.02.19.2-1          B.02.19.2-2
                 lua-language-server              2.3.3-1              2.3.6-1
                                 lxd               4.16-1               4.17-1
                           mailutils               3.12-1               3.13-1
                               marco             1.24.2-1             1.26.0-1
                        mate-applets             1.24.1-1             1.26.0-1
                    mate-backgrounds             1.24.2-1             1.26.0-1
                           mate-calc             1.24.2-1             1.26.0-1
                         mate-common             1.24.2-1             1.26.0-1
                 mate-control-center             1.24.2-1             1.26.0-1
                        mate-desktop             1.24.1-1             1.26.0-1
                     mate-icon-theme             1.24.0-1             1.26.0-1
                          mate-media             1.24.1-1             1.26.0-1
                          mate-menus             1.24.1-1             1.26.0-1
                        mate-netbook             1.24.0-1             1.26.0-1
            mate-notification-daemon             1.24.2-1             1.26.0-1
                          mate-panel             1.24.2-1             1.26.0-1
                         mate-polkit             1.24.0-1             1.26.0-1
                  mate-power-manager             1.24.3-1             1.26.0-1
                    mate-screensaver             1.24.2-1             1.26.0-1
                 mate-sensors-applet             1.24.1-1             1.26.0-1
                mate-session-manager             1.24.3-1             1.26.0-1
                mate-settings-daemon             1.24.2-1             1.26.0-1
                 mate-system-monitor             1.24.2-1             1.26.0-1
                       mate-terminal             1.24.1-1             1.26.0-1
                     mate-user-guide             1.24.0-1             1.26.0-1
                     mate-user-share             1.24.0-1             1.26.0-1
                          mate-utils             1.24.0-1             1.26.0-1
               matrix-appservice-irc             0.27.0-1             0.29.0-1
                           maui-clip              1.1.1-1              2.0.0-1
                           maui-nota              1.2.2-1              2.0.0-1
                            maui-pix              1.2.2-2              2.0.0-1
                          maui-shelf              1.1.1-1              2.0.0-1
                        maui-station              1.2.2-1              2.0.0-1
                             mauikit              1.2.2-3              2.0.0-1
                mauikit-filebrowsing              1.2.2-2              2.0.0-1
                  mauikit-imagetools              1.2.2-1              2.0.0-1
                  mauikit-texteditor              1.2.2-1              2.0.0-1
                       mediastreamer              5.0.3-1              5.0.6-1
                          merkaartor             0.18.4-7             0.18.4-8
                             mgba-qt              0.9.1-1              0.9.2-1
                            mgba-sdl              0.9.1-1              0.9.2-1
                               micro              2.0.9-2             2.0.10-1
                               mkosi                  9-2                 10-1
                            molecule              3.3.4-1              3.4.0-1
                             moosefs            3.0.115-1            3.0.116-1
                                mozo             1.24.1-1             1.26.0-1
                               mygui              3.4.0-2              3.4.1-1
                               navit              0.5.6-1              0.5.6-2
               netfilter-fullconenat      r73.0cf3b48-136      r73.0cf3b48-137
                           nextcloud             22.0.0-2             22.1.0-1
                  nextcloud-app-news             16.0.0-2             16.0.1-1
                                 nix             2.3.14-1             2.3.15-1
                              nodejs             16.6.1-1             16.6.2-1
                               nomad              1.1.2-1              1.1.3-1
                                 npm             7.20.5-1             7.20.6-1
                              nuitka           0.6.16.2-1           0.6.16.3-1
                           nvchecker                2.4-1                2.4-2
                            nvme-cli               1.14-2               1.15-1
                         ocaml-csexp              1.3.2-2              1.5.1-1
                        ocaml-zarith               1.11-2               1.12-1
                              opensc             0.21.0-1             0.22.0-1
                              openxr             1.0.17-1             1.0.18-1
                               opera      78.0.4093.112-1      78.0.4093.147-1
                 opera-ffmpeg-codecs      92.0.4515.107-1      92.0.4515.131-1
                        operator-sdk             1.10.0-1             1.10.1-1
                                ortp              5.0.0-1              5.0.5-1
                           osdlyrics              0.5.6-1              0.5.8-1
                pantheon-dpms-helper                1.0-2                    -
                      pantheon-tasks              6.0.1-1              6.0.2-1
                            pcsclite              1.9.2-1              1.9.3-1
                               pcsx21.7.0.r1555.3eda42075-11.7.0.r1592.47bdc58c1-1
                         perl-curses               1.37-1               1.38-1
                        perl-term-ui               0.48-1               0.50-1
                        php-igbinary              3.2.4-1              3.2.6-1
                       php7-igbinary              3.2.4-1              3.2.6-1
                            plantuml           1.2021.8-1           1.2021.9-1
                               pluma             1.24.2-1             1.26.0-1
                              podman              3.2.2-2              3.2.3-1
                       podman-docker              3.2.2-2              3.2.3-1
                        postfixadmin              3.3.9-1             3.3.10-1
                            promtail              2.2.1-3              2.3.0-1
                                ptex              2.4.0-1              2.4.1-1
                              pulumi              3.7.1-1              3.9.1-1
           pycharm-community-edition             2021.2-1             2021.2-2
                             pyright            1.1.159-1            1.1.161-1
                 python-aioitertools              0.7.1-3              0.8.0-1
                      python-apispec              5.0.0-1              5.1.0-1
                         python-apsw             3.35.4-1             3.36.0-1
                         python-caja             1.24.0-2             1.26.0-1
 python-cython-test-exception-raiser              1.0.0-1              1.0.2-1
                     python-dateutil              2.8.1-6              2.8.2-1
         python-django-debug-toolbar                3.2-1              3.2.1-1
              python-flake8-debugger              3.2.1-3              4.0.0-1
                    python-fonttools             4.25.2-1             4.26.1-1
                  python-google-auth             1.30.0-1             1.30.1-1
                     python-greenlet              1.1.0-1              1.1.1-1
                   python-hypothesis             6.14.5-1             6.14.6-1
                     python-identify             2.2.12-1             2.2.13-1
          python-importlib_resources              5.2.0-2              5.2.2-1
                    python-ipykernel              5.5.3-1              6.0.3-2
            python-jupyterlab_server              2.6.2-1              2.7.0-1
                         python-moto              2.2.0-1              2.2.1-1
                        python-nbval              0.9.6-1              0.9.6-2
                       python-orjson              3.6.0-1              3.6.1-1
                 python-phonenumbers            8.12.28-1            8.12.29-1
                      python-pip-api             0.0.14-3             0.0.18-1
                       python-prance             0.21.2-1           0.21.8.0-1
                     python-priority              1.3.0-7              2.0.0-1
              python-pybtex-docutils              1.0.0-1              1.0.1-1
                    python-pyenchant              3.2.0-1              3.2.1-1
                      python-pymupdf            1.18.15-1            1.18.16-1
                       python-pyodbc             4.0.28-3             4.0.31-1
                 python-pytest-httpx             0.12.0-1             0.12.1-1
                        python-pyzmq             22.1.0-1             22.2.1-1
                    python-rapidjson                1.0-1                1.1-1
                    python-responses             0.13.3-1             0.13.4-1
                         python-rich             10.6.0-1             10.7.0-1
               python-sphinx-autoapi              1.8.2-1              1.8.3-1
                   python-tensorflow              2.5.0-6              2.6.0-1
              python-tensorflow-cuda              2.5.0-6              2.6.0-1
               python-tensorflow-opt              2.5.0-6              2.6.0-1
          python-tensorflow-opt-cuda              2.5.0-6              2.6.0-1
                      python-trimesh             3.9.23-1             3.9.26-1
                        python-wheel             0.36.2-1             0.37.0-1
                   python-xlsxwriter              1.4.5-1              3.0.1-1
                    python2-dateutil              2.8.1-6              2.8.2-1
                       python2-wheel             0.36.2-1             0.37.0-1
                              radcli             1.2.12-1              1.3.0-1
                                raft             0.11.1-1             0.11.2-1
                        ruby-faraday              1.6.0-1              1.7.0-1
                       rust-analyzer           20210802-1           20210809-1
                           s3fs-fuse               1.89-1               1.90-1
                                 sad              0.4.8-4             0.4.11-1
                               scrot                1.6-1                1.6-2
                          serverless             2.53.0-1             2.54.0-1
                             shutter               0.97-3               0.98-1
                      signal-desktop             5.12.2-1             5.13.0-1
                              simavr                1.6-1                1.7-1
                            skaffold             1.28.1-1             1.29.0-1
                            smartdns                 33-1                 34-1
                               squid               4.16-1                5.1-1
                            sshuttle              1.0.5-2              1.0.5-3
                            starship             0.56.0-1             0.56.0-2
                          stone-soup             0.26.1-1             0.27.0-1
                    telegram-desktop              2.9.0-4              2.9.3-1
                          tensorflow              2.5.0-6              2.6.0-1
                     tensorflow-cuda              2.5.0-6              2.6.0-1
                      tensorflow-opt              2.5.0-6              2.6.0-1
                 tensorflow-opt-cuda              2.5.0-6              2.6.0-1
                           terraform              1.0.3-2              1.0.4-1
                               tiled              1.7.1-1              1.7.2-1
                 torbrowser-launcher              0.3.5-1              0.3.5-2
                             traefik              2.4.8-1             2.4.13-1
                             ts-node             10.1.0-1             10.2.0-1
                             uptimed              0.4.3-1              0.4.4-1
         v2ray-domain-list-community     20210802121239-1     20210806154034-1
                         v2ray-geoip       202108050026-1       202108120026-1
                              viking                1.9-1                1.9-2
                             vivaldi        4.1.2369.15-1        4.1.2369.16-1
                         warzone2100              4.1.1-1              4.1.2-1
                              wimlib             1.13.3-1             1.13.4-1
                                  xh             0.11.0-1             0.12.0-1
                          xsettingsd              1.0.0-3              1.0.2-1
                          xwallpaper              0.7.1-1              0.7.3-1
                        zerotier-one              1.6.5-1              1.6.5-2
              arch-release-promotion                    -              0.1.1-1
                                igsc                    -              0.2.3-1
                         intel-metee                    -              3.1.0-1
                     intel-metee-doc                    -              3.1.0-1
                    mauikit-accounts                    -              2.0.0-1
                       mediathekview                    -13.7.1.r152.g178bb58c-1
           pantheon-default-settings                    -              6.0.0-1
                    pantheon-session                    -              6.0.0-2
            pantheon-settings-daemon                    -              1.0.0-1
                      python-debugpy                    -              1.4.1-2
                             rpg-cli                    -              0.6.0-2
                    ruby-json-schema                    -              2.8.1-4
             ruby-metadata-json-lint                    -              3.0.0-1
             ruby-metadata_json_deps                    -              0.2.0-1
                ruby-puppet_metadata                    -              1.0.0-1
                      ruby-rspec-its                    -              1.3.0-5
                  ruby-spdx-licenses                    -              1.3.0-1
                            sniproxy                    -              0.6.0-1
              switchboard-plug-wacom                    -              1.0.0-1
                        vim-himalaya                    -              0.4.0-3
            wingpanel-indicator-a11y                    -              1.0.0-1


:: Different overlay package(s) in repository core x86_64

-------------------------------------------------------------------------------
                             PACKAGE           2021-08-06            2021-08-13
-------------------------------------------------------------------------------
                            linux414           4.14.242-1           4.14.243-1
                    linux414-headers           4.14.242-1           4.14.243-1
                            linux419           4.19.201-1           4.19.203-1
                    linux419-headers           4.19.201-1           4.19.203-1
                             linux44            4.4.278-1            4.4.280-1
                     linux44-headers            4.4.278-1            4.4.280-1
                             linux49            4.9.278-1            4.9.279-1
                     linux49-headers            4.9.278-1            4.9.279-1
                            linux510            5.10.56-1            5.10.58-1
                    linux510-headers            5.10.56-1            5.10.58-1
                            linux513             5.13.8-1            5.13.10-1
                    linux513-headers             5.13.8-1            5.13.10-1
                            linux5145.14.rc3.d0725.gff11764-15.14.rc5.d0805.g36a21d5-1
                    linux514-headers5.14.rc3.d0725.gff11764-15.14.rc5.d0805.g36a21d5-1
                             linux54            5.4.138-1            5.4.140-1
                     linux54-headers            5.4.138-1            5.4.140-1
                     manjaro-keyring           20210622-1           20210807-2
                         mhwd-nvidia          470.57.02-1          470.63.01-1
                             systemd              249.2-1              249.3-1
                        systemd-libs              249.2-1              249.3-1
                  systemd-resolvconf              249.2-1              249.3-1
                  systemd-sysvcompat              249.2-1              249.3-1


:: Different sync package(s) in repository core x86_64

-------------------------------------------------------------------------------
                             PACKAGE           2021-08-06            2021-08-13
-------------------------------------------------------------------------------
                            automake             1.16.3-1             1.16.4-1
                         btrfs-progs               5.13-1             5.13.1-1
             ca-certificates-mozilla               3.68-1               3.69-1
                           diffutils                3.7-3                3.8-1
                            iana-etc           20210624-1           20210728-1
                           libxcrypt             4.4.23-1             4.4.25-1
                                mpfr              4.1.0-2          4.1.0.p13-1
                                 nss               3.68-1               3.69-1
                             texinfo                6.8-1                6.8-2


:: Different overlay package(s) in repository extra x86_64

-------------------------------------------------------------------------------
                             PACKAGE           2021-08-06            2021-08-13
-------------------------------------------------------------------------------
                           calamares             3.2.40-1             3.2.40-2
                       calamares-git3.2.40.r9768.8e28547f2-13.2.42.r9825.46b0a933c-1
                             firefox             91.0-0.2                    -
                    firefox-i18n-ach             91.0-0.1                    -
                     firefox-i18n-af             91.0-0.1                    -
                     firefox-i18n-an             91.0-0.1                    -
                     firefox-i18n-ar             91.0-0.1                    -
                    firefox-i18n-ast             91.0-0.1                    -
                     firefox-i18n-az             91.0-0.1                    -
                     firefox-i18n-be             91.0-0.1                    -
                     firefox-i18n-bg             91.0-0.1                    -
                     firefox-i18n-bn             91.0-0.1                    -
                     firefox-i18n-br             91.0-0.1                    -
                     firefox-i18n-bs             91.0-0.1                    -
                     firefox-i18n-ca             91.0-0.1                    -
            firefox-i18n-ca-valencia             91.0-0.1                    -
                    firefox-i18n-cak             91.0-0.1                    -
                     firefox-i18n-cs             91.0-0.1                    -
                     firefox-i18n-cy             91.0-0.1                    -
                     firefox-i18n-da             91.0-0.1                    -
                     firefox-i18n-de             91.0-0.1                    -
                    firefox-i18n-dsb             91.0-0.1                    -
                     firefox-i18n-el             91.0-0.1                    -
                  firefox-i18n-en-ca             91.0-0.1                    -
                  firefox-i18n-en-gb             91.0-0.1                    -
                  firefox-i18n-en-us             91.0-0.1                    -
                     firefox-i18n-eo             91.0-0.1                    -
                  firefox-i18n-es-ar             91.0-0.1                    -
                  firefox-i18n-es-cl             91.0-0.1                    -
                  firefox-i18n-es-es             91.0-0.1                    -
                  firefox-i18n-es-mx             91.0-0.1                    -
                     firefox-i18n-et             91.0-0.1                    -
                     firefox-i18n-eu             91.0-0.1                    -
                     firefox-i18n-fa             91.0-0.1                    -
                     firefox-i18n-ff             91.0-0.1                    -
                     firefox-i18n-fi             91.0-0.1                    -
                     firefox-i18n-fr             91.0-0.1                    -
                  firefox-i18n-fy-nl             91.0-0.1                    -
                  firefox-i18n-ga-ie             91.0-0.1                    -
                     firefox-i18n-gd             91.0-0.1                    -
                     firefox-i18n-gl             91.0-0.1                    -
                     firefox-i18n-gn             91.0-0.1                    -
                  firefox-i18n-gu-in             91.0-0.1                    -
                     firefox-i18n-he             91.0-0.1                    -
                  firefox-i18n-hi-in             91.0-0.1                    -
                     firefox-i18n-hr             91.0-0.1                    -
                    firefox-i18n-hsb             91.0-0.1                    -
                     firefox-i18n-hu             91.0-0.1                    -
                  firefox-i18n-hy-am             91.0-0.1                    -
                     firefox-i18n-ia             91.0-0.1                    -
                     firefox-i18n-id             91.0-0.1                    -
                     firefox-i18n-is             91.0-0.1                    -
                     firefox-i18n-it             91.0-0.1                    -
                     firefox-i18n-ja             91.0-0.1                    -
                     firefox-i18n-ka             91.0-0.1                    -
                    firefox-i18n-kab             91.0-0.1                    -
                     firefox-i18n-kk             91.0-0.1                    -
                     firefox-i18n-km             91.0-0.1                    -
                     firefox-i18n-kn             91.0-0.1                    -
                     firefox-i18n-ko             91.0-0.1                    -
                    firefox-i18n-lij             91.0-0.1                    -
                     firefox-i18n-lt             91.0-0.1                    -
                     firefox-i18n-lv             91.0-0.1                    -
                     firefox-i18n-mk             91.0-0.1                    -
                     firefox-i18n-mr             91.0-0.1                    -
                     firefox-i18n-ms             91.0-0.1                    -
                     firefox-i18n-my             91.0-0.1                    -
                  firefox-i18n-nb-no             91.0-0.1                    -
                  firefox-i18n-ne-np             91.0-0.1                    -
                     firefox-i18n-nl             91.0-0.1                    -
                  firefox-i18n-nn-no             91.0-0.1                    -
                     firefox-i18n-oc             91.0-0.1                    -
                  firefox-i18n-pa-in             91.0-0.1                    -
                     firefox-i18n-pl             91.0-0.1                    -
                  firefox-i18n-pt-br             91.0-0.1                    -
                  firefox-i18n-pt-pt             91.0-0.1                    -
                     firefox-i18n-rm             91.0-0.1                    -
                     firefox-i18n-ro             91.0-0.1                    -
                     firefox-i18n-ru             91.0-0.1                    -
                     firefox-i18n-si             91.0-0.1                    -
                     firefox-i18n-sk             91.0-0.1                    -
                     firefox-i18n-sl             91.0-0.1                    -
                    firefox-i18n-son             91.0-0.1                    -
                     firefox-i18n-sq             91.0-0.1                    -
                     firefox-i18n-sr             91.0-0.1                    -
                  firefox-i18n-sv-se             91.0-0.1                    -
                     firefox-i18n-ta             91.0-0.1                    -
                     firefox-i18n-te             91.0-0.1                    -
                     firefox-i18n-th             91.0-0.1                    -
                     firefox-i18n-tl             91.0-0.1                    -
                     firefox-i18n-tr             91.0-0.1                    -
                    firefox-i18n-trs             91.0-0.1                    -
                     firefox-i18n-uk             91.0-0.1                    -
                     firefox-i18n-ur             91.0-0.1                    -
                     firefox-i18n-uz             91.0-0.1                    -
                     firefox-i18n-vi             91.0-0.1                    -
                     firefox-i18n-xh             91.0-0.1                    -
                  firefox-i18n-zh-cn             91.0-0.1                    -
                  firefox-i18n-zh-tw             91.0-0.1                    -
                gnome-control-center             40.0-1.2             40.0-1.3
                          libxnvctrl          470.57.02-2          470.63.01-1
                  linux414-acpi_call            1.1.0-216            1.1.0-217
                   linux414-bbswitch              0.8-216              0.8-217
                linux414-broadcom-wl     6.30.223.271-216     6.30.223.271-217
                linux414-ndiswrapper              1.63-66              1.63-67
               linux414-nvidia-390xx            390.144-3            390.144-4
                     linux414-nvidia          470.57.02-3          470.63.01-1
                   linux414-nvidiabl             0.88-216             0.88-217
                      linux414-r8168           8.049.02-5           8.049.02-6
                  linux414-rt3562sta       2.4.1.1_r4-212       2.4.1.1_r4-213
                   linux414-tp_smapi             0.43-108             0.43-109
                linux414-vhba-module          20210418-14          20210418-15
    linux414-virtualbox-host-modules             6.1.26-2             6.1.26-3
                        linux414-zfs              2.1.0-5              2.1.0-6
                  linux419-acpi_call            1.1.0-195            1.1.0-197
                   linux419-bbswitch              0.8-195              0.8-197
                linux419-broadcom-wl     6.30.223.271-194     6.30.223.271-196
                linux419-ndiswrapper              1.63-85              1.63-87
               linux419-nvidia-390xx            390.144-4            390.144-6
                     linux419-nvidia          470.57.02-4          470.63.01-2
                   linux419-nvidiabl             0.88-194             0.88-196
                      linux419-r8168           8.049.02-6           8.049.02-8
                  linux419-rtl8723bu          20210519-16           20210806-2
                   linux419-tp_smapi             0.43-144             0.43-146
                linux419-vhba-module          20210418-17          20210418-19
    linux419-virtualbox-host-modules             6.1.26-3             6.1.26-5
                        linux419-zfs              2.1.0-6              2.1.0-8
                   linux44-acpi_call            1.1.0-210            1.1.0-212
                    linux44-bbswitch              0.8-210              0.8-212
                 linux44-broadcom-wl     6.30.223.271-180     6.30.223.271-182
                 linux44-ndiswrapper              1.63-58              1.63-60
                linux44-nvidia-390xx            390.144-3            390.144-5
                      linux44-nvidia          470.57.02-3          470.63.01-1
                    linux44-nvidiabl             0.88-210             0.88-212
                       linux44-r8168           8.049.02-5           8.049.02-7
                   linux44-rt3562sta       2.4.1.1_r4-167       2.4.1.1_r4-169
                    linux44-tp_smapi              0.43-89              0.43-91
                 linux44-vhba-module          20210418-14          20210418-16
     linux44-virtualbox-host-modules             6.1.26-2             6.1.26-4
                         linux44-zfs              2.1.0-5              2.1.0-7
                   linux49-acpi_call            1.1.0-224            1.1.0-225
                    linux49-bbswitch              0.8-224              0.8-225
                 linux49-broadcom-wl     6.30.223.271-224     6.30.223.271-225
                 linux49-ndiswrapper              1.63-58              1.63-59
                linux49-nvidia-390xx            390.144-3            390.144-4
                      linux49-nvidia          470.57.02-3          470.63.01-1
                    linux49-nvidiabl             0.88-224             0.88-225
                       linux49-r8168           8.049.02-5           8.049.02-6
                   linux49-rt3562sta       2.4.1.1_r4-208       2.4.1.1_r4-209
                    linux49-tp_smapi              0.43-92              0.43-93
                 linux49-vhba-module          20210418-14          20210418-15
     linux49-virtualbox-host-modules             6.1.26-2             6.1.26-3
                         linux49-zfs              2.1.0-5              2.1.0-6
                  linux510-acpi_call             1.1.0-72             1.1.0-74
                   linux510-bbswitch               0.8-72               0.8-74
                linux510-broadcom-wl      6.30.223.271-73      6.30.223.271-75
               linux510-nvidia-390xx            390.144-5            390.144-7
                     linux510-nvidia          470.57.02-5          470.63.01-2
                      linux510-r8168           8.049.02-9          8.049.02-11
                  linux510-rtl8723bu          20210519-20           20210806-2
                   linux510-tp_smapi              0.43-72              0.43-74
                linux510-vhba-module          20210418-27          20210418-29
    linux510-virtualbox-host-modules             6.1.26-3             6.1.26-5
                        linux510-zfs              2.1.0-9             2.1.0-11
                     linux512-nvidia          470.57.02-1          470.63.01-1
                  linux512-rtl8723bu          20210519-18           20210806-1
                  linux513-acpi_call             1.1.0-11             1.1.0-13
                   linux513-bbswitch               0.8-11               0.8-13
                linux513-broadcom-wl      6.30.223.271-11      6.30.223.271-13
               linux513-nvidia-390xx            390.144-5            390.144-7
                     linux513-nvidia          470.57.02-5          470.63.01-2
                      linux513-r8168          8.049.02-10          8.049.02-12
                  linux513-rtl8723bu          20210519-12           20210806-2
                   linux513-tp_smapi              0.43-11              0.43-13
                linux513-vhba-module          20210418-11          20210418-13
    linux513-virtualbox-host-modules             6.1.26-3             6.1.26-5
                        linux513-zfs             2.1.0-10             2.1.0-12
                  linux514-acpi_call            1.1.0-0.3            1.1.0-0.5
                   linux514-bbswitch              0.8-0.3              0.8-0.5
                linux514-broadcom-wl     6.30.223.271-0.3     6.30.223.271-0.5
               linux514-nvidia-390xx          390.144-0.3          390.144-0.5
                     linux514-nvidia        470.57.02-1.1        470.63.01-0.1
                      linux514-r8168         8.049.02-0.3         8.049.02-0.5
                  linux514-rtl8723bu         20210519-0.3         20210806-0.2
                   linux514-tp_smapi             0.43-0.3             0.43-0.5
                linux514-vhba-module         20210418-0.3         20210418-0.5
    linux514-virtualbox-host-modules           6.1.26-0.2           6.1.26-0.5
                   linux54-acpi_call            1.1.0-147            1.1.0-149
                    linux54-bbswitch              0.8-147              0.8-149
                 linux54-broadcom-wl     6.30.223.271-147     6.30.223.271-149
                 linux54-ndiswrapper             1.63-103             1.63-105
                linux54-nvidia-390xx            390.144-5            390.144-7
                      linux54-nvidia          470.57.02-5          470.63.01-2
                    linux54-nvidiabl             0.88-147             0.88-149
                       linux54-r8168           8.049.02-9          8.049.02-11
                   linux54-rtl8723bu          20210519-20           20210806-2
                    linux54-tp_smapi             0.43-147             0.43-149
                 linux54-vhba-module          20210418-27          20210418-29
     linux54-virtualbox-host-modules             6.1.26-3             6.1.26-5
                         linux54-zfs              2.1.0-9             2.1.0-11
                         nvidia-dkms          470.57.02-1          470.63.01-1
                        nvidia-utils          470.57.02-1          470.63.01-1
                       opencl-nvidia          470.57.02-1          470.63.01-1
                         thunderbird          78.13.0-0.1                    -
                 thunderbird-i18n-af          78.13.0-0.1                    -
                 thunderbird-i18n-ar          78.13.0-0.1                    -
                thunderbird-i18n-ast          78.13.0-0.1                    -
                 thunderbird-i18n-be          78.13.0-0.1                    -
                 thunderbird-i18n-bg          78.13.0-0.1                    -
                 thunderbird-i18n-br          78.13.0-0.1                    -
                 thunderbird-i18n-ca          78.13.0-0.1                    -
                thunderbird-i18n-cak          78.13.0-0.1                    -
                 thunderbird-i18n-cs          78.13.0-0.1                    -
                 thunderbird-i18n-cy          78.13.0-0.1                    -
                 thunderbird-i18n-da          78.13.0-0.1                    -
                 thunderbird-i18n-de          78.13.0-0.1                    -
                thunderbird-i18n-dsb          78.13.0-0.1                    -
                 thunderbird-i18n-el          78.13.0-0.1                    -
              thunderbird-i18n-en-gb          78.13.0-0.1                    -
              thunderbird-i18n-en-us          78.13.0-0.1                    -
              thunderbird-i18n-es-ar          78.13.0-0.1                    -
              thunderbird-i18n-es-es          78.13.0-0.1                    -
                 thunderbird-i18n-et          78.13.0-0.1                    -
                 thunderbird-i18n-eu          78.13.0-0.1                    -
                 thunderbird-i18n-fa          78.13.0-0.1                    -
                 thunderbird-i18n-fi          78.13.0-0.1                    -
                 thunderbird-i18n-fr          78.13.0-0.1                    -
              thunderbird-i18n-fy-nl          78.13.0-0.1                    -
              thunderbird-i18n-ga-ie          78.13.0-0.1                    -
                 thunderbird-i18n-gd          78.13.0-0.1                    -
                 thunderbird-i18n-gl          78.13.0-0.1                    -
                 thunderbird-i18n-he          78.13.0-0.1                    -
                 thunderbird-i18n-hr          78.13.0-0.1                    -
                thunderbird-i18n-hsb          78.13.0-0.1                    -
                 thunderbird-i18n-hu          78.13.0-0.1                    -
              thunderbird-i18n-hy-am          78.13.0-0.1                    -
                 thunderbird-i18n-id          78.13.0-0.1                    -
                 thunderbird-i18n-is          78.13.0-0.1                    -
                 thunderbird-i18n-it          78.13.0-0.1                    -
                 thunderbird-i18n-ja          78.13.0-0.1                    -
                 thunderbird-i18n-ka          78.13.0-0.1                    -
                thunderbird-i18n-kab          78.13.0-0.1                    -
                 thunderbird-i18n-kk          78.13.0-0.1                    -
                 thunderbird-i18n-ko          78.13.0-0.1                    -
                 thunderbird-i18n-lt          78.13.0-0.1                    -
                 thunderbird-i18n-ms          78.13.0-0.1                    -
              thunderbird-i18n-nb-no          78.13.0-0.1                    -
                 thunderbird-i18n-nl          78.13.0-0.1                    -
              thunderbird-i18n-nn-no          78.13.0-0.1                    -
              thunderbird-i18n-pa-in          78.13.0-0.1                    -
                 thunderbird-i18n-pl          78.13.0-0.1                    -
              thunderbird-i18n-pt-br          78.13.0-0.1                    -
              thunderbird-i18n-pt-pt          78.13.0-0.1                    -
                 thunderbird-i18n-rm          78.13.0-0.1                    -
                 thunderbird-i18n-ro          78.13.0-0.1                    -
                 thunderbird-i18n-ru          78.13.0-0.1                    -
                 thunderbird-i18n-si          78.13.0-0.1                    -
                 thunderbird-i18n-sk          78.13.0-0.1                    -
                 thunderbird-i18n-sl          78.13.0-0.1                    -
                 thunderbird-i18n-sq          78.13.0-0.1                    -
                 thunderbird-i18n-sr          78.13.0-0.1                    -
              thunderbird-i18n-sv-se          78.13.0-0.1                    -
                 thunderbird-i18n-th          78.13.0-0.1                    -
                 thunderbird-i18n-tr          78.13.0-0.1                    -
                 thunderbird-i18n-uk          78.13.0-0.1                    -
                 thunderbird-i18n-uz          78.13.0-0.1                    -
                 thunderbird-i18n-vi          78.13.0-0.1                    -
              thunderbird-i18n-zh-cn          78.13.0-0.1                    -
              thunderbird-i18n-zh-tw          78.13.0-0.1                    -
                        linux514-zfs                    -            2.1.0-0.5


:: Different sync package(s) in repository extra x86_64

-------------------------------------------------------------------------------
                             PACKAGE           2021-08-06            2021-08-13
-------------------------------------------------------------------------------
                              amdvlk          2021.Q3.2-1          2021.Q3.4-1
                  arch-rebuild-order                0.2-1              0.2.1-1
                              c-ares             1.17.1-1             1.17.2-1
                               dav1d              0.9.0-1              0.9.1-1
                           dav1d-doc              0.9.0-1              0.9.1-1
                           dbus-glib              0.112-1              0.112-2
                   ffnvcodec-headers          11.0.10.1-1           11.1.5.0-1
                             firefox             90.0.2-1               91.0-1
                    firefox-i18n-ach             90.0.2-1               91.0-1
                     firefox-i18n-af             90.0.2-1               91.0-1
                     firefox-i18n-an             90.0.2-1               91.0-1
                     firefox-i18n-ar             90.0.2-1               91.0-1
                    firefox-i18n-ast             90.0.2-1               91.0-1
                     firefox-i18n-az             90.0.2-1               91.0-1
                     firefox-i18n-be             90.0.2-1               91.0-1
                     firefox-i18n-bg             90.0.2-1               91.0-1
                     firefox-i18n-bn             90.0.2-1               91.0-1
                     firefox-i18n-br             90.0.2-1               91.0-1
                     firefox-i18n-bs             90.0.2-1               91.0-1
                     firefox-i18n-ca             90.0.2-1               91.0-1
            firefox-i18n-ca-valencia             90.0.2-1               91.0-1
                    firefox-i18n-cak             90.0.2-1               91.0-1
                     firefox-i18n-cs             90.0.2-1               91.0-1
                     firefox-i18n-cy             90.0.2-1               91.0-1
                     firefox-i18n-da             90.0.2-1               91.0-1
                     firefox-i18n-de             90.0.2-1               91.0-1
                    firefox-i18n-dsb             90.0.2-1               91.0-1
                     firefox-i18n-el             90.0.2-1               91.0-1
                  firefox-i18n-en-ca             90.0.2-1               91.0-1
                  firefox-i18n-en-gb             90.0.2-1               91.0-1
                  firefox-i18n-en-us             90.0.2-1               91.0-1
                     firefox-i18n-eo             90.0.2-1               91.0-1
                  firefox-i18n-es-ar             90.0.2-1               91.0-1
                  firefox-i18n-es-cl             90.0.2-1               91.0-1
                  firefox-i18n-es-es             90.0.2-1               91.0-1
                  firefox-i18n-es-mx             90.0.2-1               91.0-1
                     firefox-i18n-et             90.0.2-1               91.0-1
                     firefox-i18n-eu             90.0.2-1               91.0-1
                     firefox-i18n-fa             90.0.2-1               91.0-1
                     firefox-i18n-ff             90.0.2-1               91.0-1
                     firefox-i18n-fi             90.0.2-1               91.0-1
                     firefox-i18n-fr             90.0.2-1               91.0-1
                  firefox-i18n-fy-nl             90.0.2-1               91.0-1
                  firefox-i18n-ga-ie             90.0.2-1               91.0-1
                     firefox-i18n-gd             90.0.2-1               91.0-1
                     firefox-i18n-gl             90.0.2-1               91.0-1
                     firefox-i18n-gn             90.0.2-1               91.0-1
                  firefox-i18n-gu-in             90.0.2-1               91.0-1
                     firefox-i18n-he             90.0.2-1               91.0-1
                  firefox-i18n-hi-in             90.0.2-1               91.0-1
                     firefox-i18n-hr             90.0.2-1               91.0-1
                    firefox-i18n-hsb             90.0.2-1               91.0-1
                     firefox-i18n-hu             90.0.2-1               91.0-1
                  firefox-i18n-hy-am             90.0.2-1               91.0-1
                     firefox-i18n-ia             90.0.2-1               91.0-1
                     firefox-i18n-id             90.0.2-1               91.0-1
                     firefox-i18n-is             90.0.2-1               91.0-1
                     firefox-i18n-it             90.0.2-1               91.0-1
                     firefox-i18n-ja             90.0.2-1               91.0-1
                     firefox-i18n-ka             90.0.2-1               91.0-1
                    firefox-i18n-kab             90.0.2-1               91.0-1
                     firefox-i18n-kk             90.0.2-1               91.0-1
                     firefox-i18n-km             90.0.2-1               91.0-1
                     firefox-i18n-kn             90.0.2-1               91.0-1
                     firefox-i18n-ko             90.0.2-1               91.0-1
                    firefox-i18n-lij             90.0.2-1               91.0-1
                     firefox-i18n-lt             90.0.2-1               91.0-1
                     firefox-i18n-lv             90.0.2-1               91.0-1
                     firefox-i18n-mk             90.0.2-1               91.0-1
                     firefox-i18n-mr             90.0.2-1               91.0-1
                     firefox-i18n-ms             90.0.2-1               91.0-1
                     firefox-i18n-my             90.0.2-1               91.0-1
                  firefox-i18n-nb-no             90.0.2-1               91.0-1
                  firefox-i18n-ne-np             90.0.2-1               91.0-1
                     firefox-i18n-nl             90.0.2-1               91.0-1
                  firefox-i18n-nn-no             90.0.2-1               91.0-1
                     firefox-i18n-oc             90.0.2-1               91.0-1
                  firefox-i18n-pa-in             90.0.2-1               91.0-1
                     firefox-i18n-pl             90.0.2-1               91.0-1
                  firefox-i18n-pt-br             90.0.2-1               91.0-1
                  firefox-i18n-pt-pt             90.0.2-1               91.0-1
                     firefox-i18n-rm             90.0.2-1               91.0-1
                     firefox-i18n-ro             90.0.2-1               91.0-1
                     firefox-i18n-ru             90.0.2-1               91.0-1
                     firefox-i18n-si             90.0.2-1               91.0-1
                     firefox-i18n-sk             90.0.2-1               91.0-1
                     firefox-i18n-sl             90.0.2-1               91.0-1
                    firefox-i18n-son             90.0.2-1               91.0-1
                     firefox-i18n-sq             90.0.2-1               91.0-1
                     firefox-i18n-sr             90.0.2-1               91.0-1
                  firefox-i18n-sv-se             90.0.2-1               91.0-1
                     firefox-i18n-ta             90.0.2-1               91.0-1
                     firefox-i18n-te             90.0.2-1               91.0-1
                     firefox-i18n-th             90.0.2-1               91.0-1
                     firefox-i18n-tl             90.0.2-1               91.0-1
                     firefox-i18n-tr             90.0.2-1               91.0-1
                    firefox-i18n-trs             90.0.2-1               91.0-1
                     firefox-i18n-uk             90.0.2-1               91.0-1
                     firefox-i18n-ur             90.0.2-1               91.0-1
                     firefox-i18n-uz             90.0.2-1               91.0-1
                     firefox-i18n-vi             90.0.2-1               91.0-1
                     firefox-i18n-xh             90.0.2-1               91.0-1
                  firefox-i18n-zh-cn             90.0.2-1               91.0-1
                  firefox-i18n-zh-tw             90.0.2-1               91.0-1
                     flatpak-builder             1.0.14-1             1.0.14-2
                              galera             26.4.8-1             26.4.9-1
                                 gjs           2:1.68.1-1           2:1.68.2-1
                        gnome-autoar              0.3.3-1              0.4.0-1
                                gtk3          1:3.24.30-1          1:3.24.30-2
                          gtk3-demos          1:3.24.30-1          1:3.24.30-2
                           gtk3-docs          1:3.24.30-1          1:3.24.30-2
                            help2man             1.48.3-1             1.48.4-1
                              jasper             2.0.32-1             2.0.33-1
                          jasper-doc             2.0.32-1             2.0.33-1
                              libbsd             0.10.0-2             0.11.3-1
                       libjpeg-turbo              2.1.0-1              2.1.1-1
                             libmbim             1.26.0-1             1.26.0-2
                          libmm-glib             1.16.8-1            1.16.10-1
                               libnm             1.32.6-1             1.32.8-1
                              libqmi             1.28.6-1             1.30.0-1
                        libsidplayfp              2.2.1-1              2.2.2-1
                             libupnp             1.14.7-1             1.14.8-1
                          live-media         2021.07.20-1         2021.08.09-1
                                llvm             12.0.1-2             12.0.1-3
                           llvm-libs             12.0.1-2             12.0.1-3
                          llvm-ocaml             12.0.1-2             12.0.1-3
                                lynx              2.8.9-3              2.8.9-4
                              marble            21.04.3-1            21.04.3-2
                       marble-common            21.04.3-1            21.04.3-2
                         marble-maps            21.04.3-1            21.04.3-2
                           marble-qt            21.04.3-1            21.04.3-2
                             mariadb             10.6.3-1             10.6.4-1
                     mariadb-clients             10.6.3-1             10.6.4-1
                        mariadb-libs             10.6.3-1             10.6.4-1
                        modemmanager             1.16.8-1            1.16.10-1
                                 mpd             0.22.9-2            0.22.10-1
                              mtools           1:4.0.34-1           1:4.0.35-1
                               mytop             10.6.3-1             10.6.4-1
                              netpbm           10.73.34-1           10.73.36-1
                      networkmanager             1.32.6-1             1.32.8-1
                      nm-cloud-setup             1.32.6-1             1.32.8-1
                                nmap               7.91-1               7.92-1
                               nuget              5.8.1-1              5.9.0-2
              plasma-wayland-session             5.22.4-2             5.22.4-3
                    plasma-workspace             5.22.4-2             5.22.4-3
                          prometheus             2.28.0-1             2.29.1-1
            prometheus-node-exporter              1.2.0-1              1.2.2-1
                       python-django              3.2.5-1              3.2.6-1
                       python-pylint              2.8.1-1              2.8.2-1
                        python-tomli              1.2.0-1              1.2.1-1
                      python-twisted             21.2.0-3             21.2.0-4
                   python-virtualenv             20.7.0-1             20.7.1-1
                  python2-virtualenv             20.7.0-1             20.7.1-1
                              qt5-3d     5.15.2+kde+r32-1     5.15.2+kde+r33-1
                           qtcreator             4.15.2-1             4.15.2-2
                                   r              4.1.0-1              4.1.1-1
                                re2c              2.1.1-1                2.2-1
                                sdl2             2.0.14-1             2.0.16-1
                              spglib             1.16.1-2             1.16.2-1
                          stellarium             0.21.1-1             0.21.1-2
                         thunderbird            78.12.0-1            78.13.0-1
                 thunderbird-i18n-af            78.12.0-1            78.13.0-1
                 thunderbird-i18n-ar            78.12.0-1            78.13.0-1
                thunderbird-i18n-ast            78.12.0-1            78.13.0-1
                 thunderbird-i18n-be            78.12.0-1            78.13.0-1
                 thunderbird-i18n-bg            78.12.0-1            78.13.0-1
                 thunderbird-i18n-br            78.12.0-1            78.13.0-1
                 thunderbird-i18n-ca            78.12.0-1            78.13.0-1
                thunderbird-i18n-cak            78.12.0-1            78.13.0-1
                 thunderbird-i18n-cs            78.12.0-1            78.13.0-1
                 thunderbird-i18n-cy            78.12.0-1            78.13.0-1
                 thunderbird-i18n-da            78.12.0-1            78.13.0-1
                 thunderbird-i18n-de            78.12.0-1            78.13.0-1
                thunderbird-i18n-dsb            78.12.0-1            78.13.0-1
                 thunderbird-i18n-el            78.12.0-1            78.13.0-1
              thunderbird-i18n-en-gb            78.12.0-1            78.13.0-1
              thunderbird-i18n-en-us            78.12.0-1            78.13.0-1
              thunderbird-i18n-es-ar            78.12.0-1            78.13.0-1
              thunderbird-i18n-es-es            78.12.0-1            78.13.0-1
                 thunderbird-i18n-et            78.12.0-1            78.13.0-1
                 thunderbird-i18n-eu            78.12.0-1            78.13.0-1
                 thunderbird-i18n-fa            78.12.0-1            78.13.0-1
                 thunderbird-i18n-fi            78.12.0-1            78.13.0-1
                 thunderbird-i18n-fr            78.12.0-1            78.13.0-1
              thunderbird-i18n-fy-nl            78.12.0-1            78.13.0-1
              thunderbird-i18n-ga-ie            78.12.0-1            78.13.0-1
                 thunderbird-i18n-gd            78.12.0-1            78.13.0-1
                 thunderbird-i18n-gl            78.12.0-1            78.13.0-1
                 thunderbird-i18n-he            78.12.0-1            78.13.0-1
                 thunderbird-i18n-hr            78.12.0-1            78.13.0-1
                thunderbird-i18n-hsb            78.12.0-1            78.13.0-1
                 thunderbird-i18n-hu            78.12.0-1            78.13.0-1
              thunderbird-i18n-hy-am            78.12.0-1            78.13.0-1
                 thunderbird-i18n-id            78.12.0-1            78.13.0-1
                 thunderbird-i18n-is            78.12.0-1            78.13.0-1
                 thunderbird-i18n-it            78.12.0-1            78.13.0-1
                 thunderbird-i18n-ja            78.12.0-1            78.13.0-1
                 thunderbird-i18n-ka            78.12.0-1            78.13.0-1
                thunderbird-i18n-kab            78.12.0-1            78.13.0-1
                 thunderbird-i18n-kk            78.12.0-1            78.13.0-1
                 thunderbird-i18n-ko            78.12.0-1            78.13.0-1
                 thunderbird-i18n-lt            78.12.0-1            78.13.0-1
                 thunderbird-i18n-ms            78.12.0-1            78.13.0-1
              thunderbird-i18n-nb-no            78.12.0-1            78.13.0-1
                 thunderbird-i18n-nl            78.12.0-1            78.13.0-1
              thunderbird-i18n-nn-no            78.12.0-1            78.13.0-1
              thunderbird-i18n-pa-in            78.12.0-1            78.13.0-1
                 thunderbird-i18n-pl            78.12.0-1            78.13.0-1
              thunderbird-i18n-pt-br            78.12.0-1            78.13.0-1
              thunderbird-i18n-pt-pt            78.12.0-1            78.13.0-1
                 thunderbird-i18n-rm            78.12.0-1            78.13.0-1
                 thunderbird-i18n-ro            78.12.0-1            78.13.0-1
                 thunderbird-i18n-ru            78.12.0-1            78.13.0-1
                 thunderbird-i18n-si            78.12.0-1            78.13.0-1
                 thunderbird-i18n-sk            78.12.0-1            78.13.0-1
                 thunderbird-i18n-sl            78.12.0-1            78.13.0-1
                 thunderbird-i18n-sq            78.12.0-1            78.13.0-1
                 thunderbird-i18n-sr            78.12.0-1            78.13.0-1
              thunderbird-i18n-sv-se            78.12.0-1            78.13.0-1
                 thunderbird-i18n-th            78.12.0-1            78.13.0-1
                 thunderbird-i18n-tr            78.12.0-1            78.13.0-1
                 thunderbird-i18n-uk            78.12.0-1            78.13.0-1
                 thunderbird-i18n-uz            78.12.0-1            78.13.0-1
                 thunderbird-i18n-vi            78.12.0-1            78.13.0-1
              thunderbird-i18n-zh-cn            78.12.0-1            78.13.0-1
              thunderbird-i18n-zh-tw            78.12.0-1            78.13.0-1
                      vulkan-headers          1:1.2.185-1          1:1.2.186-1
                   vulkan-icd-loader            1.2.185-1            1.2.186-1


:: Different overlay package(s) in repository kde-unstable x86_64

-------------------------------------------------------------------------------
                             PACKAGE           2021-08-06            2021-08-13
-------------------------------------------------------------------------------
                             akonadi21.04.3.r12536.g5a0b8217e-121.04.3.r12553.g7156605d0-1
                    akonadi-calendar21.04.3.r1959.g76c6501-121.04.3.r1968.gb46a382-1
              akonadi-calendar-tools21.04.3.r878.gb2ab190-121.04.3.r888.g5e6f8c1-1
                    akonadi-contacts21.04.3.r3039.g082f70ba-121.04.3.r3041.g6f278659-1
               akonadi-import-wizard21.04.3.r1722.g75337ed-121.04.3.r1723.gc0bdc86-1
                        akonadi-mime21.04.3.r1631.g7fc4fcf-121.04.3.r1632.gd1f5c99-1
                       akonadi-notes21.04.3.r1015.gc21120f-121.04.3.r1016.g846761c-1
                      akonadi-search21.04.3.r1111.gb93b0a3-121.04.3.r1112.g69ed14e-1
                      akonadiconsole21.04.3.r1502.gfa07fb0-121.04.3.r1503.gedf648f-1
                           akregator21.04.3.r6205.g6185751f-121.04.3.r6208.g754b1a39-1
                           angelfish  21.07.r5.g912496b-1  21.07.r7.g54f06d5-1
                              attica5.84.0.r824.g328f2d9-15.84.0.r825.g71ec656-1
                         audiocd-kio21.04.3.r1024.g649fd98-121.04.3.r1031.g6d88fa2-1
                       baloo-widgets21.04.3.r684.g3396374-121.04.3.r690.gf8a23f9-1
                            bluez-qt5.84.0.r668.gba48b66-15.84.0.r669.gde9369b-1
                              breeze5.22.4.r2225.g5c385621-15.22.4.r2233.gd59275df-1
                        breeze-icons5.84.0.r1766.g2f468e61-15.84.0.r1768.g794f2088-1
                                buho 1.2.2.r36.g54ea38b-1  2.0.0.r0.g54ea38b-1
                     calendarsupport21.07.80.r12.gcfa15bb-121.08.0.r11.ga3bef3e-1
                            discover5.22.4.r8256.gb022a7b5-15.22.4.r8261.g8a771881-1
                             dolphin21.04.3.r6673.g68ae758f4-121.04.3.r6676.g0ac57fbe9-1
                             drkonqi5.22.4.r677.g922746e7-15.22.4.r678.g271ad724-1
                               elisa21.04.3.r2746.g25948c70-121.04.3.r2751.gd69ad3c8-1
                          eventviews21.07.80.r12.g0a47a2f-121.07.80.r13.g0765c30-1
                     grantlee-editor21.04.3.r760.gcd8718c-121.04.3.r761.gd7bc71f-1
                       grantleetheme21.04.3.r333.g20debce-121.04.3.r339.gf169f6e-1
                     incidenceeditor21.04.3.r748.g454e216-121.04.3.r750.g3a37a2f-1
                            index-fm1.2.2.r118.gf43d66f-1  2.0.0.r1.gd80bedf-1
                           itinerary21.04.3.r1412.gc53c7e9-121.04.3.r1427.g17fea10-1
                                 juk21.04.3.r3109.g4694fe0f-121.04.3.r3110.ga1b028be-1
                                 k3b1:21.04.3.r6665.g856a23c7c-11:21.04.3.r6668.ga56b535c0-1
                         kactivities5.84.0.r1353.g03eacef-15.84.0.r1354.g91641d3-1
                   kactivities-stats5.84.0.r365.g8662452-15.84.0.r367.gb166722-1
                   kactivitymanagerd5.22.4.r1361.g2977ccb-15.22.4.r1363.ge8b063d-1
                        kaddressbook21.04.3.r6018.g310c23ce-121.04.3.r6021.gac4df746-1
                              kalarm21.04.3.r6433.g95d1d598-121.04.3.r6437.gb29746b3-1
                           kalarmcal21.04.3.r1134.g73e5c63-121.04.3.r1135.gd8835e3-1
                                kalk  21.07.r2.g9bb86f2-1  21.07.r5.g7f968c3-1
                             kapidox5.84.0.r548.gcf9ced6-15.84.0.r549.g461b6d6-1
                            karchive5.84.0.r498.g9ab5f2b-15.84.0.r499.g03e1c5d-1
                                kate21.04.3.r18306.gd3dd58cb9-121.04.3.r18323.g8fb90faec-1
                               kauth5.84.0.r441.gef65bd6-15.84.0.r442.ga0145e5-1
                          kbookmarks5.84.0.r412.g80d61ce-15.84.0.r413.g5bff8b2-1
                               kcalc21.04.3.r1512.gc909e5d-121.04.3.r1516.gd28fcbf-1
                       kcalendarcore5.84.0.r1228.g673aa4c57-15.84.0.r1229.g2171b6fe0-1
                           kcalutils21.04.3.r856.ga2b6d716f-121.04.3.r857.g34750c5b0-1
                            kcmutils5.84.0.r533.g4c672a3-15.84.0.r535.g4a66431-1
                             kcodecs5.84.0.r376.ga091bc4-15.84.0.r377.gc3ef591-1
                         kcompletion5.84.0.r449.gae3b73a-15.84.0.r450.g08b30d1-1
                             kconfig5.84.0.r851.g17c1795-15.84.0.r852.g783d1c2-1
                      kconfigwidgets5.84.0.r605.g9fc356a-15.84.0.r607.gaae5c2d-1
                         kcoreaddons5.84.0.r1248.gc31262d9-15.84.0.r1262.g5d5834d8-1
                                kdav1:5.84.0.r1290.gd47ce67-11:5.84.0.r1293.g46d1baf-1
                          kdeconnect21.04.3.r3305.g2d674d8b-121.04.3.r3308.ge213eb50-1
                       kdepim-addons21.04.3.r4244.gaaa054a2-121.04.3.r4273.ga99b2587-1
                      kdepim-runtime21.04.3.r15166.gba1c7d082-121.04.3.r15179.g778b060e2-1
                    kdeplasma-addons5.22.4.r8568.g547d4c76a-15.22.4.r8571.gc6361d75e-1
                             kdialog21.04.3.r1185.g36c930b64-121.04.3.r1187.ga26935bba-1
                        kglobalaccel5.84.0.r453.gac6c8df-15.84.0.r454.g355e20c-1
                            khotkeys5.22.4.r2087.ge2022c8-15.22.4.r2088.g5e2bbcc-1
                 kidentitymanagement21.04.3.r3797.ge8dad504-121.04.3.r3808.gd2db1899-1
                                 kig21.04.3.r3144.g935b487f-121.04.3.r3145.g4e77085b-1
                       kimageformats5.84.0.r348.gfbeef55-15.84.0.r349.ga8f92e5-1
                               kimap21.04.3.r1102.g08437b8-121.04.3.r1103.g61ec98b-1
                         kinfocenter5.22.4.r1866.g2e4a2ae-15.22.4.r1873.gabe93df-1
                                 kio5.84.0.r4880.g8ff48402-15.84.0.r4909.g806d2b00-1
                          kio-extras21.04.3.r7097.gcab44f00-121.04.3.r7098.ge6afe2f9-1
                           kirigami25.84.0.r2847.g2545d845-15.84.0.r2857.g6c40eaa0-1
                          kitinerary21.04.3.r1862.g1cad576-121.04.3.r1869.ge0e7e5e-1
                               kldap21.04.3.r873.gdb5c003-121.04.3.r874.g717c9a5-1
                           kleopatra21.04.3.r5929.g0491d470-121.04.3.r5934.g09d0a26c-1
                            klickety21.04.3.r633.gf244a5d-121.04.3.r634.g0b9b09e-1
                              klines21.04.3.r762.g18475b8-121.04.3.r763.ge9a3a51-1
                               kmail21.04.3.r25874.gb1184f0bd-121.04.3.r25887.gf31451284-1
                kmail-account-wizard21.04.3.r795.g35d4ddf-121.04.3.r804.gd655743-1
                      kmailtransport21.04.3.r1624.g47b7f31-121.04.3.r1637.g49f684c-1
                               kmbox21.04.3.r531.g0315daf-121.04.3.r532.g1dbd7e6-1
                           kmenuedit5.22.4.r968.g2742003-15.22.4.r970.ge312ac2-1
                               kmime21.04.3.r1444.gf78da8f-121.04.3.r1445.g4d7c3cd-1
                                kmix21.04.3.r2375.gb5d115f0-121.04.3.r2378.g33e80f14-1
                              kmplot21.04.3.r1462.gf98fba7-121.04.3.r1464.g484cd7c-1
                            knetwalk21.04.3.r655.gfe0cc84-121.04.3.r656.g424c743-1
                           knewstuff5.84.0.r1190.g6402da6b-15.84.0.r1191.g0cc9f119-1
                              knotes21.04.3.r3492.g1fb0c138-121.04.3.r3494.g52f0e087-1
                                koko 21.07.r18.gbad9d21-1 21.07.r21.g9b48c5a-1
                                kolf21.04.3.r1436.gbc93f3b-121.04.3.r1438.g8386d3d-1
                           kollision21.04.3.r487.gaaff870-121.04.3.r490.ge5fde57-1
                           konqueror21.04.3.r14924.g57907035a-121.04.3.r14927.gadf291805-1
                            konquest21.04.3.r892.g00784cb-121.04.3.r895.gafbcde6-1
                             konsole21.04.3.r7914.gaba8bb03-121.04.3.r7917.gbbec7225-1
                             kontact21.04.3.r5366.gfb3ffdac-121.04.3.r5370.gd9e285ec-1
                    kontactinterface21.04.3.r623.g4f8ba48-121.04.3.r624.g48b9253-1
                          korganizer21.04.3.r11447.g9c7b8dc1c-121.04.3.r11455.g840f8391a-1
                       kosmindoormap21.04.3.r620.g24205b7-121.04.3.r628.g4ffe68e-1
                            kpackage5.84.0.r686.g6492079-15.84.0.r689.g01b766f-1
                              kparts5.84.0.r515.g5d0c684-15.84.0.r516.g9c751ff-1
                         kpeoplesink       r70.g59cc131-1       r72.g54b653d-1
                        kpimtextedit21.04.3.r1394.gab26ddd-121.04.3.r1400.g1298bc2-1
                             kpkpass21.04.3.r230.g394482f-121.04.3.r231.g9878df2-1
                    kpublictransport21.04.3.r1703.gf36365e-121.04.3.r1721.gf15dee4-1
                            kreversi21.04.3.r1220.g8303f0f-121.04.3.r1222.g668dbbd-1
                              kruler21.04.3.r693.gca54623-121.04.3.r695.g6155077-1
                             krunner5.84.0.r652.g75d0259-15.84.0.r660.ge4316d2-1
                             kscreen5.22.4.r1338.g845c8ab-15.22.4.r1339.g5fdd5ed-1
                       kscreenlocker5.22.4.r861.g7964776-15.22.4.r863.ga9b3fdc-1
                               ksmtp21.04.3.r359.g4c722cc-121.04.3.r360.g252e4a1-1
                          kspaceduel21.04.3.r626.gef3b8a8-121.04.3.r627.g704594a-1
                         ktexteditor5.84.0.r2906.g96182d63-15.84.0.r2911.g6fe00457-1
                              ktimer21.04.3.r467.g5691357-121.04.3.r468.g08ad6e6-1
                               ktnef21.04.3.r656.gb1891cd-121.04.3.r657.g6db4839-1
                            ktorrent21.04.3.r2757.g6e4727c1-121.04.3.r2763.g63832ef7-1
                             kturtle21.04.3.r1114.g1c96d4a-121.04.3.r1116.g57ace23-1
                             kwallet5.84.0.r1078.g60c8e9d-15.84.0.r1079.gaea7be1-1
                      kwalletmanager21.04.3.r1202.ged1d662-121.04.3.r1205.g4384d15-1
                     kwayland-server5.22.4.r1362.g7b59790-15.22.4.r1365.g260d461-1
                                kwin5.22.4.r19716.gf4c0e1993-15.22.4.r19742.g724f9a5db-1
                       kwindowsystem5.84.0.r600.g2ee7179-15.84.0.r605.g61cfaf3-1
                              kwrite21.04.3.r18306.gd3dd58cb9-121.04.3.r18323.g8fb90faec-1
                             kxmlgui5.84.0.r792.g06ec4803-15.84.0.r793.gac22655f-1
                          libakonadi21.04.3.r12536.g5a0b8217e-121.04.3.r12553.g7156605d0-1
                         libgravatar21.04.3.r359.g8ace9f1-121.04.3.r360.g81e937a-1
                           libkdepim21.04.3.r841.g24a530e-121.04.3.r842.g10f77da-1
                            libkgapi21.04.3.r1287.g81197c8-121.04.3.r1289.g258301b-1
                             libkleo21.04.3.r917.g0608fbe-121.04.3.r918.gc5adace-1
                        libkmahjongg21.04.3.r455.g5593450-121.04.3.r456.ga02d1ab-1
                            libksane21.04.3.r551.g0454ecf-121.04.3.r553.g644e071-1
                           libksieve21.04.3.r1559.gec618362-121.04.3.r1572.g292958af-1
                        libksysguard5.22.4.r2259.g2dac54c-15.22.4.r2270.g7f8e215-1
                          mailcommon21.04.3.r1077.gb9e92bd-121.04.3.r1085.g26af4ec-1
                        mailimporter21.04.3.r463.g21c0351-121.04.3.r464.g9bd4688-1
                              marble21.04.3.r13324.g9eb9c7494-121.04.3.r13326.gd34223487-1
                       marble-common21.04.3.r13324.g9eb9c7494-121.04.3.r13326.gd34223487-1
                           marble-qt21.04.3.r13324.g9eb9c7494-121.04.3.r13326.gd34223487-1
                           maui-clip 1.1.1.r11.g619cd12-1  2.0.0.r0.g619cd12-1
                           maui-nota 1.2.2.r59.g75b4c9c-1  2.0.0.r0.gd501118-1
                            maui-pix 1.2.2.r69.g52ea825-1  2.0.0.r0.gae52b1e-1
                             mauikit1.2.2.r167.g21371ec4-1 2.0.0.r0.g310ac842-1
                    mauikit-accounts        r10.d9f46d9-1  2.0.0.r0.gd9f46d9-1
                mauikit-filebrowsing 1.2.2.r72.g34d99f6-1  2.0.0.r0.g5357cad-1
                  mauikit-imagetools 1.2.2.r19.g977cd44-1  2.0.0.r0.g1dcafdc-1
                  mauikit-texteditor 1.2.2.r12.g5808dc0-1  2.0.0.r0.gbc65f72-1
                       mbox-importer21.04.3.r504.g99b2e67-121.04.3.r505.gb65ac8c-1
                          messagelib21.04.3.r6103.g6a30c582-121.04.3.r6120.gcfe20f60-1
                              okular21.04.3.r9409.g139b822b0-121.04.3.r9415.ga3f242cbc-1
                   pim-data-exporter21.04.3.r2424.g04e1aba4-121.04.3.r2434.g3a022254-1
                    pim-sieve-editor21.04.3.r1496.gf10b084-121.04.3.r1498.g6c3c612-1
                           pimcommon21.04.3.r1069.gc4cfdbb-121.07.80.r1081.g38e6086-1
          plasma-browser-integration5.22.4.r1270.ge87547ba-15.22.4.r1271.g6e2f76be-1
                      plasma-desktop5.22.4.r8567.g54bcb2677-15.22.4.r8577.g56f49e474-1
                    plasma-framework5.84.0.r15928.g42e64f455-15.84.0.r15940.g90a78d4d0-1
                    plasma-mobile-nm5.22.3.r3067.g99ed744a-15.22.3.r3070.g3213592c-1
                           plasma-nm5.22.3.r3067.g99ed744a-15.22.3.r3070.g3213592c-1
                     plasma-settings  21.07.r8.gaca9de5-1  21.07.r9.ge9abd2c-1
                plasma-systemmonitor5.22.4.r475.g2b4bc3d-15.22.4.r476.gf170e40-1
              plasma-wayland-session5.22.4.r10491.g7c43608e1-15.22.4.r10507.g1a2383f88-1
                    plasma-workspace5.22.4.r10491.g7c43608e1-15.22.4.r10507.g1a2383f88-1
                    polkit-kde-agent5.22.4.r499.g6aa608d-15.22.4.r501.g4c2c54a-1
                   qqc2-breeze-style5.22.4.r221.gbee656e-15.22.4.r222.gb6524b6-1
                  qqc2-desktop-style5.84.0.r502.g4db9bbb-15.84.0.r507.gd1ce238-1
                                sddm0.19.0.r51.g8a929e0-10.19.0.r59.g37a39d0-1
                               solid5.84.0.r693.g80310ba-15.84.0.r694.gec915ed-1
                           spectacle21.04.3.r1135.gd463449-121.04.3.r1146.gc168340-1
                             svgpart21.04.3.r177.gff5753d-121.04.3.r179.ga6fa58c-1
                 syntax-highlighting5.84.0.r1638.g5f4d8be2-15.84.0.r1639.gc6084409-1
                      systemsettings5.22.4.r2473.g41fe103f-15.22.4.r2479.g4d525b5d-1
       telepathy-kde-desktop-applets21.04.3.r994.g93ae844-121.04.3.r995.gc1eb268-1
                             tokodon  21.07.r5.g9f88f8d-1  21.07.r7.gb8fd218-1
                         vakzination        r78.8fd8d79-1        r85.163310d-1
                               vvave 1.2.2.r58.g5ca7e7d-1  2.0.0.r0.g8a0ebc6-1
                            wrapland5.22.0.r1513.g6b647c2-15.22.0.r1536.g6d7ebc9-1
              xdg-desktop-portal-kde5.22.4.r376.g681ba93-15.22.4.r377.g8c80da1-1


:: Different overlay package(s) in repository multilib x86_64

-------------------------------------------------------------------------------
                             PACKAGE           2021-08-06            2021-08-13
-------------------------------------------------------------------------------
                  lib32-nvidia-utils          470.57.02-1          470.63.01-1
                 lib32-opencl-nvidia          470.57.02-1          470.63.01-1
                       lib32-systemd              249.2-1              249.3-1


:: Different sync package(s) in repository multilib x86_64

-------------------------------------------------------------------------------
                             PACKAGE           2021-08-06            2021-08-13
-------------------------------------------------------------------------------
                        lib32-amdvlk          2021.Q3.2-1          2021.Q3.4-1
                 lib32-libjpeg-turbo              2.1.0-1              2.1.1-1
                         lib32-libnm             1.32.6-1             1.32.8-1
                     lib32-libxcrypt             4.4.23-1             4.4.25-1
                          lib32-llvm             12.0.1-1             12.0.1-2
                     lib32-llvm-libs             12.0.1-1             12.0.1-2
                           lib32-nss               3.68-1               3.69-1


No issue, everything went smoothly
Yes there was an issue. I was able to resolve it myself.(Please post your solution)
Yes i am currently experiencing an issue due to the update. (Please post about it)
Check if your mirror has already synced: