Hello community,
Another testing branch update with some usual updates for you.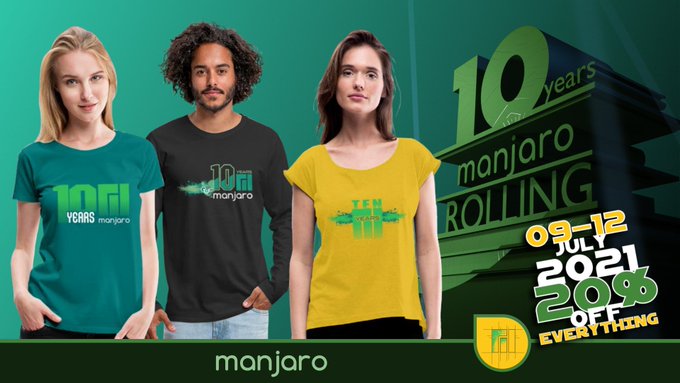 Don't miss out on our 10 years anniversary. Checkout our goodies…
@nightmare-2021 updated more Nemo-Extensions and renewed Cinnamon in general
Some fixes to Linux513 kernel series
Gnome got partly updated to 40.3
More KDE-Git updates
Other regular upstream updates
Get our latest daily developer images now from Github: Plasma, Gnome, XFCE. You get the latest stable releases of Manjaro from CDN77.
---
Our current supported kernels
linux44 4.4.274
linux49 4.9.274
linux414 4.14.238
linux419 4.19.196
linux54 5.4.130
linux510 5.10.48
linux512 5.12.15
linux513 5.13.1
linux510-rt 5.10.35_rt39
linux511-rt 5.11.4_rt11
Package Updates (Sun Jul 11 12:46:46 CEST 2021)
testing community x86_64: 78 new and 73 removed package(s)
testing core x86_64: 2 new and 2 removed package(s)
testing extra x86_64: 61 new and 61 removed package(s)
testing kde-unstable x86_64: 314 new and 313 removed package(s)
testing multilib x86_64: 5 new and 5 removed package(s)
:: Different overlay package(s) in repository community x86_64

-------------------------------------------------------------------------------
                             PACKAGE           2021-07-09           2021-07-11
-------------------------------------------------------------------------------
                            cinnamon              5.0.4-2              5.0.4-4
               cinnamon-translations              5.0.2-1              5.0.2-2
                      gtk3-typeahead            3.24.29-2            3.24.30-1
                      nemo-audio-tab              5.0.0-1              5.0.0-9
                        nemo-compare              5.0.0-2              5.0.0-9
                        nemo-emblems              5.0.0-1              5.0.0-9
                     nemo-fileroller              5.0.0-7              5.0.0-9
                nemo-image-converter              5.0.0-7              5.0.0-9
                  nemo-media-columns              5.0.0-2              5.0.0-9
                       nemo-pastebin              5.0.0-1              5.0.0-9
                        nemo-preview              5.0.0-7              5.0.0-9
                         nemo-python              5.0.0-7              5.0.0-9
                       nemo-repairer              5.0.0-7              5.0.0-9
                       nemo-seahorse              5.0.0-7              5.0.0-9
                          nemo-share              5.0.0-7              5.0.0-9
                       nemo-terminal              5.0.0-7              5.0.0-9
                            popsicle 1.3.0.r40.gd8e68c7-1 1.3.0.r41.ged43b8d-1
                             dropbox                    -       125.4.3474-1.1
                        nemo-dropbox                    -              5.0.0-9


:: Different sync package(s) in repository community x86_64

-------------------------------------------------------------------------------
                             PACKAGE           2021-07-09           2021-07-11
-------------------------------------------------------------------------------
                                 afl              2.57b-6              2.57b-7
                   archlinux-contrib           20210418-1           20210710-1
                                 bpf               5.12-1               5.13-1
                             cargo-c              0.9.0-1              0.9.1-1
                                ccls         0.20210330-2         0.20210330-3
               cgroup_event_listener               5.12-1               5.13-1
                            cpupower               5.12-1               5.13-1
                               doctl             1.61.0-1             1.62.0-1
                      efm-langserver             0.0.33-1             0.0.34-1
                                entr                4.9-1                5.0-1
                           freebasic             1.08.0-1             1.08.1-1
                             glances              3.1.7-1              3.2.0-1
                         gnome-boxes               40.2-1               40.3-1
                              hyperv               5.12-1               5.13-1
                    iio-sensor-proxy                3.0-1                3.1-1
                          jconvolver              1.0.3-2              1.1.0-1
                jedi-language-server             0.34.0-1             0.34.1-1
                                 k9s            0.24.13-1            0.24.14-1
                                 ldc           2:1.26.0-3           2:1.26.0-4
                          liblphobos           2:1.26.0-3           2:1.26.0-4
                    linux-tools-meta               5.12-1               5.13-1
                           liquidctl              1.6.1-1              1.7.0-1
                              logcli              2.2.1-2              2.2.1-3
                                loki              2.2.1-2              2.2.1-3
                         loki-canary              2.2.1-2              2.2.1-3
                              lutris            0.5.8.3-2            0.5.8.4-1
                                 lxd               4.15-1               4.16-1
                              mopidy              3.1.1-3              3.2.0-1
                      openfpgaloader              0.3.0-1              0.4.0-1
                                perf               5.12-1               5.13-1
                            promtail              2.2.1-2              2.2.1-3
                        pulseeffects              5.0.4-1                    -
                             pyright            1.1.155-1            1.1.156-1
                      python-aiogram             2.14.1-1             2.14.2-1
                      python-fastapi             0.65.2-1             0.66.0-1
                     python-identify             2.2.10-1             2.2.11-1
           python-importlib-metadata              4.5.0-1              4.6.0-1
                      python-libusb1              1.9.2-1              1.9.3-1
                   python-oslo-utils              4.9.1-1              4.9.2-1
                      python-pkginfo              1.7.0-1              1.7.1-1
                        python-pyusb              1.1.1-1              1.2.1-1
                  python-pyvhdlmodel             0.10.2-1             0.11.1-1
             python-ruamel.yaml.clib              0.2.3-1              0.2.4-1
                         python-zipp              3.4.1-1              3.5.0-1
               python-zope-component              5.0.0-1              5.0.1-1
                                repo               2.15-1               2.16-1
                        ruby-bundler             2.2.22-1             2.2.23-1
                             shotcut           21.05.18-2           21.06.29-1
                                tmon               5.12-1               5.13-1
                             ts-node             10.0.0-1             10.1.0-1
                   ttf-sarasa-gothic             0.32.9-1            0.32.10-1
                           turbostat               5.12-1               5.13-1
                               usbip               5.12-1               5.13-1
         v2ray-domain-list-community     20210707032357-1     20210709152606-1
                           vultr-cli              2.6.0-1              2.6.0-2
              x86_energy_perf_policy               5.12-1               5.13-1
                                 cue                    -              0.4.0-1
                         easyeffects                    -              6.0.1-1
                        lucky-commit                    -              2.0.4-1
                              pulumi                    -              3.6.1-2


:: Different overlay package(s) in repository core x86_64

-------------------------------------------------------------------------------
                             PACKAGE           2021-07-09           2021-07-11
-------------------------------------------------------------------------------
                            linux513             5.13.1-1             5.13.1-3
                    linux513-headers             5.13.1-1             5.13.1-3


:: Different overlay package(s) in repository extra x86_64

-------------------------------------------------------------------------------
                             PACKAGE           2021-07-09           2021-07-11
-------------------------------------------------------------------------------
                  linux513-acpi_call              1.1.0-3              1.1.0-5
                   linux513-bbswitch                0.8-3                0.8-5
                linux513-broadcom-wl       6.30.223.271-3       6.30.223.271-5
               linux513-nvidia-390xx            390.143-3            390.143-5
                     linux513-nvidia          470.42.01-3          470.42.01-5
                      linux513-r8168           8.049.02-2           8.049.02-4
                  linux513-rtl8723bu           20210519-4           20210519-6
                   linux513-tp_smapi               0.43-3               0.43-5
                linux513-vhba-module           20210418-3           20210418-5
    linux513-virtualbox-host-modules             6.1.22-3             6.1.22-5
                        linux513-zfs              2.1.0-2              2.1.0-4


:: Different sync package(s) in repository extra x86_64

-------------------------------------------------------------------------------
                             PACKAGE           2021-07-09           2021-07-11
-------------------------------------------------------------------------------
                        at-spi2-core             2.40.2-1             2.40.3-1
                               clang             12.0.0-1             12.0.1-1
                          claws-mail             3.17.8-2             3.18.0-1
                         compiler-rt             12.0.0-1             12.0.1-2
                           evolution             3.40.2-1             3.40.3-1
                evolution-bogofilter             3.40.2-1             3.40.3-1
               evolution-data-server             3.40.2-2             3.40.3-1
                       evolution-ews             3.40.2-1             3.40.3-1
              evolution-spamassassin             3.40.2-1             3.40.3-1
                    gnome-devel-docs               40.0-1               40.3-1
                          gnome-maps               40.2-1               40.3-1
                      gnome-software               40.2-1               40.3-1
    gnome-software-packagekit-plugin               40.2-1               40.3-1
                      gnome-terminal             3.40.2-1             3.40.3-1
                     gnome-user-docs               40.1-1               40.3-1
                     grml-zsh-config             0.18.0-1             0.19.0-1
                                gtk3          1:3.24.29-2          1:3.24.30-1
                          gtk3-demos          1:3.24.29-2          1:3.24.30-1
                           gtk3-docs          1:3.24.29-2          1:3.24.30-1
                           gucharmap             13.0.6-1             13.0.8-1
                            harfbuzz              2.8.1-1              2.8.2-1
                        harfbuzz-icu              2.8.1-1              2.8.2-1
                            kdevelop              5.6.2-4              5.6.2-5
                     lib32-rust-libs           1:1.53.0-1           1:1.53.0-2
                              libclc             12.0.0-1             12.0.1-1
                                 lld             12.0.0-1             12.0.1-1
                                lldb             12.0.0-1             12.0.1-1
                                llvm             12.0.0-2             12.0.1-1
                           llvm-libs             12.0.0-2             12.0.1-1
                          llvm-ocaml             12.0.0-2             12.0.1-1
                              openmp             12.0.0-1             12.0.1-1
                               polly             12.0.0-1             12.0.1-1
                    python-shiboken2             5.15.2-8             5.15.2-9
                           qt5-tools     5.15.2+kde+r17-2     5.15.2+kde+r17-3
                           qt6-tools              6.1.2-1              6.1.2-2
                           qtcreator             4.15.1-1             4.15.1-2
                                rust           1:1.53.0-1           1:1.53.0-2
                           rust-docs           1:1.53.0-1           1:1.53.0-2
                           rust-musl           1:1.53.0-1           1:1.53.0-2
                           shiboken2             5.15.2-8             5.15.2-9
                           shiboken6              6.1.2-1              6.1.2-2
                           syslog-ng             3.32.1-2             3.33.1-1
                          webkit2gtk             2.32.1-1             2.32.2-1
                       xorg-xwayland             21.1.1-1             21.1.2-1
                                yelp               40.2-1               40.3-1
                        zabbix-agent              5.4.1-1              5.4.2-1
                       zabbix-agent2              5.4.1-1              5.4.2-1
                 zabbix-frontend-php              5.4.1-1              5.4.2-1
                        zabbix-proxy              5.4.1-1              5.4.2-1
                       zabbix-server              5.4.1-1              5.4.2-1


:: Different overlay package(s) in repository kde-unstable x86_64

-------------------------------------------------------------------------------
                             PACKAGE           2021-07-09           2021-07-11
-------------------------------------------------------------------------------
                             akonadi21.04.2.r12515.g2e07fe28d-121.04.3.r12516.g93758aa11-1
                    akonadi-calendar21.04.2.r1954.gbf3d8b7-121.04.3.r1956.gc770d10-1
              akonadi-calendar-tools21.04.2.r872.g7f21b70-121.04.3.r874.g2e6d552-1
                    akonadi-contacts21.04.2.r3022.g1aa96c82-121.04.3.r3024.g614a0d92-1
               akonadi-import-wizard21.04.2.r1716.gbd54870-121.04.3.r1718.g43e6972-1
                        akonadi-mime21.04.2.r1626.g0006a8f-121.04.3.r1628.ge51f753-1
                       akonadi-notes21.04.2.r1010.gb743351-121.04.3.r1012.g430d2cf-1
                      akonadi-search21.04.2.r1103.gaee1f9e-121.04.3.r1105.gb33ef01-1
                      akonadiconsole21.04.2.r1498.gfc00c5a-121.04.3.r1500.gd183e56-1
                           akregator21.04.2.r6173.ge855484e-121.04.3.r6175.g8c1e30ff-1
                            amazfish 2.0.0.r24.g0224b18-1  2.0.1.r0.g34365e4-1
                            analitza21.04.2.r2330.g7072e346-121.04.3.r2330.g7072e346-1
                           angelfish 21.06.r12.gf37da52-1 21.06.r13.gccfa889-1
                                 ark21.04.2.r4557.gac44def3-121.04.3.r4592.g3fc51108-1
                          artikulate21.04.2.r1385.g92aea80-121.04.3.r1388.g89c15b6-1
                              attica5.83.0.r821.g4d990fe-15.83.0.r822.ga90893d-1
                         audiocd-kio21.04.2.r1023.g523fd27-121.04.3.r1023.g523fd27-1
                               baloo5.83.0.r2992.gfae7732d-25.83.0.r2993.g62c03736-1
                       baloo-widgets21.04.2.r679.g38ef1b5-121.04.3.r680.g5a3b20a-1
                             blinken21.04.2.r626.gb60beed-121.04.3.r627.g7ca2a7a-1
                            bluez-qt5.83.0.r664.gffacc11-25.83.0.r665.g9a25983-1
                              bomber21.04.2.r517.g428452c-121.04.3.r518.gc837d17-1
                                bovo21.04.2.r730.gf5f31ba-121.04.3.r731.g856c46e-1
                              breeze5.22.3.r2218.gfce6f4e0-15.22.3.r2219.g513e3f85-1
                        breeze-icons5.83.0.r1754.g0a3ab844-25.83.0.r1755.geec9a2c4-1
                     calendarsupport21.04.2.r563.g6540ad6-121.04.3.r565.g6d850c1-1
                            cervisia21.04.2.r1638.g468380b-121.04.3.r1639.g3007798-1
                            discover5.22.3.r8228.g97841f77-15.22.3.r8230.g0c1c9cfb-1
                             dolphin21.04.2.r6642.g997977c67-121.04.3.r6645.g3fdd93db9-1
                     dolphin-plugins21.04.2.r589.g2569d41-121.04.3.r591.g6f8984f-1
                              dragon21.04.2.r1005.g152fe4d-121.04.3.r1006.gd9f5cfa-1
                               elisa21.04.2.r2733.g0978dbcf-121.04.3.r2735.gdaf35e3d-1
                          eventviews21.04.2.r666.gd102fc0-121.04.3.r668.g3014d55-1
                 extra-cmake-modules5.83.0.r3332.g462fe7f-15.83.0.r3336.g2cdf59e-1
                        ffmpegthumbs21.04.2.r188.g00f9186-121.04.3.r189.g76a13b3-1
                           filelight21.04.2.r977.ge0644d2-121.04.3.r978.gd62b437-1
                frameworkintegration5.83.0.r587.g254467b-25.83.0.r588.gef4ec10-1
                           granatier21.04.2.r922.g3c125e9-121.04.3.r923.g82225d9-1
                     grantlee-editor21.04.2.r751.g3ddc43b-121.04.3.r753.ge9c63a8-1
                       grantleetheme21.04.2.r329.g48f9dc4-121.04.3.r330.g34a43de-1
                            gwenview21.04.2.r6636.g8dba6c3a-121.04.3.r6644.gb9a21ed5-1
                     incidenceeditor21.04.2.r738.g58d2f73-121.04.3.r741.g1fe1af6-1
                            index-fm 1.2.2.r91.g530c161-1 1.2.2.r94.g6bbd63c-1
                           itinerary21.04.2.r1352.gb3e7315-121.04.3.r1357.ga4c072c-1
                                 juk21.04.2.r3106.gd34d716e-121.04.3.r3108.g0e63bb44-1
                                 k3b1:21.04.2.r6650.gdff837e3d-11:21.04.3.r6652.gfbea53425-1
               kaccounts-integration21.04.2.r1207.gb36372a-121.04.3.r1209.g3b5ef30-1
                 kaccounts-providers21.04.2.r381.gd5e0c45-121.04.3.r382.g2f7fb54-1
                         kactivities5.83.0.r1350.g0fa2366-25.83.0.r1351.g5c286e5-1
                   kactivities-stats5.83.0.r359.gab7b28f-15.83.0.r360.g802b063-1
                        kaddressbook21.04.2.r5995.g694cd8b1-121.04.3.r5997.gfa671ad9-1
                             kajongg21.04.2.r4193.g4a2b535d-121.04.3.r4194.g40ecc58d-1
                              kalarm21.04.2.r6394.g2a57c2fb-121.04.3.r6397.g74325f9d-1
                           kalarmcal21.04.2.r1118.gbe911c1-121.04.3.r1120.g776f520-1
                            kalgebra21.04.2.r2038.g26158e2-121.04.3.r2039.gd170a8d-1
                             kalzium21.04.2.r4252.g25d31c6e-121.04.3.r4253.g1481dd2b-1
                              kamera21.04.2.r653.gd09472c-121.04.3.r654.g9eadd76-1
                              kamoso21.04.2.r1426.gd8d3254-121.04.3.r1427.gfda571b-1
                            kanagram21.04.2.r1279.g3b442dd-121.04.3.r1280.g871912c-1
                             kapidox5.83.0.r539.gb13f370-15.83.0.r540.g2fc5e0d-1
                              kapman21.04.2.r598.g38f1d17-121.04.3.r599.g98d5783-1
                        kapptemplate21.04.2.r952.gc75082b-121.04.3.r953.g27f61d7-1
                            karchive5.83.0.r491.g5a79756-15.83.0.r492.g2a1acbd-1
                                kate21.04.2.r18270.g843e009ff-121.04.3.r18273.ga030beb3c-1
                             katomic21.04.2.r912.g66bc837-121.04.3.r913.g943bd88-1
                               kauth5.83.0.r438.g5728e08-15.83.0.r439.gf48b5bf-1
                             kbackup21.04.2.r378.g9de6022-121.04.3.r379.gfa6fb9b-1
                           kblackbox21.04.2.r722.gd97346c-121.04.3.r723.g6ca4526-1
                             kblocks21.04.2.r638.g05069aa-121.04.3.r663.g4b38480-1
                          kbookmarks5.83.0.r409.g4270cd1-25.83.0.r410.gad346c1-1
                             kbounce21.04.2.r800.g8d8e66d-121.04.3.r801.gf8f667b-1
                           kbreakout21.04.2.r857.g7e70d5d-121.04.3.r858.g86ab50b-1
                              kbruch21.04.2.r814.gf0555bf-121.04.3.r815.ge3701fb-1
                         kcachegrind21.04.2.r1148.g3bc2c89-121.04.3.r1149.gd1fba77-1
                  kcachegrind-common21.04.2.r1148.g3bc2c89-121.04.3.r1149.gd1fba77-1
                               kcalc21.04.2.r1509.g37eeadb-121.04.3.r1510.g22dd01f-1
                       kcalendarcore5.83.0.r1217.gcf903ae1d-15.83.0.r1218.gaaab12e32-1
                           kcalutils21.04.2.r851.gf5ee92268-121.04.3.r853.g4d76234e9-1
                         kcharselect21.04.2.r467.gdd0fc94-121.04.3.r468.g53bc45e-1
                            kcmutils5.83.0.r522.g4e4df83-15.83.0.r523.g2411f4c-1
                       kcolorchooser21.04.2.r223.g7c57f18-121.04.3.r224.g29e79c1-1
                         kcompletion5.83.0.r445.g1c592f7-25.83.0.r446.g54e95d0-1
                             kconfig5.83.0.r845.g3c78617-15.83.0.r846.gbd53bb3-1
                      kconfigwidgets5.83.0.r593.g3f57f96-15.83.0.r594.gca482f1-1
                           kcontacts1:5.83.0.r3243.g97085a69-21:5.83.0.r3244.g2f7f8bcb-1
                         kcoreaddons5.83.0.r1239.g89ca317e-15.83.0.r1241.g4cd7e789-1
                              kcrash5.83.0.r398.g6077f47-15.83.0.r399.g4921623-1
                               kcron21.04.2.r773.gd10d4db-121.04.3.r773.gd10d4db-1
                                kdav1:5.83.0.r1288.g735ff1b-21:5.83.0.r1289.g2795a0d-1
                         kdbusaddons5.83.0.r369.g26d6ff1-15.83.0.r370.g29dfe25-1
                     kde-dev-scripts21.04.2.r4137.g8f98b13-121.04.3.r4137.g8f98b13-1
                       kde-dev-utils21.04.2.r555.gacbb751-121.04.3.r556.g6d918c3-1
                      kdebugsettings21.04.2.r813.gd16ded4-121.04.3.r816.gad08719-1
                        kdeclarative5.83.0.r900.gf5a17e9-25.83.0.r901.g580a694-1
                          kdeconnect21.04.2.r3276.g71d47195-121.04.3.r3277.g1d666fce-1
                                kded5.83.0.r408.g0e14b77-15.83.0.r409.g01943ff-1
                         kdeedu-data21.04.2.r15.g8dc3dee-121.04.3.r15.g8dc3dee-1
              kdegraphics-mobipocket21.04.2.r259.g9c61298-121.04.3.r259.g9c61298-1
            kdegraphics-thumbnailers21.04.2.r233.g3f941f1-121.04.3.r233.g3f941f1-1
                     kdelibs4support5.83.0.r1025.gf8c3d986-15.83.0.r1026.g44dee8c4-1
              kdenetwork-filesharing21.04.2.r889.g0abade9-121.04.3.r889.g0abade9-1
                       kdepim-addons21.04.2.r4225.g481cc71d-121.04.3.r4227.ge5e74b5d-1
                      kdepim-runtime21.04.2.r15140.g5c180193f-121.04.3.r15142.gaa080e4cd-1
                    kdesdk-kioslaves21.04.2.r497.g75b86a2-121.04.3.r498.g061c880-1
                 kdesdk-thumbnailers21.04.2.r83.gb498057-121.04.3.r84.gd7821b4-1
                     kdesignerplugin5.83.0.r327.g5a75ff1-25.83.0.r328.g0b12b99-1
                               kdesu5.83.0.r467.g050de94-15.83.0.r468.g3daa918-1
                           kdewebkit5.83.0.r273.g8f16e7c-25.83.0.r274.gefed877-1
                                 kdf21.04.2.r789.g18fb281-121.04.3.r790.gb2a8614-1
                             kdialog21.04.2.r1182.g5d39b2258-121.04.3.r1183.g3c9c5e3a9-1
                            kdiamond21.04.2.r664.ga52324f-121.04.3.r665.g639f619-1
                              kdnssd5.83.0.r314.gbecf0ea-25.83.0.r315.g4ba7121-1
                           kdoctools5.83.0.r613.g4c2ee25-15.83.0.r614.gb87709c-1
                      keditbookmarks21.04.2.r2739.gfc1e52c7a-121.04.3.r2740.g956c0e3dc-1
                          kemoticons5.83.0.r375.gd716cdb-25.83.0.r376.gbeed4ec-1
                       kfilemetadata5.83.0.r797.g16c2da9-25.83.0.r798.g3847089-1
                               kfind21.04.2.r2633.gdec396af2-121.04.3.r2634.gdce809f04-1
                             kfloppy21.04.2.r751.gebfcf7e-121.04.3.r752.g691d766-1
                         kfourinline21.04.2.r976.g21f4b7b-121.04.3.r977.gdc073b4-1
                          kgeography21.04.2.r1109.gc6e2f32-121.04.3.r1110.gc64e87c-1
                                kget21.04.2.r3115.g64fb2aae-121.04.3.r3116.gc75a0da8-1
                        kglobalaccel5.83.0.r450.ge32cc99-25.83.0.r451.g86899db-1
                         kgoldrunner21.04.2.r1233.g79bb3ce-121.04.3.r1234.g79209db-1
                                kgpg21.04.2.r3127.g9f6a724f-121.04.3.r3128.g374d7a3b-1
                          kguiaddons5.83.0.r376.g2a9ae43-25.83.0.r377.g9047512-1
                            khangman21.04.2.r1561.gff4ae6e-121.04.3.r1562.gd6f7474-1
                         khelpcenter21.04.2.r2672.gc21f879e-121.04.3.r2673.gc8241571-1
                           kholidays1:5.83.0.r940.g94f52b4-21:5.83.0.r943.gd0c15ca-1
                               khtml5.83.0.r549.g95abc4a-15.83.0.r550.g7734b7f-1
                               ki18n5.83.0.r469.gd181a83-15.83.0.r470.g4ef749b-1
                         kiconthemes5.83.0.r530.g7832968-15.83.0.r531.g7edcfab-1
                 kidentitymanagement21.04.2.r3788.g8d852666-121.04.3.r3790.g13e64e89-1
                           kidletime5.83.0.r305.g5e3bada-25.83.0.r306.g1e5792e-1
                                 kig21.04.2.r3139.g162f8839-121.04.3.r3140.gdcb670bd-1
                                kigo21.04.2.r517.g01b1bf2-121.04.3.r518.g9a11075-1
                            killbots21.04.2.r731.g8dd4bdf-121.04.3.r732.g7da9165-1
                     kimagemapeditor21.04.2.r468.g0dcb81a-121.04.3.r469.g9c81281-1
                               kimap21.04.2.r1097.g3eeb064-121.04.3.r1099.gf208eda-1
                               kinit5.83.0.r402.g9d3629e-25.83.0.r403.g88e23a2-1
                                 kio5.83.0.r4828.gd971c12a-15.83.0.r4831.gc5e428e7-1
                          kio-extras21.04.2.r7083.g044f1a13-121.04.3.r7088.gcec49d39-1
                          kio-gdrive21.04.2.r559.g6cb8190-121.04.3.r560.g44f483d-1
                        kipi-plugins21.04.2.r12061.g955fc31c6-121.04.3.r12061.g955fc31c6-1
                    kirigami-gallery21.04.2.r210.gfe235a2-121.04.3.r211.g09e7613-1
                           kirigami25.83.0.r2826.gd4d85108-15.83.0.r2827.gca0613ce-1
                              kiriki21.04.2.r416.g5aa16f6-121.04.3.r417.gec9e2ef-1
                         kitemmodels5.83.0.r544.g48bf306-25.83.0.r545.g755cdd1-1
                          kitemviews5.83.0.r329.gc590771-25.83.0.r330.g2716299-1
                               kiten21.04.2.r1141.g64eed40-121.04.3.r1142.g4553fc6-1
                          kitinerary21.04.2.r1817.gf57a27f-121.04.3.r1819.g636ed1c-1
                         kjobwidgets5.83.0.r367.g2206ec1-25.83.0.r368.g9c6142f-1
                                 kjs5.83.0.r328.g0d0145a-25.83.0.r329.gca14caf-1
                            kjsembed5.83.0.r297.gf32de40-25.83.0.r298.g9de8ed7-1
                        kjumpingcube21.04.2.r780.g8a72b44-121.04.3.r781.g2238a93-1
                               kldap21.04.2.r866.g12b4073-121.04.3.r867.gabcde43-1
                           kleopatra21.04.2.r5910.gaed5d582-121.04.3.r5912.g6fcb52f2-1
                            klettres21.04.2.r911.g0059da2-121.04.3.r912.g6f0aff5-1
                            klickety21.04.2.r625.g46a6720-121.04.3.r629.gbea1cbb-1
                              klines21.04.2.r736.g1c355c2-121.04.3.r737.ga8f6a45-1
                                kmag21.04.2.r688.g08e6700-121.04.3.r689.gdb43b34-1
                           kmahjongg21.04.2.r1465.ge40db83-121.04.3.r1466.g1b677ae-1
                               kmail21.04.2.r25831.g681e9fc63-121.04.3.r25833.g6d1037b38-1
                kmail-account-wizard21.04.2.r787.ge73547d-121.04.3.r789.gd5dac26-1
                      kmailtransport21.04.2.r1616.gaf3c0a8-121.04.3.r1618.gfc5b498-1
                               kmbox21.04.2.r525.g0f42b07-121.04.3.r527.g83803b0-1
                        kmediaplayer5.83.0.r289.g7c9045b-25.83.0.r290.gd16226b-1
                               kmime21.04.2.r1438.gac029b6-121.04.3.r1439.g54a0081-1
                              kmines21.04.2.r1710.g7f1be93-121.04.3.r1711.ge920658-1
                                kmix21.04.2.r2370.g0c1b292e-121.04.3.r2371.gdd7e4de8-1
                          kmousetool21.04.2.r387.g3e256a8-121.04.3.r387.g3e256a8-1
                              kmouth21.04.2.r692.g434a8a6-121.04.3.r692.g434a8a6-1
                              kmplot21.04.2.r1459.g6cdacb6-121.04.3.r1459.g6cdacb6-1
                        knavalbattle21.04.2.r1380.g137546b-121.04.3.r1381.gbe44ade-1
                            knetwalk21.04.2.r649.gaf2cc60-121.04.3.r650.g319553b-1
                           knewstuff5.83.0.r1181.ga18b1eb8-15.83.0.r1182.g6788cf4f-1
                             knights21.04.2.r1047.ga034f18-121.04.3.r1048.g593573b-1
                              knotes21.04.2.r3470.ga82ff2cf-121.04.3.r3472.gd80c5215-1
                      knotifications5.83.0.r665.ge25f1f5-15.83.0.r666.g4e638d1-1
                       knotifyconfig5.83.0.r345.g38fd196-25.83.0.r346.g1725410-1
                                kolf21.04.2.r1417.g76c4941-121.04.3.r1430.gfb632a5-1
                           kollision21.04.2.r484.gc3c81e1-121.04.3.r485.gbe33dc3-1
                         kolourpaint21.04.2.r2347.ge1ccb280-121.04.3.r2348.g11e1c189-1
                             kompare21.04.2.r1101.g90f8560-121.04.3.r1102.gc5cfcde-1
                           konqueror21.04.2.r14912.g5ef5bf6a2-121.04.3.r14913.g30aea7bcb-1
                            konquest21.04.2.r889.g8b64780-121.04.3.r890.g38d88bd-1
                             konsole21.04.2.r7880.g2f1450d8-121.04.3.r7882.g26018e3a-1
                             kontact21.04.2.r5332.g9df4f1ae-121.04.3.r5334.gee3b44d7-1
                    kontactinterface21.04.2.r618.g628c0f8-121.04.3.r619.g0a55daa-1
                            kontrast21.04.2.r168.g81ebf39-121.04.3.r169.gb64bb54-1
                        konversation21.04.2.r8985.geca4d255-121.04.3.r8986.gf06db9ae-1
                       kopeninghours21.04.2.r266.g95e49b8-121.04.3.r267.g81cc4e5-1
                          korganizer21.04.2.r11400.g81a19f7be-121.04.3.r11402.g0b52665a7-1
                       kosmindoormap21.04.2.r616.ga4f1f73-121.04.3.r619.geb851a4-1
                            kpackage5.83.0.r674.g1b54b0f-15.83.0.r675.g9acb251-1
                              kparts5.83.0.r511.g0a39505-15.83.0.r512.g4dbc8b4-1
                                kpat21.04.2.r2556.g68ca11e-121.04.3.r2559.g1b5eda1-1
                             kpeople5.83.0.r1334.g62992d8-15.83.0.r1335.gb6b58af-1
                        kpimtextedit21.04.2.r1390.gd2e1e5b-121.04.3.r1391.gd4bd96c-1
                             kpkpass21.04.2.r227.g601832f-121.04.3.r228.gae0f666-1
                           kplotting5.83.0.r284.g4f0e792-25.83.0.r285.g48b6d33-1
                             kpmcore21.04.2.r1194.g4c32c38-121.04.3.r1195.gc47ee6c-1
                                kpty5.83.0.r329.gff6fc7b-15.83.0.r330.g03a517a-1
                    kpublictransport21.04.2.r1690.g01b06da-121.04.3.r1691.g86c0f24-1
                      kqtquickcharts21.04.2.r74.g264af68-121.04.3.r74.g264af68-1
                        kquickcharts5.83.0.r463.g6ec02ab-25.83.0.r464.gec46053-1
                                krdc21.04.2.r1528.g941a660-121.04.3.r1529.gdb18bb3-1
                            kreversi21.04.2.r1215.g2e6ab59-121.04.3.r1216.gc9646c1-1
                                krfb21.04.2.r1406.gc729e9e-121.04.3.r1407.g75bff9d-1
                               kross5.83.0.r327.gce48a10-25.83.0.r328.g7d48e4f-1
                  kross-interpreters21.04.2.r722.g8d54326-121.04.3.r722.g8d54326-1
                              kruler21.04.2.r690.g74016c0-121.04.3.r691.gbdd7e07-1
                             krunner5.83.0.r641.g99d4567-15.83.0.r642.gbcd11b6-1
                            kservice5.83.0.r921.gfc55736-25.83.0.r922.g2900204-1
                             kshisen21.04.2.r1194.g3f86e15-121.04.3.r1195.g782afbf-1
                               ksirk21.04.2.r957.g4ba7a93-121.04.3.r958.g762ccee-1
                               ksmtp21.04.2.r354.g4dfed27-121.04.3.r355.g568aabe-1
                          ksnakeduel21.04.2.r795.gf98040c-121.04.3.r796.gb4178a5-1
                          kspaceduel21.04.2.r622.g6bc1c55-121.04.3.r623.g026456a-1
                            ksquares21.04.2.r510.g5b14a07-121.04.3.r511.gd306032-1
                             ksudoku21.04.2.r1045.gad36aa3-121.04.3.r1046.g245abab-1
                          ksystemlog21.04.2.r646.gd0f7cb7-121.04.3.r647.g73699c0-1
                            kteatime21.04.2.r718.g6a17ff9-121.04.3.r719.g28209c4-1
                         ktexteditor5.83.0.r2898.g9fb98f04-15.83.0.r2902.g7e7f454d-1
                        ktextwidgets5.83.0.r401.g1bec4bc-25.83.0.r402.g3399228-1
                              ktimer21.04.2.r465.gf36068f-121.04.3.r466.g3495155-1
                               ktnef21.04.2.r651.gb1a0ef1-121.04.3.r653.g18465b3-1
                            ktorrent21.04.2.r2754.g4e182028-121.04.3.r2755.gd3a3239c-1
                              ktouch21.04.2.r2135.gdbdcac3-121.04.3.r2136.g3f40f66-1
                          ktuberling21.04.2.r1002.g1aebb73-121.04.3.r1003.g75890ff-1
                             kturtle21.04.2.r1112.g5dbfdfd-121.04.3.r1113.g94c8f6d-1
                             kubrick21.04.2.r364.g3199178-121.04.3.r365.gc949aa8-1
                     kunitconversion5.83.0.r367.gbe47ed6-25.83.0.r368.gfafa510-1
                             kwallet5.83.0.r1074.g245db08-15.83.0.r1075.gf5fc49b-1
                      kwalletmanager21.04.2.r1198.gfce848b-121.04.3.r1199.gbdc66ef-1
                               kwave21.04.2.r3736.gc640cb05-121.04.3.r3737.gc6213fa5-1
                            kwayland5.83.0.r1093.g2634a19-25.83.0.r1094.g1644a14-1
                      kwidgetsaddons5.83.0.r832.g9aff614b-15.83.0.r833.gbac6de40-1
                                kwin5.22.3.r19626.geb62dbb9c-15.22.3.r19637.g3c28a7895-1
                       kwindowsystem5.83.0.r596.g5413356-25.83.0.r597.gcb33999-1
                           kwordquiz21.04.2.r1138.gb06599e-121.04.3.r1139.g62eb3a3-1
                              kwrite21.04.2.r18270.g843e009ff-121.04.3.r18273.ga030beb3c-1
                             kxmlgui5.83.0.r784.g8df0baa5-25.83.0.r785.g4c6acb75-1
                       kxmlrpcclient5.83.0.r450.g179493558-25.83.0.r451.g330436966-1
                          libakonadi21.04.2.r12515.g2e07fe28d-121.04.3.r12516.g93758aa11-1
                         libgravatar21.04.2.r355.g5d20b94-121.04.3.r357.g9f889eb-1
                            libkcddb21.04.2.r736.g24d5755-121.04.3.r736.g24d5755-1
                     libkcompactdisc21.04.2.r386.g4f9a6d2-121.04.3.r386.g4f9a6d2-1
                           libkdcraw21.04.2.r1148.g4af2f68-121.04.3.r1148.g4af2f68-1
                         libkdegames21.04.2.r2179.g27e8411d-121.04.3.r2180.g2c7d3c92-1
                           libkdepim21.04.2.r836.g890a699-121.04.3.r837.g598ba87-1
                  libkeduvocdocument21.04.2.r1791.g4966f86-121.04.3.r1791.g4966f86-1
                           libkexiv221.04.2.r815.gb0e00f4-121.04.3.r815.gb0e00f4-1
                            libkgapi21.04.2.r1283.gb36dfec-121.04.3.r1284.gece0c21-1
                             libkipi21.04.2.r1250.geea9c7b-121.04.3.r1250.geea9c7b-1
                             libkleo21.04.2.r910.g2e86bc4-121.04.3.r912.g959202f-1
                        libkmahjongg21.04.2.r452.g51782b7-121.04.3.r452.g51782b7-1
                     libkomparediff221.04.2.r336.g36da81f-121.04.3.r336.g36da81f-1
                            libksane21.04.2.r547.g08ea3fb-121.04.3.r549.gcd38e98-1
                           libksieve21.04.2.r1542.g8aac1d72-121.04.3.r1544.g46ebfa3b-1
                         libktorrent21.04.2.r519.gdb6f72a-121.04.3.r520.g614e231-1
                            lokalize21.04.2.r1766.gb3ddfa4-121.04.3.r1767.g3541bb0-1
                               lskat21.04.2.r804.g44c85ee-121.04.3.r805.gb70ac1d-1
                          mailcommon21.04.2.r1050.g39bab20-121.04.3.r1052.g5c2a5f0-1
                        mailimporter21.04.2.r458.g45c9054-121.04.3.r460.g44b01f7-1
                              marble21.04.2.r13315.g446a2e579-121.04.3.r13315.g446a2e579-1
                       marble-common21.04.2.r13315.g446a2e579-121.04.3.r13315.g446a2e579-1
                           marble-qt21.04.2.r13315.g446a2e579-121.04.3.r13315.g446a2e579-1
                        markdownpart21.04.2.r75.g316527e-121.04.3.r76.gcf104d8-1
                mauikit-filebrowsing 1.2.2.r62.g7308f40-1 1.2.2.r64.ga123902-1
                       mbox-importer21.04.2.r499.gdefd5ca-121.04.3.r501.gf10f3b2-1
                          messagelib21.04.2.r6058.g455c6161-121.04.3.r6060.g20eecc71-1
                              minuet21.04.2.r576.g9a21ace-121.04.3.r577.ga4303ed-1
                     modemmanager-qt5.83.0.r512.g203eba9-15.83.0.r513.gaf2046f-1
                   networkmanager-qt5.83.0.r1108.g515fd72-15.83.0.r1109.gc4f8663-1
                              okular21.04.2.r9391.g16da5cb4b-121.04.3.r9393.g5447aa102-1
                            palapeli21.04.2.r1224.g8423eb3-121.04.3.r1225.gfd17215-1
                              parley21.04.2.r4413.g0ad7c21c-121.04.3.r4414.gdc7ae8d4-1
                    partitionmanager21.04.2.r1527.ga3d219f-121.04.3.r1528.gc0565bd-1
                               picmi21.04.2.r526.ge88c260-121.04.3.r526.ge88c260-1
                   pim-data-exporter21.04.2.r2418.gaeb2a8d9-121.04.3.r2420.g0cea7e4c-1
                    pim-sieve-editor21.04.2.r1489.ge57c629-121.04.3.r1492.g08c3b67-1
                           pimcommon21.04.2.r1059.g5a84448-121.04.3.r1061.gc62573e-1
                      plasma-desktop5.22.3.r8540.gec4ef922f-15.22.3.r8541.g51a9de3fe-1
                    plasma-framework5.83.0.r15906.g815ddd3fc-15.83.0.r15909.g057b74476-1
                               poxml21.04.2.r277.ge2d4dfb-121.04.3.r277.ge2d4dfb-1
                       print-manager21.04.2.r1032.g82890fb-121.04.3.r1033.g927adec-1
                              prison5.83.0.r318.gdad8665-25.83.0.r320.geb20509-1
                             purpose5.83.0.r861.g7ae34b9-25.83.0.r862.g2ca6b6b-1
                         qcachegrind21.04.2.r1148.g3bc2c89-121.04.3.r1149.gd1fba77-1
                  qqc2-desktop-style5.83.0.r496.g9d0a282-15.83.0.r497.gcc0df39-1
            signon-kwallet-extension21.04.2.r64.g47e187d-121.04.3.r65.g82912be-1
                               solid5.83.0.r685.g52c8e26-15.83.0.r686.g0e654ed-1
                              sonnet5.83.0.r619.g248722a-25.83.0.r620.g430697e-1
                           spectacle21.04.2.r1129.g10bdf72-121.04.3.r1131.g2f344ce-1
                                step21.04.2.r1152.g87e3f73-121.04.3.r1153.g28928cf-1
                             svgpart21.04.2.r169.g1eb8c63-121.04.3.r173.g5e2839c-1
                             sweeper21.04.2.r523.g4bea686-121.04.3.r526.g2d5be70-1
                         syndication5.83.0.r831.gfaf12a7-25.83.0.r832.g468e4ca-1
                 syntax-highlighting5.83.0.r1618.g137dd800-15.83.0.r1623.gd5c4d1fe-1
                      systemsettings5.22.3.r2450.g7703f95b-15.22.3.r2453.g07fcc030-1
          telepathy-kde-accounts-kcm21.04.2.r1194.ga92f0c8-121.04.3.r1195.gd0ffbec-1
              telepathy-kde-approver21.04.2.r294.g6594053-121.04.3.r295.g4f4fc32-1
      telepathy-kde-common-internals21.04.2.r1993.g48d6a2e-121.04.3.r1994.g4d6f30e-1
        telepathy-kde-contact-runner21.04.2.r252.g6d4f602-121.04.3.r253.g9fa10bb-1
       telepathy-kde-desktop-applets21.04.2.r993.g24d97f9-121.04.3.r994.g93ae844-1
  telepathy-kde-filetransfer-handler21.04.2.r219.gd345782-121.04.3.r220.g3eb1cbb-1
    telepathy-kde-integration-module21.04.2.r390.g08eac55-121.04.3.r391.g52b0f46-1
                        threadweaver5.83.0.r501.g156fdb6-25.83.0.r502.g79794c5-1
                            umbrello21.04.2.r8260.g929067310-121.04.3.r8261.g8ac7e25df-1
                               vvave 1.2.2.r47.g3b5a993-1 1.2.2.r48.g709b880-1
              xdg-desktop-portal-kde5.22.3.r373.gaa01e6e-15.22.3.r374.g96ead88-1
                             yakuake21.04.2.r722.g0eb3a30-121.04.3.r723.gf920d67-1
                    zeroconf-ioslave21.04.2.r352.ge96d9ca-121.04.3.r353.g4db270b-1
                    plasma-mobile-nm                    -5.21.4.r3061.gf6e45d40-1


:: Different sync package(s) in repository multilib x86_64

-------------------------------------------------------------------------------
                             PACKAGE           2021-07-09           2021-07-11
-------------------------------------------------------------------------------
                         lib32-clang             12.0.0-1             12.0.1-1
                      lib32-harfbuzz              2.8.1-1              2.8.2-1
                  lib32-harfbuzz-icu              2.8.1-1              2.8.2-1
                          lib32-llvm             12.0.0-2             12.0.1-1
                     lib32-llvm-libs             12.0.0-2             12.0.1-1



No issue, everything went smoothly
Yes there was an issue. I was able to resolve it myself.(Please post your solution)
Yes i am currently experiencing an issue due to the update. (Please post about it)
Check if your mirror has already synced: