Hello community,
Another testing branch update with some usual updates for you.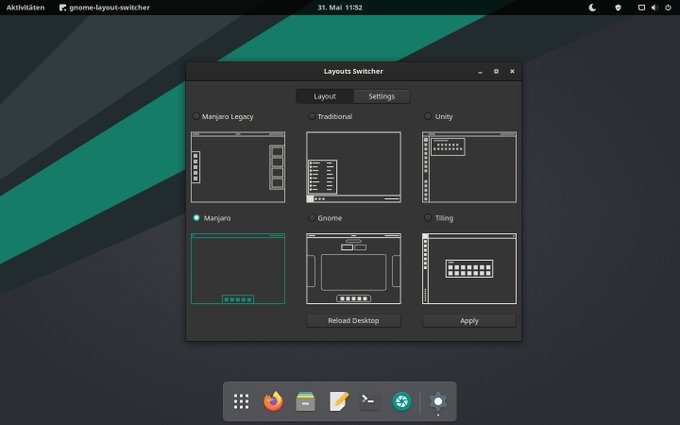 Test Gnome 40.1 with our latest developers ISO
Most of our Kernels got updated
Gnome Shell and our Extensions got updated to 40.1
There was a perl rebuild by upstream Arch. Tell us if we missed some rebuilds!
Cutefish DE got added
Cinnamon going to get updated to 5.0.0
Kodi-Addons got updated
AMDVLK is now at 2021.Q2.4
Other regular upstream updates including python, tesseract and haskell
Get our latest daily developer images now from Github: Plasma, Gnome, XFCE. You get the latest stable releases of Manjaro from CDN77.
---
Our current supported kernels
linux44 4.4.270
linux49 4.9.270
linux414 4.14.234
linux419 4.19.192
linux54 5.4.123
linux510 5.10.41
linux511 5.11.22
linux512 5.12.8
linux513 5.13-rc3
linux54-rt 5.4.115_rt57
linux59-rt 5.9.1_rt19
linux511-rt 5.11.4_rt11
Package Updates (Mon May 31 09:42:31 CEST 2021)
testing community x86_64: 1845 new and 1807 removed package(s)
testing core x86_64: 37 new and 37 removed package(s)
testing extra x86_64: 485 new and 552 removed package(s)
testing kde-unstable x86_64: 367 new and 363 removed package(s)
testing multilib x86_64: 26 new and 24 removed package(s)
A detailed list of all package changes can be found here.
No issue, everything went smoothly
Yes there was an issue. I was able to resolve it myself.(Please post your solution)
Yes i am currently experiencing an issue due to the update. (Please post about it)
Check if your mirror has already synced: