Hello community,
Another testing branch update with some usual updates for you.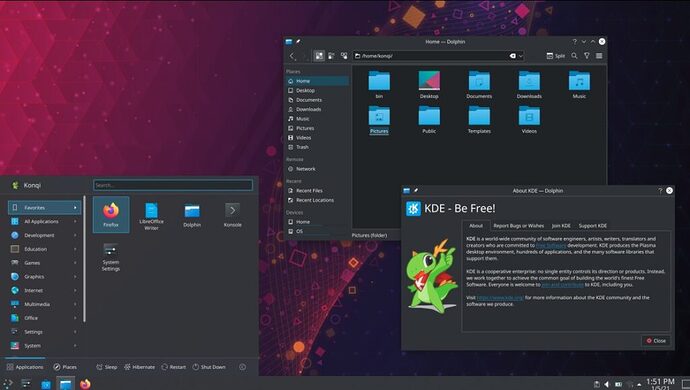 Get the latest Plasma releases based on git-master branch via our daily-builds
Plasma 5.21.3 got released yesterday
Systemd is at 247.4, which also reduces boot-up times
gstreamer got also updated
Other regular upstream updates including python and haskell
Get our latest daily developer images now from Github: Plasma, Gnome, XFCE. You can also help us with the Stable-Review images, so the upcoming installer ISOs are solid for Newcomers!
---
Our current supported kernels
linux44 4.4.261
linux49 4.9.261
linux414 4.14.225
linux419 4.19.180
linux54 5.4.105
linux59 5.9.16 [EOL]
linux510 5.10.23
linux511 5.11.6
linux512 5.12-rc3
linux54-rt 5.4.102_rt53
linux59-rt 5.9.1_rt19
Packages Changes (Wed Mar 17 11:03:48 CET 2021)
testing community x86_64: 187 new and 170 removed package(s)
testing core x86_64: 17 new and 17 removed package(s)
testing extra x86_64: 101 new and 103 removed package(s)
testing kde-unstable x86_64: 277 new and 277 removed package(s)
testing multilib x86_64: 15 new and 15 removed package(s)
:: Different overlay package(s) in repository community x86_64

-------------------------------------------------------------------------------
                             PACKAGE           2021-03-15           2021-03-17
-------------------------------------------------------------------------------
                        auto-cpufreq  1.6.4.r0.ge1409aa-1  1.6.4.r0.ge1409aa-2
                      gtk3-typeahead            3.24.27-3            3.24.27-4
                          rpi-imager                1.5-1                1.6-1
                              ventoy             1.0.37-1             1.0.38-1
            manjaro-refind-installer                    -                0.2-1


:: Different sync package(s) in repository community x86_64

-------------------------------------------------------------------------------
                             PACKAGE           2021-03-15           2021-03-17
-------------------------------------------------------------------------------
                             absl-py             0.11.0-3             0.12.0-1
                        ansible-base             2.10.6-1             2.10.7-1
                        ansible-lint              5.0.3-2              5.0.3-3
                             arduino           1:1.8.13-2           1:1.8.13-3
                      aspnet-runtime       3.1.8.sdk108-1       5.0.4.sdk104-1
               aspnet-targeting-pack       3.1.8.sdk108-1       5.0.4.sdk104-1
                            autopep8            1:1.5.5-1            1:1.5.6-1
                               boinc            7.16.12-1            7.16.14-1
                           boinc-nox            7.16.12-1            7.16.14-1
                          bsequencer              1.8.6-1              1.8.8-1
                              bshapr               0.10-1               0.11-1
                              bslizr             1.2.10-1             1.2.12-1
                            buildbot             2.10.1-2             2.10.4-1
                     buildbot-common             2.10.1-2             2.10.4-1
                       buildbot-docs             2.10.1-2             2.10.4-1
                     buildbot-worker             2.10.1-2             2.10.4-1
                          cargo-fuzz              0.8.0-1             0.10.0-1
                           clash-ghc              1.4.0-3              1.4.0-4
                             clojure         1.10.2.796-1         1.10.3.814-1
                        cozy-desktop             3.26.0-1             3.26.1-1
                          cozy-stack           1:1.4.27-1           1:1.4.28-1
                                croc             8.6.10-1             8.6.11-1
                             dbeaver              7.3.3-1             21.0.0-2
                       distrho-ports         2021.01.15-1         2021.03.15-1
                         dotnet-host       3.1.8.sdk108-1       5.0.4.sdk104-1
                      dotnet-runtime       3.1.8.sdk108-1       5.0.4.sdk104-1
                          dotnet-sdk       3.1.8.sdk108-1       5.0.4.sdk104-1
               dotnet-targeting-pack       3.1.8.sdk108-1       5.0.4.sdk104-1
                 dovecot-fts-elastic              1.0.0-2              1.0.0-4
                             drumkv1             0.9.20-1             0.9.21-2
                     element-desktop             1.7.22-1             1.7.23-1
                         element-web             1.7.22-1             1.7.23-1
                         emby-server            4.5.4.0-2            4.5.4.0-3
                           etherwall              3.0.2-2              3.0.2-3
                           exploitdb           20210309-1           20210316-1
                             freerdp            2:2.3.1-1            2:2.3.2-1
                            geogebra          6.0.620.0-1          6.0.631.0-1
                               gitui             0.12.0-2             0.12.0-3
                           goocanvas              2.0.4-7              3.0.0-1
                         goocanvasmm            1.90.11-4            1.90.11-5
                                grim              1.3.1-1              1.3.1-2
                                grpc             1.36.2-2             1.36.3-1
                            grpc-cli             1.36.2-2             1.36.3-1
                             haproxy              2.3.6-1              2.3.7-1
     haskell-bytestring-tree-builder            0.2.7.6-2            0.2.7.7-1
                          haskell-ci           0.10.3-202           0.10.3-204
                   haskell-clash-lib              1.4.0-3              1.4.0-4
               haskell-clash-prelude              1.4.0-3              1.4.0-4
      haskell-data-accessor-template          0.2.1.16-17          0.2.1.16-18
                   haskell-doclayout               0.3-85            0.3.0.1-1
                haskell-doctemplates               0.9-30               0.9-31
                      haskell-hakyll           4.14.0.0-1           4.14.0.0-3
           haskell-hasql-transaction          1.0.0.1-188          1.0.0.1-189
                haskell-non-negative            0.1.2-113            0.1.2-114
                  haskell-singletons              2.7-111                3.0-1
                 haskell-skylighting             0.10.3-3             0.10.4-1
            haskell-skylighting-core             0.10.3-3             0.10.4-1
             haskell-storable-record              0.0.5-6              0.0.5-7
              haskell-storable-tuple          0.0.3.3-143          0.0.3.3-144
              haskell-storablevector          0.2.13.1-68          0.2.13.1-69
                  haskell-th-desugar              1.11-81               1.12-1
                  haskell-utility-ht             0.0.15-6             0.0.16-1
                             hledger               1.21-2               1.21-3
                          hledger-ui               1.21-2               1.21-3
                         hledger-web               1.21-4               1.21-5
                              hoogle          5.0.18.1-78          5.0.18.1-79
                               hydra                9.1-1                9.2-1
                  intel-media-driver             20.4.5-1             21.1.2-1
     intellij-idea-community-edition         4:2020.3.2-1         4:2020.3.3-1
                          jack_mixer                 15-1               15.1-1
                jedi-language-server             0.27.2-1             0.28.3-1
                             jenkins              2.283-1              2.284-1
                            joyutils              1.6.1-2              1.7.1-1
                              libgda             5.2.10-1             5.2.10-2
                     libgda-firebird             5.2.10-1             5.2.10-2
                         libgda-jdbc             5.2.10-1             5.2.10-2
                        libgda-mysql             5.2.10-1             5.2.10-2
                     libgda-postgres             5.2.10-1             5.2.10-2
                             libxmlb              0.2.1-1              0.3.0-1
               matrix-appservice-irc             0.24.0-1             0.25.0-1
                        matterbridge             1.22.0-1             1.22.0-2
                          metasploit             6.0.33-1             6.0.34-1
                            molecule              3.2.3-1              3.2.4-1
                        mono-msbuild16.8.xamarinxplat.2020.07.30.15.02-116.8.xamarinxplat.2020.07.30.15.02-2
            mono-msbuild-sdkresolver16.8.xamarinxplat.2020.07.30.15.02-116.8.xamarinxplat.2020.07.30.15.02-2
                           musescore              3.6.1-1              3.6.2-1
          netstandard-targeting-pack       3.1.8.sdk108-1       5.0.4.sdk104-1
                                 nnn                3.5-1                3.6-1
                   nodejs-lts-erbium            12.21.0-1            12.21.0-2
                              nuitka           0.6.12.3-1           0.6.12.4-1
                           ocrfeeder              0.8.3-3              0.8.3-4
                        openfortivpn             1.16.0-1             1.16.0-2
                              ospray              1.8.5-1              2.5.0-1
                             padthv1             0.9.20-1             0.9.21-1
                              pandoc             2.11.4-7             2.11.4-9
                     pandoc-citeproc         0.17.0.2-232         0.17.0.2-234
                     pandoc-crossref           0.3.9.0-45           0.3.9.0-48
                            paraview              5.8.1-4              5.9.0-1
                     perl-goocanvas2               0.06-2               0.06-3
                            php-grpc             1.36.2-2             1.36.3-1
                           php7-grpc             1.36.2-2             1.36.3-1
                           postgrest            7.0.1-269            7.0.1-270
               python-beautifulsoup4              4.9.3-3              4.9.3-4
              python-buildbot-badges             2.10.1-2             2.10.4-1
        python-buildbot-console-view             2.10.1-2             2.10.4-1
           python-buildbot-grid-view             2.10.1-2             2.10.4-1
      python-buildbot-waterfall-view             2.10.1-2             2.10.4-1
     python-buildbot-wsgi-dashboards             2.10.1-2             2.10.4-1
                 python-buildbot-www             2.10.1-2             2.10.4-1
                      python-certifi          2020.6.20-3          2020.12.5-1
                 python-cinderclient              7.3.0-1              7.4.0-1
                    python-cysignals             1.10.2-8             1.10.3-1
                        python-faker              6.6.0-1              6.6.1-1
                       python-fsspec              0.8.5-1              0.8.7-1
                       python-grpcio             1.36.2-2             1.36.3-1
                         python-h5py              3.1.0-3              3.2.1-1
                 python-h5py-openmpi              3.1.0-3              3.2.1-1
                         python-ipdb             0.13.6-1             0.13.7-1
                  python-jaraco.envs              2.1.0-1              2.1.1-1
                  python-jaraco.test              4.0.1-1              5.0.0-1
                         python-lmdb              1.0.0-3              1.1.1-1
                      python-netcdf4            1.5.5.1-1              1.5.6-1
              python-netcdf4-openmpi            1.5.5.1-1              1.5.6-1
                        python-param             1.10.0-1             1.10.1-1
                      python-pikepdf        2.8.0.post2-1              2.9.0-1
                  python-pycodestyle              2.6.0-3              2.7.0-1
                        python-pygls              0.9.1-4             0.10.0-1
                  python-pyls-spyder              0.3.0-1              0.3.2-1
                 python-pyscreenshot                2.2-3                2.3-1
             python-pyvirtualdisplay                2.0-1                2.1-1
               python-spyder-kernels             1.10.1-1             1.10.2-1
                    python-symengine              0.7.0-1        0.7.0.post2-1
                       python-xarray             0.16.2-1             0.17.0-1
                         python-yaml              5.3.1-4            5.4.1.1-1
                    python2-autopep8            1:1.5.5-1            1:1.5.6-1
              python2-beautifulsoup4              4.9.3-3                    -
                 python2-pycodestyle              2.6.0-3              2.7.0-1
                   python2-soupsieve              1.9.6-2                    -
                        python2-yaml              5.3.1-4            5.4.1.1-1
                            qjackctl              0.9.1-1              0.9.2-1
                            qmidictl              0.9.1-1              0.9.2-1
                            qmidinet              0.9.1-1              0.9.2-1
                            qsampler              0.9.1-1              0.9.2-1
                              qsynth              0.9.1-1              0.9.2-1
                             qxgedit              0.9.1-1              0.9.2-1
                           rng-tools               6.11-1               6.12-1
                          ruby-mocha             1.11.2-2             1.12.0-1
                       rust-analyzer           20210308-1           20210315-1
                    sage-data-graphs           20161026-3           20210214-1
                             samplv1             0.9.20-1             0.9.21-1
                          shellcheck            0.7.1-331            0.7.1-333
                              spyder              4.2.1-2              4.2.3-1
                             synthv1             0.9.20-1             0.9.21-1
                           tailscale              1.4.6-1              1.6.0-1
                          testssl.sh              3.0.2-1              3.0.4-1
                                 tor            0.4.5.6-1            0.4.5.7-1
                   ttf-sarasa-gothic             0.18.6-1             0.18.7-1
                               twine              3.3.0-1              3.4.0-1
                               v2ray             4.35.1-1             4.36.1-1
         v2ray-domain-list-community     20210314064711-1     20210316053120-1
                         v2ray-geoip       202103110015-1       202103150217-1
                            vim-jedi             0.10.0-4             0.11.0-1
                          vim-tagbar                2.7-3              3.0.0-1
                               xmms20.8DrO_o.7391.dedc33d7-20.8DrO_o.7391.dedc33d7-3
                                 yad                9.0-1                9.1-1
                                zimg              3.0.1-1                    -
                  aspnet-runtime-3.1                    -      3.1.12.sdk112-3
           aspnet-targeting-pack-3.1                    -      3.1.12.sdk112-3
                  dotnet-runtime-3.1                    -      3.1.12.sdk112-3
                      dotnet-sdk-3.1                    -      3.1.12.sdk112-3
           dotnet-targeting-pack-3.1                    -      3.1.12.sdk112-3
                         frescobaldi                    -              3.1.3-3
      haskell-doctest-exitcode-stdio                    -                0.0-1
                 haskell-doctest-lib                    -                0.1-1
                      haskell-ghcide                    -              1.1.0-1
            haskell-hls-class-plugin                    -            1.0.0.0-1
           haskell-hls-splice-plugin                    -            1.0.0.0-1
           haskell-hslua-module-path                    -            0.1.0.1-1
                 haskell-svg-builder                    -              0.1.1-1
                             openvkl                    -             0.12.0-1
                  python-poppler-qt5                    -             21.1.0-1
                      python-pyarrow                    -              3.0.0-1
                     python-pyspnego                    -              0.1.5-1
                  python-smbprotocol                    -              1.4.0-1
                            rkcommon                    -              1.6.0-1


:: Different overlay package(s) in repository core x86_64

-------------------------------------------------------------------------------
                             PACKAGE           2021-03-15           2021-03-17
-------------------------------------------------------------------------------
                           amd-ucode20210305.r1838.e425f76-120210315.r1846.3568f96-1
                      linux-firmware20210305.r1838.e425f76-120210315.r1846.3568f96-1
                         mhwd-nvidia             460.56-1             460.56-2
                             systemd              247.3-1              247.4-1
                        systemd-libs              247.3-1              247.4-1
                  systemd-resolvconf              247.3-1              247.4-1
                  systemd-sysvcompat              247.3-1              247.4-1


:: Different sync package(s) in repository core x86_64

-------------------------------------------------------------------------------
                             PACKAGE           2021-03-15           2021-03-17
-------------------------------------------------------------------------------
                                 acl              2.3.0-1              2.3.1-1
                                attr              2.5.0-1              2.5.1-1
                               lemon             3.35.0-1             3.35.1-2
                              libcap               2.48-1               2.49-1
                             libedit       20191231_3.1-3       20210216_3.1-1
                              sqlite             3.35.0-1             3.35.1-2
                     sqlite-analyzer             3.35.0-1             3.35.1-2
                          sqlite-doc             3.35.0-1             3.35.1-2
                          sqlite-tcl             3.35.0-1             3.35.1-2
                                sudo           1.9.5.p2-1           1.9.6.p1-1


:: Different overlay package(s) in repository extra x86_64

-------------------------------------------------------------------------------
                             PACKAGE           2021-03-15           2021-03-17
-------------------------------------------------------------------------------
                                gtk3          1_3.24.27-4                    -
                        gtk3-classic          3.24.27-0.1            3.24.27-1
                  manjaro-tools-base            0.15.11-1            0.15.12-1
              manjaro-tools-base-git      r2939.0f896a2-1      r2948.aa976ed-1
                   manjaro-tools-iso            0.15.11-1            0.15.12-1
               manjaro-tools-iso-git      r2939.0f896a2-1      r2948.aa976ed-1
                   manjaro-tools-pkg            0.15.11-1            0.15.12-1
               manjaro-tools-pkg-git      r2939.0f896a2-1      r2948.aa976ed-1
                  manjaro-tools-yaml            0.15.11-1            0.15.12-1
              manjaro-tools-yaml-git      r2939.0f896a2-1      r2948.aa976ed-1
                         nvidia-dkms             460.56-1             460.56-2
                        nvidia-utils             460.56-1             460.56-2
                       opencl-nvidia             460.56-1             460.56-2


:: Different sync package(s) in repository extra x86_64

-------------------------------------------------------------------------------
                             PACKAGE           2021-03-15           2021-03-17
-------------------------------------------------------------------------------
                            alacarte  3.36.0+0+g7b5fc64-2  3.36.0+2+gae6b92d-1
                           bluedevil           1:5.21.2-1           1:5.21.3-1
                              breeze             5.21.2-1             5.21.3-1
                         breeze-grub             5.21.2-1             5.21.3-1
                          breeze-gtk             5.21.2-1             5.21.3-1
                               cairo             1.17.4-3             1.17.4-5
                               cmake             3.19.6-1             3.19.7-1
                            discover             5.21.2-1             5.21.3-1
                             drkonqi             5.21.2-1             5.21.3-1
                              ffmpeg            2:4.3.2-1            2:4.3.2-2
                                 git             2.30.2-1             2.31.0-1
               gnome-online-accounts             3.38.0-1             3.38.1-1
                         gnome-shell           1:3.38.3-1           1:3.38.4-1
                           gst-libav             1.18.3-1             1.18.4-1
                      gst-plugin-gtk             1.18.3-1             1.18.4-1
                   gst-plugin-opencv             1.18.3-2             1.18.4-1
                    gst-plugin-qmlgl             1.18.3-1             1.18.4-1
                      gst-plugin-wpe             1.18.3-2             1.18.4-1
                     gst-plugins-bad             1.18.3-2             1.18.4-1
                gst-plugins-bad-libs             1.18.3-2             1.18.4-1
                    gst-plugins-base             1.18.3-1             1.18.4-1
               gst-plugins-base-libs             1.18.3-1             1.18.4-1
                    gst-plugins-good             1.18.3-1             1.18.4-1
                    gst-plugins-ugly             1.18.3-1             1.18.4-1
                          gst-python             1.18.3-1             1.18.4-1
                           gstreamer             1.18.3-1             1.18.4-1
                      gstreamer-docs             1.18.3-1             1.18.4-1
                     gstreamer-vaapi             1.18.3-1             1.18.4-1
                                gtk3          1:3.24.27-3          1:3.24.27-4
                            harfbuzz              2.7.4-1              2.8.0-1
                        harfbuzz-icu              2.7.4-1              2.8.0-1
                   kactivitymanagerd             5.21.2-1             5.21.3-1
                       kde-cli-tools             5.21.2-1             5.21.3-1
                      kde-gtk-config             5.21.2-1             5.21.3-1
                         kdecoration             5.21.2-1             5.21.3-1
                    kdeplasma-addons             5.21.2-1             5.21.3-1
                             kgamma5             5.21.2-1             5.21.3-1
                            khotkeys             5.21.2-1             5.21.3-1
                         kinfocenter             5.21.2-1             5.21.3-1
                                 kio             5.80.0-1             5.80.1-1
                           kmenuedit             5.21.2-1             5.21.3-1
                             kscreen             5.21.2-1             5.21.3-1
                       kscreenlocker             5.21.2-1             5.21.3-1
                         ksshaskpass             5.21.2-1             5.21.3-1
                           ksysguard             5.21.2-1             5.21.3-1
                         kwallet-pam             5.21.2-1             5.21.3-1
                kwayland-integration             5.21.2-1             5.21.3-1
                     kwayland-server             5.21.2-1             5.21.3-1
                                kwin             5.21.2-1             5.21.3-1
                             kwrited             5.21.2-1             5.21.3-1
                            libgudev                234-1                236-1
                          libkscreen             5.21.2-1             5.21.3-1
                        libksysguard             5.21.2-1           5.21.3.1-1
                           libunique              1.1.6-8                    -
                                lmdb             0.9.28-1             0.9.29-1
                               milou             5.21.2-1             5.21.3-1
                              mutter             3.38.3-1             3.38.4-1
                              oxygen             5.21.2-1             5.21.3-1
                              pahole               1.20-1               1.20-2
          plasma-browser-integration             5.21.2-1             5.21.3-1
                      plasma-desktop             5.21.2-2             5.21.3-1
                        plasma-disks             5.21.2-1             5.21.3-1
                     plasma-firewall             5.21.2-1             5.21.3-1
                  plasma-integration             5.21.2-1             5.21.3-1
                           plasma-nm             5.21.2-1             5.21.3-1
                           plasma-pa             5.21.2-1             5.21.3-1
                          plasma-sdk             5.21.2-1             5.21.3-1
                plasma-systemmonitor             5.21.2-1             5.21.3-1
                  plasma-thunderbolt             5.21.2-1             5.21.3-1
                        plasma-vault             5.21.2-1             5.21.3-1
              plasma-wayland-session             5.21.2-2             5.21.3-1
                    plasma-workspace             5.21.2-2             5.21.3-1
         plasma-workspace-wallpapers             5.21.2-1             5.21.3-1
                    polkit-kde-agent             5.21.2-1             5.21.3-1
                          powerdevil             5.21.2-1             5.21.3-1
                    python-cssselect              1.1.0-6              1.1.0-7
                         python-lxml              4.6.2-1              4.6.2-2
                    python-lxml-docs              4.6.2-1              4.6.2-2
                   python-virtualenv             20.4.2-1             20.4.3-1
                   python2-cssselect              1.1.0-6                    -
                        python2-lxml              4.6.2-1                    -
                  python2-virtualenv             20.4.2-1             20.4.3-1
                               samba             4.13.5-1             4.14.0-1
                            sddm-kcm             5.21.2-1             5.21.3-1
                           smbclient             4.13.5-1             4.14.0-1
                      systemsettings             5.21.2-1             5.21.3-1
                     wireguard-tools       1.0.20210223-1       1.0.20210315-1
                      wpebackend-fdo              1.8.0-1              1.8.1-1
              xdg-desktop-portal-kde             5.21.2-1             5.21.3-1
                        xorg-xkbcomp              1.4.4-1              1.4.5-1
                            tomcat10                    -             10.0.4-1
                                zimg                    -              3.0.1-2


:: Different overlay package(s) in repository kde-unstable x86_64

-------------------------------------------------------------------------------
                             PACKAGE           2021-03-15           2021-03-17
-------------------------------------------------------------------------------
                             akonadi20.12.2.r12455.gdfed8b3c5-120.12.2.r12457.gb5102fe52-1
                    akonadi-calendar20.12.2.r1909.g02bf95f-120.12.2.r1911.g84f2f17-1
              akonadi-calendar-tools20.12.2.r851.g7997480-120.12.2.r853.g5544446-1
                    akonadi-contacts20.12.2.r2982.g8e4a8922-120.12.2.r2984.gdab7d925-1
               akonadi-import-wizard20.12.2.r1688.g5f49e5f-120.12.2.r1690.g7ba2d4d-1
                        akonadi-mime20.12.2.r1599.g1771bb4-120.12.2.r1601.g0d25d31-1
                       akonadi-notes20.12.2.r987.g5fb0e58-120.12.2.r989.g1acfbe3-1
                      akonadi-search20.12.2.r1062.ga623d2f-120.12.2.r1065.g0ee9ae9-1
                      akonadiconsole20.12.2.r1471.gabdd90b-120.12.2.r1473.g17463a7-1
                           akregator20.12.2.r6059.gacc34c44-120.12.2.r6061.g2f686cfd-1
                            analitza20.12.2.r2323.gb0bcd523-120.12.2.r2324.g66251bf2-1
                                 ark20.12.2.r4472.gc254ee56-120.12.2.r4477.gcb214389-1
                              attica5.79.0.r795.g39baccb-15.79.0.r796.g11c2d07-1
                         audiocd-kio20.12.2.r1008.gedc3fda-120.12.2.r1010.gba2906a-1
                               baloo5.79.0.r2924.g9998bf63-15.79.0.r2926.gd865b58d-1
                       baloo-widgets20.12.2.r675.gaa389ab-120.12.2.r676.g6b36922-1
                             blinken20.12.2.r614.g1071e62-120.12.2.r615.g8ef251c-1
                            bluez-qt5.79.0.r641.g236c636-15.79.0.r642.ge7be95f-1
                              bomber20.12.2.r507.g4d0fb67-120.12.2.r508.gac060d1-1
                                bovo20.12.2.r720.g1ff1387-120.12.2.r721.gcefadb2-1
                              breeze5.21.0.r2157.g835c84fc-15.21.0.r2158.g82ae87fc-1
                        breeze-icons5.79.0.r1715.gba656561-15.79.0.r1717.g819ab265-1
                     calendarsupport20.12.2.r496.g870fb44-120.12.2.r498.g92dc296-1
                            cervisia20.12.2.r1631.g9d768e0-120.12.2.r1632.g4eb5d8e-1
                            discover5.21.0.r8044.gd375031f-15.21.0.r8048.g3b25e32f-1
                             dolphin20.12.2.r6515.gae429d167-120.12.2.r6523.gfc2624960-1
                              dragon20.12.2.r994.g3e76dfd-120.12.2.r995.g56e66c3-1
                               elisa20.12.2.r2634.g7bb83f95-120.12.2.r2635.g7fb37f7a-1
                          eventviews20.12.2.r611.g80edc39-120.12.2.r613.g0e8f052-1
                 extra-cmake-modules5.79.0.r3271.gdce1326-15.79.0.r3272.gaa4623b-1
                        ffmpegthumbs20.12.2.r167.g8c3792d-120.12.2.r168.g4ded4c4-1
                           filelight20.12.2.r939.g4213f27-120.12.2.r943.gad27b73-1
                frameworkintegration5.79.0.r570.g0f49ed3-15.79.0.r571.ga4c8aa9-1
                           granatier20.12.2.r903.g541af28-120.12.2.r904.g6e060be-1
                     grantlee-editor20.12.2.r730.g2b79048-120.12.2.r732.gb8fb0f1-1
                       grantleetheme20.12.2.r305.g1b78bed-120.12.2.r307.gd0626a5-1
                            gwenview20.12.2.r6527.g63c458e6-120.12.2.r6528.g9291362d-1
                     incidenceeditor20.12.2.r684.g0e0c6bf-120.12.2.r686.g72733e2-1
                           itinerary20.12.2.r1231.g9bddc25-120.12.2.r1232.gcbf3f78-1
                                 juk20.12.2.r3062.g9fae43cf-120.12.2.r3063.gab73b938-1
                                 k3b1:20.12.2.r6598.g6342f303d-11:20.12.2.r6599.g52968a7ba-1
               kaccounts-integration20.12.2.r1203.g18351fd-120.12.2.r1204.g0ae8383-1
                 kaccounts-providers20.12.2.r373.g58d194d-120.12.2.r374.g297cd85-1
                         kactivities5.79.0.r1331.gd5ca108-15.79.0.r1333.g3a8cfec-1
                   kactivities-stats5.79.0.r337.g332d2d7-15.79.0.r338.g34ab52f-1
                        kaddressbook20.12.2.r5936.g8b705195-120.12.2.r5938.ge56f08f2-1
                             kajongg20.12.2.r4178.g3e5aab0a-120.12.2.r4179.g44663590-1
                              kalarm20.12.2.r6335.gaf8c8fbc-120.12.2.r6337.g0332bf00-1
                           kalarmcal20.12.2.r1093.gbe8fbab-120.12.2.r1095.g8e3844c-1
                            kalgebra20.12.2.r2011.g324c3b0-120.12.2.r2015.gfef5d83-1
                             kalzium20.12.2.r4245.g714541b0-120.12.2.r4246.g588a2e7d-1
                              kamera20.12.2.r647.gacf1196-120.12.2.r648.g1545cf6-1
                              kamoso20.12.2.r1413.g9f4015a-120.12.2.r1414.gdabf4f4-1
                            kanagram20.12.2.r1268.g5efee99-120.12.2.r1269.g80a55c1-1
                             kapidox5.79.0.r517.ge26fbab-15.79.0.r518.g0f81b2f-1
                              kapman20.12.2.r576.g0d027b1-120.12.2.r577.g7b402c2-1
                        kapptemplate20.12.2.r944.gef9eda7-120.12.2.r945.g0b6f831-1
                            karchive5.79.0.r460.gf2c02f7-15.79.0.r461.g2d6661f-1
                             katomic20.12.2.r903.gb1ea1d1-120.12.2.r904.g1f0d58d-1
                               kauth5.79.0.r417.gd427254-15.79.0.r418.gea71af9-1
                           kblackbox20.12.2.r708.g19d87d6-120.12.2.r709.gde572d6-1
                             kblocks20.12.2.r622.gfbfe2f0-120.12.2.r623.g7a7bdbe-1
                          kbookmarks5.79.0.r391.g8cfd751-15.79.0.r393.g39bbd12-1
                             kbounce20.12.2.r786.g8dc5b15-120.12.2.r787.gbfae1e2-1
                           kbreakout20.12.2.r841.g75dd8c4-120.12.2.r842.g79dd899-1
                              kbruch20.12.2.r804.g81f4cef-120.12.2.r805.g850ef21-1
                         kcachegrind20.12.2.r1142.g078d049-120.12.2.r1143.g55e1a9b-1
                  kcachegrind-common20.12.2.r1142.g078d049-120.12.2.r1143.g55e1a9b-1
                       kcalendarcore5.79.0.r1180.ga68602d85-15.79.0.r1181.g35e4e97a9-1
                           kcalutils20.12.2.r817.ga9c3f7204-120.12.2.r819.g58a417cfa-1
                            kcmutils5.79.0.r484.gf6b3ad9-15.79.0.r485.gca1d5ae-1
                             kcodecs5.79.0.r351.g2f30820-15.79.0.r352.gd50848a-1
                       kcolorchooser20.12.2.r212.gf77799f-120.12.2.r213.g1417e95-1
                         kcompletion5.79.0.r423.g3e14934-15.79.0.r424.g7b3cdd8-1
                             kconfig5.79.0.r801.gd5ca63b-15.79.0.r803.gfee82b7-1
                      kconfigwidgets5.79.0.r546.g6bb1826-15.79.0.r547.g5fcdddc-1
                           kcontacts1:5.79.0.r3218.g713ff23f-11:5.79.0.r3219.g0ccf9f05-1
                         kcoreaddons5.79.0.r1191.g9eaa9957-15.79.0.r1192.g6650ded2-1
                              kcrash5.79.0.r357.g03b8fd7-15.79.0.r358.g31581e1-1
                                kdav1:5.79.0.r1269.gb5334c2-11:5.79.0.r1270.g8520c26-1
                         kdbusaddons5.79.0.r344.g4684bfd-15.79.0.r345.ge12a5e8-1
                       kde-dev-utils20.12.2.r543.gde07b69-120.12.2.r544.g5920114-1
                        kdeclarative5.79.0.r873.gdfc9e3d-15.79.0.r874.g5b0d4a7-1
                          kdeconnect20.12.2.r3150.g5ea3e447-120.12.2.r3154.g67a6a9f0-1
                                kded5.79.0.r384.g87fe64a-15.79.0.r385.g3b33b0a-1
                     kdelibs4support5.79.0.r1001.g75eac4eb-15.79.0.r1002.g21daa81f-1
                       kdepim-addons20.12.2.r4024.g1de021fd-120.12.2.r4026.gcd071532-1
                      kdepim-runtime20.12.2.r15058.g1bed2717c-120.12.2.r15060.g4d0827a3b-1
                    kdeplasma-addons5.21.0.r8477.g7f672f1d4-15.21.0.r8480.ged78d2d3a-1
                     kdesignerplugin5.79.0.r310.g079081f-15.79.0.r311.gcdfa632-1
                               kdesu5.79.0.r441.g63ca7d6-15.79.0.r446.g141fd6e-1
                           kdewebkit5.79.0.r258.g66e6b0f-15.79.0.r259.gf2b87cc-1
                            kdiamond20.12.2.r653.g256b3d3-120.12.2.r654.g399339e-1
                              kdnssd5.79.0.r293.gfbd474a-15.79.0.r294.g92d6cfc-1
                           kdoctools5.79.0.r593.g6352583-15.79.0.r595.ga2eea74-1
                          kemoticons5.79.0.r358.ga9ea0da-15.79.0.r359.g7f09ae3-1
                       kfilemetadata5.79.0.r766.g5e3dcd9-15.79.0.r768.gbf2c99e-1
                         kfourinline20.12.2.r962.g2fe840d-120.12.2.r963.g85d037d-1
                          kgeography20.12.2.r1099.g24226a3-120.12.2.r1100.gfa2a53b-1
                                kget20.12.2.r3088.g86e49e7d-120.12.2.r3089.g25d841d9-1
                        kglobalaccel5.79.0.r420.g82c7eef-15.79.0.r421.gbb385a9-1
                         kgoldrunner20.12.2.r1215.ge0fdb6c-120.12.2.r1216.g09f9811-1
                          kguiaddons5.79.0.r347.g621a2e5-15.79.0.r348.ga196e60-1
                            khangman20.12.2.r1551.g325d0e5-120.12.2.r1552.g0ff1e25-1
                         khelpcenter20.12.2.r2651.g220bbd0d-120.12.2.r2652.g5484b476-1
                           kholidays1:5.79.0.r909.g0dfe855-11:5.79.0.r911.gbd97f33-1
                            khotkeys5.21.0.r2059.gf065489-15.21.0.r2061.g93a0376-1
                               khtml5.79.0.r531.gfa84253-15.79.0.r532.gc27fc10-1
                               ki18n5.79.0.r447.g90ccb3b-15.79.0.r448.g6f6c69f-1
                         kiconthemes5.79.0.r486.g11fd56b-15.79.0.r487.g2f15b12-1
                 kidentitymanagement20.12.2.r3761.g3184174f-120.12.2.r3762.g1739c25e-1
                           kidletime5.79.0.r286.g7e272f5-15.79.0.r287.g091c4bc-1
                                 kig20.12.2.r3113.g2ecbcace-120.12.2.r3115.g2a0c0ba0-1
                                kigo20.12.2.r497.g41c6091-120.12.2.r502.g85692eb-1
                            killbots20.12.2.r716.g9f994f4-120.12.2.r717.g9c87c3e-1
                     kimagemapeditor20.12.2.r453.g9cb3579-120.12.2.r454.g6f28d0b-1
                               kimap20.12.2.r1070.g1478ea3-120.12.2.r1072.g377009a-1
                         kinfocenter5.21.0.r1797.gc315020-15.21.0.r1798.g321149c-1
                               kinit5.79.0.r381.gdf7d2bd-15.79.0.r382.g50ef53d-1
                                 kio5.79.0.r4582.gc8bd41b5-15.79.0.r4586.gc4e4880d-1
                          kio-extras20.12.2.r6983.g5abd1e8e-120.12.2.r6986.gb235e6e6-1
                          kio-gdrive20.12.2.r548.gb65a711-120.12.2.r549.ga196369-1
                    kirigami-gallery20.12.2.r189.g0e80fdd-120.12.2.r191.g43bbd53-1
                           kirigami25.79.0.r2707.gc2bc751c-15.79.0.r2712.gd859a625-1
                              kiriki20.12.2.r405.g209d475-120.12.2.r406.gf17ff9d-1
                         kitemmodels5.79.0.r521.g7327fee-15.79.0.r522.gdd7f00f-1
                          kitemviews5.79.0.r311.g4d5caf4-15.79.0.r312.g66390b1-1
                               kiten20.12.2.r1131.g0d7e7ad-120.12.2.r1132.ga84aa45-1
                          kitinerary20.12.2.r1614.gd7df079-120.12.2.r1619.g716464b-1
                         kjobwidgets5.79.0.r344.g19e4cc4-15.79.0.r346.g9260b26-1
                                 kjs5.79.0.r314.g2c2d403-15.79.0.r315.gc93d759-1
                            kjsembed5.79.0.r279.gf21c08c-15.79.0.r280.g7222a85-1
                        kjumpingcube20.12.2.r767.g0e46f52-120.12.2.r768.g743dc3d-1
                               kldap20.12.2.r832.g8df3d68-120.12.2.r834.g648c19a-1
                           kleopatra20.12.2.r5763.gdd7c15cf-120.12.2.r5765.gf3d60643-1
                            klettres20.12.2.r899.ge4e9881-120.12.2.r900.gcf521e9-1
                            klickety20.12.2.r606.g918f182-120.12.2.r607.g6debdf8-1
                              klines20.12.2.r728.g45dfd12-120.12.2.r729.g8c6cd66-1
                                kmag20.12.2.r673.gf3e956f-120.12.2.r674.g5d34672-1
                           kmahjongg20.12.2.r1446.g499006e-120.12.2.r1447.gc7f353b-1
                               kmail20.12.2.r25587.g249b64630-120.12.2.r25599.g88df1a800-1
                kmail-account-wizard20.12.2.r766.ge8b625a-120.12.2.r768.g515942f-1
                      kmailtransport20.12.2.r1581.g0447ad3-120.12.2.r1583.g86e1a95-1
                               kmbox20.12.2.r501.gfa81739-120.12.2.r503.gb188510-1
                        kmediaplayer5.79.0.r271.g139301c-15.79.0.r272.g6ac98f3-1
                               kmime20.12.2.r1416.gd0f2c93-120.12.2.r1418.g301e4f3-1
                              kmines20.12.2.r1699.g5527d52-120.12.2.r1700.gf413b5d-1
                                kmix20.12.2.r2352.g93f753cb-120.12.2.r2353.gdf8c67ba-1
                        knavalbattle20.12.2.r1356.g5dfcd91-120.12.2.r1357.gf3864fb-1
                            knetwalk20.12.2.r640.g89b3812-120.12.2.r641.g65794d1-1
                           knewstuff5.79.0.r1058.g715129cf-15.79.0.r1060.gdac90839-1
                             knights20.12.2.r1037.g8f2bbab-120.12.2.r1039.g9000e91-1
                              knotes20.12.2.r3424.gc54b386e-120.12.2.r3426.g082ee346-1
                      knotifications5.79.0.r621.g46cccf8-15.79.0.r628.ge0a0e4c-1
                       knotifyconfig5.79.0.r325.ga1c1a7e-15.79.0.r326.g6a0fc15-1
                                kolf20.12.2.r1409.ge4d4cc2-120.12.2.r1410.g2b43183-1
                           kollision20.12.2.r476.g3a3d32b-120.12.2.r477.g6645b5c-1
                         kolourpaint20.12.2.r2335.g2f21b195-120.12.2.r2336.g0dfd68ad-1
                             kompare20.12.2.r1094.gfc20950-120.12.2.r1095.g95da14b-1
                           konqueror20.12.2.r14871.g5d0155a6a-120.12.2.r14872.g716282830-1
                            konquest20.12.2.r877.gcb74d6d-120.12.2.r878.ge6f67a1-1
                             kontact20.12.2.r5268.g4b5ff2f9-120.12.2.r5270.g9ba4e7f3-1
                    kontactinterface20.12.2.r593.g05511dc-120.12.2.r595.gf63ba6c-1
                            kontrast20.12.2.r156.gf52b5eb-120.12.2.r157.g13c7fc0-1
                        konversation20.12.2.r8942.gf77e0520-120.12.2.r8943.g08d100b4-1
                          korganizer20.12.2.r11300.g28c376837-120.12.2.r11302.g8bd80825f-1
                       kosmindoormap20.12.2.r590.g9091da2-120.12.2.r591.g8f62cfd-1
                            kpackage5.79.0.r642.gf896503-15.79.0.r643.gbc51351-1
                              kparts5.79.0.r481.gca3e6d5-15.79.0.r483.gf87780e-1
                           kpatience20.12.2.r2521.g96474eb-120.12.2.r2522.g6af98d7-1
                             kpeople5.79.0.r1296.gcb96d19-15.79.0.r1302.gdb1f2b3-1
                        kpimtextedit20.12.2.r1349.g18c0a6f-120.12.2.r1351.gf3876d2-1
                             kpkpass20.12.2.r200.g869481c-120.12.2.r202.g269ccdb-1
                           kplotting5.79.0.r268.gd102aaf-15.79.0.r269.g1127e4c-1
                             kpmcore20.12.2.r1188.gc06a188-120.12.2.r1189.gad35460-1
                                kpty5.79.0.r308.g7bb4adc-15.79.0.r309.g7267604-1
                    kpublictransport20.12.2.r1559.ga9e77e2-120.12.2.r1560.gee5f95c-1
                        kquickcharts5.79.0.r425.g3ec3ab8-15.79.0.r426.gdb63e80-1
                                krdc20.12.2.r1498.gc390f8f-120.12.2.r1501.gccaed1c-1
                            kreversi20.12.2.r1203.g511961c-120.12.2.r1204.g64fefc2-1
                                krfb20.12.2.r1376.gd533b76-120.12.2.r1377.g730e4d7-1
                               kross5.79.0.r312.g9fd314a-15.79.0.r313.g65b6c62-1
                              kruler20.12.2.r677.g3bede9b-120.12.2.r678.ga91bbb9-1
                             krunner5.79.0.r585.g615ae07-15.79.0.r587.gcacd394-1
                            kservice5.79.0.r881.gf25c7d7-15.79.0.r882.g96e7956-1
                             kshisen20.12.2.r1173.g549d55d-120.12.2.r1174.g66b50ab-1
                               ksirk20.12.2.r950.ga3f8c07-120.12.2.r951.g3d8e528-1
                               ksmtp20.12.2.r329.g4a67ff2-120.12.2.r330.g0ff1824-1
                          ksnakeduel20.12.2.r784.gb82de98-120.12.2.r785.gd0848f0-1
                          kspaceduel20.12.2.r611.g3f7552b-120.12.2.r612.g5f55bce-1
                            ksquares20.12.2.r502.g78905cc-120.12.2.r503.gddb98cd-1
                             ksudoku20.12.2.r1036.g3f29046-120.12.2.r1037.g948c839-1
                           ksysguard5.21.0.r3489.ge7fc8ce0-15.21.0.r3490.g159e9234-1
                          ksystemlog20.12.2.r611.ge1d924a-120.12.2.r612.gef9d954-1
                         ktexteditor5.79.0.r2758.g91b9dc23-15.79.0.r2759.g7ad20544-1
                        ktextwidgets5.79.0.r376.ge4e0d24-15.79.0.r378.g99ade9c-1
                               ktnef20.12.2.r627.gfe14af7-120.12.2.r629.gfa27587-1
                            ktorrent20.12.2.r2730.g16659e44-120.12.2.r2731.ga93634ac-1
                              ktouch20.12.2.r2119.g6bf723d-120.12.2.r2120.g34998dc-1
                          ktuberling20.12.2.r992.g7466e7d-120.12.2.r993.gf92e649-1
                             kturtle20.12.2.r1102.g52c897f-120.12.2.r1103.g0a2e913-1
                             kubrick20.12.2.r356.gf22577f-120.12.2.r357.g4a31aa5-1
                     kunitconversion5.79.0.r346.gf6cb766-15.79.0.r347.gf29c00b-1
                             kwallet5.79.0.r1048.gc5c882b-15.79.0.r1049.g81d4579-1
                               kwave20.12.2.r3731.g08e0ee4a-120.12.2.r3732.g3b8c119a-1
                            kwayland5.79.0.r1055.gfc4f209-15.79.0.r1056.g05f14c6-1
                     kwayland-server5.21.0.r1237.g9032c69-15.21.0.r1252.g90393d7-1
                      kwidgetsaddons5.79.0.r778.g1f5e2329-15.79.0.r783.g4df60cb8-1
                                kwin5.21.0.r19078.g75d39f6a8-15.21.0.r19081.g3cbbdbee9-1
                       kwindowsystem5.79.0.r564.g53daf6b-15.79.0.r565.ga50278d-1
                           kwordquiz20.12.2.r1127.g5cfae30-120.12.2.r1128.g562174d-1
                             kxmlgui5.79.0.r723.g23dfc4b-15.79.0.r729.g65c54737-1
                       kxmlrpcclient5.79.0.r432.g4c174da36-15.79.0.r433.gcad7586c3-1
                          libakonadi20.12.2.r12455.gdfed8b3c5-120.12.2.r12457.gb5102fe52-1
                         libgravatar20.12.2.r332.gd4d08de-120.12.2.r334.gd91ba32-1
                           libkdepim20.12.2.r814.g595e57a-120.12.2.r815.g04140dd-1
                            libkgapi20.12.2.r1257.gdea928e-120.12.2.r1259.g0a0de1e-1
                             libkleo20.12.2.r749.gec5ad64-120.12.2.r751.g0cca9e8-1
                            libksane20.12.2.r503.gea7c7bf-120.12.2.r505.g3a876d4-1
                           libksieve20.12.2.r1500.g5ae81059-120.12.2.r1502.gc1b8fde6-1
                        libksysguard5.21.0.r2080.g0c0e4af-15.21.0.r2081.gc4e221f-1
                         libktorrent20.12.2.r509.gb1f58ce-120.12.2.r510.g6940ea5-1
                            lokalize20.12.2.r1752.g0c97e18-120.12.2.r1753.gc1a2fcb-1
                               lskat20.12.2.r794.gc7002a6-120.12.2.r795.g57fe206-1
                          mailcommon20.12.2.r1001.ga32bc3d-120.12.2.r1003.g9ee7bac-1
                        mailimporter20.12.2.r432.g80bb014-120.12.2.r434.g8bd5eef-1
                              marble20.12.2.r13281.g01815792c-120.12.2.r13283.g8d13f678c-1
                       marble-common20.12.2.r13281.g01815792c-120.12.2.r13283.g8d13f678c-1
                           marble-qt20.12.2.r13281.g01815792c-120.12.2.r13283.g8d13f678c-1
                       mbox-importer20.12.2.r475.g9c6df95-120.12.2.r477.gbce734d-1
                          messagelib20.12.2.r5806.g4f2c25cf-120.12.2.r5816.g9404a728-1
                              minuet20.12.2.r567.g8f337ac-120.12.2.r568.g634ddcb-1
                     modemmanager-qt5.79.0.r490.g328a5f4-15.79.0.r496.gdae4704-1
                   networkmanager-qt5.79.0.r1083.g421580e-15.79.0.r1089.ga332c80-1
                              okular20.12.2.r9238.g272b386f5-120.12.2.r9239.g889e744f9-1
                              oxygen5.21.0.r4407.g9f8b4163-15.21.0.r4408.g458d196d-1
                            palapeli20.12.2.r1203.g2dfe767-120.12.2.r1204.g17ec0b8-1
                              parley20.12.2.r4389.ga50c4a6a-120.12.2.r4390.g92b7bcd1-1
                    partitionmanager20.12.2.r1516.gd23a3bd-120.12.2.r1517.g2e80aa5-1
                   pim-data-exporter20.12.2.r2380.g8c73f009-120.12.2.r2382.gfbeeaf40-1
                    pim-sieve-editor20.12.2.r1444.gb75fab9-120.12.2.r1446.gbf680c0-1
                           pimcommon20.12.2.r1015.gdcadc5b-120.12.2.r1016.g987c8a8-1
                      plasma-desktop5.21.0.r8250.g8a7afcb73-15.21.0.r8251.g6cb9de825-1
                        plasma-disks5.21.0.r182.gbdae4ab-15.21.0.r185.g38b897b-1
                     plasma-firewall5.21.0.r465.g2591d6f-15.21.0.r469.g03b96e7-1
                    plasma-framework5.79.0.r15777.g2f48e808d-15.79.0.r15789.g1bb889dfa-1
                  plasma-integration5.21.0.r507.g23a1490-15.21.0.r509.gce1d3c9-1
                          plasma-sdk5.21.0.r2254.gede28ad5-15.21.0.r2255.gc6926424-1
                plasma-systemmonitor5.21.0.r378.g2c4c2c8-15.21.0.r380.g8a5cb87-1
                  plasma-thunderbolt5.21.0.r122.g79beaa5-15.21.0.r123.g0da825d-1
              plasma-wayland-session5.21.0.r10022.gafc15e860-15.21.0.r10030.gbce65152f-1
                    plasma-workspace5.21.0.r10022.gafc15e860-15.21.0.r10030.gbce65152f-1
                              prison5.79.0.r299.ge2d0c4c-15.79.0.r300.g78cf306-1
                             purpose5.79.0.r835.g0f7d25f-15.79.0.r836.g80a47b8-1
                         qcachegrind20.12.2.r1142.g078d049-120.12.2.r1143.g55e1a9b-1
                  qqc2-desktop-style5.79.0.r462.gd3b4380-15.79.0.r463.ga364e29-1
            signon-kwallet-extension20.12.2.r63.ge2463a9-120.12.2.r64.g47e187d-1
                               solid5.79.0.r647.gf8d6ab4-15.79.0.r648.gd993c31-1
                              sonnet5.79.0.r592.gd6d4e94-15.79.0.r593.gcf1e696-1
                           spectacle20.12.2.r1062.g314710b-120.12.2.r1064.g60f0143-1
                                step20.12.2.r1143.g61b695d-120.12.2.r1144.g5927653-1
                             svgpart20.12.2.r148.g4d98608-120.12.2.r149.gbfe7858-1
                         syndication5.79.0.r810.g27b821a-15.79.0.r812.g9737887-1
                 syntax-highlighting5.79.0.r1539.g94260da3-15.79.0.r1540.g33c15a7b-1
                      systemsettings5.21.0.r2387.g2abaa441-15.21.0.r2388.g2f0d084e-1
          telepathy-kde-accounts-kcm20.12.2.r1191.gcd628dd-120.12.2.r1192.g5a27a75-1
              telepathy-kde-approver20.12.2.r292.geff39e1-120.12.2.r293.g45db24b-1
          telepathy-kde-auth-handler20.12.2.r275.g191f682-120.12.2.r276.g48e529c-1
      telepathy-kde-common-internals20.12.2.r1991.gc3a39ba-120.12.2.r1992.gef7ef33-1
        telepathy-kde-contact-runner20.12.2.r251.gd423c13-120.12.2.r252.g6d4f602-1
       telepathy-kde-desktop-applets20.12.2.r991.g0213047-120.12.2.r992.g4a74f96-1
  telepathy-kde-filetransfer-handler20.12.2.r218.g6a87a67-120.12.2.r219.gd345782-1
    telepathy-kde-integration-module20.12.2.r389.g3468c4a-120.12.2.r390.g08eac55-1
             telepathy-kde-send-file20.12.2.r226.g4b9fc85-120.12.2.r227.g53297c0-1
               telepathy-kde-text-ui20.12.2.r2017.g9f8a0b2-120.12.2.r2018.gab616c1-1
                        threadweaver5.79.0.r480.ge7c4d60-15.79.0.r481.gc052563-1
                            umbrello20.12.2.r8224.g3e6c58698-120.12.2.r8225.ge4317f9f0-1


:: Different overlay package(s) in repository multilib x86_64

-------------------------------------------------------------------------------
                             PACKAGE           2021-03-15           2021-03-17
-------------------------------------------------------------------------------
                  lib32-gtk3-classic          3.24.27-0.1            3.24.27-1
                       lib32-systemd              247.3-1              247.4-1


:: Different sync package(s) in repository multilib x86_64

-------------------------------------------------------------------------------
                             PACKAGE           2021-03-15           2021-03-17
-------------------------------------------------------------------------------
                           lib32-acl              2.3.0-1              2.3.1-1
                          lib32-attr              2.5.0-1              2.5.1-1
                         lib32-cairo             1.17.4-3             1.17.4-5
                        lib32-colord              1.4.5-1              1.4.5-2
                          lib32-gtk3            3.24.26-1            3.24.27-1
                      lib32-harfbuzz              2.7.4-1              2.8.0-1
                  lib32-harfbuzz-icu              2.7.4-1              2.8.0-1
          lib32-libappindicator-gtk2           12.10.0-11           12.10.0-12
          lib32-libappindicator-gtk3           12.10.0-11           12.10.0-12
                        lib32-libcap               2.48-1               2.49-1
                       lib32-libgusb              0.3.5-1              0.3.6-1
                          lib32-rest              0.8.1-2              0.8.1-3
                        wine-staging                6.3-1                6.4-1

No issue, everything went smoothly
Yes there was an issue. I was able to resolve it myself.(Please post your solution)
Yes i am currently experiencing an issue due to the update. (Please post about it)
Check if your mirror has already synced: