Telegram from pacman started crashing when I saw media 2-3 month ago, but I solved this problem via going telegram Flatpak
Yesterday I have updated the flatpak apps and granted GPU acceleration via flatseal
but now I am took of this permission, but nosing is change.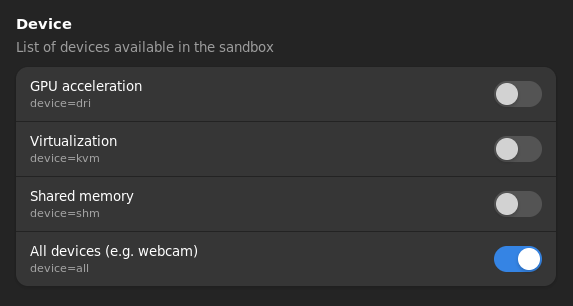 if I type telegram-desktop in terminal, I am getting this output:
QGuiApplication::setDesktopFileName: the specified desktop file name ends with .desktop. For compatibility reasons, the .desktop suffix will be removed. Please specify a desktop file name without .desktop suffix
but 2 months ago, output was like: SVG reading error.
PS: I will try to use snap version of telegram
PS2: I can get logs
    ~  telegram-desktop                                                                                                                                                                                                             ✔ 
QGuiApplication::setDesktopFileName: the specified desktop file name ends with .desktop. For compatibility reasons, the .desktop suffix will be removed. Please specify a desktop file name without .desktop suffix
QPainter::begin: Paint device returned engine == 0, type: 2
QWidget::render: Cannot render with an inactive painter
qt.svg: Error while inflating gzip file: SVG format check failed
qt.svg: Error while inflating gzip file: SVG format check failed
qt.svg: Error while inflating gzip file: SVG format check failed
qt.svg: Error while inflating gzip file: SVG format check failed
qt.svg: Error while inflating gzip file: SVG format check failed
qt.svg: Error while inflating gzip file: SVG format check failed
qt.svg: Error while inflating gzip file: SVG format check failed
qt.svg: Error while inflating gzip file: SVG format check failed
qt.svg: Error while inflating gzip file: SVG format check failed
qt.svg: Error while inflating gzip file: SVG format check failed
qt.svg: Error while inflating gzip file: SVG format check failed
qt.svg: Error while inflating gzip file: SVG format check failed
qt.svg: Error while inflating gzip file: SVG format check failed
qt.svg: Error while inflating gzip file: SVG format check failed
qt.svg: Error while inflating gzip file: SVG format check failed
qt.svg: Error while inflating gzip file: SVG format check failed
qt.svg: Error while inflating gzip file: SVG format check failed
qt.svg: Error while inflating gzip file: SVG format check failed
qt.svg: Error while inflating gzip file: SVG format check failed
qt.svg: Error while inflating gzip file: SVG format check failed
qt.svg: Error while inflating gzip file: SVG format check failed
qt.svg: Error while inflating gzip file: SVG format check failed
qt.svg: Error while inflating gzip file: SVG format check failed
qt.svg: Error while inflating gzip file: SVG format check failed
qt.svg: Error while inflating gzip file: SVG format check failed
qt.svg: Error while inflating gzip file: SVG format check failed
qt.svg: Error while inflating gzip file: SVG format check failed
qt.svg: Error while inflating gzip file: SVG format check failed
qt.svg: Error while inflating gzip file: SVG format check failed
qt.svg: Error while inflating gzip file: SVG format check failed
qt.svg: Error while inflating gzip file: SVG format check failed
qt.svg: Error while inflating gzip file: SVG format check failed
qt.svg: Error while inflating gzip file: SVG format check failed
qt.svg: Error while inflating gzip file: SVG format check failed
qt.svg: Error while inflating gzip file: SVG format check failed
qt.svg: Error while inflating gzip file: SVG format check failed
qt.svg: Error while inflating gzip file: SVG format check failed
qt.svg: Error while inflating gzip file: SVG format check failed
qt.svg: Error while inflating gzip file: SVG format check failed
qt.svg: Error while inflating gzip file: SVG format check failed
qt.svg: Error while inflating gzip file: SVG format check failed
qt.svg: Error while inflating gzip file: SVG format check failed
qt.svg: Error while inflating gzip file: SVG format check failed
qt.svg: Error while inflating gzip file: SVG format check failed
qt.svg: Error while inflating gzip file: SVG format check failed
qt.svg: Error while inflating gzip file: SVG format check failed
qt.svg: Error while inflating gzip file: SVG format check failed
qt.svg: Error while inflating gzip file: SVG format check failed
qt.svg: Error while inflating gzip file: SVG format check failed
qt.svg: Error while inflating gzip file: SVG format check failed
qt.svg: Error while inflating gzip file: SVG format check failed
qt.svg: Error while inflating gzip file: SVG format check failed
qt.svg: Error while inflating gzip file: SVG format check failed
qt.svg: Error while inflating gzip file: SVG format check failed
qt.gui.imageio.jpeg: Corrupt JPEG data: premature end of data segment
qt.svg: Error while inflating gzip file: SVG format check failed
qt.svg: Error while inflating gzip file: SVG format check failed
qt.svg: Error while inflating gzip file: SVG format check failed
qt.svg: Error while inflating gzip file: SVG format check failed
qt.svg: Error while inflating gzip file: SVG format check failed
qt.svg: Error while inflating gzip file: SVG format check failed
qt.svg: Error while inflating gzip file: SVG format check failed
qt.svg: Error while inflating gzip file: SVG format check failed
qt.svg: Error while inflating gzip file: SVG format check failed
qt.svg: Error while inflating gzip file: SVG format check failed
qt.svg: Error while inflating gzip file: SVG format check failed
qt.svg: Error while inflating gzip file: SVG format check failed
qt.svg: Error while inflating gzip file: SVG format check failed
qt.svg: Error while inflating gzip file: SVG format check failed
qt.svg: Error while inflating gzip file: SVG format check failed
qt.svg: Error while inflating gzip file: SVG format check failed
qt.svg: Error while inflating gzip file: SVG format check failed
qt.svg: Error while inflating gzip file: SVG format check failed
qt.svg: Error while inflating gzip file: SVG format check failed
qt.svg: Error while inflating gzip file: SVG format check failed
qt.svg: Error while inflating gzip file: SVG format check failed
qt.svg: Error while inflating gzip file: SVG format check failed
qt.svg: Error while inflating gzip file: SVG format check failed
qt.svg: Error while inflating gzip file: SVG format check failed
qt.svg: Error while inflating gzip file: SVG format check failed
qt.svg: Error while inflating gzip file: SVG format check failed
qt.svg: Error while inflating gzip file: SVG format check failed
qt.svg: Error while inflating gzip file: SVG format check failed
qt.svg: Error while inflating gzip file: SVG format check failed
qt.svg: Error while inflating gzip file: SVG format check failed
qt.svg: Error while inflating gzip file: SVG format check failed
qt.svg: Error while inflating gzip file: SVG format check failed
qt.svg: Error while inflating gzip file: SVG format check failed
qt.svg: Error while inflating gzip file: SVG format check failed
qt.svg: Error while inflating gzip file: SVG format check failed
qt.svg: Error while inflating gzip file: SVG format check failed
qt.svg: Error while inflating gzip file: SVG format check failed
qt.svg: Error while inflating gzip file: SVG format check failed
qt.svg: Error while inflating gzip file: SVG format check failed
qt.svg: Error while inflating gzip file: SVG format check failed
qt.svg: Error while inflating gzip file: SVG format check failed
qt.svg: Error while inflating gzip file: SVG format check failed
qt.svg: Error while inflating gzip file: SVG format check failed
qt.svg: Error while inflating gzip file: SVG format check failed
qt.svg: Error while inflating gzip file: SVG format check failed
qt.svg: Error while inflating gzip file: SVG format check failed
qt.svg: Error while inflating gzip file: SVG format check failed
qt.svg: Error while inflating gzip file: SVG format check failed
qt.svg: Error while inflating gzip file: SVG format check failed
qt.svg: Error while inflating gzip file: SVG format check failed
qt.svg: Error while inflating gzip file: SVG format check failed
qt.svg: Error while inflating gzip file: SVG format check failed
qt.svg: Error while inflating gzip file: SVG format check failed
qt.svg: Error while inflating gzip file: SVG format check failed
qt.svg: Error while inflating gzip file: SVG format check failed
qt.svg: Error while inflating gzip file: SVG format check failed
qt.svg: Error while inflating gzip file: SVG format check failed
qt.svg: Error while inflating gzip file: SVG format check failed
qt.svg: Error while inflating gzip file: SVG format check failed
qt.gui.imageio.jpeg: Corrupt JPEG data: premature end of data segment
qt.gui.imageio.jpeg: Corrupt JPEG data: premature end of data segment
qt.gui.imageio.jpeg: Corrupt JPEG data: premature end of data segment
qt.gui.imageio.jpeg: Corrupt JPEG data: premature end of data segment
zsh: segmentation fault (core dumped)  telegram-desktop

---
Moderator edit: In the future, please use proper formatting: [HowTo] Post command output and file content as formatted text