Hello community,
Another stable branch update with some usual package updates for you. I'll be in Asia for couple of months, so expect responses and updates at a different time slot as usual.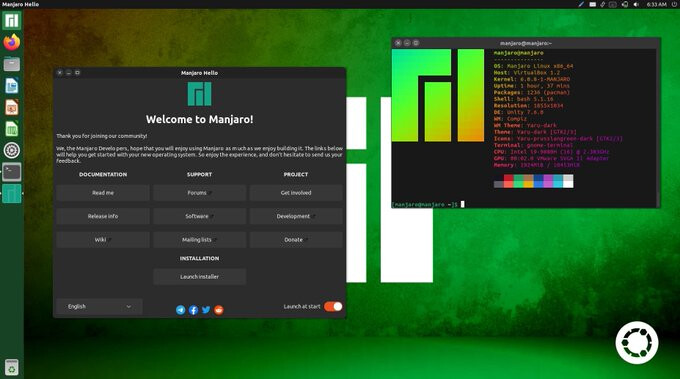 You may want to give Unity7 a try …
Recent News:
Notable Package Updates:
Some of our Kernels got updated
Some updates to the Xorg stack
Pipewire is now at 0.3.61
Firefox got bumped to 107.0.1
Qt 6.4.1
Cinnamon is now at 5.6
Virtualbox got renewed to 7.0.4
Plasma got a new point-release: 5.26.4
KDE Frameworks is now at 5.100.0
Thunderbird got renewed to 102.5.1
Lattedock got a fixed regarding wrong window positioning
A few Gnome 43.2 updates trickled in
Mesa is now at 22.2.4

includes a notable change which disables hardware acceleration for proprietary video codecs (most commonly H.264 and H.265) when using the Mesa drivers stack. Open video codecs (VP8, VP9, AV1 - based on your hardware capabilities) are unaffected and can still be hardware-accelerated out of the box.
this change mainly affects AMD graphics cards. (Intel GPUs don't use Mesa for video acceleration, Nvidia cards use the proprietary driver, and Mesa video acceleration mostly doesn't work properly with the opensource Nouveau driver)

NVIDIA got updated to 525.60.11, 470.161.03 (legacy driver for GKxxx "Kepler" GPUs) and 390.157 (legacy driver for GF1xx "Fermi" GPUs)
Gtk got bumped to 3.24.35
SDL is at 2.26
LibreOffice got renewed to 7.4.3
Chromium is renewed to 108.0.5359.71
KDE-git, Haskell and Python updates as usual
For GNOME users:
Check out the new Custom Accent Colors extension!
pamac install gnome-shell-extension-custom-accent-colors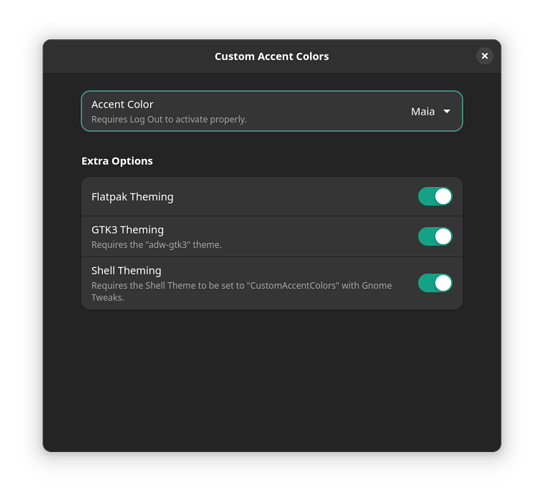 Additional Info
Info about AUR packages

AUR (Arch User Repository) packages are neither supported by Arch nor Manjaro. Posts about them in Announcement topics are off-topic and will be flagged, moved or removed without warning.
Info about GNOME 43

GNOME 43 is here!

New in Manjaro GNOME:

We now have Gradience in the Manjaro community repo (also available as a Flatpak) for your theme customization pleasure. There are community presets (currently unavailable) available or you can create your own.

Our in-house Layouts Switcher application by @Chrysostomus has some new features as well as various improvements and fixes:

NEW Dynamic Wallpaper button: Create your own dynamic wallpaper
NEW Appearance button to open Gradience for theme customization
NEW The Firefox GNOME theme option automagically updates to the latest upstream version when toggling the radio button off and on again.
FIXED: Layout preview images now match
KNOWN ISSUE: Missing required packages will not be automatically installed via Pamac. Please check optional dependencies of gnome-layout-switcher.

Scaling settings for Xorg in GNOME Control Center are back! [HowTo] Gnome Xorg Fractional (per monitor) Scaling

Lonely leftover orphan packages that have been removed from the Arch / Manjaro repositories:

adwaita-maia
dynamic-wallpaper-editor
firefox-gnome-theme-maia
gtkhash-nautilus
(Not compatible with Nautilus 43)
manjaro-dynamic-wallpaper
manjaro-gdm-tweak
nautilus-terminal
(Not compatible with Nautilus 43 & EOL)
Get our latest daily developer images now from Github: Plasma, GNOME, XFCE. You can get the latest stable releases of Manjaro from CDN77.
---
Our current supported kernels
linux419 4.19.267
linux54 5.4.225
linux510 5.10.157
linux515 5.15.81
linux519 5.19.17 [EOL]
linux60 6.0.11
linux61 6.1.0rc7
linux515-rt 5.15.79_rt54
linux60-rt 6.0.5_rt14
Package changes (Sun Dec 4 07:41:24 CET 2022)
stable community x86_64: 2293 new and 2246 removed package(s)
stable core x86_64: 69 new and 69 removed package(s)
stable extra x86_64: 959 new and 1120 removed package(s)
stable kde-unstable x86_64: 402 new and 402 removed package(s)
stable multilib x86_64: 66 new and 65 removed package(s)
A list of all package changes can be found here
No issue, everything went smoothly
Yes there was an issue. I was able to resolve it myself.(Please post your solution)
Yes i am currently experiencing an issue due to the update. (Please post about it)
Check if your mirror has already synced: