In Manjaro Xfce, how could I enter a SOCKS5 proxy setting to the window captured below?
The purpose is to appear to certain Internet servers as coming from a certain IP address. (Similar to anonymization, only I want to identify myself as coming from a certain geographical location.)
The settings I would want to enter would look like
Socks: 127.0.0.1, Port: 1081
It requires a prior creation of an SSH forward from my 1081 to wherever the SSH server is, serving as proxy server.
In Windows, this is done through an app called inetcpl.cpl (also known as Internet Properties).
In Ubuntu Gnome, the place you enter it looks like: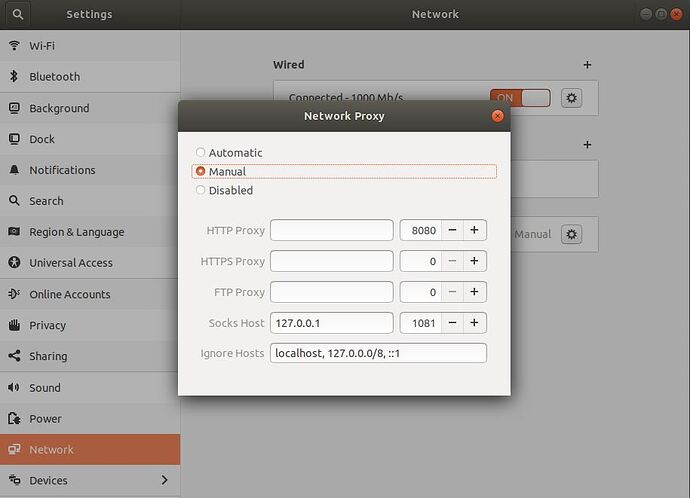 At least in Firefox, you can do that for just Firefox as below. But on Chrome-like browsers, I believe, you are just sent to the "system proxy settings."
I searched not only in Manjaro but generally but did not find anything quite on point. (A thing on point would look as simple as entering the setting into Ubuntu or Firefox as above.)
I found discouraging comments about people resorting to Gnome packages (e.g. dconf-tools):
https://superuser.com/questions/357688/how-to-configure-proxy-settings-on-linux-xfce
I don't want to go there as I don't understand all the implications.
If a Ubuntu or Firefox-like means of entering a SOCKS5 proxy settings is not available for Manjaro Xfce, then I would also like to be told how to do it from the command line or through a config file.
A third alternative may be to be told, "Go ahead and use a Gnome package like those people. They're quite safe in Xfce." Thanks.
ADDING LATER
The person linked below seems to have reached about the same point I did (thinking there may be no easy way to do this for Xfce). I hope that is just a reflection of his (any my poor) research skills.
https://unix.stackexchange.com/questions/673228/is-there-really-no-way-to-set-socks-or-proxy-in-xfce-as-simply-as-in-gnome
According to the same post, the Gnome package trick only works for Firefox, which would be pointless as you can do it for Firefox in Firefox.
Practically speaking, I could make do with Firefox, but as a student of Linux I would really like to be able to do this for Xfce or learn that I can't.