I am very pleased to announce the release of SbK Lxqt 21.0.5.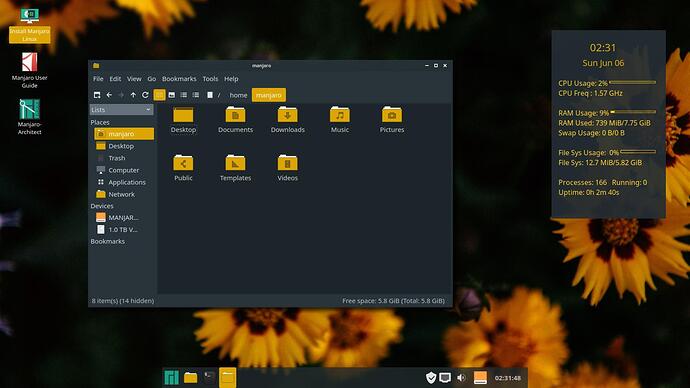 Both versions of this release include
The 5.10.36 linux kernel which is the latest LTS kernel.
Lxqt .17 wich improves the dock functionality. It will only hide when covered by a window.
Improved visual effects. Shadows appear more realistic with no gaps. Fading and blur have been tweaked.
A basic Conky with a Dark Merigold color theme to match the other themes.
The new KvDarkMerigold is a kvantum theme with matching gtk theme. The dark themes have been tweeked. An example is Kwrite no longer has a white text area.
MintSpin Y icons were used and the mintspin-y-darkmerigold icon set was added.
There is a new grub and matching lightdm theme that matches the desktop wallpaper/theme. Users of older SbK Lxqt installs can use the new themes, search for "sbk 210" without quotes to find the new lightdm and grub theme (dont use the live one).
A lot of package updates since the 20.1 release. The release is up to date as of 6/6/2021.
The Usplash2 package has 13 new wallpapers. Backgrounds can be found in /user/share/backgrounds/usplash2. The orignal Usplash is still avilable in the SbK repo for anyone who wants a wider assortment of wallpapers.
They also contain the standard SbK features.
A Manjaro stable install that is also AUR compatible.
Multiarch by default to make running wine games and other 32bit software you may run easier.
The Spins by Kilz signed repository is enabled for SbK project packages.
Timeshift autosnap installed. It takes a snapshot before upgrading so any bad upgrades can be easily reversed.
Bloatware has been removed (HP printer software and others).
Flat packs and snaps are not installed. The back ends are also not installed but can be installed by the user.
The full and very minimal iso can be found here.
SbK is back after a break. Real life sometimes gets in the way of things you do for fun. I also needed some time away from Manjaro. Sadly this time was extended because I installed Debian testing and didnt upgrade my Manjaro partition for 6 months. Trying to update a 3 year old rolling release after a 6 month break seldom works out. So a fresh install and then getting it ready to build took a little time.
As always questions, comments and suggestions are always welcome. Just post below.
Jim