I'm new to Manjaro and hope that my question is not too stupid

KDE Plasma Version: 5.27.7
KDE Frameworks Version: 5.109.0
Qt Version: 5.15.10
Kernel Version: 6.5.0-1-MANJARO (64-bit)
Graphics Platform: X11
I've found this post
and the same problem happens to me. When trying to modify the system proxy configuration, changes disappear after switching to another tab. As described there, the changes seem to be applied after restarting System Settings.
However, I found that even if the proxy appears after restarting System Settings, they are not applied to environment variables. As shown in the figure below, my proxy URLs are applied.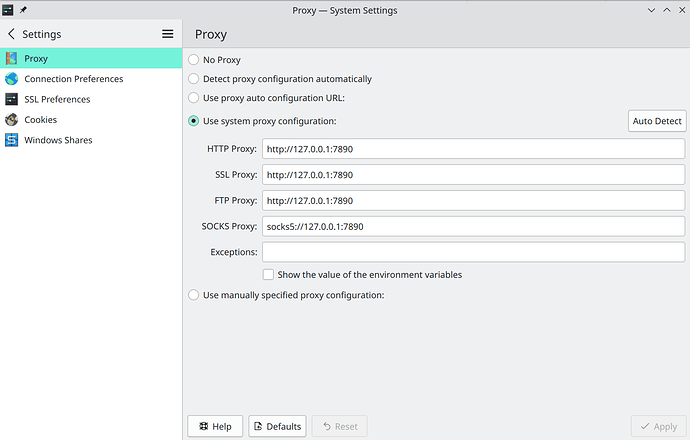 But after clicking "Show the value of the environment variables", they all disappear.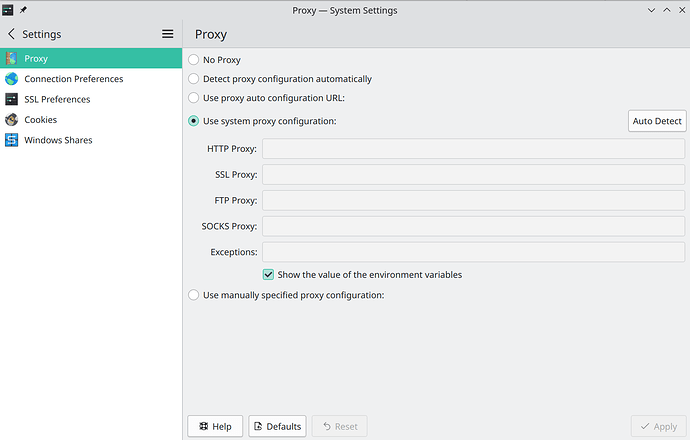 Also, echo $http_proxy and echo $HTTP_PROXY give nothing in konsole. Firefox set to "Use system proxy settings" doesn't utilize the proxy server, either.
Is there any way to make the proxy settings in System Settings of Plasma apply to environment variables?