So I've downgraded from kernel 5.4.57 to 4.19.138 yesterday and noticed some strange behavior from PolKit.
I was to build a docker image from a Docker file and got the following error:
Sending build context to Docker daemon  997.4kB
Error response from daemon: Error processing tar file(exit status 1): Error cleaning up after pivot: remove /.pivot_root092411178: device or resource busy

(this is rather similar to this one)
After this error, I tried to build a docker image again, and got a different error:
ERRO[0000] failed to dial gRPC: cannot connect to the Docker daemon. Is 'docker daemon' running on this host?: dial unix /var/run/docker.sock: connect: no such file or directory 
Cannot connect to the Docker daemon at unix:///var/run/docker.sock. Is the docker daemon running?

I then tried to restart my docker service with systemctl restart docker, a polkit window prompt appeared, and when I typed in my password, I got a message that the password is incorrect, which is obviously not, since I haven't changed the password, as the passsword works with sudo and when I login into my user, but apparently with polkit it stopped working. Also, whenever I start ksysguard, small window show up (every 5 seconds) saying that "can not open /etc/mtab", as displayed in the screenshot.
Now I am not able to pamac upgrade nor anything else that requires Polkit. Not even doing anything from within Add/Remove Software.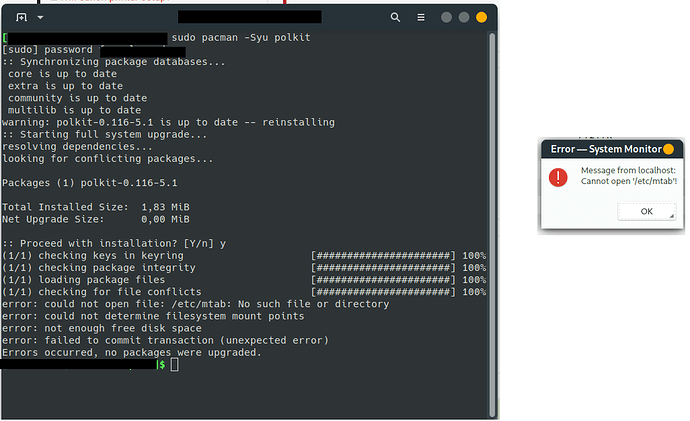 I would kindly accept any help here to solve this issue.