After the last major update, I seem to have lost sound, but only after suspending. I can sometimes get it back, and it comes back after a system reset, but not before.
pulseaudio -k is ineffective, and plasma-pa is already installed. I tried to do sudo alsa force-reload, but it says that the alsa command cannot be found. alsamixer appears to work, but I can't get it to display the Schiit Modi 3 in a way where I can control its volume: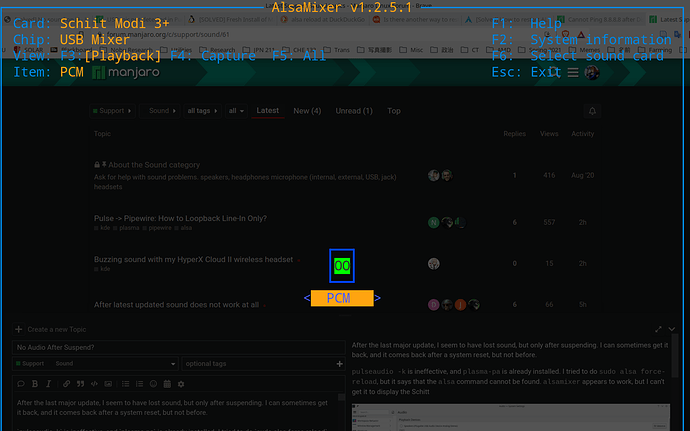 How can I get back audio after suspending like this? Is there some kind of package conflict?
System Specs:
System:
  Host: MidnightStarSign Kernel: 5.10.56-1-MANJARO x86_64 bits: 64 compiler: gcc 
  v: 11.1.0 Desktop: KDE Plasma 5.22.4 Distro: Manjaro Linux base: Arch Linux 
Machine:
  Type: Desktop Mobo: ASUSTeK model: PRIME X570-PRO v: Rev X.0x 
  serial: <superuser required> UEFI: American Megatrends v: 3001 date: 12/04/2020 
CPU:
  Info: 16-Core model: AMD Ryzen 9 5950X bits: 64 type: MT MCP arch: Zen 3 rev: 0 
  cache: L2: 8 MiB 
  flags: avx avx2 lm nx pae sse sse2 sse3 sse4_1 sse4_2 sse4a ssse3 svm 
  bogomips: 217719 
  Speed: 4587 MHz min/max: 2200/3400 MHz boost: enabled Core speeds (MHz): 1: 4587 
  2: 4423 3: 2611 4: 2589 5: 2610 6: 2632 7: 2614 8: 2609 9: 4764 10: 4220 11: 3830 
  12: 4370 13: 3837 14: 3859 15: 3819 16: 3861 17: 3786 18: 3217 19: 2590 20: 2636 
  21: 2600 22: 2592 23: 2594 24: 4414 25: 2626 26: 2913 27: 3858 28: 3802 29: 3807 
  30: 3632 31: 3213 32: 2627 
Graphics:
  Device-1: NVIDIA GA104 [GeForce RTX 3070] vendor: ASUSTeK driver: nvidia 
  v: 470.57.02 bus-ID: 0b:00.0 
  Device-2: Microdia USB 2.0 Camera type: USB driver: snd-usb-audio,uvcvideo 
  bus-ID: 7-1:2 
  Display: x11 server: X.Org 1.20.13 driver: loaded: nvidia resolution: 
  1: 1920x1080~60Hz 2: 1920x1080 3: 1920x1080 
  OpenGL: renderer: NVIDIA GeForce RTX 3070/PCIe/SSE2 v: 4.6.0 NVIDIA 470.57.02 
  direct render: Yes 
Audio:
  Device-1: NVIDIA GA104 High Definition Audio vendor: ASUSTeK driver: snd_hda_intel 
  v: kernel bus-ID: 0b:00.1 
  Device-2: AMD Starship/Matisse HD Audio vendor: ASUSTeK driver: snd_hda_intel 
  v: kernel bus-ID: 0e:00.4 
  Device-3: JMTek LLC. Plugable USB Audio Device type: USB 
  driver: hid-generic,snd-usb-audio,usbhid bus-ID: 3-1:2 
  Device-4: Schiit Audio Schiit Modi 3+ type: USB driver: snd-usb-audio 
  bus-ID: 3-2:3 
  Device-5: ASUSTek ASUS AI Noise-Cancelling Mic Adapter type: USB 
  driver: hid-generic,snd-usb-audio,usbhid bus-ID: 5-5:3 
  Device-6: Microdia USB 2.0 Camera type: USB driver: snd-usb-audio,uvcvideo 
  bus-ID: 7-1:2 
  Sound Server-1: ALSA v: k5.10.56-1-MANJARO running: yes 
  Sound Server-2: JACK v: 1.9.19 running: no 
  Sound Server-3: PulseAudio v: 15.0 running: yes 
  Sound Server-4: PipeWire v: 0.3.33 running: yes 
Network:
  Device-1: Realtek RTL8125 2.5GbE driver: r8169 v: kernel port: d000 
  bus-ID: 05:00.0 
  IF: enp5s0 state: up speed: 1000 Mbps duplex: full mac: 3c:7c:3f:a6:c3:22 
  Device-2: Intel I211 Gigabit Network vendor: ASUSTeK driver: igb v: kernel 
  port: c000 bus-ID: 07:00.0 
  IF: enp7s0 state: down mac: 24:4b:fe:5b:08:2a 
  IF-ID-1: nordlynx state: unknown speed: N/A duplex: N/A mac: N/A 
Bluetooth:
  Device-1: Cambridge Silicon Radio Bluetooth Dongle (HCI mode) type: USB 
  driver: btusb v: 0.8 bus-ID: 3-5.3:6 
  Report: rfkill ID: hci0 rfk-id: 0 state: up address: see --recommends 
Drives:
  Local Storage: total: 4.01 TiB used: 2.11 TiB (52.7%) 
  ID-1: /dev/nvme0n1 vendor: Western Digital model: WDS100T3X0C-00SJG0 
  size: 931.51 GiB temp: 51.9 C 
  ID-2: /dev/nvme1n1 vendor: Western Digital model: WDS100T2B0C-00PXH0 
  size: 931.51 GiB temp: 46.9 C 
  ID-3: /dev/sda vendor: Seagate model: ST2000LM015-2E8174 size: 1.82 TiB 
  ID-4: /dev/sdb type: USB vendor: Generic model: USB3.0 CRW -SD size: 238.3 GiB 
  ID-5: /dev/sdd type: USB vendor: Samsung model: Flash Drive FIT size: 119.51 GiB 
  ID-6: /dev/sde type: USB vendor: Toshiba model: TransMemory size: 14.92 GiB 
  ID-7: /dev/sdf type: USB vendor: SanDisk model: Gaming Xbox 360 size: 7.48 GiB 
Partition:
  ID-1: / size: 767 GiB used: 640.9 GiB (83.6%) fs: btrfs dev: /dev/dm-0 
  mapped: luks-466d5812-64c7-4a28-bcc4-a1a5adfa9450 
  ID-2: /boot/efi size: 511 MiB used: 26.1 MiB (5.1%) fs: vfat dev: /dev/nvme0n1p1 
  ID-3: /home size: 767 GiB used: 640.9 GiB (83.6%) fs: btrfs dev: /dev/dm-0 
  mapped: luks-466d5812-64c7-4a28-bcc4-a1a5adfa9450 
Swap:
  ID-1: swap-1 type: partition size: 64 GiB used: 437.8 MiB (0.7%) dev: /dev/dm-1 
  mapped: luks-81b2dc57-06f5-4471-b484-77c3a516f307 
Sensors:
  System Temperatures: cpu: 54.4 C mobo: N/A gpu: nvidia temp: 44 C 
  Fan Speeds (RPM): N/A gpu: nvidia fan: 0% 
Info:
  Processes: 818 Uptime: 3d 1h 55m Memory: 62.78 GiB used: 15.3 GiB (24.4%) 
  Init: systemd Compilers: gcc: 11.1.0 clang: 12.0.1 Packages: 2040 Shell: Bash 
  v: 5.1.8 inxi: 3.3.06