I initially posted this as a comment under the stable update release post, but I didn't get any response and I myself couldn't manage to fix it either. So I'm opening a dedicated post for it.
The update which was released on 2021-07-28 broke my monitors in a bad and weird way. (detailed info of the versions at the bottom of the post).
Here is my monitor arrangement before this update:
The two vertical ones on the side are connected to Nvidea card via HDMI and the middle on is connected to on-board DVI port of motherboard.
When I rebooted the computer, the SDDM loaded and I had all monitors in the landscape, the left monitor was now on the right side of the middle monitor and the right monitor was a mirror of the middle one (primary)! The KDE panel was gone in the primary monitor, all the desktop wallpapers were changed to something (in both Plasma and SDDM). When I make the middle monitor primary via settings window, the KDE panel fills only half of the screen and it does not respond to left-click what so ever (the correct background is always only shown above the KDE panel which in case of this screenshot is the purple one!!):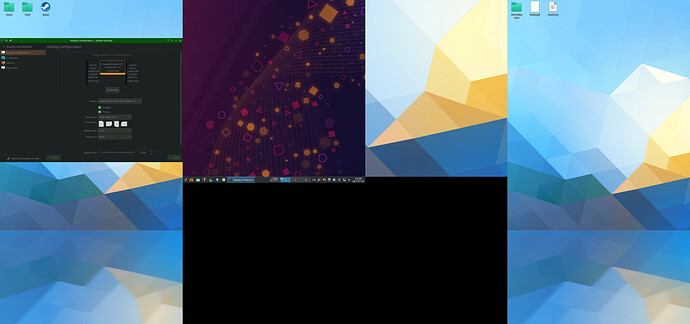 I have rebooted multiple times and nothing got better. I booted into AwesomeWM and everything worked except the monitor arrangement which was behaving similar to SDDM.
Also the numlock status has been reset to default (off).
It seems that this update has badly damaged my SDDM config and my plasma config!
Any suggestion/fix is highly appreciated.
System info:
Operating System: Manjaro Linux
KDE Plasma Version: 5.22.4
KDE Frameworks Version: 5.84.0
Qt Version: 5.15.2
Kernel Version: 5.14.0-1-MANJARO (64-bit)
Graphics Platform: X11
Processors: 8 × Intel® Core™ i7-4770K CPU @ 3.50GHz
Memory: 15.5 GiB of RAM
Graphics Processor: NV136

❯  inxi --graphics

Graphics:
  Device-1: Intel Xeon E3-1200 v3/4th Gen Core Processor Integrated Graphics
  driver: i915 v: kernel
  Device-2: NVIDIA GP106 [GeForce GTX 1060 6GB] driver: nouveau v: kernel
  Device-3: Sunplus Innovation HD 720P webcam type: USB
  driver: snd-usb-audio,uvcvideo
  Display: x11 server: X.Org 1.20.11 driver: loaded: modesetting,nouveau
  unloaded: intel resolution: 1: 1080x1920~60Hz 2: 1080x1920~60Hz
  3: 1920x1080~60Hz
  OpenGL: renderer: NV136 v: 4.3 Mesa 21.1.5