Please help test the newest Manjaro release.
This is likely the final release candidate before the actual release. Release is scheduled to happen this weekend, unless something surprising happens. If all goes well, this iso is practically the same as the actual release.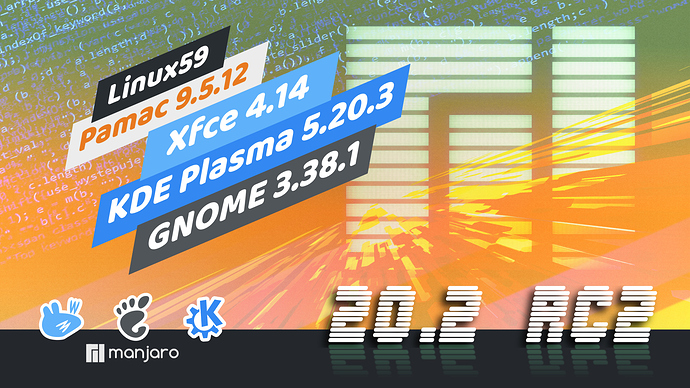 Changes since previous release candidate:
Updated calamares now supports encryption with unencrypted /boot partition.

Support for non US keyboard layouts in password dialog
Graphical password dialog with plymouth
up to 1 minute faster boot time depending on the hardware

Manjaro-hello got some new links (Manjaro discover and telegram group). We also improved the manjaro-application-utlity, but those changes are not present on this iso.
Gnome-inital-setup got some graphical tweaks
New features in Gnome edition:
gnome 3.38

much improved application grid
performance enhancements
improved fingerprint support
some redesign in gnome application interfaces

New tiling options in gnome-layout-switcher

material-shell, touch friendly and efficient tiling interface
pop-shell, unintrusive and intuitive tiling system (enabled by default)

OEM-style installation with gnome-initial-setup. Installing Manjaro to your friends computer is easier than ever
improved terminal fonts (read: better icons in ranger and better looking powerline if you enable it)
improved bmenu for system management in terminal
plymouth for boot animation. Enabled only for installed system, live system still shows the console output.
Download you iso here: