Generated on 2020-09-11 21:57:1599850620

#################### inxi -Fxzc0 ########################

System:    Kernel: 5.8.6-1-MANJARO x86_64 bits: 64 compiler: N/A Desktop: MATE 1.24.1 
           Distro: Manjaro Linux 
Machine:   Type: Desktop Mobo: ASRock model: H81M-DGS R2.0 serial: <filter> 
           BIOS: American Megatrends v: P1.60 date: 07/23/2015 
CPU:       Topology: Dual Core model: Intel Core i3-4150 bits: 64 type: MT MCP arch: Haswell 
           rev: 3 L2 cache: 3072 KiB 
           flags: avx avx2 lm nx pae sse sse2 sse3 sse4_1 sse4_2 ssse3 vmx bogomips: 28002 
           Speed: 3499 MHz min/max: 800/3500 MHz Core speeds (MHz): 1: 1095 2: 1198 3: 1361 4: 931 
Graphics:  Device-1: Intel 4th Generation Core Processor Family Integrated Graphics vendor: ASRock 
           driver: i915 v: kernel bus ID: 00:02.0 
           Display: x11 server: X.Org 1.20.8 driver: modesetting resolution: 1920x1080~60Hz 
           OpenGL: renderer: Mesa DRI Intel HD Graphics 4400 (HSW GT2) v: 4.5 Mesa 20.1.7 
           direct render: Yes 
Audio:     Device-1: Intel Xeon E3-1200 v3/4th Gen Core Processor HD Audio vendor: ASRock 
           driver: snd_hda_intel v: kernel bus ID: 00:03.0 
           Device-2: Intel 8 Series/C220 Series High Definition Audio vendor: ASRock 
           driver: snd_hda_intel v: kernel bus ID: 00:1b.0 
           Sound Server: ALSA v: k5.8.6-1-MANJARO 
Network:   Device-1: Realtek RTL8111/8168/8411 PCI Express Gigabit Ethernet vendor: ASRock 
           driver: r8169 v: kernel port: e000 bus ID: 02:00.0 
           IF: enp2s0 state: up speed: 1000 Mbps duplex: full mac: <filter> 
Drives:    Local Storage: total: 577.55 GiB used: 76.61 GiB (13.3%) 
           ID-1: /dev/sda vendor: Patriot model: Burst size: 111.79 GiB 
           ID-2: /dev/sdb vendor: Western Digital model: WD5000AAVS-00G9B0 size: 465.76 GiB 
Partition: ID-1: / size: 36.41 GiB used: 11.89 GiB (32.7%) fs: ext4 dev: /dev/sda1 
           ID-2: /home size: 103.94 GiB used: 17.27 GiB (16.6%) fs: ext4 dev: /dev/sdb5 
Swap:      Alert: No Swap data was found. 
Sensors:   System Temperatures: cpu: 28.0 C mobo: 33.0 C 
           Fan Speeds (RPM): fan-1: 0 fan-2: 1668 fan-3: 1178 fan-4: 0 fan-5: 0 
           Voltages: 12v: N/A 5v: N/A 3.3v: 3.36 vbat: 3.28 
Info:      Processes: 196 Uptime: 11m Memory: 7.46 GiB used: 1.36 GiB (18.2%) Init: systemd 
           Compilers: gcc: 10.2.0 Packages: 1392 Client: Unknown Client: mate-panel inxi: 3.1.05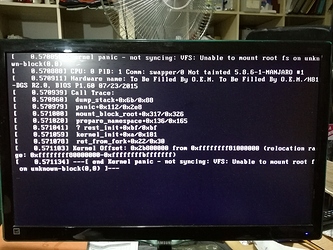 That happens after install ubuntu on 2nd hdd and try boot from manjaro.
Selecting fallback initramfs boot is successful.
Also at startup loads grub with ubuntu display
Thank in advance.
and not manjaro format