Hi!
Ideally I would like to have 5.4 as it is listed as recommended but I started with the wrong feet and now the only kernel version that works when I select it from GRUB is 5.8. If 5.4 is not possible to work for me, how can I upgrade to 5.10?
All the other kernels I select from GRUB produce black screen. In this black screen, when I press Ctrl-Alt-Del it shows something like this for a fraction of second:
watchdoc0: watchdog did not stop
rebooting system

Then the system reboots.
I did not want to change the kernel initially but I have to since I get this window when doing an update to the latest stable update of Manjaro (31 dec 2020) and I cannot start the update: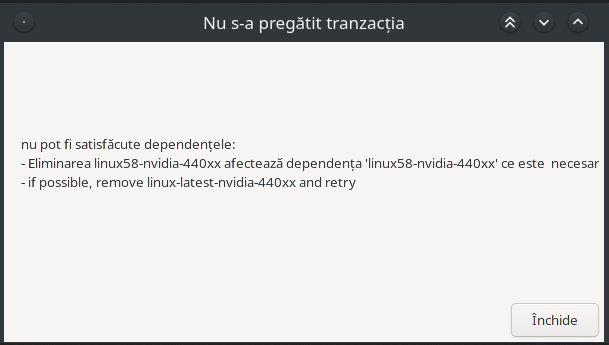 Translated:
The dependencies can not be satisfied:
Removal of linux58-nvidia-440xx affects dependency 'linux58-nvidia-440xx' which is necessary
If possible, remove linux-latest-nvidia-440xx and retry
I would like to keep everything stable. What should be my reaction to this window?
Thanks.