Hi Manjaro Crew,
I'm having some issues with my i3WM sound. It might be all non connected issues or just different issues, I don't know.
I'm trying to describe my issues the best I can: When I start my PC, Pulseaudio does not seem to be connected to alsa player. Sound is coming already through my internal speakers.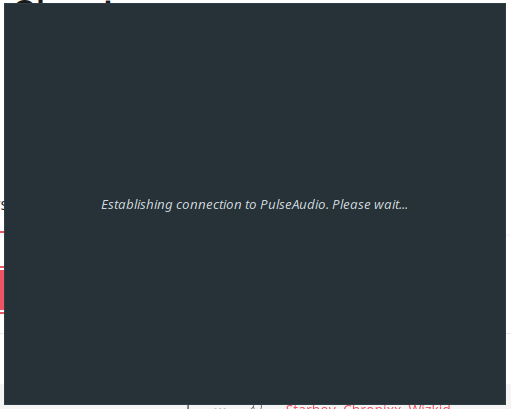 After I manually execute following commands I can re-establish the connection.
$ pulseaudio -k && pulseaudio &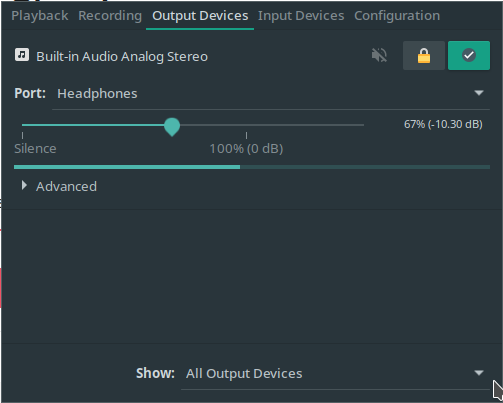 As you can see In the picture here above, the pavucontrol GUI starts working again as it should but it does not stop here. When a 3.5mm jack headphone is inserted, the PC recognizes this and stops the speaker output. The pavucontrol GUI also recognizes this and indicates the output has been changed to a headphone set, but … no sound, Nor in or out
En plus, the little Alsa desktop indicator does not switch to the right output source when this has been changed. This indicator controls (or has a part in controlling ) the volume control via the keyboard, for example.
( I also must mention my Teams sessions have crackling sounds in them, but this could be another issue. )
Clearly there is something off here. I was hoping someone here on the forum could help me out.
My system:
$ inxi --admin --verbosity=7 --filter --no-host --width
System:
  Kernel: 5.10.68-1-MANJARO x86_64 bits: 64 compiler: gcc v: 11.1.0 
  parameters: BOOT_IMAGE=/boot/vmlinuz-5.10-x86_64 
  root=UUID=9e7bfd9e-d45b-4ef0-b169-c42259bd06c5 rw quiet apparmor=1 
  security=apparmor udev.log_priority=3 i915.reset=1 
  Desktop: i3 4.19.1 info: i3bar vt: 7 dm: LightDM 1.30.0 
  Distro: Manjaro Linux base: Arch Linux 
Machine:
  Type: Laptop System: Dell product: Precision 7730 v: N/A serial: <filter> 
  Chassis: type: 10 serial: <filter> 
  Mobo: Dell model: 09G96M v: A00 serial: <filter> UEFI: Dell v: 1.15.3 
  date: 03/04/2021 
Battery:
  ID-1: BAT0 charge: 45.3 Wh (100.0%) condition: 45.3/64.0 Wh (70.7%) 
  volts: 8.3 min: 7.6 model: SMP DELL RY3F977 type: Li-poly serial: <filter> 
  status: Full 
Memory:
  RAM: total: 15.39 GiB used: 5.4 GiB (35.1%) 
  RAM Report: permissions: Unable to run dmidecode. Root privileges required. 
CPU:
  Info: 6-Core model: Intel Core i7-8750H bits: 64 type: MT MCP 
  arch: Kaby Lake note: check family: 6 model-id: 9E (158) stepping: A (10) 
  microcode: EA cache: L2: 9 MiB bogomips: 52815 
  Speed: 813 MHz min/max: 800/4100 MHz Core speeds (MHz): 1: 813 2: 810 3: 801 
  4: 804 5: 813 6: 808 7: 823 8: 816 9: 840 10: 801 11: 801 12: 810 
  Flags: 3dnowprefetch abm acpi adx aes aperfmperf apic arat arch_perfmon art 
  avx avx2 bmi1 bmi2 bts clflush clflushopt cmov constant_tsc cpuid 
  cpuid_fault cx16 cx8 de ds_cpl dtes64 dtherm dts epb ept ept_ad erms est 
  f16c flexpriority flush_l1d fma fpu fsgsbase fxsr ht hwp hwp_act_window 
  hwp_epp hwp_notify ibpb ibrs ida intel_pt invpcid invpcid_single lahf_lm lm 
  mca mce md_clear mmx monitor movbe mpx msr mtrr nonstop_tsc nopl nx pae pat 
  pbe pcid pclmulqdq pdcm pdpe1gb pebs pge pln pni popcnt pse pse36 pti pts 
  rdrand rdseed rdtscp rep_good sdbg sep smap smep ss ssbd sse sse2 sse4_1 
  sse4_2 ssse3 stibp syscall tm tm2 tpr_shadow tsc tsc_adjust 
  tsc_deadline_timer vme vmx vnmi vpid x2apic xgetbv1 xsave xsavec xsaveopt 
  xsaves xtopology xtpr 
  Vulnerabilities: Type: itlb_multihit status: KVM: VMX disabled 
  Type: l1tf 
  mitigation: PTE Inversion; VMX: conditional cache flushes, SMT vulnerable 
  Type: mds mitigation: Clear CPU buffers; SMT vulnerable 
  Type: meltdown mitigation: PTI 
  Type: spec_store_bypass 
  mitigation: Speculative Store Bypass disabled via prctl and seccomp 
  Type: spectre_v1 
  mitigation: usercopy/swapgs barriers and __user pointer sanitization 
  Type: spectre_v2 mitigation: Full generic retpoline, IBPB: conditional, 
  IBRS_FW, STIBP: conditional, RSB filling 
  Type: srbds mitigation: Microcode 
  Type: tsx_async_abort status: Not affected 
Audio:
  Device-1: Intel Cannon Lake PCH cAVS vendor: Dell driver: snd_hda_intel 
  v: kernel alternate: snd_soc_skl,snd_sof_pci bus-ID: 00:1f.3 
  chip-ID: 8086:a348 class-ID: 0403 
  Device-2: AMD Baffin HDMI/DP Audio [Radeon RX 550 640SP / RX 560/560X] 
  vendor: Dell driver: snd_hda_intel v: kernel bus-ID: 01:00.1 
  chip-ID: 1002:aae0 class-ID: 0403 
  Device-3: Logitech Headset H390 type: USB 
  driver: hid-generic,snd-usb-audio,usbhid bus-ID: 1-3:7 chip-ID: 046d:0a44 
  class-ID: 0300 
  Sound Server-1: ALSA v: k5.10.68-1-MANJARO running: yes 
  Sound Server-2: JACK v: 1.9.19 running: no 
  Sound Server-3: PulseAudio v: 15.0 running: no