Hello there, I'm a new Manjaro user on Khadas VIM3 Pro.
It was working great until I upgraded to kernel 5.10.5-1 today.
Basically there are missing letters on the startup menu.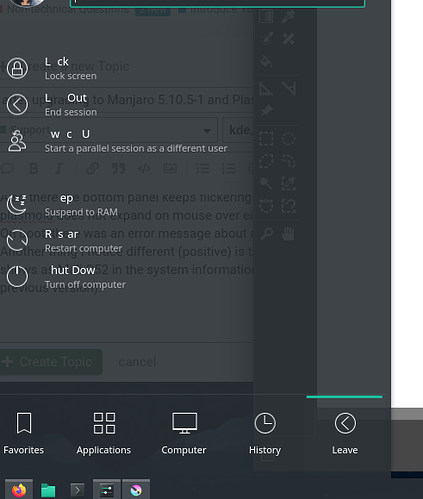 Also there the bottom panel keeps flickering on and off, and the weather plasmoid does not expand on mouse over either.
On boot, there was an error message about a segmentation fault.
Another thing I notice different (positive) is that the Graphics Processor shows as Mali G52 in the system information (this was not there in the previous version).
Excerpt from dmesg:
[21796.216792] panfrost ffe40000.gpu: js fault, js=1, status=INSTR_INVALID_ENC, head=0x316ac80, tail=0x316ac80
[21796.220918] panfrost ffe40000.gpu: gpu sched timeout, js=1, config=0x7300, status=0x51, head=0x316ac80, tail=0x316ac80, sched_job=000000007a664514
[21796.301029] panfrost ffe40000.gpu: js fault, js=1, status=INSTR_INVALID_ENC, head=0x3097580, tail=0x3097580
[21796.305216] panfrost ffe40000.gpu: gpu sched timeout, js=1, config=0x7300, status=0x51, head=0x3097580, tail=0x3097580, sched_job=00000000a6227eb8
[21796.320446] panfrost ffe40000.gpu: js fault, js=1, status=INSTR_INVALID_ENC, head=0x77095c0, tail=0x77095c0
[21796.328032] panfrost ffe40000.gpu: gpu sched timeout, js=1, config=0x7300, status=0x51, head=0x77095c0, tail=0x77095c0, sched_job=0000000004ff6e9c
[21796.543147] audit: type=1130 audit(1611332301.930:167): pid=1 uid=0 auid=4294967295 ses=4294967295 subj=kernel msg='unit=systemd-hostnamed comm="systemd" exe="/usr/lib/systemd/systemd" hostname=? addr=? termi
nal=? res=success'
[21796.874353] Purging 880640 bytes
[21798.042357] Purging 1060864 bytes
[21798.050943] Purging 1413120 bytes
[21798.081754] panfrost ffe40000.gpu: js fault, js=1, status=INSTR_INVALID_ENC, head=0x3092640, tail=0x3092640
[21798.085997] panfrost ffe40000.gpu: gpu sched timeout, js=1, config=0x7302, status=0x51, head=0x3092640, tail=0x3092640, sched_job=000000002e84fb2b
[21798.655763] Purging 569344 bytes
[21798.962117] Purging 1261568 bytes
[21799.452687] Purging 2998272 bytes
[21799.658134] Purging 1081344 bytes
[21799.773426] Purging 1081344 bytes
[21799.961953] Purging 4005888 bytes
[21800.115387] panfrost ffe40000.gpu: js fault, js=0, status=DATA_INVALID_FAULT, head=0x39e9b00, tail=0x39e9b00
[21800.120854] panfrost ffe40000.gpu: gpu sched timeout, js=0, config=0x7302, status=0x58, head=0x39e9b00, tail=0x39e9b00, sched_job=000000006366ed97
[21800.146225] panfrost ffe40000.gpu: Unhandled Page fault in AS1 at VA 0x0000000000000000
              Reason: TODO                                                                                                                                                                                         
              raw fault status: 0x24002C2                                                                                                                                                                          
              decoded fault status: SLAVE FAULT                                                                                                                                                                    
              exception type 0xC2: TRANSLATION_FAULT_LEVEL2                                                                                                                                                        
              access type 0x2: READ                                                                                                                                                                                
              source id 0x240                                                                                                                                                                                      
[21800.213483] panfrost ffe40000.gpu: Unhandled Page fault in AS1 at VA 0x0000000000000000
              Reason: TODO                                                                                                                                                                                         
              raw fault status: 0x24002C2                                                                                                                                                                          
              decoded fault status: SLAVE FAULT                                                                                                                                                                    
              exception type 0xC2: TRANSLATION_FAULT_LEVEL2                                                                                                                                                        
              access type 0x2: READ                                                                                                                                                                                
              source id 0x240                                                                                                                                                                                      
[21800.273458] panfrost ffe40000.gpu: Unhandled Page fault in AS1 at VA 0x0000000000000000
              Reason: TODO                                                                                                                                                                                         
              raw fault status: 0x24002C2                                                                                                                                                                          
              decoded fault status: SLAVE FAULT                                                                                                                                                                    
              exception type 0xC2: TRANSLATION_FAULT_LEVEL2                                                                                                                                                        
              access type 0x2: READ                                                                                                                                                                                
              source id 0x240                                                                                                                                                                                      
[21800.453476] panfrost ffe40000.gpu: Unhandled Page fault in AS1 at VA 0x0000000000000000
              Reason: TODO                                                                                                                                                                                         
              raw fault status: 0x24002C2                                                                                                                                                                          
              decoded fault status: SLAVE FAULT                                                                                                                                                                    
              exception type 0xC2: TRANSLATION_FAULT_LEVEL2                                                                                                                                                        
              access type 0x2: READ                                                                                                                                                                                
              source id 0x240                                                                                                                                                                                      
[21800.593490] panfrost ffe40000.gpu: Unhandled Page fault in AS1 at VA 0x0000000000000000
              Reason: TODO                                                                                                                                                                                         
              raw fault status: 0x24002C2                                                                                                                                                                          
              decoded fault status: SLAVE FAULT                                                                                                                                                                    
              exception type 0xC2: TRANSLATION_FAULT_LEVEL2                                                                                                                                                        
              access type 0x2: READ                                                                                                                                                                                
              source id 0x240                                                                                                                                                                                      
[21800.653355] panfrost ffe40000.gpu: gpu sched timeout, js=1, config=0x7301, status=0x8, head=0x4b32000, tail=0x4b32100, sched_job=00000000262f2e53
[21800.694211] panfrost ffe40000.gpu: js fault, js=0, status=DATA_INVALID_FAULT, head=0x4b32b00, tail=0x4b32b00
[21800.699005] panfrost ffe40000.gpu: gpu sched timeout, js=0, config=0x7300, status=0x58, head=0x4b32b00, tail=0x4b32b00, sched_job=000000003768d2a7
[21800.765002] Purging 544768 bytes
[21803.602793] audit: type=1131 audit(1611332308.989:168): pid=1 uid=0 auid=4294967295 ses=4294967295 subj=kernel msg='unit=systemd-coredump@5-5219-0 comm="systemd" exe="/usr/lib/systemd/systemd" hostname=? addr
=? terminal=? res=success'
[21803.993543] audit: type=1334 audit(1611332309.389:169): prog-id=30 op=UNLOAD
[21803.994943] audit: type=1334 audit(1611332309.389:170): prog-id=29 op=UNLOAD
[21811.977484] panfrost ffe40000.gpu: js fault, js=1, status=INSTR_INVALID_ENC, head=0x39ecac0, tail=0x39ecac0
[21811.981596] panfrost ffe40000.gpu: gpu sched timeout, js=1, config=0x7300, status=0x51, head=0x39ecac0, tail=0x39ecac0, sched_job=000000002f3df4c1
[21812.512366] panfrost ffe40000.gpu: js fault, js=1, status=INSTR_INVALID_ENC, head=0x4b11100, tail=0x4b11100
[21812.516504] panfrost ffe40000.gpu: gpu sched timeout, js=1, config=0x7300, status=0x51, head=0x4b11100, tail=0x4b11100, sched_job=000000003327486f
[21826.578308] audit: type=1131 audit(1611332331.969:171): pid=1 uid=0 auid=4294967295 ses=4294967295 subj=kernel msg='unit=systemd-hostnamed comm="systemd" exe="/usr/lib/systemd/systemd" hostname=? addr=? termi
nal=? res=success'
[21826.924272] audit: type=1334 audit(1611332332.319:172): prog-id=32 op=UNLOAD
[21826.925736] audit: type=1334 audit(1611332332.319:173): prog-id=31 op=UNLOAD
[21835.336400] panfrost ffe40000.gpu: Unhandled Page fault in AS0 at VA 0x0000000000000000
              Reason: TODO                                                                                                                                                                                         
              raw fault status: 0x10002C2                                                                                                                                                                          
              decoded fault status: SLAVE FAULT                                                                                                                                                                    
              exception type 0xC2: TRANSLATION_FAULT_LEVEL2                                                                                                                                                        
              access type 0x2: READ                                                                                                                                                                                
              source id 0x100                                                                                                                                                                                      
[21835.364436] panfrost ffe40000.gpu: Unhandled Page fault in AS0 at VA 0x0000000000000000
              Reason: TODO                                                                                                                                                                                         
              raw fault status: 0x10002C2                                                                                                                                                                          
              decoded fault status: SLAVE FAULT                                                                                                                                                                    
              exception type 0xC2: TRANSLATION_FAULT_LEVEL2                                                                                                                                                        
              access type 0x2: READ                                                                                                                                                                                
              source id 0x100                                                                                                                                                                                      
[21835.394359] panfrost ffe40000.gpu: Unhandled Page fault in AS0 at VA 0x0000000000000000
              Reason: TODO                                                                                                                                                                                         
              raw fault status: 0x10002C2                                                                                                                                                                          
              decoded fault status: SLAVE FAULT                                                                                                                                                                    
              exception type 0xC2: TRANSLATION_FAULT_LEVEL2                                                                                                                                                        
              access type 0x2: READ                                                                                                                                                                                
              source id 0x100                                                                                                                                                                                      
[21835.844276] panfrost ffe40000.gpu: gpu sched timeout, js=1, config=0x7300, status=0x8, head=0x31c2000, tail=0x31c2100, sched_job=00000000bfd2617b