Followup to my post about visual corruption with display settings dialog. Basically the display dialog is corrupted and doesn't show any options.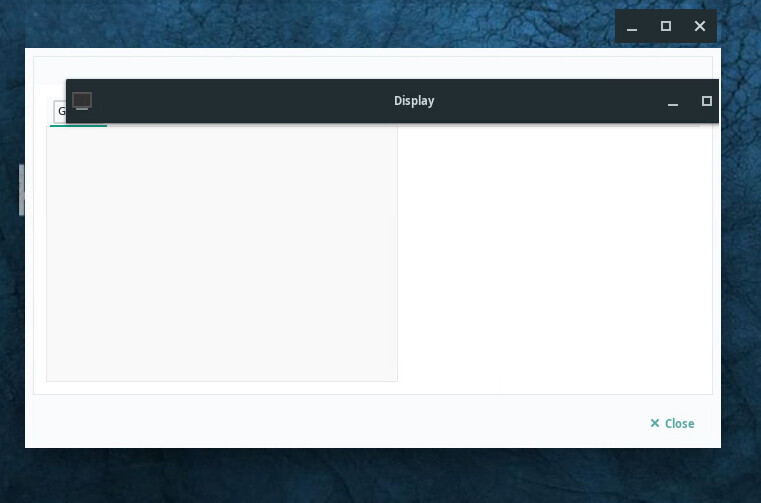 Last time I was able to fix the issue by creating a new user account, switching to the new user account then switching back to the main account, but this time that solution doesn't appear to be working. The new account is doing the same thing.
**note - in my last post I was running xfwm4 but now running compiz.
System repository stable with all updates installed.
 ██████████████████  ████████     x@x
 ██████████████████  ████████     OS: Manjaro 20.2.1 Nibia
 ██████████████████  ████████     Kernel: x86_64 Linux 4.19.173-1-MANJARO
 ██████████████████  ████████     Uptime: 11m
 ████████            ████████     Packages: 1535
 ████████  ████████  ████████     Shell: bash 5.1.0
 ████████  ████████  ████████     Resolution: 1920x1080
 ████████  ████████  ████████     DE: Xfce4
 ████████  ████████  ████████     WM: Compiz
 ████████  ████████  ████████     WM Theme: Adapta-Maia
 ████████  ████████  ████████     GTK Theme: Adapta-Maia [GTK2]
 ████████  ████████  ████████     Icon Theme: Papirus-Maia
 ████████  ████████  ████████     Font: Noto Sans 9
 ████████  ████████  ████████     Disk: 2.7T / 12T (23%)
                                  CPU: Intel Core i7 920 @ 8x 2.668GHz
                                  GPU: NVC3
                                  RAM: 5936MiB / 24094MiB

Machine:
  Type: Desktop System: DELL product: Studio XPS 435T/9000 v: 00 
  serial: <superuser required> 
  Mobo: DELL model: 0X501H v: A02 serial: <superuser required> BIOS: DELL 
  v: A14 date: 10/26/2009 
CPU:
  Info: Quad Core model: Intel Core i7 920 bits: 64 type: MT MCP 
  L2 cache: 8 MiB 
  Speed: 1596 MHz min/max: 1600/2668 MHz Core speeds (MHz): 1: 1596 2: 1596 
  3: 1596 4: 1596 5: 1596 6: 1596 7: 1596 8: 1596 
Graphics:
  Device-1: NVIDIA GF106 [GeForce GTS 450] driver: nouveau v: kernel 
  Display: x11 server: X.Org 1.20.10 driver: loaded: nouveau 
  unloaded: modesetting s-res: 1920x1080 
  OpenGL: renderer: NVC3 v: 4.3 Mesa 20.3.4