After the update tonight (stable) my web app shortcuts on my panel no longer work?
❰greg❙~/.local/share/plasma_icons❱✔≻ cat https:⁄⁄web.whatsapp.com⁄.desktop
#!/usr/bin/env xdg-open
[Desktop Entry]
Icon=/home/greg/.cache/favicons/web.whatsapp.com.png
Name=web.whatsapp.com
Type=Link
URL=https://web.whatsapp.com/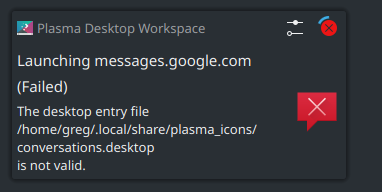 I have tried setting the file association for x-desktop to firefox but it still fails. i tried .desktop & ,kdelnk but still no. i tried searching and adding firefox to the top of associations for https & lnk and link and all sorts but im just guessing really now.
Why has it stopped working after update and how to fix it please.