In some applications the icons in the title bar are tiny. Fonts and height of the title bar match, but the buttons are really small. One of those applications is the software center (pamac). Here you can see it with at the right a window of Kate with correct scaling.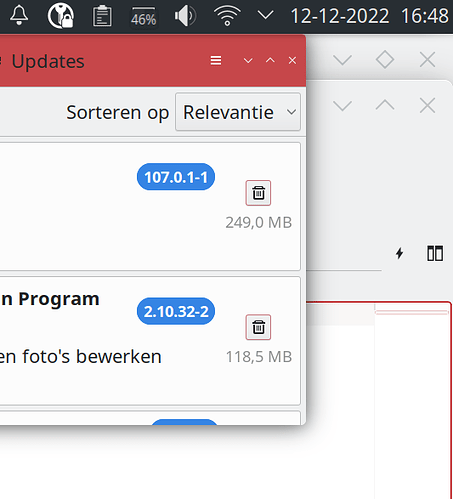 I scaled everything to 150% and I don´t see a HiDPI setting in the system settings.
Running KDE plasma.
 inxi -Gxxx                                                 
Graphics:
  Device-1: Intel TigerLake-LP GT2 [Iris Xe Graphics] vendor: ASUSTeK
    driver: i915 v: kernel arch: Gen-12.1 ports: active: eDP-1
    empty: DP-1,DP-2,HDMI-A-1 bus-ID: 00:02.0 chip-ID: 8086:9a49
    class-ID: 0300
  Device-2: NVIDIA GA107M [GeForce RTX 3050 Mobile] vendor: ASUSTeK
    driver: nvidia v: 525.60.11 arch: Ampere pcie: speed: 16 GT/s lanes: 4
    bus-ID: 01:00.0 chip-ID: 10de:25a2 class-ID: 0302
  Device-3: IMC Networks USB2.0 HD UVC WebCam type: USB driver: uvcvideo
    bus-ID: 3-6:3 chip-ID: 13d3:5458 class-ID: fe01 serial: 0x0001
  Display: x11 server: X.Org v: 21.1.4 compositor: kwin_x11 driver: X:
    loaded: modesetting,nvidia unloaded: nouveau alternate: fbdev,nv,vesa
    dri: iris gpu: i915 display-ID: :0 screens: 1
  Screen-1: 0 s-res: 2560x1600 s-dpi: 96 s-size: 677x423mm (26.65x16.65")
    s-diag: 798mm (31.43")
  Monitor-1: eDP-1 model: AU Optronics 0xe495 res: 2560x1600 dpi: 189
    size: 344x215mm (13.54x8.46") diag: 406mm (16") modes: 2560x1600
  API: OpenGL v: 4.6 Mesa 22.2.4 renderer: Mesa Intel Xe Graphics (TGL GT2)
    direct render: Yes

I also looked at this HiDPI - ArchWiki but I don´t seem to have the file ~/.Xresources I guess it has something to do with GTK, but the only issue is really the size of buttons/icons in the title bar. Fonts are fine, height of the title bar as well.
PS: I have not installed any additional themes or tinkered theme settings. So just using the standard ones that came with the installation.