So, my first language is French, but I generally use English as my system language. A long while ago, I switched my system language to French, mostly just to see how well-supported it was. It's quite good! But even after switching my system language and all locale settings back to Canadian English, some applications (which appear to use system settings and do not have their own language options) are still in French, even though most things seem to have correctly switched back to English.
This isn't a huge problem, but can be a pain in some cases. I don't mind too much when it comes to simple applications, but when it comes to software like Ardour, I'd really rather be able to use English documentation and tutorials without having to guess at how highly specific terms were translated.
Rather few applications are affected. Off the top of my head, I can think of Add/Remove Software and Ardour, but there's a handful of others. System Settings and most other software still correctly display English.
At first, I suspected this might be a side effect of keeping one specific locale setting in French (I'll never put the dollar sign before the amount, fight me), but even after changing it and restarting, the problem still remains. I've tried several different fixes for locale-related problems, but none of them have worked. So far it seems like all my locale files are correctly set to English.
Here is a screenshot showing that my system language and all locale options are set to Canadian English, that most things display in English as they should but that Add/Remove Software (as an example) displays French: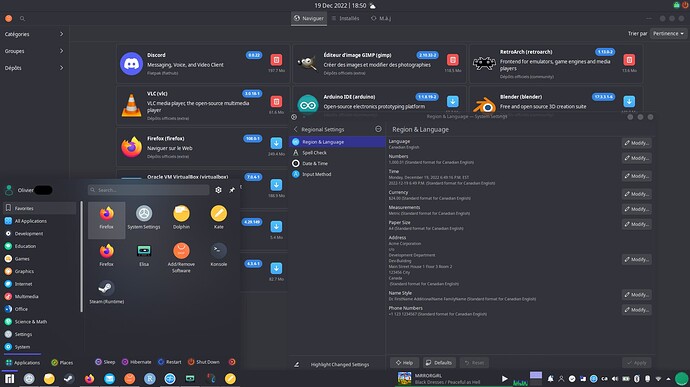 The contents of /etc/locale.conf :
LANG=en_CA.UTF-8
LC_ADDRESS=en_CA.UTF-8
LC_IDENTIFICATION=en_CA.UTF-8
LC_MEASUREMENT=en_CA.UTF-8
LC_MONETARY=en_CA.UTF-8
LC_NAME=en_CA.UTF-8
LC_NUMERIC=en_CA.UTF-8
LC_PAPER=en_CA.UTF-8
LC_TELEPHONE=en_CA.UTF-8
LC_TIME=en_CA.UTF-8

The contents at the end of /etc/locale.gen :
[...]
#
# Locales enabled by Calamares
en_US.UTF-8 UTF-8
en_CA.UTF-8 UTF-8

The contents of ~/.config/plasma-localerc :
[Formats]
LANG=en_CA.UTF-8

[Translations]
LANGUAGE=en_US:fr:ja

This is a minor annoyance, but one that really shouldn't exist, and I'd really like to solve it.