Hi, I'm back with a small theme/icon issue, I fixed it in the past but since a few month, my "problem" is back again.
Here is the previous thread I opened MSM KDE Notifier icon
My issue is that all my system tray icons are white symbols, but one, Manjaro Settings Manager has a colored icon and I would like to have it like all the others.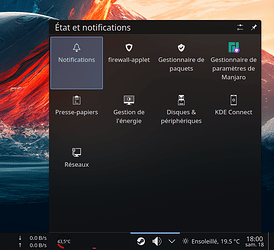 My current Global theme is Breeze Dark, my current Plasma Style is Breeze, my icons are Papirus-Dark, and I'm using KDE obviously.
I tried to revisit the old thread and work from there, but I'm lost again and don't know how I could fix this and have a white symbol instead of this colored one.
If anyone can help and guide me through this, I would appreciate this. Thanks in advance.