Hi there.
I have Manjaro rolling release with Gnome desktop.
Caffeine has no icon at system tray or launcher panel, when it is activated.
I bookmarked/made it favorite to launcher panel to get an icon. However, there is no dot under icon, when Caffeine is active. Further, right click on icon does not give possibility to quit Caffeine.
Caffeine prevents computer for sleeping. I just do not know when it is active. Well, I know if I open System Monitor, but that is not meant to be that way, I think.
Caffeine presets works. I made presets for timeshift-launcher and deja-dup. When some of those are active, computer does not sleep.
How to easily start and stop Caffeine for e.g. downloading a large file from internet?

Is it common to make it start automatically, that I do not have to remember to start it when backup starts?

When Caffeine activates itself because of preset e.g. during backup, should it de-activate itself after backup is made?
I found some commands from forum to put in terminal. I think that terminal has already an answer, I just do not understand it.
Found this thread Autostart caffeine-ng, but I do not find caffeine.desktop-file from autostart folder. That is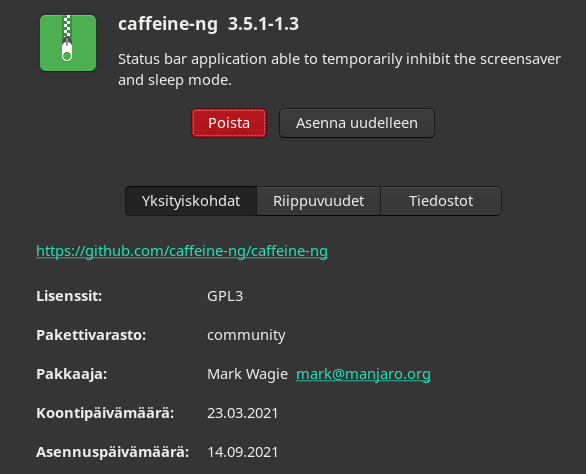 be because I wanted to try not autostart.