I present an aur-explorer gui, written in Qt for plasma (aurkonsult)
Some users run pamac gui only for consult aur ?

It uses the new aur database (so no banning of our IP)
This beta version (0.1.30) is not present in aur but PKGBUILD is available (makepkg -si -p PKGBUILD.git)
Config:
"new" aur proposes 2 databases. By default, this script uses the simple.
simple : 7Mb to download
extended: 9Mb - We have in addition dependencies. add --ext option
We can save database in:
/tmp/ or
~/.cache/packages-meta{-ext}-v1.json
Use
First button "Update" (ctrl+u) : Load database from aur only if a new version is available (every 5 minutes)
"Packages" (ctrl+L) : the packages list

red: packages "out of date"

in aur

green(if manjaro theme): new packages since last database update

"Check" (ctrl+c) : list of our installed aur packages (don't test -git packages version !)
"New packages" (ctrl+n) : list of new packages since the last database update
"Info" : package details
"install": only run konsole (no installation in gui! it's an explorer only!)
multi drag&drop for console, browser (we can also drop in info and Install buttons)
default : yay -Si / or pamac info (if option --pamac)
ALT : pamac -S / pamac build
SHIFT : url project
ctrl++ or ctrl+- for Zoom +/-
---
Database is only saved in /tmp, so we download a new every day
---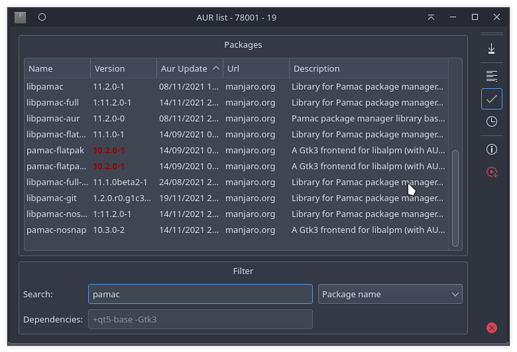 check: