I noticed I can not click on the 1 / (number / pencil button, on top right corner of an edited post) to show the various post edits, like before, the link doesn't open the popup with the edits available to see.
---
I'm using the Dark theme, and something is wrong in my opinion for the emoticons reactions on posts. They appear inside a big white bubble and it makes the emoticons not really visible due to max contrast with theme and white bubble, and with the emotion and white background.
I also use a Firefox module to darken some sites, and I eventually enabled it on the forum to get rid of these white emoticon bubble which are not good in my opinion, here is the difference: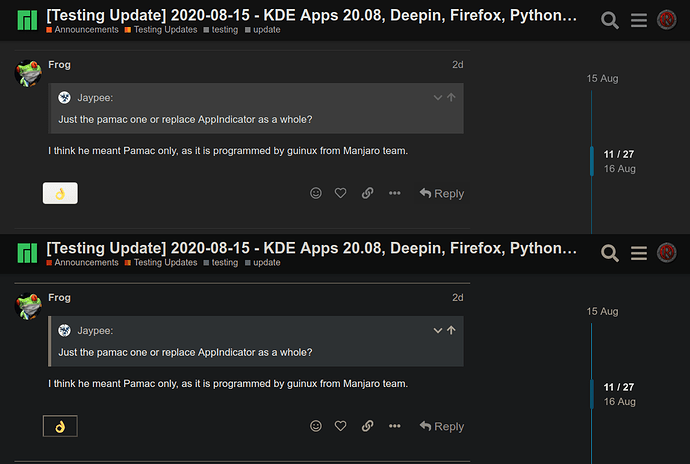 After enabling the module it modifies colors in the page and you can see the difference. Having a darker background for the emoticon bubbles makes them just visible, and match the Dark theme. By default for me with plain white background in the Dark theme, it just make them not visible (legit can't tell which emoticon it is without having my eyes 20 cm from the screen for lot of emoticons).
I suggest removing this plain white background on emoticon bubbles, for a darker color to match the theme and to make them clearly, properly visible.