When I try to enable my third monitor (setting the resolution to 1920x1080) via the nvidia-settings app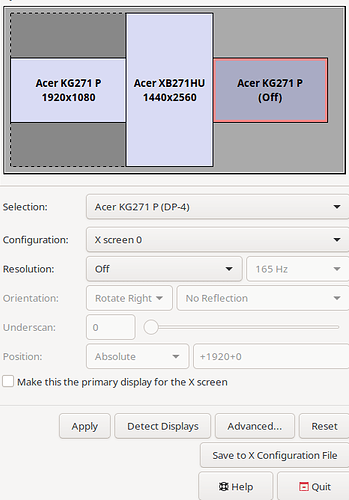 it seems that my DE crashes and resets display settings, disabling both KG271's, so only my XB271HU is enabled.
I did do an update yesterday which updated a vast number of packages including (cat /var/log/pacman.log):
linux60-nvidia (520.56.06-4 → 520.56.06-9)
What I tried
uninstalling nvidia drivers via mhwd (mhwd -r pci video-nvidia)
– which at first refused because of some package dependencies (cuda python-py3nvml gwe opencl-nvidia), which I removed

installing nvidia drivers via mhwd (mhwd -i pci video-nvidia)
– which failed because some libraries still existed from the packages I removed. So I removed them manually (no packages were owned by them pacman -Qo /usr/lib32/<packages_listed_below>)


booting into my secondary OS (windows) where the both displays work just fine

at the login screen (SDDM) all monitors work fine
Does anyone have an idea where I can start debugging this?
I would greatly appreciate some tipps