Hi,
two days ago, I made the kardinal error of changing a running system. For better understanding I draw some pictures of my network, I hope it helps to understand. As I'm renting, I'm not able to change really much on this network.
After removing the Fritzbox (which provided a static IP adress to the manjaro laptop), the manjaro laptop wasn't able to connect to WLAN anymore. It can however connect to a personal hotspot provided by a smartphone which is simultaneously in the WLAN network.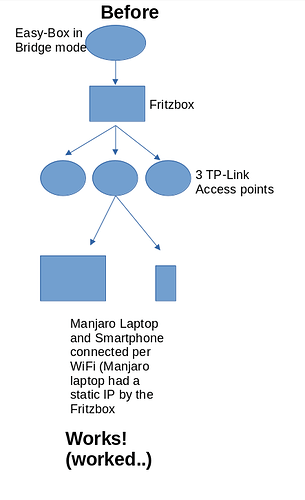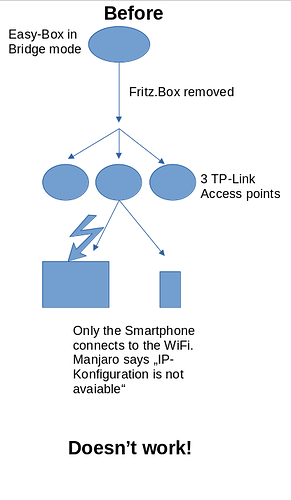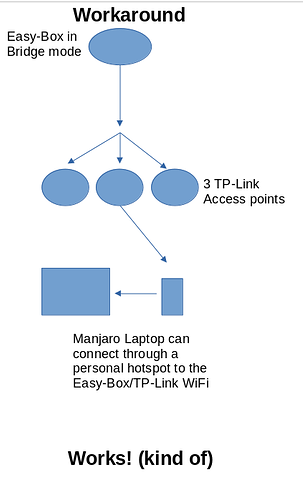 Do you have any ideas, what I could try?
Thanks in advance
Philipp

System:
  Kernel: 5.4.159-1-MANJARO x86_64 bits: 64 compiler: gcc v: 11.1.0
  parameters: BOOT_IMAGE=/boot/vmlinuz-5.4-x86_64
  root=UUID=f5cee1f4-e189-46df-89a9-8971e6f4c3ee rw quiet
  Desktop: KDE Plasma 5.23.3 tk: Qt 5.15.2 wm: kwin_x11 vt: 1 dm: SDDM
  Distro: Manjaro Linux base: Arch Linux
Machine:
  Type: Laptop System: LENOVO product: 20BWS05G02 v: ThinkPad T450s
  serial: <filter> Chassis: type: 10 serial: <filter>
  Mobo: LENOVO model: 20BWS05G02 v: SDK0E50510 WIN serial: <filter>
  UEFI-[Legacy]: LENOVO v: JBET71WW (1.35 ) date: 09/14/2018
Battery:
  ID-1: BAT0 charge: 9.7 Wh (69.3%) condition: 14.0/23.5 Wh (59.5%)
  volts: 11.8 min: 11.4 model: LGC 45N1113 type: Li-ion serial: <filter>
  status: Discharging
  ID-2: BAT1 charge: 0.9 Wh (5.7%) condition: 15.8/23.5 Wh (67.5%) volts: 11.1
  min: 11.4 model: LGC 45N1127 type: Li-ion serial: <filter> status: Unknown
Memory:
  RAM: total: 11.41 GiB used: 2.9 GiB (25.4%)
  RAM Report: permissions: Unable to run dmidecode. Root privileges required.
CPU:
  Info: Dual Core model: Intel Core i7-5600U bits: 64 type: MT MCP
  arch: Broadwell family: 6 model-id: 3D (61) stepping: 4 microcode: 2F cache:
  L2: 4 MiB bogomips: 20761
  Speed: 1249 MHz min/max: 500/3200 MHz Core speeds (MHz): 1: 1249 2: 1635
  3: 1650 4: 1401
  Flags: 3dnowprefetch abm acpi adx aes aperfmperf apic arat arch_perfmon avx
  avx2 bmi1 bmi2 bts clflush cmov constant_tsc cpuid cpuid_fault cx16 cx8 de
  ds_cpl dtes64 dtherm dts epb ept ept_ad erms est f16c flexpriority flush_l1d
  fma fpu fsgsbase fxsr hle ht ibpb ibrs ida intel_pt invpcid invpcid_single
  lahf_lm lm mca mce md_clear mmx monitor movbe msr mtrr nonstop_tsc nopl nx
  pae pat pbe pcid pclmulqdq pdcm pdpe1gb pebs pge pln pni popcnt pse pse36
  pti pts rdrand rdseed rdtscp rep_good rtm sdbg sep smap smep smx ss ssbd sse
  sse2 sse4_1 sse4_2 ssse3 stibp syscall tm tm2 tpr_shadow tsc tsc_adjust
  tsc_deadline_timer vme vmx vnmi vpid x2apic xsave xsaveopt xtopology xtpr
  Vulnerabilities: Type: itlb_multihit status: KVM: Split huge pages
  Type: l1tf
  mitigation: PTE Inversion; VMX: conditional cache flushes, SMT vulnerable
  Type: mds mitigation: Clear CPU buffers; SMT vulnerable
  Type: meltdown mitigation: PTI
  Type: spec_store_bypass
  mitigation: Speculative Store Bypass disabled via prctl and seccomp
  Type: spectre_v1
  mitigation: usercopy/swapgs barriers and __user pointer sanitization
  Type: spectre_v2 mitigation: Full generic retpoline, IBPB: conditional,
  IBRS_FW, STIBP: conditional, RSB filling
  Type: srbds mitigation: Microcode
  Type: tsx_async_abort mitigation: Clear CPU buffers; SMT vulnerable
Graphics:
  Device-1: Intel HD Graphics 5500 vendor: Lenovo driver: i915 v: kernel
  bus-ID: 00:02.0 chip-ID: 8086:1616 class-ID: 0300
  Device-2: Chicony Integrated Camera type: USB driver: uvcvideo bus-ID: 2-8:4
  chip-ID: 04f2:b449 class-ID: 0e02 serial: <filter>
  Display: x11 server: X.Org 1.21.1.1 compositor: kwin_x11 driver:
  loaded: modesetting alternate: fbdev,vesa display-ID: :0 screens: 1
  Screen-1: 0 s-res: 1920x1080 s-dpi: 96 s-size: 508x285mm (20.0x11.2")
  s-diag: 582mm (22.9")
  Monitor-1: eDP-1 res: 1920x1080 hz: 60 dpi: 158 size: 309x173mm (12.2x6.8")
  diag: 354mm (13.9")
  OpenGL: renderer: Mesa Intel HD Graphics 5500 (BDW GT2) v: 4.6 Mesa 21.2.5
  direct render: Yes
Audio:
  Device-1: Intel Broadwell-U Audio vendor: Lenovo driver: snd_hda_intel
  v: kernel bus-ID: 00:03.0 chip-ID: 8086:160c class-ID: 0403
  Device-2: Intel Wildcat Point-LP High Definition Audio vendor: Lenovo
  driver: snd_hda_intel v: kernel bus-ID: 00:1b.0 chip-ID: 8086:9ca0
  class-ID: 0403
  Sound Server-1: ALSA v: k5.4.159-1-MANJARO running: yes
  Sound Server-2: JACK v: 1.9.19 running: no
  Sound Server-3: PulseAudio v: 15.0 running: yes
  Sound Server-4: PipeWire v: 0.3.40 running: yes
Network:
  Device-1: Intel Ethernet I218-LM vendor: Lenovo driver: e1000e v: 3.2.6-k
  port: 3080 bus-ID: 00:19.0 chip-ID: 8086:15a2 class-ID: 0200
  IF: enp0s25 state: down mac: <filter>
  Device-2: Intel Wireless 7265 driver: iwlwifi v: kernel bus-ID: 03:00.0
  chip-ID: 8086:095b class-ID: 0280
  IF: wlp3s0 state: up mac: <filter>
  IP v4: <filter> type: dynamic noprefixroute scope: global
  broadcast: <filter>
  IP v6: <filter> type: noprefixroute scope: link
  WAN IP: <filter>
Bluetooth:
  Device-1: Intel Bluetooth wireless interface type: USB driver: btusb v: 0.8
  bus-ID: 2-7:3 chip-ID: 8087:0a2a class-ID: e001
  Report: rfkill ID: hci0 rfk-id: 2 state: up address: see --recommends
Logical:
  Message: No logical block device data found.
RAID:
  Message: No RAID data found.
Drives:
  Local Storage: total: 476.94 GiB used: 191.04 GiB (40.1%)
  SMART Message: Unable to run smartctl. Root privileges required.
  ID-1: /dev/sda maj-min: 8:0 vendor: Samsung model: MZ7LN512HCHP-000L1
  size: 476.94 GiB block-size: physical: 512 B logical: 512 B speed: 6.0 Gb/s
  type: SSD serial: <filter> rev: 5L0Q scheme: MBR
  Message: No optical or floppy data found.
Partition:
  ID-1: / raw-size: 476.93 GiB size: 468.45 GiB (98.22%)
  used: 191.04 GiB (40.8%) fs: ext4 dev: /dev/sda1 maj-min: 8:1 label: N/A
  uuid: f5cee1f4-e189-46df-89a9-8971e6f4c3ee
Swap:
  Alert: No swap data was found.
Unmounted:
  Message: No unmounted partitions found.
USB:
  Hub-1: 1-0:1 info: Full speed (or root) Hub ports: 3 rev: 2.0
  speed: 480 Mb/s chip-ID: 1d6b:0002 class-ID: 0900
  Hub-2: 1-1:2 info: Intel Integrated Hub ports: 8 rev: 2.0 speed: 480 Mb/s
  chip-ID: 8087:8001 class-ID: 0900
  Hub-3: 2-0:1 info: Full speed (or root) Hub ports: 11 rev: 2.0
  speed: 480 Mb/s chip-ID: 1d6b:0002 class-ID: 0900
  Device-1: 2-5:2 info: Elan Micro Touchscreen type: HID
  driver: hid-multitouch,usbhid interfaces: 1 rev: 2.0 speed: 12 Mb/s
  power: 100mA chip-ID: 04f3:0418 class-ID: 0300
  Device-2: 2-7:3 info: Intel Bluetooth wireless interface type: Bluetooth
  driver: btusb interfaces: 2 rev: 2.0 speed: 12 Mb/s power: 100mA
  chip-ID: 8087:0a2a class-ID: e001
  Device-3: 2-8:4 info: Chicony Integrated Camera type: Video driver: uvcvideo
  interfaces: 2 rev: 2.0 speed: 480 Mb/s power: 500mA chip-ID: 04f2:b449
  class-ID: 0e02 serial: <filter>
  Hub-4: 3-0:1 info: Full speed (or root) Hub ports: 4 rev: 3.0 speed: 5 Gb/s
  chip-ID: 1d6b:0003 class-ID: 0900
Sensors:
  System Temperatures: cpu: 50.0 C mobo: 0.0 C
  Fan Speeds (RPM): cpu: 0
Info:
  Processes: 189 Uptime: 39m wakeups: 1 Init: systemd v: 249 tool: systemctl
  Compilers: gcc: 11.1.0 clang: 13.0.0 Packages: pacman: 1672 lib: 427
  flatpak: 0 Shell: Bash v: 5.1.8 running-in: yakuake inxi: 3.3.08

Log of Network Manager from "Connecting directly to WLAN, to Connecting to Smartphone Hotspot"
sudo journalctl -b -u NetworkManager
Nov 29 20:05:48 philipp-man NetworkManager[286]: <info>  [1638212748.7915] manager: NetworkManager state is now DISCONNECTED
Nov 29 20:05:48 philipp-man NetworkManager[286]: <info>  [1638212748.7918] device (wlp3s0): Activation: starting connection 'TP-LINK_AP_F6E6' (5a55312b-4f65-44b7-b2c0-e26e2fde5193)
Nov 29 20:05:48 philipp-man NetworkManager[286]: <info>  [1638212748.7931] device (wlp3s0): supplicant interface state: completed -> disconnected
Nov 29 20:05:48 philipp-man NetworkManager[286]: <info>  [1638212748.7931] device (p2p-dev-wlp3s0): supplicant management interface state: completed -> disconnected
Nov 29 20:05:48 philipp-man NetworkManager[286]: <info>  [1638212748.8036] device (wlp3s0): state change: disconnected -> prepare (reason 'none', sys-iface-state: 'managed')
Nov 29 20:05:48 philipp-man NetworkManager[286]: <info>  [1638212748.8038] manager: NetworkManager state is now CONNECTING
Nov 29 20:05:48 philipp-man NetworkManager[286]: <info>  [1638212748.8913] device (wlp3s0): set-hw-addr: reset MAC address to 10:02:B5:89:C1:00 (preserve)
Nov 29 20:05:48 philipp-man NetworkManager[286]: <info>  [1638212748.8952] device (wlp3s0): state change: prepare -> config (reason 'none', sys-iface-state: 'managed')
Nov 29 20:05:48 philipp-man NetworkManager[286]: <info>  [1638212748.8957] device (wlp3s0): Activation: (wifi) access point 'TP-LINK_AP_F6E6' has security, but secrets are required.
Nov 29 20:05:48 philipp-man NetworkManager[286]: <info>  [1638212748.8957] device (wlp3s0): state change: config -> need-auth (reason 'none', sys-iface-state: 'managed')
Nov 29 20:05:48 philipp-man NetworkManager[286]: <info>  [1638212748.8979] audit: op="statistics" interface="wlp3s0" ifindex=3 args="0" pid=1056 uid=1000 result="success"
Nov 29 20:05:48 philipp-man NetworkManager[286]: <info>  [1638212748.9151] audit: op="statistics" interface="wlp3s0" ifindex=3 args="500" pid=1172 uid=1000 result="success"
Nov 29 20:05:48 philipp-man NetworkManager[286]: <info>  [1638212748.9158] device (wlp3s0): state change: need-auth -> prepare (reason 'none', sys-iface-state: 'managed')
Nov 29 20:05:48 philipp-man NetworkManager[286]: <info>  [1638212748.9163] device (wlp3s0): state change: prepare -> config (reason 'none', sys-iface-state: 'managed')
Nov 29 20:05:48 philipp-man NetworkManager[286]: <info>  [1638212748.9167] device (wlp3s0): Activation: (wifi) connection 'TP-LINK_AP_F6E6' has security, and secrets exist.  No new secre>
Nov 29 20:05:48 philipp-man NetworkManager[286]: <info>  [1638212748.9169] Config: added 'ssid' value 'TP-LINK_AP_F6E6'
Nov 29 20:05:48 philipp-man NetworkManager[286]: <info>  [1638212748.9171] Config: added 'scan_ssid' value '1'
Nov 29 20:05:48 philipp-man NetworkManager[286]: <info>  [1638212748.9171] Config: added 'bgscan' value 'simple:30:-70:86400'
Nov 29 20:05:48 philipp-man NetworkManager[286]: <info>  [1638212748.9171] Config: added 'key_mgmt' value 'WPA-PSK WPA-PSK-SHA256 FT-PSK'
Nov 29 20:05:48 philipp-man NetworkManager[286]: <info>  [1638212748.9171] Config: added 'psk' value '<hidden>'
Nov 29 20:05:48 philipp-man NetworkManager[286]: <info>  [1638212748.9434] device (wlp3s0): supplicant interface state: disconnected -> scanning
Nov 29 20:05:48 philipp-man NetworkManager[286]: <info>  [1638212748.9435] device (p2p-dev-wlp3s0): supplicant management interface state: disconnected -> scanning
Nov 29 20:05:49 philipp-man NetworkManager[286]: <info>  [1638212749.7944] device (wlp3s0): supplicant interface state: scanning -> authenticating
Nov 29 20:05:49 philipp-man NetworkManager[286]: <info>  [1638212749.7944] device (p2p-dev-wlp3s0): supplicant management interface state: scanning -> authenticating
Nov 29 20:05:49 philipp-man NetworkManager[286]: <info>  [1638212749.8062] device (wlp3s0): supplicant interface state: authenticating -> associating
Nov 29 20:05:49 philipp-man NetworkManager[286]: <info>  [1638212749.8062] device (p2p-dev-wlp3s0): supplicant management interface state: authenticating -> associating
Nov 29 20:05:49 philipp-man NetworkManager[286]: <info>  [1638212749.8134] device (wlp3s0): supplicant interface state: associating -> 4way_handshake
Nov 29 20:05:49 philipp-man NetworkManager[286]: <info>  [1638212749.8134] device (p2p-dev-wlp3s0): supplicant management interface state: associating -> 4way_handshake
Nov 29 20:05:49 philipp-man NetworkManager[286]: <info>  [1638212749.8250] device (wlp3s0): supplicant interface state: 4way_handshake -> completed
Nov 29 20:05:49 philipp-man NetworkManager[286]: <info>  [1638212749.8251] device (wlp3s0): Activation: (wifi) Stage 2 of 5 (Device Configure) successful. Connected to wireless network ">
Nov 29 20:05:49 philipp-man NetworkManager[286]: <info>  [1638212749.8252] device (p2p-dev-wlp3s0): supplicant management interface state: 4way_handshake -> completed
Nov 29 20:05:49 philipp-man NetworkManager[286]: <info>  [1638212749.8284] device (wlp3s0): state change: config -> ip-config (reason 'none', sys-iface-state: 'managed')
Nov 29 20:05:49 philipp-man NetworkManager[286]: <info>  [1638212749.8291] dhcp4 (wlp3s0): activation: beginning transaction (timeout in 45 seconds)
Nov 29 20:06:34 philipp-man NetworkManager[286]: <warn>  [1638212794.9133] dhcp4 (wlp3s0): request timed out
Nov 29 20:06:34 philipp-man NetworkManager[286]: <info>  [1638212794.9134] dhcp4 (wlp3s0): state changed unknown -> timeout
Nov 29 20:06:34 philipp-man NetworkManager[286]: <info>  [1638212794.9135] device (wlp3s0): state change: ip-config -> failed (reason 'ip-config-unavailable', sys-iface-state: 'managed')
Nov 29 20:06:34 philipp-man NetworkManager[286]: <info>  [1638212794.9151] manager: NetworkManager state is now DISCONNECTED
Nov 29 20:06:34 philipp-man NetworkManager[286]: <info>  [1638212794.9368] device (wlp3s0): set-hw-addr: set MAC address to 2A:90:40:A0:0F:C5 (scanning)
Nov 29 20:06:34 philipp-man NetworkManager[286]: <warn>  [1638212794.9411] device (wlp3s0): Activation: failed for connection 'TP-LINK_AP_F6E6'
Nov 29 20:06:34 philipp-man NetworkManager[286]: <info>  [1638212794.9415] device (wlp3s0): state change: failed -> disconnected (reason 'none', sys-iface-state: 'managed')
Nov 29 20:06:34 philipp-man NetworkManager[286]: <info>  [1638212794.9551] dhcp4 (wlp3s0): canceled DHCP transaction
Nov 29 20:06:34 philipp-man NetworkManager[286]: <info>  [1638212794.9551] dhcp4 (wlp3s0): state changed timeout -> terminated
Nov 29 20:06:34 philipp-man NetworkManager[286]: <info>  [1638212794.9656] device (wlp3s0): supplicant interface state: completed -> disconnected
Nov 29 20:06:34 philipp-man NetworkManager[286]: <info>  [1638212794.9656] device (p2p-dev-wlp3s0): supplicant management interface state: completed -> disconnected
Nov 29 20:06:35 philipp-man NetworkManager[286]: <info>  [1638212795.4664] policy: auto-activating connection 'AndroidAP_1947' (375d0b41-2d3a-402a-a544-a4d7149662c9)
Nov 29 20:06:35 philipp-man NetworkManager[286]: <info>  [1638212795.4682] device (wlp3s0): Activation: starting connection 'AndroidAP_1947' (375d0b41-2d3a-402a-a544-a4d7149662c9)
Nov 29 20:06:35 philipp-man NetworkManager[286]: <info>  [1638212795.4685] device (wlp3s0): state change: disconnected -> prepare (reason 'none', sys-iface-state: 'managed')
Nov 29 20:06:35 philipp-man NetworkManager[286]: <info>  [1638212795.4693] manager: NetworkManager state is now CONNECTING
Nov 29 20:06:35 philipp-man NetworkManager[286]: <info>  [1638212795.4744] device (wlp3s0): set-hw-addr: reset MAC address to 10:02:B5:89:C1:00 (preserve)
Nov 29 20:06:35 philipp-man NetworkManager[286]: <info>  [1638212795.4778] device (wlp3s0): state change: prepare -> config (reason 'none', sys-iface-state: 'managed')
Nov 29 20:06:35 philipp-man NetworkManager[286]: <info>  [1638212795.4781] device (wlp3s0): Activation: (wifi) access point 'AndroidAP_1947' has security, but secrets are required.
Nov 29 20:06:35 philipp-man NetworkManager[286]: <info>  [1638212795.4781] device (wlp3s0): state change: config -> need-auth (reason 'none', sys-iface-state: 'managed')
Nov 29 20:06:35 philipp-man NetworkManager[286]: <info>  [1638212795.4818] device (wlp3s0): supplicant interface state: disconnected -> interface_disabled
Nov 29 20:06:35 philipp-man NetworkManager[286]: <info>  [1638212795.4818] device (p2p-dev-wlp3s0): supplicant management interface state: disconnected -> interface_disabled
Nov 29 20:06:35 philipp-man NetworkManager[286]: <info>  [1638212795.5029] device (wlp3s0): state change: need-auth -> prepare (reason 'none', sys-iface-state: 'managed')
Nov 29 20:06:35 philipp-man NetworkManager[286]: <info>  [1638212795.5033] device (wlp3s0): state change: prepare -> config (reason 'none', sys-iface-state: 'managed')
Nov 29 20:06:35 philipp-man NetworkManager[286]: <info>  [1638212795.5035] device (wlp3s0): Activation: (wifi) connection 'AndroidAP_1947' has security, and secrets exist.  No new secret>
Nov 29 20:06:35 philipp-man NetworkManager[286]: <info>  [1638212795.5035] Config: added 'ssid' value 'AndroidAP_1947'
Nov 29 20:06:35 philipp-man NetworkManager[286]: <info>  [1638212795.5035] Config: added 'scan_ssid' value '1'
Nov 29 20:06:35 philipp-man NetworkManager[286]: <info>  [1638212795.5036] Config: added 'bgscan' value 'simple:30:-70:86400'
Nov 29 20:06:35 philipp-man NetworkManager[286]: <info>  [1638212795.5036] Config: added 'key_mgmt' value 'WPA-PSK WPA-PSK-SHA256 FT-PSK'
Nov 29 20:06:35 philipp-man NetworkManager[286]: <info>  [1638212795.5036] Config: added 'auth_alg' value 'OPEN'
Nov 29 20:06:35 philipp-man NetworkManager[286]: <info>  [1638212795.5036] Config: added 'psk' value '<hidden>'
Nov 29 20:06:35 philipp-man NetworkManager[286]: <info>  [1638212795.5068] device (wlp3s0): supplicant interface state: interface_disabled -> disconnected
Nov 29 20:06:35 philipp-man NetworkManager[286]: <info>  [1638212795.5069] device (p2p-dev-wlp3s0): supplicant management interface state: interface_disabled -> disconnected
Nov 29 20:06:35 philipp-man NetworkManager[286]: <info>  [1638212795.5172] device (wlp3s0): supplicant interface state: disconnected -> scanning
Nov 29 20:06:35 philipp-man NetworkManager[286]: <info>  [1638212795.5172] device (p2p-dev-wlp3s0): supplicant management interface state: disconnected -> scanning
Nov 29 20:06:44 philipp-man NetworkManager[286]: <info>  [1638212804.8518] device (wlp3s0): supplicant interface state: scanning -> authenticating
Nov 29 20:06:44 philipp-man NetworkManager[286]: <info>  [1638212804.8518] device (p2p-dev-wlp3s0): supplicant management interface state: scanning -> authenticating
Nov 29 20:06:44 philipp-man NetworkManager[286]: <info>  [1638212804.8587] device (wlp3s0): supplicant interface state: authenticating -> associating
Nov 29 20:06:44 philipp-man NetworkManager[286]: <info>  [1638212804.8588] device (p2p-dev-wlp3s0): supplicant management interface state: authenticating -> associating
Nov 29 20:06:44 philipp-man NetworkManager[286]: <info>  [1638212804.8850] device (wlp3s0): supplicant interface state: associating -> associated
Nov 29 20:06:44 philipp-man NetworkManager[286]: <info>  [1638212804.8850] device (p2p-dev-wlp3s0): supplicant management interface state: associating -> associated
Nov 29 20:06:44 philipp-man NetworkManager[286]: <info>  [1638212804.8977] device (wlp3s0): supplicant interface state: associated -> 4way_handshake
Nov 29 20:06:44 philipp-man NetworkManager[286]: <info>  [1638212804.8977] device (p2p-dev-wlp3s0): supplicant management interface state: associated -> 4way_handshake
Nov 29 20:06:44 philipp-man NetworkManager[286]: <info>  [1638212804.9067] device (wlp3s0): supplicant interface state: 4way_handshake -> completed
Nov 29 20:06:44 philipp-man NetworkManager[286]: <info>  [1638212804.9068] device (wlp3s0): Activation: (wifi) Stage 2 of 5 (Device Configure) successful. Connected to wireless network ">
Nov 29 20:06:44 philipp-man NetworkManager[286]: <info>  [1638212804.9068] device (p2p-dev-wlp3s0): supplicant management interface state: 4way_handshake -> completed
Nov 29 20:06:44 philipp-man NetworkManager[286]: <info>  [1638212804.9069] device (wlp3s0): state change: config -> ip-config (reason 'none', sys-iface-state: 'managed')
Nov 29 20:06:44 philipp-man NetworkManager[286]: <info>  [1638212804.9073] dhcp4 (wlp3s0): activation: beginning transaction (timeout in 45 seconds)
Nov 29 20:06:44 philipp-man NetworkManager[286]: <info>  [1638212804.9511] dhcp4 (wlp3s0): state changed unknown -> bound, address=192.168.252.17
Nov 29 20:06:44 philipp-man NetworkManager[286]: <info>  [1638212804.9537] device (wlp3s0): state change: ip-config -> ip-check (reason 'none', sys-iface-state: 'managed')
Nov 29 20:06:44 philipp-man NetworkManager[286]: <info>  [1638212804.9700] device (wlp3s0): state change: ip-check -> secondaries (reason 'none', sys-iface-state: 'managed')
Nov 29 20:06:44 philipp-man NetworkManager[286]: <info>  [1638212804.9702] device (wlp3s0): state change: secondaries -> activated (reason 'none', sys-iface-state: 'managed')
Nov 29 20:06:44 philipp-man NetworkManager[286]: <info>  [1638212804.9720] manager: NetworkManager state is now CONNECTED_LOCAL
Nov 29 20:06:44 philipp-man NetworkManager[286]: <info>  [1638212804.9736] manager: NetworkManager state is now CONNECTED_SITE
Nov 29 20:06:44 philipp-man NetworkManager[286]: <info>  [1638212804.9737] policy: set 'AndroidAP_1947' (wlp3s0) as default for IPv4 routing and DNS
Nov 29 20:06:44 philipp-man NetworkManager[286]: <info>  [1638212804.9882] device (wlp3s0): Activation: successful, device activated.
Nov 29 20:06:45 philipp-man NetworkManager[286]: <info>  [1638212805.0203] audit: op="statistics" interface="wlp3s0" ifindex=3 args="2000" pid=1056 uid=1000 result="success"
Nov 29 20:06:45 philipp-man NetworkManager[286]: <info>  [1638212805.0287] audit: op="statistics" interface="wlp3s0" ifindex=3 args="500" pid=1172 uid=1000 result="success"
Nov 29 20:06:46 philipp-man NetworkManager[286]: <info>  [1638212806.8502] audit: op="statistics" interface="wlp3s0" ifindex=3 args="0" pid=1056 uid=1000 result="success"
Nov 29 20:06:46 philipp-man NetworkManager[286]: <info>  [1638212806.8548] audit: op="statistics" interface="wlp3s0" ifindex=3 args="500" pid=1172 uid=1000 result="success"
Nov 29 20:06:47 philipp-man NetworkManager[286]: <info>  [1638212807.0490] manager: NetworkManager state is now CONNECTED_GLOBAL