I updated my laptop which I hadn't been using for about a month. I'm on stable and all upgrades completed successfully. I tried to change the desktop wallpaper after updating and got this: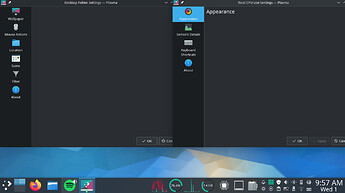 All of my widgets are working correctly, like plasma-pa (audio), plasma p-state (cpu gov control), and system monitors (pie charts), but I can't edit any of their settings as none of the subpages load. After that I moved my
~/.config/plasma-org.kde.plasma.desktop-appletsrc
and rebooted to get a fresh default desktop setup, but no improvement in those panels so I put back my configuration and rebooted again. I then tried reinstalling plasma-desktop, plasma-workspace, plasma-wayland-session, plasma-simplemenu, kmenuedit, and systemsettings, but all had no effect after reboot. I have only used default plugins for my wallpaper in plasma wayland.