Question is the Same as in the header)))
this forum is not a update but a new

aaah ok. Well domain still the same so I thought that this is just upgrade. What about topic privacy?
You mean this and the tabs that follow?
https://forum.manjaro.org/faq
https://forum.manjaro.org/privacy
or you refer to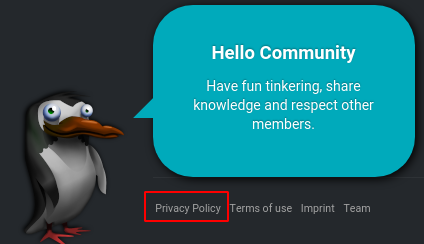 that leads here

How can I open an old one topic (it says: "Oops! That page doesn't exist or is private.", but the topic is not really private)? Any chances they are going to be available?
This is a new forum and the old forum is archived. You may visit the old forum here: archived.forum.manjaro.org.
Remember this is new from scratch. Old account willnt work here in this new forum.
I am about it. I have the same problem
ok. I got it, maybe admins can make redirect from old links to new archived forum links? Because there are a lot of vital topics in the old forum you know. @bogdancovaciu
It's not a matter of redirecting links, but waiting for the search engines to update their indexes, and point to the archived forum, not the new forum.
Yes, but it will lose all previous SEO gained by those links.
Not only that, and I think more importantly, all links that have been created to the old forum posts will end up in a 404.
So I would suggest creating a list of all links from previous forum, and then doing a mass redirection to it (it can be done directly with Nginx).
So no SEO loss by adding permanent redirects, and no lost links.

@bogdancovaciu If you need help for any of this, I'd like to contribute with all the necessary time to make it happen. (you're welcome to contact me through my email found in my profile)
now archivedforum is referenced by google

so, for team, is not possible to add a link to here in archive ? : if user go from google link, its not easy to go here (and to know that this forum exists)
best: link in "This site is in read only mode. Please continue to browse, but replying, likes, and other actions are disabled for now." message
Kindly appreciated. Is not my expertize nor my cup of experience. The best people to talk about this is @codesardine and @philm
Arch has a wiki, Manjaro has forums. And you just made every single topic 404 on Google. I can understand you might not care about SEO, but this devastating blow to troubleshooting, since many users google for answers first. You can either:
Move the old forum URLs back to where it was, and put this new forum on a new subdomain
301 Redirect all 404s to the appropriate version of archived.forum.manjaro.org
Unless you deal with this, Google might have a problem with massive amounts of 404s and future indexing of your the forums.
Lastly, I know Manjaro aspires to become a professional distro, but the disasters lately make the whole team look incompetent.
Time will solve the current google mess.
What's the best way to contact them?
Try via PM, or mention them again here. When they got the time will respond for sure. Maybe me mentioning them above was not enough.

I just made this for other lazy people like me who hates typing archived. everytime.
Doesn't seem I can send them PM on the forum, so @philm and @codesardine, if you read this message.

Wow, my question was so actual )))