I installed visual studio code from add/remove software…
Hi @caedenph,
I was just able to install it and it went without a problem.
Are you sure your VS Code (or Code OSS as shown in the screenshot) is up-to-date? Because the error would suggest it's not.
Hope you manage!
Edit:
E9ithher that, or I suspect you tried to install the extension from another place. Or maybe by magic.

Code is version 1.58 in the Manjaro x64 reposirory, but 1.60 has been released.
Well mine is still 1.58: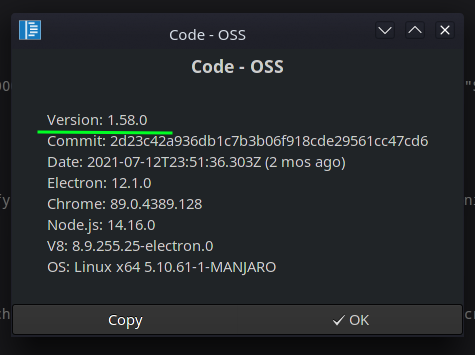 Edit:
And I didn't have any errors thorough the Microsoft store.
yeah i reinstalled it but it still doesnt work - where should i install the packages for vsc then?
how do i update? i reinstalled
so how do i get 1.6?
I'd suggest the code package in the community repositories:
pamac install code

And I don't know if this is neccessary, but I have code-marketplace from the AUR installed as well:
pamac build code-marketplace

Hope this helps!
is there a difference between pamac and add/remove software? i thought it was a gui for pamac
edit: thanks the pamac build code-marketplace worked!
This topic was automatically closed 2 days after the last reply. New replies are no longer allowed.