Hello!
I have an issue with updates. I cannot update or install anything anymore because of this.
When trying to update I get the following error:
Kann Abhängigkeiten nicht erfüllen:
(Cannot resolve dependencies)
das Entfernen von package-query verletzt Abhängigkeit von 'package-query>=1.8' benötigt von yaourt,
(removing package-query violates package-query needed by yaourt

wenn möglich, entferne yaourt und versuche es erneut
(if possible remove yaourt and retry)
Removing yaourt doesn't seem to make much sense, because this would lead to the whole system basically being uninstalled system by dependencies.
Also I had a look at the existing packages, and "libpamac" is not even installed on my system.
The transaction overview: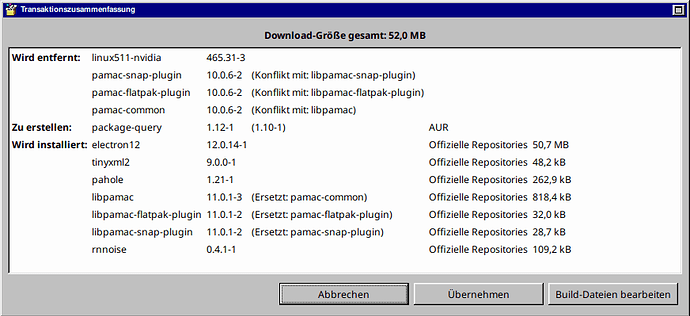 How can I fix this, please?


Thank you!