Hello,
I'm having a weird issue with Timeshift on a btrfs filesystem. I'm using two different SSD drives, one with the /boot/efi, root (/) and swap partitions, and another for /home partition. I formatted the root partition and home partition with btrfs.
Upon entering my newly installed system, I noticed that Timeshift was only taking snapshots of the root partition, leaving the /home partition without snapshots, so I researched a little and decided create a btrfs subvolume called @home on the /home partition (on a different SSD) to enable Timeshift to take snapshots of my /home.
After doing all the required changes (from a LiveUSB, creating the subvolume, copying the user folder into @home directory, edit fstab to include subvol=@home in the correct partition, rebooting, running chown user:group -R /home/), Timeshift can now see my /home partition and take snapshots of both partitions, but the size of the previous and current snapshots look weird: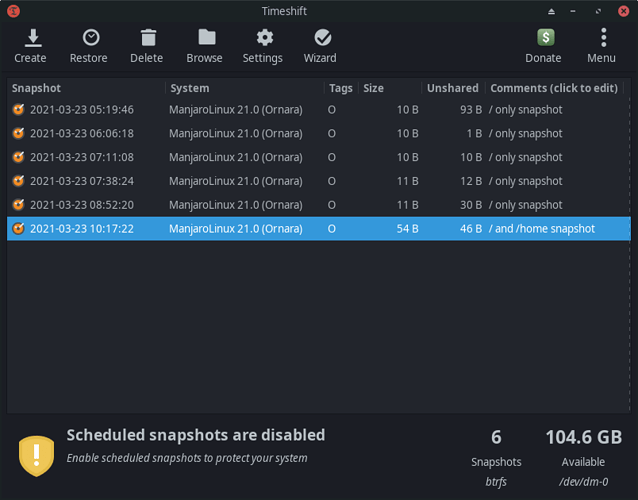 Shouldn't the size column show sizes in GB? I could swear this was the case before doing all the changes to my /home partition, maybe my eyes are playing tricks on me? I've ran du -sh on all the snapshots and they are showing the expected sizes.