Hey there,
I have used timeshift for years but I always found it a bit weird to make the backup on the same disk as the one I use. I know, technically timeshift is not a full backup system, so I do backups in another way on an external disk as well.
But I would like to have the backups from timeshift on a second internal disk and I am not sure if I understand the UI correctly.
Those are my disks:


nvme1n1 is the one I use, 0n1 is my second one. I want to save the timeshift data from 1n1 on 0n1.
Is it enough to just change the disk in that menu here?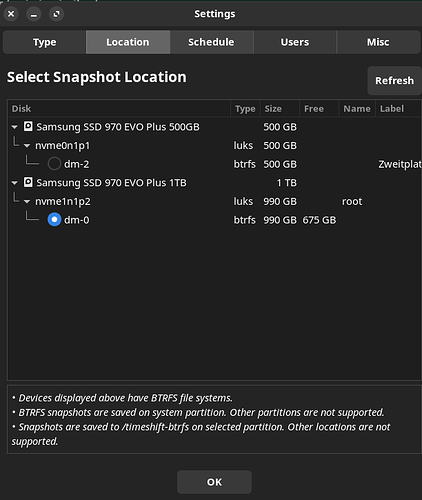 If I do so, I get the message "Select BTRFS system disk with root subvolume @". Do I need to make a @volume on disk 0n1 as well or does that tell me that I am not allowed to do it on a different disk?
Sorry if that topic came across a bit confused
I am thankful for any meaningful explanation