I installed Thunar 4.17.0 a few days ago from source. The process went as expected, After installation the split screen works as expected as well.
But several things are missing and I get a error message when trying to use the "Bulk Rename" feature that always worked fine in version 4.16 and previous versions.
Thunar 4.16 still shows up in Pamac installed list - but Thunar 4.17 that I installed a few days ago does not show up in Pamac list. Thunar 4.17 is the one that opens up when I click on the Thunar icon or select it from whisker menu.

There is no option in the FILE or EDIT menus to open the terminal or to open Thunar as ROOT.

Custom Actions is nowhere to be found.

I'll try to attach the Bulk Rename feature error pic.
Has these features been dropped from Thunar (if so, I didn't notice it in the Thunar feature release list) or is there something I missed??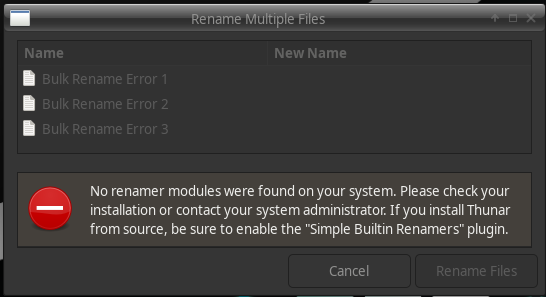 How do I enable the "Simple Builtin Renamers" plugin?