Hello community,
Another testing branch update with some usual updates for you.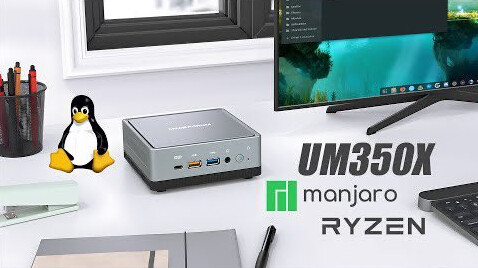 Checkout what ETAPRIME has to say about our UM350 MiniPC!
Additional Info
Info about AUR packages

AUR (Arch User Repository) packages are neither supported by Arch nor Manjaro. Posts about them in Announcement topics are off-topic and will be flagged, moved or removed without warning.

You may need to rebuild any AUR packages that install files to site-packages …
Get our latest daily developer images now from Github: Plasma, GNOME, XFCE. You get the latest stable releases of Manjaro from CDN77.
---
Our current supported kernels
linux419 4.19.255
linux54 5.4.210
linux510 5.10.136
linux515 5.15.60
linux518 5.18.17
linux519 5.19.1
linux515-rt 5.15.55_rt48
linux518-rt 5.18.0_rt11
linux519-rt 5.19.0_rt10
Package Changes (Mon Aug 15 06:39:09 CEST 2022)
testing core x86_64: 19 new and 19 removed package(s)
testing multilib x86_64: 5 new and 5 removed package(s)
testing extra x86_64: 53 new and 52 removed package(s)
testing community x86_64: 448 new and 445 removed package(s)
Overlay Packages
testing core x86_64: 3 new and 3 removed package(s)
testing kde-unstable x86_64: 216 new and 216 removed package(s)
testing extra x86_64: 15 new and 15 removed package(s)
testing community x86_64: 12 new and 12 removed package(s)
:: Different overlay package(s) in repository community x86_64

-------------------------------------------------------------------------------
                             PACKAGE           2022-08-11           2022-08-15
-------------------------------------------------------------------------------
                            cinnamon              5.4.9-1             5.4.10-1
                           rabbitvcs   0.18+40+g88d6c36-1   0.18+55+ga9b4922-1
                      rabbitvcs-caja   0.18+40+g88d6c36-1   0.18+55+ga9b4922-1
                       rabbitvcs-cli   0.18+40+g88d6c36-1   0.18+55+ga9b4922-1
                   rabbitvcs-dolphin   0.18+40+g88d6c36-1   0.18+55+ga9b4922-1
                  rabbitvcs-nautilus   0.18+40+g88d6c36-1   0.18+55+ga9b4922-1
                      rabbitvcs-nemo   0.18+40+g88d6c36-1   0.18+55+ga9b4922-1
                rabbitvcs-pcmanfm-qt   0.18+40+g88d6c36-1   0.18+55+ga9b4922-1
                     rabbitvcs-pluma   0.18+40+g88d6c36-1   0.18+55+ga9b4922-1
                    rabbitvcs-thunar   0.18+40+g88d6c36-1   0.18+55+ga9b4922-1
                              sticky               1.11-1               1.12-1
                                 yay             11.2.0-1             11.3.0-1


:: Different sync package(s) in repository community x86_64

-------------------------------------------------------------------------------
                             PACKAGE           2022-08-11           2022-08-15
-------------------------------------------------------------------------------
                                agda            2.6.2.2-6            2.6.2.2-7
                            algol68g              2.8.5-6              3.0.6-1
                        algol68g-doc              2.8.5-6              3.0.6-1
                       android-tools             31.0.3-6             31.0.3-7
                             arch-hs          0.10.2.0-18          0.10.2.0-19
                              babeld               1.12-1             1.12.1-1
                             baresip              2.5.1-1              2.6.0-1
                                bees                0.7-2                0.7-3
                           bitwarden           2022.8.0-1           2022.8.1-1
                            boinctui              2.5.2-1              2.6.0-1
                    broadcom-wl-dkms      6.30.223.271-31      6.30.223.271-33
                               brook           20220401-1           20220404-1
                       cabal-install            3.4.1.0-6            3.4.1.0-8
                             calibre              6.2.1-1              6.3.0-1
                          cargo-crev             0.23.2-1             0.23.3-1
                        cargo-expand             1.0.29-1             1.0.30-1
                       cargo-feature              0.6.0-1              0.7.0-1
                       cargo-nextest             0.9.33-1             0.9.34-1
                               chafa             1.12.0-1             1.12.1-1
                               cmctl              1.8.2-1              1.9.1-1
                              consul             1.13.0-1             1.13.1-1
                             cryptol             2.13.0-8             2.13.0-9
                              csvkit              1.0.6-3              1.0.7-1
                                 cue              0.4.2-2              0.4.3-1
                              dagger             0.2.28-1             0.2.29-1
                               darcs            2.16.5-49            2.16.5-51
                              datree              1.6.0-1              1.6.6-1
                                deno             1.24.2-1             1.24.3-1
                               dhall            1.41.1-59            1.41.1-60
                          dhall-bash            1.0.40-70            1.0.40-71
                          dhall-docs             1.0.9-68             1.0.9-69
                          dhall-json            1.7.10-63            1.7.10-64
                    dhall-lsp-server              1.1.1-7              1.1.1-8
                          dhall-yaml            1.2.10-64            1.2.10-65
                            dokuwiki         20220626rc-1           20220731-1
                                dpdk              22.03-1              22.07-1
                               draco              1.5.1-2              1.5.3-1
                               drone             2.12.0-1             2.12.1-1
                           drone-oss             2.12.0-1             2.12.1-1
                           drumstick              2.7.0-1              2.7.1-1
                             dua-cli             2.17.7-1             2.17.8-1
                              eksctl            0.106.0-1            0.108.0-1
                         emby-server            4.7.6.0-1            4.7.6.0-2
                          emscripten             3.1.17-1             3.1.18-1
                              eslint             8.21.0-1             8.22.0-1
                             esptool                4.2-2              4.2.1-1
                              faudio              22.07-1              22.08-1
           firefox-developer-edition            104.0b8-1            104.0b9-1
  firefox-developer-edition-i18n-ach            104.0b8-1            104.0b9-1
   firefox-developer-edition-i18n-af            104.0b8-1            104.0b9-1
   firefox-developer-edition-i18n-an            104.0b8-1            104.0b9-1
   firefox-developer-edition-i18n-ar            104.0b8-1            104.0b9-1
  firefox-developer-edition-i18n-ast            104.0b8-1            104.0b9-1
   firefox-developer-edition-i18n-az            104.0b8-1            104.0b9-1
   firefox-developer-edition-i18n-be            104.0b8-1            104.0b9-1
   firefox-developer-edition-i18n-bg            104.0b8-1            104.0b9-1
   firefox-developer-edition-i18n-bn            104.0b8-1            104.0b9-1
   firefox-developer-edition-i18n-br            104.0b8-1            104.0b9-1
   firefox-developer-edition-i18n-bs            104.0b8-1            104.0b9-1
   firefox-developer-edition-i18n-ca            104.0b8-1            104.0b9-1
firefox-developer-edition-i18n-ca-valencia      104.0b8-1            104.0b9-1
  firefox-developer-edition-i18n-cak            104.0b8-1            104.0b9-1
   firefox-developer-edition-i18n-cs            104.0b8-1            104.0b9-1
   firefox-developer-edition-i18n-cy            104.0b8-1            104.0b9-1
   firefox-developer-edition-i18n-da            104.0b8-1            104.0b9-1
   firefox-developer-edition-i18n-de            104.0b8-1            104.0b9-1
  firefox-developer-edition-i18n-dsb            104.0b8-1            104.0b9-1
   firefox-developer-edition-i18n-el            104.0b8-1            104.0b9-1
firefox-developer-edition-i18n-en-ca            104.0b8-1            104.0b9-1
firefox-developer-edition-i18n-en-gb            104.0b8-1            104.0b9-1
firefox-developer-edition-i18n-en-us            104.0b8-1            104.0b9-1
   firefox-developer-edition-i18n-eo            104.0b8-1            104.0b9-1
firefox-developer-edition-i18n-es-ar            104.0b8-1            104.0b9-1
firefox-developer-edition-i18n-es-cl            104.0b8-1            104.0b9-1
firefox-developer-edition-i18n-es-es            104.0b8-1            104.0b9-1
firefox-developer-edition-i18n-es-mx            104.0b8-1            104.0b9-1
   firefox-developer-edition-i18n-et            104.0b8-1            104.0b9-1
   firefox-developer-edition-i18n-eu            104.0b8-1            104.0b9-1
   firefox-developer-edition-i18n-fa            104.0b8-1            104.0b9-1
   firefox-developer-edition-i18n-ff            104.0b8-1            104.0b9-1
   firefox-developer-edition-i18n-fi            104.0b8-1            104.0b9-1
   firefox-developer-edition-i18n-fr            104.0b8-1            104.0b9-1
firefox-developer-edition-i18n-fy-nl            104.0b8-1            104.0b9-1
firefox-developer-edition-i18n-ga-ie            104.0b8-1            104.0b9-1
   firefox-developer-edition-i18n-gd            104.0b8-1            104.0b9-1
   firefox-developer-edition-i18n-gl            104.0b8-1            104.0b9-1
   firefox-developer-edition-i18n-gn            104.0b8-1            104.0b9-1
firefox-developer-edition-i18n-gu-in            104.0b8-1            104.0b9-1
   firefox-developer-edition-i18n-he            104.0b8-1            104.0b9-1
firefox-developer-edition-i18n-hi-in            104.0b8-1            104.0b9-1
   firefox-developer-edition-i18n-hr            104.0b8-1            104.0b9-1
  firefox-developer-edition-i18n-hsb            104.0b8-1            104.0b9-1
   firefox-developer-edition-i18n-hu            104.0b8-1            104.0b9-1
firefox-developer-edition-i18n-hy-am            104.0b8-1            104.0b9-1
   firefox-developer-edition-i18n-ia            104.0b8-1            104.0b9-1
   firefox-developer-edition-i18n-id            104.0b8-1            104.0b9-1
   firefox-developer-edition-i18n-is            104.0b8-1            104.0b9-1
   firefox-developer-edition-i18n-it            104.0b8-1            104.0b9-1
   firefox-developer-edition-i18n-ja            104.0b8-1            104.0b9-1
   firefox-developer-edition-i18n-ka            104.0b8-1            104.0b9-1
  firefox-developer-edition-i18n-kab            104.0b8-1            104.0b9-1
   firefox-developer-edition-i18n-kk            104.0b8-1            104.0b9-1
   firefox-developer-edition-i18n-km            104.0b8-1            104.0b9-1
   firefox-developer-edition-i18n-kn            104.0b8-1            104.0b9-1
   firefox-developer-edition-i18n-ko            104.0b8-1            104.0b9-1
  firefox-developer-edition-i18n-lij            104.0b8-1            104.0b9-1
   firefox-developer-edition-i18n-lt            104.0b8-1            104.0b9-1
   firefox-developer-edition-i18n-lv            104.0b8-1            104.0b9-1
   firefox-developer-edition-i18n-mk            104.0b8-1            104.0b9-1
   firefox-developer-edition-i18n-mr            104.0b8-1            104.0b9-1
   firefox-developer-edition-i18n-ms            104.0b8-1            104.0b9-1
   firefox-developer-edition-i18n-my            104.0b8-1            104.0b9-1
firefox-developer-edition-i18n-nb-no            104.0b8-1            104.0b9-1
firefox-developer-edition-i18n-ne-np            104.0b8-1            104.0b9-1
   firefox-developer-edition-i18n-nl            104.0b8-1            104.0b9-1
firefox-developer-edition-i18n-nn-no            104.0b8-1            104.0b9-1
   firefox-developer-edition-i18n-oc            104.0b8-1            104.0b9-1
firefox-developer-edition-i18n-pa-in            104.0b8-1            104.0b9-1
   firefox-developer-edition-i18n-pl            104.0b8-1            104.0b9-1
firefox-developer-edition-i18n-pt-br            104.0b8-1            104.0b9-1
firefox-developer-edition-i18n-pt-pt            104.0b8-1            104.0b9-1
   firefox-developer-edition-i18n-rm            104.0b8-1            104.0b9-1
   firefox-developer-edition-i18n-ro            104.0b8-1            104.0b9-1
   firefox-developer-edition-i18n-ru            104.0b8-1            104.0b9-1
   firefox-developer-edition-i18n-si            104.0b8-1            104.0b9-1
   firefox-developer-edition-i18n-sk            104.0b8-1            104.0b9-1
   firefox-developer-edition-i18n-sl            104.0b8-1            104.0b9-1
  firefox-developer-edition-i18n-son            104.0b8-1            104.0b9-1
   firefox-developer-edition-i18n-sq            104.0b8-1            104.0b9-1
   firefox-developer-edition-i18n-sr            104.0b8-1            104.0b9-1
firefox-developer-edition-i18n-sv-se            104.0b8-1            104.0b9-1
   firefox-developer-edition-i18n-ta            104.0b8-1            104.0b9-1
   firefox-developer-edition-i18n-te            104.0b8-1            104.0b9-1
   firefox-developer-edition-i18n-th            104.0b8-1            104.0b9-1
   firefox-developer-edition-i18n-tl            104.0b8-1            104.0b9-1
   firefox-developer-edition-i18n-tr            104.0b8-1            104.0b9-1
  firefox-developer-edition-i18n-trs            104.0b8-1            104.0b9-1
   firefox-developer-edition-i18n-uk            104.0b8-1            104.0b9-1
   firefox-developer-edition-i18n-ur            104.0b8-1            104.0b9-1
   firefox-developer-edition-i18n-uz            104.0b8-1            104.0b9-1
   firefox-developer-edition-i18n-vi            104.0b8-1            104.0b9-1
   firefox-developer-edition-i18n-xh            104.0b8-1            104.0b9-1
firefox-developer-edition-i18n-zh-cn            104.0b8-1            104.0b9-1
firefox-developer-edition-i18n-zh-tw            104.0b8-1            104.0b9-1
                              firrtl              1.5.0-1              1.5.1-1
                             fluxctl             1.25.2-1             1.25.3-1
                         fortune-mod             3.14.0-1             3.14.1-1
                             freecad             0.20.1-1             0.20.1-2
                          frotz-dumb               2.53-1               2.54-1
                       frotz-ncurses               2.53-1               2.54-1
                           frotz-sdl               2.53-1               2.54-1
                              fulcio              0.1.1-2              0.5.2-1
                   gambas3-dev-tools             3.17.3-1             3.17.3-2
                     gambas3-gb-args             3.17.3-1             3.17.3-2
                    gambas3-gb-cairo             3.17.3-1             3.17.3-2
                    gambas3-gb-chart             3.17.3-1             3.17.3-2
                  gambas3-gb-clipper             3.17.3-1             3.17.3-2
                  gambas3-gb-complex             3.17.3-1             3.17.3-2
                 gambas3-gb-compress             3.17.3-1             3.17.3-2
                    gambas3-gb-crypt             3.17.3-1             3.17.3-2
                     gambas3-gb-data             3.17.3-1             3.17.3-2
                       gambas3-gb-db             3.17.3-1             3.17.3-2
                  gambas3-gb-db-form             3.17.3-1             3.17.3-2
                 gambas3-gb-db-mysql             3.17.3-1             3.17.3-2
                  gambas3-gb-db-odbc             3.17.3-1             3.17.3-2
            gambas3-gb-db-postgresql             3.17.3-1             3.17.3-2
               gambas3-gb-db-sqlite3             3.17.3-1             3.17.3-2
                     gambas3-gb-dbus             3.17.3-1             3.17.3-2
                  gambas3-gb-desktop             3.17.3-1             3.17.3-2
            gambas3-gb-desktop-gnome             3.17.3-1             3.17.3-2
              gambas3-gb-desktop-x11             3.17.3-1             3.17.3-2
           gambas3-gb-eval-highlight             3.17.3-1             3.17.3-2
                     gambas3-gb-form             3.17.3-1             3.17.3-2
              gambas3-gb-form-dialog             3.17.3-1             3.17.3-2
              gambas3-gb-form-editor             3.17.3-1             3.17.3-2
            gambas3-gb-form-htmlview             3.17.3-1             3.17.3-2
                 gambas3-gb-form-mdi             3.17.3-1             3.17.3-2
               gambas3-gb-form-stock             3.17.3-1             3.17.3-2
            gambas3-gb-form-terminal             3.17.3-1             3.17.3-2
                      gambas3-gb-gmp             3.17.3-1             3.17.3-2
                      gambas3-gb-gsl             3.17.3-1             3.17.3-2
                     gambas3-gb-gtk3             3.17.3-1             3.17.3-2
              gambas3-gb-gtk3-opengl             3.17.3-1             3.17.3-2
                    gambas3-gb-httpd             3.17.3-1             3.17.3-2
                    gambas3-gb-image             3.17.3-1             3.17.3-2
             gambas3-gb-image-effect             3.17.3-1             3.17.3-2
              gambas3-gb-image-imlib             3.17.3-1             3.17.3-2
                 gambas3-gb-image-io             3.17.3-1             3.17.3-2
                  gambas3-gb-inotify             3.17.3-1             3.17.3-2
                   gambas3-gb-libxml             3.17.3-1             3.17.3-2
                  gambas3-gb-logging             3.17.3-1             3.17.3-2
                      gambas3-gb-map             3.17.3-1             3.17.3-2
                 gambas3-gb-markdown             3.17.3-1             3.17.3-2
                    gambas3-gb-media             3.17.3-1             3.17.3-2
               gambas3-gb-media-form             3.17.3-1             3.17.3-2
                gambas3-gb-memcached             3.17.3-1             3.17.3-2
                     gambas3-gb-mime             3.17.3-1             3.17.3-2
                    gambas3-gb-mysql             3.17.3-1             3.17.3-2
                  gambas3-gb-ncurses             3.17.3-1             3.17.3-2
                      gambas3-gb-net             3.17.3-1             3.17.3-2
                 gambas3-gb-net-curl             3.17.3-1             3.17.3-2
                 gambas3-gb-net-pop3             3.17.3-1             3.17.3-2
                 gambas3-gb-net-smtp             3.17.3-1             3.17.3-2
                   gambas3-gb-openal             3.17.3-1             3.17.3-2
                   gambas3-gb-opengl             3.17.3-1             3.17.3-2
              gambas3-gb-opengl-glsl             3.17.3-1             3.17.3-2
               gambas3-gb-opengl-glu             3.17.3-1             3.17.3-2
               gambas3-gb-opengl-sge             3.17.3-1             3.17.3-2
                  gambas3-gb-openssl             3.17.3-1             3.17.3-2
                   gambas3-gb-option             3.17.3-1             3.17.3-2
                     gambas3-gb-pcre             3.17.3-1             3.17.3-2
                  gambas3-gb-poppler             3.17.3-1             3.17.3-2
                      gambas3-gb-qt5             3.17.3-1             3.17.3-2
               gambas3-gb-qt5-opengl             3.17.3-1             3.17.3-2
               gambas3-gb-qt5-webkit             3.17.3-1             3.17.3-2
                   gambas3-gb-report             3.17.3-1             3.17.3-2
                  gambas3-gb-scanner             3.17.3-1             3.17.3-2
                      gambas3-gb-sdl             3.17.3-1             3.17.3-2
                gambas3-gb-sdl-sound             3.17.3-1             3.17.3-2
                     gambas3-gb-sdl2             3.17.3-1             3.17.3-2
               gambas3-gb-sdl2-audio             3.17.3-1             3.17.3-2
                 gambas3-gb-settings             3.17.3-1             3.17.3-2
                   gambas3-gb-signal             3.17.3-1             3.17.3-2
                     gambas3-gb-term             3.17.3-1             3.17.3-2
                     gambas3-gb-util             3.17.3-1             3.17.3-2
                 gambas3-gb-util-web             3.17.3-1             3.17.3-2
                      gambas3-gb-v4l             3.17.3-1             3.17.3-2
                       gambas3-gb-vb             3.17.3-1             3.17.3-2
                      gambas3-gb-web             3.17.3-1             3.17.3-2
                 gambas3-gb-web-feed             3.17.3-1             3.17.3-2
                 gambas3-gb-web-form             3.17.3-1             3.17.3-2
                  gambas3-gb-web-gui             3.17.3-1             3.17.3-2
                      gambas3-gb-xml             3.17.3-1             3.17.3-2
                 gambas3-gb-xml-html             3.17.3-1             3.17.3-2
                  gambas3-gb-xml-rpc             3.17.3-1             3.17.3-2
                 gambas3-gb-xml-xslt             3.17.3-1             3.17.3-2
                         gambas3-ide             3.17.3-1             3.17.3-2
                     gambas3-runtime             3.17.3-1             3.17.3-2
                      gambas3-script             3.17.3-1             3.17.3-2
                                gdal              3.5.1-1              3.5.1-2
                              gensio              2.3.5-2              2.4.1-1
                              ghidra             10.1.5-1             10.1.5-2
                           git-annex        10.20220724-4        10.20220724-6
                             glances              3.2.5-1              3.2.7-1
                               gopls              0.9.1-1              0.9.3-1
                          goreleaser              1.9.2-1             1.10.3-1
                                 gss              1.0.3-1              1.0.4-1
                    haskell-arch-web             0.1.1-16             0.1.1-17
                haskell-authenticate           1.3.5.1-74           1.3.5.1-75
                         haskell-aws             0.22-451             0.22-452
                 haskell-casa-client            0.0.1-479            0.0.1-480
                          haskell-ci           0.12.1-276           0.12.1-278
                    haskell-cracknum              3.2-115              3.2-116
                      haskell-ghcide           1.4.2.3-12           1.4.2.3-15
                          haskell-gi            0.26.0-37            0.26.0-38
                    haskell-gi-cairo            1.0.26-37            1.0.26-38
                      haskell-hakyll          4.15.1.1-94          4.15.1.1-97
                 haskell-hledger-lib               1.26-2               1.26-3
   haskell-hls-call-hierarchy-plugin            1.0.1.0-4            1.0.1.0-7
             haskell-hls-eval-plugin          1.1.2.0-208          1.1.2.0-211
 haskell-hls-explicit-imports-plugin          1.0.1.0-204          1.0.1.0-207
         haskell-hls-floskell-plugin          1.0.0.1-207          1.0.0.1-210
         haskell-hls-fourmolu-plugin          1.0.0.2-214          1.0.0.2-217
                   haskell-hls-graph          1.4.0.0-168          1.4.0.0-171
 haskell-hls-haddock-comments-plugin          1.0.0.3-205          1.0.0.3-208
            haskell-hls-hlint-plugin          1.0.1.1-204          1.0.1.1-207
      haskell-hls-module-name-plugin          1.0.0.1-205          1.0.0.1-208
           haskell-hls-ormolu-plugin          1.0.1.0-211          1.0.1.0-214
              haskell-hls-plugin-api            1.2.0.1-6            1.2.0.1-9
          haskell-hls-pragmas-plugin            1.0.1.1-2            1.0.1.1-5
           haskell-hls-retrie-plugin          1.0.1.1-204          1.0.1.1-207
  haskell-hls-stylish-haskell-plugin          1.0.0.2-207          1.0.0.2-210
              haskell-hls-test-utils          1.1.0.0-205          1.1.0.0-208
                       haskell-hslua             2.2.0-10             2.2.0-11
      haskell-hslua-module-doclayout             1.0.4-33             1.0.4-34
           haskell-hslua-module-path             1.0.1-37             1.0.1-38
         haskell-hslua-module-system             1.0.1-36             1.0.1-37
           haskell-hslua-module-text             1.0.1-36             1.0.1-37
        haskell-hslua-module-version             1.0.1-37             1.0.1-38
     haskell-hslua-objectorientation              2.2.0-8            2.2.0.1-1
             haskell-hslua-packaging            2.2.0.1-1            2.2.0.1-2
                        haskell-http          4000.4.1-17          4000.4.1-18
                haskell-http-conduit            2.3.8-215            2.3.8-216
               haskell-http-download          0.2.0.0-475          0.2.0.0-476
                   haskell-js-jquery            3.3.1-823            3.3.1-825
             haskell-language-server          1.3.0.0-243          1.3.0.0-246
                       haskell-libbf             0.6.3-36              0.6.4-1
          haskell-pandoc-lua-marshal              0.1.6-7              0.1.6-8
                      haskell-pantry              0.5.6-6              0.5.6-7
           haskell-regex-compat-tdfa         0.95.1.4-103         0.95.1.4-104
                  haskell-regex-tdfa            1.3.1.4-3            1.3.1.5-1
                         haskell-sbv              8.17-34              8.17-35
                      haskell-scotty             0.12-311             0.12-312
              haskell-servant-client           0.18.3-186           0.18.3-187
              haskell-servant-server           0.18.3-176           0.18.3-177
                       haskell-shake           0.19.5-166             0.19.6-1
                haskell-tasty-silver           3.3.1.1-17           3.3.1.1-18
                          haskell-tz           0.1.3.6-34           0.1.3.6-35
                      haskell-tzdata    0.2.20220315.0-25     0.2.20220810.0-1
                   haskell-unixutils            1.54.2-74            1.54.2-75
              haskell-wai-app-static           3.1.7.4-52           3.1.7.4-53
          haskell-wai-handler-launch          3.0.3.1-435          3.0.3.1-436
       haskell-wai-middleware-static             0.9.2-67             0.9.2-68
                        haskell-warp            3.3.21-16             3.3.22-1
                    haskell-warp-tls            3.3.2-131              3.3.3-1
                       haskell-what4                1.3-8                1.3-9
                       haskell-yesod             1.6.2-78             1.6.2-79
                  haskell-yesod-auth             1.6.11-1             1.6.11-2
                  haskell-yesod-core           1.6.24.0-5           1.6.24.0-6
                  haskell-yesod-form            1.7.0-242            1.7.0-243
            haskell-yesod-persistent           1.6.0.8-50           1.6.0.8-51
                haskell-yesod-static          1.6.1.0-481          1.6.1.0-482
                  haskell-yesod-test            1.6.14-24            1.6.14-25
                              hcloud             1.30.1-1             1.30.2-1
                           hedgewars            1.0.0-308            1.0.0-309
                             hledger               1.26-2               1.26-3
                        hledger-iadd            1.3.17-70            1.3.17-71
                          hledger-ui               1.26-2               1.26-3
                         hledger-web               1.26-2               1.26-4
                              hoogle          5.0.18.3-50          5.0.18.3-52
                              hwinfo               22.0-1               22.1-1
                               idris              1.3.4-8              1.3.4-9
                               iperf              2.1.7-1              2.1.8-1
                             kak-lsp             12.2.1-1             13.0.0-2
                               kubie             0.17.2-1             0.18.0-1
                           kustomize              4.5.6-1              4.5.7-1
                           leiningen              2.9.8-2             2.9.10-2
                             libharu              2.3.0-5              2.4.0-1
                               libre              2.5.0-1              2.6.1-1
                              librem              2.5.0-1              2.6.0-1
                                lilv            0.24.14-2            0.24.18-1
                            logwatch                7.6-1                7.7-1
                 lua-language-server              3.5.2-1              3.5.3-1
                                 lv2             1.18.6-1             1.18.8-1
                               lxcfs              5.0.1-2              5.0.2-1
                                 mac               7.56-1               8.43-1
                         mailman-web              0.0.5-3              0.0.5-5
                             maturin             0.13.1-1             0.13.2-1
                             mda.lv2              1.2.6-1             1.2.10-1
                            miniflux             2.0.37-1             2.0.38-1
                              monero           0.18.0.0-1           0.18.1.0-1
                          monero-gui           0.18.0.0-1           0.18.1.0-1
               netfilter-fullconenat      r73.0cf3b48-226      r73.0cf3b48-228
                 networkmanager-l2tp             1.20.4-4             1.20.4-5
           networkmanager-strongswan              1.5.2-4              1.6.0-1
                           nextcloud             24.0.3-1             24.0.4-1
                  nextcloud-app-mail             1.13.7-1             1.13.8-1
                  nextcloud-app-news             18.1.0-1             18.1.1-1
                 nextcloud-app-notes              4.4.0-1              4.5.0-1
                nextcloud-app-spreed           1:14.0.3-1           1:14.0.4-1
                       nlohmann-json             3.11.1-1             3.11.2-1
                                opam              2.1.2-1              2.1.3-1
                            opensips              3.2.6-1              3.3.0-1
                         openvswitch             2.16.4-1             2.17.2-1
                             osquery              5.3.0-2              5.4.0-1
                              pandoc              2.18-18              2.18-19
                     pandoc-crossref         0.3.12.2-145         0.3.12.2-146
                          pcsc-tools              1.5.8-1              1.6.0-1
                              popeye             0.10.0-1             0.10.1-2
                           postgrest              9.0.1-3              9.0.1-6
                                ptex              2.4.1-3              2.4.2-1
                    python-asttokens              2.0.5-2              2.0.7-1
                       python-bottle            0.12.22-1            0.12.23-1
                     python-cfn-lint             0.61.4-1             0.61.5-1
                        python-crate             0.27.0-1             0.27.1-1
                    python-executing              0.9.1-1             0.10.0-1
                 python-flake8-isort              4.1.2-1              4.2.0-1
                  python-flask-login              0.6.1-1              0.6.2-1
                         python-gdal              3.5.1-1              3.5.1-2
                     python-graphviz               0.20-1             0.20.1-1
                       python-hcloud             1.16.0-2             1.17.0-1
                  python-json-stream              1.3.0-1              1.4.0-1
                 python-kaitaistruct                0.9-5               0.10-1
               python-logilab-common              1.9.6-1              1.9.7-1
                         python-moto             3.1.17-1             3.1.18-1
                       python-orjson             3.7.11-1             3.7.12-1
                          python-pbr              5.9.0-1             5.10.0-1
                        python-pybcj              0.6.1-1              1.0.1-1
                     python-pydantic              1.9.1-2              1.9.2-1
                         python-pyee              9.0.3-1              9.0.4-1
                python-pylink-square             0.14.1-1             0.14.2-1
                      python-pymupdf             1.20.1-1             1.20.2-1
                   python-pynitrokey             0.4.26-1             0.4.27-1
                       python-pyppmd             0.18.2-1             0.18.3-1
                      python-pytools           2022.1.8-1           2022.1.9-1
                      python-pytorch             1.12.0-3             1.12.1-1
                 python-pytorch-cuda             1.12.0-3             1.12.1-1
                  python-pytorch-opt             1.12.0-3             1.12.1-1
             python-pytorch-opt-cuda             1.12.0-3             1.12.1-1
                       python-pyzstd             0.15.2-1             0.15.3-1
               python-setuptools-scm              7.0.4-1              7.0.5-1
                   python-stack-data              0.3.0-1              0.4.0-1
       python-tensorflow-serving-api              2.9.0-1              2.9.1-1
                      python-tomlkit             0.11.3-1             0.11.4-1
            python-typing_extensions              4.2.0-1              4.3.0-1
                       python-tzdata             2022.1-1             2022.2-1
                           python-z3              4.9.0-1              4.9.1-1
                             rathole              0.4.2-1              0.4.3-1
                              raylib              4.0.0-2              4.2.0-2
                              reaper               6.64-2               6.65-1
                      rime-cantonese     0.0.0.20220105-1     0.0.0.20220317-1
                           robin-map              0.6.3-1              1.0.1-1
                            rstcheck        6.0.0.post1-1              6.1.0-1
                           rz-cutter              2.1.0-1              2.1.0-2
                           rz-ghidra              0.4.0-2              0.4.0-3
                             s2n-tls             1.3.11-1             1.3.19-1
                       schemacrawler           16.16.12-1            16.17.3-1
                             scribus              1.5.8-7              1.5.8-8
                          sentry-cli              2.1.0-1              2.5.0-1
                             ser2net              4.3.4-2              4.3.7-1
                          shellcheck            0.8.0-154            0.8.0-156
                                sile             0.14.1-1             0.14.2-1
                         spire-agent              1.1.1-1              1.4.0-1
                        spire-server              1.1.1-1              1.4.0-1
                               stack            2.7.5-109            2.7.5-110
                          strongswan              5.9.5-1              5.9.7-1
                                suil            0.10.12-2            0.10.16-1
                         superslicer         1:2.4.58.3-2         1:2.4.58.4-1
                                syft             0.49.0-1             0.53.4-1
                           systeroid              0.1.1-1              0.2.0-1
                      tamarin-prover            1.6.1-189            1.6.1-190
                           tarantool             2.10.0-1             2.10.1-1
                             taskell           1.11.4-197           1.11.4-199
                                tcsh            6.24.00-2            6.24.01-2
                    telegram-desktop              4.0.2-4              4.1.0-1
                         tensorboard              2.9.1-2             2.10.0-1
                           terraform              1.2.6-1              1.2.7-1
                               tiled              1.9.0-1              1.9.1-1
                    timescaledb-tune             0.13.0-1             0.13.1-1
                               tmuxp             1.12.1-1             1.13.0-1
                                 tor            0.4.7.8-2           0.4.7.10-1
                             traefik              2.7.0-1              2.8.3-1
                               ugrep              3.8.3-1              3.9.0-1
                              upterm              0.8.2-1              0.9.0-1
         v2ray-domain-list-community     20220809072217-1     20220813040114-1
                         v2ray-geoip       202208040058-1       202208110837-1
                                vals             0.16.2-1             0.18.0-1
                             vicious              2.5.0-1              2.5.1-1
                             web-ext              7.1.1-1              7.2.0-1
                              websvn              2.6.1-2              2.7.0-1
                 wezterm 20220624.141144.bd1b7c5d-2 20220807.113146.c2fee766-2
                              xmobar               0.41-2               0.41-4
                              xmonad            0.17.0-15            0.17.0-16
                      xmonad-contrib            0.17.0-15            0.17.0-16
                                  z3              4.9.0-1              4.9.1-1
                     haskell-hadrian                    -            0.1.0.0-1
                           lilv-docs                    -            0.24.18-1
                           suil-docs                    -            0.10.16-1


:: Different overlay package(s) in repository core x86_64

-------------------------------------------------------------------------------
                             PACKAGE           2022-08-11           2022-08-15
-------------------------------------------------------------------------------
                            linux519             5.19.1-2             5.19.1-3
                    linux519-headers             5.19.1-2             5.19.1-3
                     manjaro-release             21.3.6-1             21.3.7-1


:: Different sync package(s) in repository core x86_64

-------------------------------------------------------------------------------
                             PACKAGE           2022-08-11           2022-08-15
-------------------------------------------------------------------------------
                       device-mapper            2.03.16-1            2.03.16-2
                               glibc               2.36-1               2.36-2
                               gpgme             1.17.1-1             1.18.0-1
                               lemon             3.39.2-1             3.39.2-2
                         lib32-glibc               2.36-1               2.36-2
                             libinih                 55-2                 56-1
                            libnftnl              1.2.2-1              1.2.3-1
                            libtirpc              1.3.2-1              1.3.3-1
                                lvm2            2.03.16-1            2.03.16-2
                           nfs-utils              2.6.1-1              2.6.2-1
                            nfsidmap              2.6.1-1              2.6.2-1
                        python-gpgme             1.17.1-1             1.18.0-1
                              qgpgme             1.17.1-1             1.18.0-1
                              sqlite             3.39.2-1             3.39.2-2
                     sqlite-analyzer             3.39.2-1             3.39.2-2
                          sqlite-doc             3.39.2-1             3.39.2-2
                          sqlite-tcl             3.39.2-1             3.39.2-2
                              tzdata              2022a-1              2022b-1
                                  xz              5.2.5-3              5.2.6-1


:: Different overlay package(s) in repository extra x86_64

-------------------------------------------------------------------------------
                             PACKAGE           2022-08-11           2022-08-15
-------------------------------------------------------------------------------
                gnome-control-center               42.3-1               42.3-2
                  linux519-acpi_call              1.2.2-6              1.2.2-7
                   linux519-bbswitch                0.8-6                0.8-7
                linux519-broadcom-wl       6.30.223.271-6       6.30.223.271-7
               linux519-nvidia-390xx            390.154-5            390.154-6
               linux519-nvidia-470xx         470.141.03-5         470.141.03-6
                     linux519-nvidia          515.65.01-5          515.65.01-6
                      linux519-r8168           8.050.03-5           8.050.03-6
                  linux519-rtl8723bu           20220522-6           20220522-7
                   linux519-tp_smapi               0.43-6               0.43-7
                linux519-vhba-module           20211218-6           20211218-7
    linux519-virtualbox-host-modules             6.1.36-6             6.1.36-7
                        linux519-zfs              2.1.5-6              2.1.5-7
                                mhwd             0.6.5-22             0.6.5-23
                             mhwd-db             0.6.5-22             0.6.5-23


:: Different sync package(s) in repository extra x86_64

-------------------------------------------------------------------------------
                             PACKAGE           2022-08-11           2022-08-15
-------------------------------------------------------------------------------
                               bluez               5.65-1               5.65-2
                          bluez-cups               5.65-1               5.65-2
                       bluez-hid2hci               5.65-1               5.65-2
                          bluez-libs               5.65-1               5.65-2
                       bluez-plugins               5.65-1               5.65-2
                         bluez-utils               5.65-1               5.65-2
                            calligra             3.2.1-34             3.2.1-35
                          cifs-utils               6.15-1                7.0-1
                            dhclient              4.4.3-1              4.4.3-3
                                dhcp              4.4.3-1              4.4.3-3
                                 gcr             3.41.1-1             3.41.1-2
                            gcr-docs             3.41.1-1             3.41.1-2
                              geeqie              1.7.3-1              2.0.1-1
                                 git             2.37.1-1             2.37.2-1
                             glslang            11.10.0-1            11.11.0-1
                 ibus-typing-booster             2.17.1-1             2.18.9-1
                            inkscape              1.2.1-1              1.2.1-2
                       jdk11-openjdk         11.0.16.u8-2       11.0.16.1.u1-2
                       jre11-openjdk         11.0.16.u8-2       11.0.16.1.u1-2
              jre11-openjdk-headless         11.0.16.u8-2       11.0.16.1.u1-2
                              kismet         2022_02_R1-3         2022_08_R1-1
                          kitinerary            22.04.3-2            22.04.3-3
                             libcmis             0.5.2-10             0.5.2-11
                       libmalcontent             0.10.4-1             0.10.5-1
                   libreoffice-fresh              7.3.5-1              7.3.5-3
               libreoffice-fresh-sdk              7.3.5-1              7.3.5-3
                   libreoffice-still              7.2.7-3              7.2.7-5
               libreoffice-still-sdk              7.2.7-3              7.2.7-5
                             librest              0.9.0-1              0.9.1-1
                        librest-docs              0.9.0-1              0.9.1-1
                          malcontent             0.10.4-1             0.10.5-1
                                meld             3.21.2-1             3.21.3-2
                               meson             0.63.0-1             0.63.1-1
                            nftables            1:1.0.4-1            1:1.0.5-1
                       openjdk11-doc         11.0.16.u8-2       11.0.16.1.u1-2
                       openjdk11-src         11.0.16.u8-2       11.0.16.1.u1-2
                               pango           1:1.50.8-1           1:1.50.9-1
                          pango-docs           1:1.50.8-1           1:1.50.9-1
                             poppler            22.07.0-1            22.08.0-1
                        poppler-glib            22.07.0-1            22.08.0-1
                         poppler-qt5            22.07.0-1            22.08.0-1
                         poppler-qt6            22.07.0-1            22.08.0-1
                     python-dbusmock             0.28.1-1             0.28.4-1
                      python-urllib3             1.26.9-1            1.26.11-1
                  python-urllib3-doc             1.26.9-1            1.26.11-1
                     tracker3-miners              3.3.1-1              3.3.1-2
                                tree              2.0.2-1              2.0.2-2
                             tumbler             4.16.0-3             4.16.1-1
                         wireplumber             0.4.11-3             0.4.11-4
                    wireplumber-docs             0.4.11-3             0.4.11-4
                  xdg-desktop-portal             1.14.6-1             1.15.0-1
                           xorgproto             2022.1-1             2022.2-1
                       librest-demos                    -              0.9.1-1


:: Different overlay package(s) in repository kde-unstable x86_64

-------------------------------------------------------------------------------
                             PACKAGE           2022-08-11           2022-08-15
-------------------------------------------------------------------------------
                    akonadi-calendar22.04.3.r2148.g6f8be46-122.04.3.r2150.g6ea1ae1-1
              akonadi-calendar-tools22.04.3.r959.g9e027c8-122.04.3.r960.g7c23324-1
                    akonadi-contacts22.04.3.r3233.gaa2fe31b-122.04.3.r3234.gc4518d3e-1
                      akonadi-search22.04.3.r1254.g5ace2e2-122.04.3.r1255.gf0ff77d-1
                           akregator22.04.3.r6456.ge98d960c-122.04.3.r6457.g517e080e-1
                           alligator 22.06.r28.g6453795-1 22.06.r33.g20a0436-1
                           angelfish 22.06.r30.gc1f7265-1 22.06.r39.g9b73ea9-1
                                 ark22.04.3.r4826.g26b3cc3b-122.04.3.r4830.g29251d84-1
                          artikulate22.04.3.r1427.g726f90a-122.04.3.r1428.g898a7e8-1
                         audiocd-kio22.04.3.r1105.g9e2b9d1-122.04.3.r1106.g7a176f7-1
                             blinken22.04.3.r677.gef45841-122.04.3.r678.g98892b1-1
                           bluedevil1:5.25.4.r2427.g83047c80-11:5.25.4.r2429.g77fc223b-1
                            bluez-qt5.96.0.r716.g3848dd2-15.96.0.r717.ge5c36f0-1
                              bomber22.04.3.r571.gb7c2acf-122.04.3.r572.g2a54bd9-1
                                bovo22.04.3.r782.ga336e2a-122.04.3.r783.gf19bf48-1
                                buho  2.1.2.r7.gd31b470-1  2.1.2.r9.gdfd2429-1
                     calendarsupport22.04.3.r722.g780a4e3-122.04.3.r723.g9d51240-1
                           calindori 22.06.r16.ge791c0c-1 22.06.r17.g05b776c-1
                              cantor22.04.3.r3382.g58f1ab72-122.04.3.r3383.g3e52883a-1
                            cervisia22.04.3.r1689.ge08a02a-122.04.3.r1690.g3a429e2-1
                             dolphin22.04.3.r7058.g19cd2364a-122.04.3.r7070.gf45d2e985-1
                     dolphin-plugins22.04.3.r674.ga4b3242-122.04.3.r676.gbb59561-1
                              dragon22.04.3.r1056.g8ddd812-122.04.3.r1059.gccf75f6-1
                             drkonqi5.25.4.r812.g7b7c84c5-15.25.4.r813.g489dac6b-1
                               elisa22.04.3.r3002.gdd57c124-122.04.3.r3004.g7670077b-1
                          elisa-qtmm22.04.3.r3002.gdd57c124-122.04.3.r3004.g7670077b-1
                        ffmpegthumbs22.04.3.r231.gd69b6e7-122.04.3.r233.g9e0e0c0-1
                           filelight22.04.3.r1164.g1aee822-122.04.3.r1165.g68eb68f-1
                frameworkintegration5.96.0.r649.gc8faffa-15.96.0.r650.gaf506e7-1
                           granatier22.04.3.r986.gb00b485-122.04.3.r987.g5f0c5c2-1
                            gwenview22.04.3.r6888.g5a5d4822-122.04.3.r6889.ge9655a87-1
                     incidenceeditor22.04.3.r912.gd7141d5-122.04.3.r913.g7c3c44e-1
                            index-fm 2.1.2.r38.ga9a62ae-1 2.1.2.r41.gc28d301-1
                           itinerary22.04.3.r1971.ga4f7ae9-122.04.3.r1983.gee1af6a-1
                                 juk22.04.3.r3174.g17d1c06f-122.04.3.r3175.gce43c719-1
                                 k3b1:22.04.3.r6810.gf0dd4b990-11:22.04.3.r6811.g02290a4b9-1
               kaccounts-integration22.04.3.r1268.gfd1d35c-122.04.3.r1270.g39ac07f-1
                   kactivitymanagerd5.25.4.r1416.gc7aa02b-15.25.4.r1418.g242af20-1
                        kaddressbook22.04.3.r6227.g2b10e627-122.04.3.r6228.g3361e056-1
                             kajongg22.04.3.r4347.g86f0115c-122.04.3.r4348.g1c5a3ffa-1
                              kalarm22.04.3.r7979.g7fd7d1e5-122.04.3.r7981.g01f64924-1
                            kalgebra22.04.3.r2072.g1b91491-122.04.3.r2073.g91da468-1
                                kalk 22.06.r14.g88ed070-1 22.06.r15.gb745f0f-1
                             kalzium22.04.3.r4374.gc03eb16b-122.04.3.r4375.g69c3bd06-1
                              kamera22.04.3.r731.g2536689-122.04.3.r732.g1c3d3d4-1
                            kanagram22.04.3.r1323.g4065c72-122.04.3.r1324.gfadf8af-1
                              kapman22.04.3.r665.g6e39899-122.04.3.r666.g0ccc626-1
                        kapptemplate22.04.3.r997.g20b2c62-122.04.3.r998.gba7fdc9-1
                            karchive5.96.0.r550.g1fd9dc6-15.96.0.r551.g5337dcf-1
                               kasts 22.06.r37.g9b97613-1 22.06.r38.gb6f735d-1
                                kate22.04.3.r19281.g25d7025ef-122.04.3.r19391.g3068a738e-1
                             katomic22.04.3.r967.gf5c1e78-122.04.3.r968.g1473146-1
                             kbackup22.04.3.r450.g5f9106f-122.04.3.r451.g76cd24f-1
                           kblackbox22.04.3.r775.g8a71905-122.04.3.r776.g59e7617-1
                             kblocks22.04.3.r751.g599c64d-122.04.3.r752.g4c1ebb6-1
                             kbounce22.04.3.r856.gaec2598-122.04.3.r857.g203340f-1
                           kbreakout22.04.3.r932.g27b90b7-122.04.3.r933.gc80f6a9-1
                              kbruch22.04.3.r873.gab39884-122.04.3.r874.g159d907-1
                         kcachegrind22.04.3.r1191.g0d0fefd-122.04.3.r1192.gfab7e8d-1
                  kcachegrind-common22.04.3.r1191.g0d0fefd-122.04.3.r1192.gfab7e8d-1
                               kcalc22.04.3.r1626.g0157bea-122.04.3.r1627.ga9da569-1
                              kclock 22.06.r24.ga963493-1 22.06.r25.g0d6633d-1
                            kcmutils5.96.0.r655.g746cd5e-15.96.0.r656.gbd521f3-1
                       kcolorchooser22.04.3.r278.ge237116-122.04.3.r279.g8672f3b-1
                       kde-dev-utils22.04.3.r595.gb9fc576-122.04.3.r596.g4a84ce3-1
                      kdebugsettings22.04.3.r957.g72be805-122.04.3.r962.gd7ffa16-1
                          kdeconnect22.04.3.r3511.g4918be1e-122.04.3.r3513.g7f0b03f2-1
            kdegraphics-thumbnailers22.04.3.r276.g130af81-122.04.3.r277.g1646021-1
                     kdelibs4support5.96.0.r1102.g8b2dc42a-15.96.0.r1103.gc04ca84a-1
              kdenetwork-filesharing22.04.3.r971.g8a37b42-122.04.3.r973.g901d29b-1
                            kdenlive22.04.3.r16541.gaaa8c7737-122.04.3.r16557.g74ef83e07-1
                    kdeplasma-addons5.25.4.r8990.g756312c36-15.25.4.r8995.gff4bda441-1
                                 kdf22.04.3.r867.g822be92-122.04.3.r868.g545f7af-1
                             kdialog22.04.3.r1233.g1469c70e8-122.04.3.r1235.ged8ddd196-1
                            kdiamond22.04.3.r732.g6207f90-122.04.3.r733.gda2c490-1
                            keysmith 22.06.r18.g8ed0399-1 22.06.r19.gee08a80-1
                               kfind22.04.3.r2709.g020051c70-122.04.3.r2717.g7050e94da-1
                             kfloppy22.04.3.r799.gf7ef5df-122.04.3.r800.ga01a995-1
                         kfourinline22.04.3.r1031.ga76109c-122.04.3.r1032.gf12a7f5-1
                          kgeography22.04.3.r1161.g65d2576-122.04.3.r1162.g153531f-1
                                kget22.04.3.r3218.gba6038e8-122.04.3.r3219.gf2af4abf-1
                         kgoldrunner22.04.3.r1293.gab710ef-122.04.3.r1294.ge3cb3b6-1
                                kgpg22.04.3.r3201.gda83984d-122.04.3.r3202.g2427cbcc-1
                            khangman22.04.3.r1622.g520cbd6-122.04.3.r1623.g30d2e54-1
                  khealthcertificate 22.06.r16.ga58e3ba-1 22.06.r17.gbf895ba-1
                         khelpcenter22.04.3.r2769.g1bbd6650-122.04.3.r2771.g3bb2fb14-1
                         kiconthemes5.96.0.r617.gda34334-15.96.0.r620.g41fb2ae-1
                 kidentitymanagement22.04.3.r3896.g95be9356-122.04.3.r3897.gf6c899fe-1
                                kigo22.04.3.r577.g0aa6d0a-122.04.3.r578.ga21efd6-1
                            killbots22.04.3.r801.ge083b35-122.04.3.r802.gd0e6de7-1
                     kimagemapeditor22.04.3.r500.g98044a1-122.04.3.r503.gd60bf67-1
                         kinfocenter5.25.4.r2132.gb8b2386d-15.25.4.r2134.g3bd2b474-1
                                 kio5.96.0.r5637.ge26e09610-15.96.0.r5642.g5e2dc5a18-1
                          kio-extras22.04.3.r7329.g9f7a0a17-122.04.3.r7331.gdbb5869f-1
                    kirigami-gallery22.04.3.r263.g297783e-122.04.3.r264.gcb4ae79-1
                           kirigami25.96.0.r3246.g1fd90414-15.96.0.r3281.g9bc69a8e-1
                              kiriki22.04.3.r460.gfbf4770-122.04.3.r461.g8f83065-1
                               kiten22.04.3.r1206.g07564c4-122.04.3.r1207.g99d1609-1
                          kitinerary22.04.3.r2352.g5c6ae46-122.04.3.r2354.g3544865-1
                         kjobwidgets5.96.0.r423.g6cfd3fc-15.96.0.r424.gc096275-1
                        kjumpingcube22.04.3.r830.g1dfa2f1-122.04.3.r831.g0f447de-1
                           kleopatra22.04.3.r6771.gda3aef1b-122.04.3.r6785.g22cc7a6f-1
                            klettres22.04.3.r971.g76432f8-122.04.3.r972.gebc55cc-1
                            klickety22.04.3.r705.g4b86a96-122.04.3.r706.ga9f487a-1
                              klines22.04.3.r829.g1a1611f-122.04.3.r830.gf8e4590-1
                                kmag22.04.3.r743.g99e4aaf-122.04.3.r744.g24a22bd-1
                           kmahjongg22.04.3.r1568.g6a75094-122.04.3.r1569.gdd62313-1
                      kmailtransport22.04.3.r1753.g15578ec-122.04.3.r1754.g8572801-1
                              kmines22.04.3.r1773.g9b0543f-122.04.3.r1774.gb5699a9-1
                                kmix22.04.3.r2458.g3e373718-122.04.3.r2459.g07dd1b95-1
                          kmousetool22.04.3.r452.g6c9b62d-122.04.3.r453.g0078db7-1
                              kmouth22.04.3.r740.geeb10c5-122.04.3.r741.g4384969-1
                              kmplot22.04.3.r1504.gb8fc5ca-122.04.3.r1505.gedccb7d-1
                        knavalbattle22.04.3.r1440.g442257c-122.04.3.r1441.ga31fd57-1
                            knetwalk22.04.3.r707.g800f644-122.04.3.r708.g6f5d2c7-1
                             knights22.04.3.r1152.g982c276-122.04.3.r1153.gc3d77b4-1
                              knotes22.04.3.r3687.gf1bb3407-122.04.3.r3688.g72d23770-1
                                koko 22.06.r13.g906a5fe-1 22.06.r14.g3644453-1
                                kolf22.04.3.r1515.gcd146ae-122.04.3.r1518.g6297a22-1
                           kollision22.04.3.r542.g4223584-122.04.3.r543.g0b77fd6-1
                         kolourpaint22.04.3.r2431.gb7708ae4-122.04.3.r2433.g7c96c656-1
                             kompare22.04.3.r1151.gaa70fa4-122.04.3.r1153.gab4a440-1
                            kongress 22.06.r26.g6ceb7ca-1 22.06.r27.g8eba41f-1
                           konqueror22.04.3.r15137.g216e1227c-122.04.3.r15151.gc94ad877b-1
                            konquest22.04.3.r938.gf977f64-122.04.3.r939.g078d7c7-1
                             konsole22.04.3.r8568.g0cf95671-122.04.3.r8570.ga27a22ff-1
                             kontact22.04.3.r5557.g79b09230-122.04.3.r5559.gd677e97e-1
                            kontrast22.04.3.r211.gde0b942-122.04.3.r212.g216d41e-1
                        konversation22.04.3.r9133.g77b9f876-122.04.3.r9134.g3bb108c8-1
                          korganizer22.04.3.r11787.g06af90e47-122.04.3.r11788.g9fee35d00-1
                       kosmindoormap22.04.3.r746.gafe12ac-122.04.3.r748.gbb0dd84-1
                                kpat22.04.3.r2627.gdd62a1ab-122.04.3.r2628.g387601a7-1
                    kpublictransport22.04.3.r2039.g5e32382e-122.04.3.r2040.g6cbb1c5c-1
                        kquickcharts5.96.0.r527.g1a8baa3-15.96.0.r528.g7d72fc0-1
                   kquickimageeditor       r72.gb19c42e-1       r73.gfc486ca-1
                                krdc22.04.3.r1617.g6953f60-122.04.3.r1618.g88ffda7-1
                           krecorder 22.06.r11.g2e30772-1 22.06.r12.g6e487b8-1
                            kreversi22.04.3.r1277.ge439d6c-122.04.3.r1278.ge11a534-1
                                krfb22.04.3.r1514.ga8ccd7c-122.04.3.r1515.g4606fca-1
                              kruler22.04.3.r742.g7a29873-122.04.3.r743.gb06fab2-1
                             kscreen5.25.4.r1519.ge5fd138-15.25.4.r1522.g7bf873d-1
                             kshisen22.04.3.r1251.gc911899-122.04.3.r1252.gaa75b67-1
                               ksirk22.04.3.r1043.gaed18c0-122.04.3.r1044.ge301aa0-1
                          ksnakeduel22.04.3.r860.gd452466-122.04.3.r861.gf46b2f8-1
                          kspaceduel22.04.3.r680.g87cab42-122.04.3.r681.gc8228fe-1
                            ksquares22.04.3.r566.g608dcbf-122.04.3.r567.g7142f12-1
                             ksudoku22.04.3.r1126.g83bf947-122.04.3.r1127.g64ec262-1
                          ksystemlog22.04.3.r743.g59d0474-122.04.3.r744.ge555200-1
                            kteatime22.04.3.r764.g8bcc6b3-122.04.3.r766.gd38777c-1
                         ktexteditor5.96.0.r3463.gc6cd84f3-15.96.0.r3484.g18cd4752-1
                              ktimer22.04.3.r528.g708661f-122.04.3.r529.gef39a2b-1
                            ktorrent22.04.3.r2873.g47a4e5ca-122.04.3.r2878.g28d8ee6c-1
                              ktouch22.04.3.r2195.gd290b2a-122.04.3.r2196.g2bf7c51-1
                               ktrip 22.06.r11.gcc2e33e-1 22.06.r12.gf7ee9a0-1
                          ktuberling22.04.3.r1072.gcd78e2a-122.04.3.r1073.g87ff652-1
                             kturtle22.04.3.r1180.gd962bae-122.04.3.r1181.g1755a0b-1
                             kubrick22.04.3.r416.gc7023a4-122.04.3.r417.g3eae0c0-1
                      kwalletmanager22.04.3.r1282.gc6579ba-122.04.3.r1283.g3b2a55b-1
                               kwave22.04.3.r3802.g43d02ff7-122.04.3.r3803.gc09e9745-1
                            kweather 22.06.r37.g720614f-1 22.06.r40.g7855c6a-1
                        kweathercore   0.6.r11.g869226a-1   0.6.r14.g54eec3b-1
                                kwin5.25.4.r22967.g4d1c82d11-15.25.4.r22980.gf4e917f73-1
                           kwordquiz22.04.3.r1197.gc04c65a-122.04.3.r1198.gb92c023-1
                              kwrite22.04.3.r19281.g25d7025ef-122.04.3.r19391.g3068a738e-1
                             kxmlgui5.96.0.r899.gebf356da-15.96.0.r900.gb9104169-1
                         libgravatar22.04.3.r431.gddf44e2-122.04.3.r432.g9cbfbfe-1
                             libkleo22.04.3.r1245.g2fa5e70-122.04.3.r1249.g0386040-1
                           libksieve22.04.3.r1735.g3682ce96-122.04.3.r1736.g37e547f4-1
                               lskat22.04.3.r862.g1426b3a-122.04.3.r863.g367290c-1
                          mailcommon22.04.3.r1286.g719097c-122.04.3.r1287.g9f0aad7-1
                    maliit-framework 2.3.0.r0.gcb623a42-1 2.3.0.r2.g7a929ce8-1
                              marble22.04.3.r13459.g4aac89480-122.04.3.r13461.g7c89da6c3-1
                       marble-common22.04.3.r13459.g4aac89480-122.04.3.r13461.g7c89da6c3-1
                           marble-qt22.04.3.r13459.g4aac89480-122.04.3.r13461.g7c89da6c3-1
                        markdownpart22.04.3.r131.g8f0d5b2-122.04.3.r132.g8d3f6f5-1
                           maui-clip 2.1.2.r11.gb56ee85-1 2.1.2.r12.g29017bd-1
                           maui-nota 2.1.2.r12.g5beaff7-1 2.1.2.r13.g231216b-1
                             mauikit2.1.2.r54.g64a66e51-12.1.2.r59.gc6085161-1
                mauikit-filebrowsing  2.1.2.r9.g2ae2187-1 2.1.2.r11.gca2084a-1
                          messagelib22.04.3.r6645.geed933cda-122.04.3.r6651.g0291e64e4-1
                              minuet22.04.3.r618.gd5a8e59-122.04.3.r619.g95e0c81-1
                             neochat22.06.r62.gef1ff04e-122.06.r64.g1eb705c1-1
                            palapeli22.04.3.r1296.g21365b1-122.04.3.r1302.g68993bb-1
                              parley22.04.3.r4539.gc94e64dd-122.04.3.r4540.g21073171-1
                    partitionmanager22.04.3.r1638.g203d965-122.04.3.r1639.gf33e780-1
                   pim-data-exporter22.04.3.r2778.g2155e203-122.04.3.r2779.gfc0c86a8-1
                    pim-sieve-editor22.04.3.r1646.g550a598-122.04.3.r1647.g7234f18-1
                           pimcommon22.04.3.r1261.g7306c658-122.04.3.r1262.gf3d5251-1
                      plasma-desktop5.25.4.r9523.g0868a5ae8-15.25.4.r9540.g5d2dd88aa-1
                       plasma-dialer 22.06.r24.ge16d3a1-1 22.06.r27.gc408cf6-1
                    plasma-framework5.96.0.r16381.g87c778d8b-15.96.0.r16387.gca97fada4-1
                       plasma-mobile5.25.4.r1928.g74b61890f-15.25.4.r1933.g4ad9688b3-1
                    plasma-mobile-nm5.25.4.r3314.g2bf1eb33-15.25.4.r3316.g700fd979-1
                           plasma-nm5.25.4.r3312.g748832ff-15.25.4.r3317.gac471643-1
                    plasma-phonebook 22.06.r11.g689a118-1 22.06.r12.g9010d34-1
                     plasma-settings 22.06.r58.gcad2124-1 22.06.r66.gcab3275-1
                plasma-systemmonitor5.25.4.r608.g42fde83-15.25.4.r609.gfbb508e-1
              plasma-wayland-session5.25.4.r12183.ge0a515655-15.25.4.r12201.ga096cf1ae-1
                    plasma-workspace5.25.4.r12183.ge0a515655-15.25.4.r12201.ga096cf1ae-1
         plasma-workspace-wallpapers5.25.4.r373.gdc15ca9-15.25.4.r375.g4811334-1
                          plasmatube 22.06.r11.gdb1c664-1 22.06.r12.g510b1a1-1
                          powerdevil5.25.4.r2579.gd7391ea2-15.25.4.r2583.g12331222-1
                       print-manager22.04.3.r1154.g21bcb24-122.04.3.r1155.g1f93b44-1
                         qcachegrind22.04.3.r1191.g0d0fefd-122.04.3.r1192.gfab7e8d-1
                          qmlkonsole 22.06.r14.g812010d-1 22.06.r15.g0d58f22-1
                            spacebar 22.06.r52.gb4c58dc-1 22.06.r56.g679a82d-1
                           spectacle22.04.3.r1380.g0eca369-122.04.3.r1382.gdb23e1f-1
                                step22.04.3.r1205.gbf9c057-122.04.3.r1206.g78637a2-1
                             svgpart22.04.3.r234.gb4c5361-122.04.3.r235.g939b16d-1
                             sweeper22.04.3.r582.g73a0b5d-122.04.3.r583.g0648883-1
                 syntax-highlighting5.96.0.r1889.g2b322ad9-15.96.0.r1899.gd109fd23-1
                      systemsettings5.25.4.r2700.gd1c2c73e-15.25.4.r2701.gea3f2d06-1
                             tokodon 22.06.r26.g5b4fa72-1 22.06.r27.gfce2e50-1
                            umbrello22.04.3.r8492.g9c85b9404-122.04.3.r8502.ge52640032-1
                         vakzination 22.06.r29.g83474f4-1 22.06.r31.g15813b1-1
                             yakuake22.04.3.r812.g81292d7-122.04.3.r813.g0a559f0-1


:: Different sync package(s) in repository multilib x86_64

-------------------------------------------------------------------------------
                             PACKAGE           2022-08-11           2022-08-15
-------------------------------------------------------------------------------
                        lib32-faudio              22.07-1              22.08-1
                         lib32-pango           1:1.50.8-1           1:1.50.9-1
                        lib32-sqlite             3.39.0-1             3.39.2-2
                                wine               7.14-1               7.15-1
                        wine-staging               7.14-1               7.15-1


No issue, everything went smoothly
Yes there was an issue. I was able to resolve it myself.(Please post your solution)
Yes i am currently experiencing an issue due to the update. (Please post about it)
Check if your mirror has already synced: