Hello community,
Another testing branch update with some usual updates for you.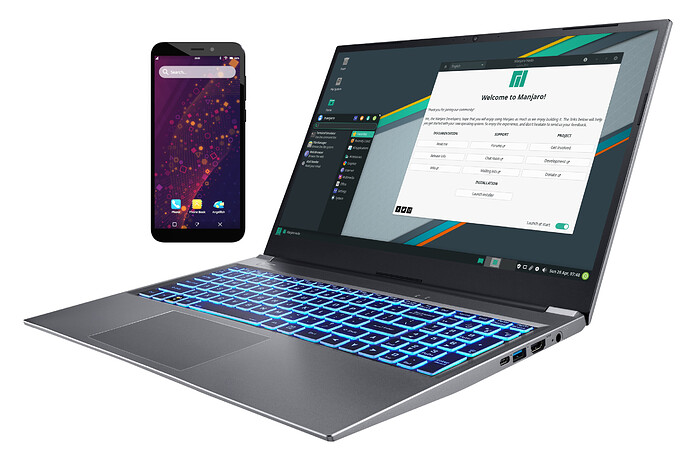 Maybe checkout our Laptop Phone Combo from our Belgium Shop
Most of our Kernels got updated
Pamac got some AUR support fixes
some regular cleanups and rebuilds
The usual upstream updates including Haskell and Python

You may need to rebuild any AUR packages that install files to site-packages …

You may need to rebuild any Python packages you've installed from the AUR. To get a list of them, you can run:

pacman -Qoq /usr/lib/python3.9


And to rebuild them all at once with an AUR helper such as yay, you can do:

yay -S $(pacman -Qoq /usr/lib/python3.9) --answerclean All


But if any of the packages don't work with Python 3.10 yet, this might fail halfway through and you'll have to do rebuild the remaining ones one or a few at a time.
Get our latest daily developer images now from Github: Plasma, Gnome, XFCE. You get the latest stable releases of Manjaro from CDN77.
---
Our current supported kernels
linux44 4.4.302 [EOL]
linux49 4.9.299
linux414 4.14.264
linux419 4.19.227
linux54 5.4.177
linux510 5.10.98
linux515 5.15.21
linux516 5.16.7
linux517 5.17-rc2
linux515-rt 5.15.18_rt28
linux516-rt 5.16.2_rt18
Package Updates (Sun Feb 6 16:15:19 CET 2022)
testing community x86_64: 458 new and 496 removed package(s)
testing core x86_64: 13 new and 13 removed package(s)
testing extra x86_64: 88 new and 90 removed package(s)
testing multilib x86_64: 5 new and 5 removed package(s)
:: Different overlay package(s) in repository community x86_64

-------------------------------------------------------------------------------
                             PACKAGE           2022-02-04           2022-02-06
-------------------------------------------------------------------------------
                         faucet-tool              0.1.0-1                    -
                     faucet-tool-git  0.1.0.10.g84bf475-1                    -
                      gtk-theme-maia              5.9.0-1                    -
                       hplip-minimal             3.19.1-1                    -
                             hsd-git 1.0.0.beta.15.856.gcc1ef7ab-1           -
                              isousb                1.5-3                    -
                      kmozillahelper              5.0.3-1                    -
        konsole-colorscheme-matchama           20191118-1                    -
         konversation-theme-matchama           20191118-1                    -
              kvantum-theme-matchama           20191118-1                    -
                   laptop-mode-tools             1.72.2-1                    -
                            libgee06              0.6.8-1                    -
                    libpthread-stubs                0.3-1                    -
                         linux510-rt       5.10.90_rt60-1                    -
               linux510-rt-acpi_call              1.2.2-4                    -
                linux510-rt-bbswitch               0.8-10                    -
             linux510-rt-broadcom-wl      6.30.223.271-11                    -
                 linux510-rt-headers       5.10.90_rt60-1                    -
            linux510-rt-nvidia-390xx            390.147-2                    -
            linux510-rt-nvidia-470xx         470.103.01-1                    -
                  linux510-rt-nvidia          510.47.03-1                    -
                   linux510-rt-r8168           8.049.02-8                    -
               linux510-rt-rtl8723bu           20211104-5                    -
                linux510-rt-tp_smapi              0.43-10                    -
             linux510-rt-vhba-module           20211218-1                    -
 linux510-rt-virtualbox-host-modules             6.1.32-1                    -
                         linux515-rt       5.15.18_rt28-2       5.15.19_rt29-2
               linux515-rt-acpi_call             1.2.2-11             1.2.2-12
                linux515-rt-bbswitch               0.8-13               0.8-14
             linux515-rt-broadcom-wl      6.30.223.271-13      6.30.223.271-14
                 linux515-rt-headers       5.15.18_rt28-2       5.15.19_rt29-2
            linux515-rt-nvidia-390xx            390.147-2            390.147-3
            linux515-rt-nvidia-470xx         470.103.01-2         470.103.01-3
                  linux515-rt-nvidia          510.47.03-1          510.47.03-2
                   linux515-rt-r8168          8.049.02-13          8.049.02-14
               linux515-rt-rtl8723bu           20220114-6           20220114-7
                linux515-rt-tp_smapi              0.43-13              0.43-14
             linux515-rt-vhba-module           20211218-7           20211218-8
 linux515-rt-virtualbox-host-modules             6.1.32-6             6.1.32-7
                               lxmed           20120515-1                    -
              manjaro-bspwm-settings           20200912-1           20220204-1
             manjaro-budgie-settings           20210825-1           20220204-1
                manjaro-gnome-assets           20210518-1           20220205-1
              manjaro-gnome-settings           20211221-1           20220204-1
               manjaro-mate-settings           20201212-1           20220204-1
           manjaro-pantheon-settings           20160826-3                    -
             manjaro-webdad-settings           20210413-1           20220204-2
       manjaro-xfce-minimal-settings           20210124-1           20220204-2
               manjaro-xfce-settings           20210124-1           20220204-2
        manjaro-xfce-settings-shells           20210323-1                    -
            manjaro-xfce-tx-settings           20200226-1                    -
                        matchama-kde           20191118-1                    -
             matchama-kde-wallpapers           20191118-1                    -
                             mdsplib               0.11-1                    -
                       memtest86-efi     1:9.4build1000-3     1:9.4build1000-4
                       pkgcacheclean              1.8.2-4                    -
                 plasma5-themes-maia                1.2-1                    -
                             preload              0.6.4-1                    -
                            prpltwtr 0.14.0.r7.g71c4d4f-1                    -
                    qt5-styleplugins    5.0.0.20170311-25                    -
                    sddm-menda-theme           20150304-2                    -
                       sidplay2-libs              2.1.1-1                    -
                             spacefm              1.0.6-2                    -
                               vicky              1.6.2-3                    -
               yakuake-skin-matchama           20191118-1                    -
                               zensu                0.3-3                0.3-5


:: Different sync package(s) in repository community x86_64

-------------------------------------------------------------------------------
                             PACKAGE           2022-02-04           2022-02-06
-------------------------------------------------------------------------------
                            adriconf              2.4.1-3              2.5.0-1
                                agda             2.6.2-55             2.6.2-57
                      amavisd-milter              1.7.1-1              1.7.2-1
                             arch-hs          0.9.1.0-117          0.9.1.0-119
                               arcus             4.13.0-1             4.13.1-1
                               atool             0.39.0-7                    -
                              beaver              0.4.1-5                    -
                             blender           17:3.0.1-1           17:3.0.1-2
                            bonnie++              2.00a-1              2.00a-2
                       cabal-install           3.4.0.0-92           3.4.0.0-94
                          cabal-plan          0.7.2.0-104          0.7.2.0-106
                       cargo-release             0.20.0-1             0.20.1-1
                               cgrep           6.6.32-252           6.6.32-254
             cinnamon-control-center              5.2.1-4              5.2.1-5
                           clash-ghc             1.4.3-68             1.4.3-70
                              codec2            1:1.0.3-1            1:1.0.3-2
                         coin-or-cgl             0.60.4-2             0.60.5-1
                            cppcheck              2.6.3-1                2.7-1
                               cryfs             0.11.1-1             0.11.1-2
                             cryptol            2.12.0-12            2.12.0-14
                                cura             4.13.0-1             4.13.1-1
                    cura-binary-data             4.13.0-1             4.13.1-1
                          curaengine             4.13.0-1             4.13.1-1
                       cutefish-core                0.5-1                0.7-1
                               darcs           2.16.4-118           2.16.4-121
                         dark-reader             4.9.43-1             4.9.45-1
                               dhall            1.40.1-65            1.40.1-68
                          dhall-bash            1.0.39-24            1.0.39-27
                          dhall-docs             1.0.8-27             1.0.8-31
                          dhall-json             1.7.9-25             1.7.9-28
                    dhall-lsp-server            1.0.17-26            1.0.17-29
                          dhall-yaml             1.2.9-25             1.2.9-28
                          diffoscope                202-1                203-1
                      doublecmd-gtk2              1.0.3-3              1.0.4-1
                       doublecmd-qt5              1.0.3-3              1.0.4-1
                             dovecot             2.3.16-3             2.3.18-1
                 dovecot-fts-elastic              1.0.0-6              1.0.0-8
                  dovecot-fts-xapian              1.5.2-1              1.5.2-4
                              dvgrab                3.5-9               3.5-12
                               efifs                1.8-3                1.8-4
                     element-desktop              1.9.9-1             1.10.1-1
                         element-web              1.9.9-1             1.10.1-1
                                fcft              2.5.1-2              3.0.0-1
                              fcitx5             5.0.13-1             5.0.14-1
                        fcitx5-anthy              5.0.8-1              5.0.9-1
                      fcitx5-chewing              5.0.8-1              5.0.9-1
                          fcitx5-gtk             5.0.11-1             5.0.12-1
                       fcitx5-hangul              5.0.6-1              5.0.7-1
                          fcitx5-kkc              5.0.6-1              5.0.7-1
                      fcitx5-libthai              5.0.6-1              5.0.7-1
                          fcitx5-lua              5.0.5-1              5.0.6-1
                         fcitx5-m17n              5.0.7-1              5.0.8-1
                           fcitx5-qt              5.0.9-1             5.0.10-1
                       fcitx5-sayura              5.0.4-1              5.0.5-1
                          fcitx5-skk              5.0.9-1             5.0.10-1
                  fcitx5-table-extra              5.0.7-1              5.0.8-1
                  fcitx5-table-other              5.0.6-1              5.0.7-1
                       fcitx5-unikey              5.0.7-1              5.0.8-1
                 firefox-dark-reader             4.9.43-1             4.9.45-1
                              fishui                0.5-1                0.7-1
                           flameshot             11.0.0-1             11.0.0-4
                                foot             1.10.3-4             1.11.0-1
                       foot-terminfo             1.10.3-4             1.11.0-1
                            freemind              1.0.1-5                    -
                      frei0r-plugins              1.7.0-1              1.7.0-2
                              fuzzel              1.6.5-3              1.7.0-1
                              gflags              2.2.2-2              2.2.2-3
                           git-annex        10.20220127-9       10.20220127-12
                               gitea            1.15.10-1            1.15.11-1
                               go-yq             4.18.1-1             4.19.1-1
                          goldendict           1.5.0RC2-9                    -
                              gpxsee               10.1-1               10.3-1
                       gsmartcontrol              1.1.3-3              1.1.4-1
                       haskell-aeson           1.5.6.0-77           1.5.6.0-79
         haskell-aeson-better-errors          0.9.1.0-349          0.9.1.0-351
                haskell-aeson-compat             0.3.10-2             0.3.10-4
                  haskell-aeson-diff          1.1.0.9-259          1.1.0.9-261
                haskell-aeson-pretty             0.8.9-27             0.8.9-29
                    haskell-aeson-qq             0.8.4-19             0.8.4-21
                  haskell-aeson-yaml            1.1.0.1-6            1.1.0.1-8
            haskell-algebraic-graphs                0.6-5                0.6-6
                haskell-apply-refact           0.9.3.0-69           0.9.3.0-71
                    haskell-arch-web            0.1.0-212            0.1.0-214
                    haskell-arithmoi          0.12.0.1-38          0.12.0.1-40
                haskell-authenticate            1.3.5-443            1.3.5-445
          haskell-authenticate-oauth               1.7-53               1.7-54
                         haskell-aws             0.22-374             0.22-376
            haskell-binary-instances             1.0.2-21             1.0.2-23
              haskell-binary-orphans            1.0.1-162            1.0.1-163
               haskell-binary-parser            0.5.7.1-6            0.5.7.1-7
               haskell-binary-tagged             0.3.1-25             0.3.1-27
                  haskell-bower-json          1.0.0.1-347          1.0.0.1-349
                     haskell-butcher          1.3.3.2-164          1.3.3.2-165
                    haskell-bv-sized             1.0.3-82             1.0.3-84
   haskell-bytestring-strict-builder            0.4.5.5-6            0.4.5.5-7
     haskell-bytestring-tree-builder           0.2.7.9-58           0.2.7.9-59
       haskell-cabal-install-parsers             0.4.2-75             0.4.2-77
                 haskell-casa-client            0.0.1-390            0.0.1-392
                  haskell-casa-types            0.0.2-195            0.0.2-197
                       haskell-cborg            0.2.6.0-7            0.2.6.0-9
                  haskell-cborg-json           0.2.3.0-25           0.2.3.0-27
                  haskell-cheapskate          0.1.1.2-392          0.1.1.2-394
                       haskell-chell              0.5-159            0.5.0.1-1
            haskell-chell-quickcheck            0.2.5.3-4            0.2.5.3-5
                          haskell-ci           0.12.1-132           0.12.1-135
                    haskell-citeproc            0.6.0.1-5            0.6.0.1-8
                   haskell-clash-lib             1.4.3-66             1.4.3-68
               haskell-clash-prelude             1.4.3-54             1.4.3-55
                  haskell-commonmark            0.2.1.1-3            0.2.1.1-4
       haskell-commonmark-extensions            0.2.2.1-4            0.2.2.1-5
           haskell-commonmark-pandoc            0.2.1.2-4            0.2.1.2-7
                     haskell-concise          0.1.0.1-349          0.1.0.1-350
               haskell-conduit-parse          0.2.1.0-187          0.2.1.0-189
          haskell-constraints-extras            0.3.2.1-6            0.3.2.1-8
                    haskell-cracknum               3.2-57               3.2-59
                   haskell-criterion          1.5.10.0-46          1.5.10.0-48
       haskell-criterion-measurement           0.1.3.0-44           0.1.3.0-46
             haskell-data-serializer             0.3.5-62             0.3.5-63
                haskell-data-textual          0.3.0.3-184          0.3.0.3-185
                         haskell-dav            1.3.4-407            1.3.4-409
                        haskell-dbus            1.2.22-18            1.2.22-19
               haskell-dbus-hslogger          0.1.0.1-284          0.1.0.1-285
              haskell-deferred-folds             0.9.18-7             0.9.18-8
               haskell-dependent-map           0.4.0.0-77           0.4.0.0-79
               haskell-dependent-sum           0.7.1.0-77           0.7.1.0-79
      haskell-dependent-sum-template            0.1.1.0-9           0.1.1.0-11
                       haskell-deque             0.4.4-30             0.4.4-31
              haskell-deriving-aeson             0.2.8-26             0.2.8-28
                 haskell-descriptive            0.9.5-280            0.9.5-282
                        haskell-diff             0.4.0-12              0.4.1-1
                haskell-doctemplates          0.10.0.1-27          0.10.0.1-29
        haskell-edit-distance-vector          1.0.0.4-205          1.0.0.4-206
                   haskell-esqueleto           3.5.2.1-87           3.5.2.1-90
                       haskell-extra            1.7.10-27            1.7.10-28
                  haskell-fdo-notify            0.3.1-534            0.3.1-535
                 haskell-filepattern            0.1.2-172            0.1.2-173
                    haskell-floskell           0.10.5-166           0.10.5-168
                    haskell-fourmolu          0.3.0.0-129          0.3.0.0-131
                       haskell-fuzzy           0.1.0.1-26           0.1.0.1-28
                haskell-generic-data           0.9.2.1-35           0.9.2.1-36
                haskell-generic-lens           2.2.0.0-49           2.2.0.0-50
              haskell-ghc-exactprint             0.6.4-69             0.6.4-70
           haskell-ghc-lib-parser-ex           9.0.0.4-41           9.0.0.4-42
                      haskell-ghcide           1.4.1.0-76           1.4.1.0-79
                     haskell-git-lfs            1.1.1-157            1.1.1-159
                     haskell-githash           0.1.6.2-52           0.1.6.2-54
                  haskell-hackage-db             2.1.2-43             2.1.2-45
             haskell-haddock-library            1.10.0-92            1.10.0-94
                      haskell-hakyll         4.14.0.0-203         4.14.0.0-206
                       haskell-hasql           1.4.5.3-41           1.4.5.3-43
    haskell-hasql-dynamic-statements             0.3.1-61             0.3.1-63
             haskell-hasql-implicits           0.1.0.2-61           0.1.0.2-63
         haskell-hasql-notifications           0.2.0.0-63           0.2.0.0-65
                  haskell-hasql-pool            0.5.2-292            0.5.2-294
           haskell-hasql-transaction            1.0.1.1-4            1.0.1.1-6
            haskell-hedgehog-classes            0.2.5.3-2            0.2.5.3-4
                    haskell-hie-bios             0.7.6-46             0.7.6-48
                       haskell-hiedb           0.4.1.0-31           0.4.1.0-32
                haskell-hjsonpointer            1.5.0-265            1.5.0-267
                 haskell-hledger-lib            1.24.1-16            1.24.1-18
   haskell-hls-call-hierarchy-plugin           1.0.0.0-76           1.0.0.0-79
             haskell-hls-eval-plugin           1.1.2.0-77           1.1.2.0-80
 haskell-hls-explicit-imports-plugin           1.0.1.0-76           1.0.1.0-79
         haskell-hls-floskell-plugin           1.0.0.1-76           1.0.0.1-79
         haskell-hls-fourmolu-plugin           1.0.0.2-80           1.0.0.2-83
                   haskell-hls-graph           1.4.0.0-94           1.4.0.0-96
 haskell-hls-haddock-comments-plugin           1.0.0.3-76           1.0.0.3-79
            haskell-hls-hlint-plugin           1.0.1.1-76           1.0.1.1-79
      haskell-hls-module-name-plugin           1.0.0.1-76           1.0.0.1-79
           haskell-hls-ormolu-plugin           1.0.1.0-79           1.0.1.0-82
              haskell-hls-plugin-api           1.2.0.0-63           1.2.0.0-65
          haskell-hls-pragmas-plugin           1.0.1.0-76           1.0.1.0-79
           haskell-hls-retrie-plugin           1.0.1.1-76           1.0.1.1-79
  haskell-hls-stylish-haskell-plugin           1.0.0.2-77           1.0.0.2-80
              haskell-hls-test-utils           1.1.0.0-77           1.1.0.0-80
                    haskell-hopenpgp              2.9.7-7             2.9.7-10
                       haskell-hpack           0.34.4-124           0.34.4-126
                       haskell-hslua           1.3.0.1-95           1.3.0.1-96
                  haskell-hslua-core            2.0.0.2-7            2.0.0.2-8
           haskell-hslua-marshalling              2.0.1-7              2.0.1-9
           haskell-hslua-module-path           0.1.0.1-80           0.1.0.1-81
         haskell-hslua-module-system          0.2.2.1-151          0.2.2.1-152
           haskell-hslua-module-text          0.3.0.1-139          0.3.0.1-140
     haskell-hslua-objectorientation              2.0.1-7              2.0.1-9
             haskell-hslua-packaging              2.0.0-7              2.0.0-9
                   haskell-hspec-wai           0.11.1-178           0.11.1-180
              haskell-hspec-wai-json           0.11.0-228           0.11.0-230
                haskell-hsyaml-aeson           0.2.0.1-24           0.2.0.1-26
                         haskell-htf           0.14.0.6-2           0.14.0.6-4
                  haskell-html-parse           0.2.0.2-43           0.2.0.2-44
                        haskell-http        4000.3.16-125        4000.3.16-127
               haskell-http-api-data             0.4.3-96             0.4.3-97
                 haskell-http-client             0.7.10-7             0.7.10-8
      haskell-http-client-restricted            0.0.4-127            0.0.4-128
             haskell-http-client-tls          0.3.5.3-486          0.3.5.3-487
                haskell-http-conduit            2.3.8-138            2.3.8-140
               haskell-http-download          0.2.0.0-393          0.2.0.0-395
                haskell-http-streams           0.8.9.4-60           0.8.9.4-64
                  haskell-http-types           0.12.3-207           0.12.3-208
                       haskell-http2             3.0.2-71             3.0.2-73
                haskell-implicit-hie           0.1.2.6-59           0.1.2.6-61
         haskell-implicit-hie-cradle           0.3.0.5-79           0.3.0.5-81
          haskell-incremental-parser           0.5.0.2-83           0.5.0.2-85
haskell-indexed-traversable-instances              0.1-65               0.1-66
               haskell-input-parsers             0.2.3-40             0.2.3-42
   haskell-insert-ordered-containers           0.2.5.1-14           0.2.5.1-16
                 haskell-interpolate            0.2.1-172            0.2.1-173
                       haskell-ipynb          0.1.0.1-272          0.1.0.1-274
                 haskell-ixset-typed              0.5-228              0.5-229
                        haskell-jose             0.8.5-33             0.8.5-35
                   haskell-js-jquery            3.3.1-750            3.3.1-752
                        haskell-knob             0.1.1-52             0.1.1-53
                    haskell-kvitable           1.0.0.0-47           1.0.0.0-48
             haskell-language-server           1.3.0.0-89           1.3.0.0-92
                    haskell-lattices             2.0.3-16             2.0.3-17
                        haskell-lens                5.1-7                5.1-8
                 haskell-lens-action             0.2.6-16             0.2.6-17
                  haskell-lens-aeson             1.1.3-18             1.1.3-20
                      haskell-list-t              1.0.5-2              1.0.5-4
                         haskell-lsp           1.2.0.1-48           1.2.0.1-50
                    haskell-lsp-test          0.14.0.1-52          0.14.0.1-54
                   haskell-lsp-types           1.3.0.1-41           1.3.0.1-43
                        haskell-lsp0          0.24.0.0-89          0.24.0.0-91
                   haskell-lsp0-test         0.11.0.7-103         0.11.0.7-105
                  haskell-lsp0-types          0.24.0.0-86          0.24.0.0-88
                  haskell-lumberjack           1.0.0.1-46           1.0.0.1-47
             haskell-microlens-aeson            2.3.1-164            2.3.1-166
                 haskell-microstache             1.0.2-13             1.0.2-15
                       haskell-mmark            0.0.7.4-8           0.0.7.4-11
                         haskell-mod           0.1.2.2-49           0.1.2.2-51
                  haskell-modern-uri           0.3.4.2-22            0.3.4.3-1
              haskell-monad-dijkstra          0.1.1.3-185          0.1.1.3-187
           haskell-monoid-subclasses             1.1.2-19              1.1.3-1
                    haskell-mustache             2.3.2-37             2.3.2-40
          haskell-neat-interpolation            0.5.1.3-9           0.5.1.3-10
                  haskell-network-ip          0.3.0.3-193          0.3.0.3-194
                haskell-optics-extra               0.4-66               0.4-67
            haskell-optparse-generic             1.4.7-12             1.4.7-13
             haskell-optparse-simple           0.1.1.4-84           0.1.1.4-86
                      haskell-ormolu           0.2.0.0-43           0.2.0.0-45
                haskell-pandoc-types             1.22-133             1.22-135
                      haskell-pantry          0.5.2.3-110          0.5.2.3-113
         haskell-parameterized-utils           2.1.4.0-25           2.1.4.0-27
                     haskell-parsers          0.12.10-201          0.12.10-202
                        haskell-path             0.9.2-10             0.9.2-12
                     haskell-path-io             1.6.3-53             1.6.3-55
                  haskell-persistent          2.13.1.2-57          2.13.1.2-59
            haskell-persistent-mysql         2.13.0.1-108         2.13.0.1-111
       haskell-persistent-postgresql          2.13.0.3-98         2.13.0.3-101
               haskell-persistent-qq         2.12.0.1-103         2.12.0.1-106
           haskell-persistent-sqlite          2.13.0.3-97         2.13.0.3-100
             haskell-persistent-test          2.13.0.3-96          2.13.0.3-98
                  haskell-pipes-http            1.0.6-403            1.0.6-404
           haskell-postgresql-binary          0.12.4.1-52          0.12.4.1-54
           haskell-postgresql-simple             0.6.4-66             0.6.4-68
               haskell-pretty-simple          4.0.0.0-131          4.0.0.0-132
               haskell-prettyprinter             1.7.1-26             1.7.1-27
 haskell-prettyprinter-ansi-terminal             1.1.3-28             1.1.3-29
haskell-prettyprinter-convert-ansi-wl-pprint     1.1.2-28             1.1.2-29
                         haskell-ptr          0.16.8.1-38          0.16.8.1-39
          haskell-quickcheck-classes           0.6.5.0-49           0.6.5.0-51
        haskell-quickcheck-instances          0.3.25.2-93             0.3.26-1
     haskell-record-dot-preprocessor            0.2.13-16            0.2.13-17
                         haskell-req             3.9.1-85             3.9.1-88
                        haskell-rere               0.2-69               0.2-70
                      haskell-retrie            1.1.0.0-2            1.1.0.0-4
             haskell-rio-prettyprint          0.1.1.0-178          0.1.1.0-180
                    haskell-safecopy          0.10.4.2-88          0.10.4.2-89
                         haskell-sbv              8.16-48              8.16-50
                      haskell-scotty             0.12-233             0.12-235
                   haskell-semialign           1.2.0.1-18           1.2.0.1-19
                   haskell-serialise           0.2.4.0-22           0.2.4.0-24
                     haskell-servant            0.18.3-48            0.18.3-50
              haskell-servant-client            0.18.3-94            0.18.3-96
         haskell-servant-client-core            0.18.3-56            0.18.3-58
              haskell-servant-server            0.18.3-91            0.18.3-93
             haskell-servant-swagger           1.1.10-227           1.1.10-229
                       haskell-shake            0.19.5-91            0.19.5-93
                 haskell-shakespeare           2.0.25.1-9          2.0.25.1-11
                 haskell-skylighting              0.11-65              0.11-67
            haskell-skylighting-core              0.11-67              0.11-69
                 haskell-snap-server          1.1.2.0-264          1.1.2.0-269
                   haskell-sourcemap              0.1.7-7              0.1.7-9
                  haskell-statistics         0.15.2.0-221         0.15.2.0-223
                 haskell-strict-list             0.1.6-34             0.1.6-35
                  haskell-structured             0.1.1-28             0.1.1-30
                    haskell-summoner          2.0.1.1-260          2.0.1.1-262
                haskell-summoner-tui          2.0.1.1-285          2.0.1.1-287
                    haskell-swagger2             2.6.1-61             2.6.1-63
               haskell-system-fileio         0.3.16.4-168         0.3.16.4-169
             haskell-system-filepath           0.4.14-173           0.4.14-174
        haskell-tamarin-prover-sapic             1.6.1-38             1.6.1-40
       haskell-tamarin-prover-theory             1.6.1-38             1.6.1-40
             haskell-tasty-checklist           1.0.3.0-49           1.0.3.0-51
                 haskell-tasty-hslua              1.0.0-7              1.0.1-2
                   haskell-tasty-lua          0.2.3.2-114          0.2.3.2-115
                 haskell-tasty-sugar           1.1.1.0-58           1.1.1.0-59
                     haskell-texmath           0.12.3.2-8          0.12.3.2-10
                haskell-text-builder           0.6.6.3-34           0.6.6.3-35
                    haskell-text-icu            0.7.1.0-5              0.8.0-1
                   haskell-text-show              3.9.2-9             3.9.2-10
                   haskell-tree-diff           0.2.1.1-17           0.2.1.1-19
                    haskell-trifecta             2.1.2-20             2.1.2-21
                      haskell-turtle            1.5.23-24            1.5.23-25
                          haskell-tz           0.1.3.5-46            0.1.3.6-1
           haskell-unicode-collation           0.1.3.1-18           0.1.3.1-19
          haskell-unicode-transforms             0.4.0-10             0.4.0-11
              haskell-vector-builder           0.3.8.3-13           0.3.8.3-14
                         haskell-wai             3.2.3-93             3.2.3-94
              haskell-wai-app-static          3.1.7.2-286          3.1.7.2-288
                 haskell-wai-conduit          3.0.0.4-390          3.0.0.4-391
                    haskell-wai-cors            0.2.7-209            0.2.7-210
                   haskell-wai-extra             3.1.8-26             3.1.8-30
          haskell-wai-handler-launch          3.0.3.1-364          3.0.3.1-366
                  haskell-wai-logger             2.3.7-67             2.3.7-71
       haskell-wai-middleware-static             0.9.1-49             0.9.1-51
              haskell-wai-websockets          3.0.1.2-314          3.0.1.2-315
                        haskell-warp            3.3.18-37            3.3.18-39
                    haskell-warp-tls             3.3.2-57             3.3.2-59
                       haskell-what4             1.2.1-84             1.2.1-86
                        haskell-wreq          0.5.3.3-152          0.5.3.3-155
                  haskell-xml-hamlet            0.5.0.2-9           0.5.0.2-11
                        haskell-yaml          0.11.7.0-32          0.11.7.0-34
                       haskell-yesod          1.6.1.2-109          1.6.1.2-112
                  haskell-yesod-auth          1.6.10.4-66          1.6.10.4-69
                  haskell-yesod-core          1.6.21.0-87          1.6.21.0-89
                  haskell-yesod-form            1.7.0-142            1.7.0-145
            haskell-yesod-persistent          1.6.0.7-128          1.6.0.7-131
                haskell-yesod-static          1.6.1.0-375          1.6.1.0-378
                  haskell-yesod-test           1.6.12-251           1.6.12-254
                       haskell-zinza               0.2-43               0.2-44
                            himalaya              0.5.3-1              0.5.4-1
                             hindent            5.3.2-115            5.3.2-117
                             hledger            1.24.1-26            1.24.1-28
                        hledger-iadd            1.3.16-19            1.3.16-21
                          hledger-ui            1.24.1-31            1.24.1-33
                         hledger-web            1.24.1-32            1.24.1-35
                               hlint             3.3.1-61             3.3.1-63
                              hoogle          5.0.18.2-64          5.0.18.2-66
                      hopenpgp-tools           0.23.6-206           0.23.6-209
                               hugin           2021.0.0-1           2021.0.0-2
                               idris            1.3.3-321            1.3.3-323
                                igsc              0.2.4-2              0.2.4-3
                         intel-metee              3.1.2-1              3.1.2-2
                     intel-metee-doc              3.1.2-1              3.1.2-2
                            ipv6calc              4.0.0-1              4.0.1-1
                                 iwd               1.23-1               1.24-2
                                josm              18360-1              18360-2
                      jupyter-server             1.13.4-1             1.13.5-1
                          jupyterlab              3.2.8-1              3.2.9-1
                            lesspipe               2.01-1               2.02-1
                           libfreexl              1.0.6-1              1.0.6-2
                           libkeccak                1.3-1              1.3.1-1
                              libluv           1.42.0_1-1           1.43.0_0-1
                         libmodulemd             2.13.0-1             2.14.0-1
                        libquicktime             1.2.4-25                    -
                             lua-luv           1.42.0_1-1           1.43.0_0-1
                           lua51-luv           1.42.0_1-1           1.43.0_0-1
                           lua52-luv           1.42.0_1-1           1.43.0_0-1
                           lua53-luv           1.42.0_1-1           1.43.0_0-1
                              luajit      2.0.5-3 2.1.0.beta3.r384.g1d7b5029-1
                          metasploit              6.1.8-2             6.1.28-1
                          misfortune          0.1.1.2-112          0.1.1.2-113
                   nodejs-lts-erbium            12.22.9-1           12.22.10-1
                  nodejs-lts-fermium            14.18.3-1            14.19.0-1
                                 npm              8.4.0-1              8.4.1-1
                           nvchecker                2.6-1              2.6.1-1
                        operator-sdk             1.16.0-1             1.17.0-1
                              pandoc            2.14.2-26            2.14.2-29
                     pandoc-crossref          0.3.12.2-11          0.3.12.2-14
                  papirus-icon-theme           20220101-1           20220204-1
                          pigeonhole             0.5.16-1             0.5.18-1
                           postgrest            8.0.0-106            8.0.0-108
                            pybind11              2.9.0-1              2.9.1-1
                             pyright            1.1.216-1            1.1.218-1
                   python-aresponses              2.1.4-3              2.1.5-1
                     python-autobahn            21.11.1-3             22.1.1-1
                     python-cfn-lint             0.57.0-1             0.58.0-1
                     python-cmarkgfm              0.6.0-4              0.7.0-1
              python-google-api-core              2.4.0-2              2.5.0-1
                        python-keras              2.7.0-3              2.8.0-1
                   python-matrix-nio             0.18.7-3             0.19.0-1
                         python-moto              2.3.2-1              3.0.2-1
                 python-phonenumbers            8.12.41-1            8.12.42-1
                     python-proxy.py              2.3.1-4              2.4.0-1
                 python-pycryptodome             3.14.0-1             3.14.1-1
                        python-pyicu                2.8-3              2.8.1-1
          python-pytest-responsemock              1.0.1-3              1.1.0-1
                        python-scipy              1.7.3-3              1.8.0-1
            python-sphinx-copybutton              0.4.0-3              0.5.0-1
                    python-sphobjinv                2.2-1              2.2.1-1
                      python-tempora              5.0.0-1              5.0.1-1
                      python-tomlkit              0.8.0-1              0.9.0-1
             python-websocket-client             0.59.0-3              1.2.3-2
                      python-ziamath                0.3-3                0.4-1
                python2-pycryptodome             3.14.0-1             3.14.1-1
                                pyzo             4.11.4-2             4.12.0-1
              rapid-photo-downloader             0.9.28-1             0.9.28-2
                               rekor              0.4.0-1              0.5.0-1
                            rkcommon              1.8.0-2              1.8.0-3
                               rnote              0.3.2-1              0.3.4-1
                            rofimoji              5.3.0-2              5.4.0-1
                                 sad             0.4.17-1             0.4.20-1
                          shellcheck             0.8.0-18             0.8.0-21
                             shotcut           22.01.30-1           22.01.30-2
                               stack            2.7.3-133            2.7.3-137
                             step-ca             0.18.0-1             0.18.1-1
                            step-cli             0.18.0-1             0.18.1-1
                          streamlink              2.4.0-2              3.1.1-1
                     stylish-haskell         0.12.2.0-114         0.12.2.0-116
                      tamarin-prover             1.6.1-81             1.6.1-84
                             taskell            1.11.4-81            1.11.4-84
                   teensy-loader-cli                2.1-4                2.2-1
                           terraform              1.1.4-1              1.1.5-1
                           texstudio              4.2.1-1              4.2.1-2
             thunderbird-dark-reader             4.9.43-1             4.9.45-1
                              tipp10              3.2.1-1              3.3.0-1
                           transcode             1.1.7-39             1.1.7-40
                   translate-toolkit              3.5.1-1              3.5.1-3
                             uranium             4.13.0-1             4.13.1-1
                             usbview                2.0-6                3.0-1
         v2ray-domain-list-community     20220124140856-1     20220201175515-1
                         v2ray-geoip       202201270031-1       202202030030-1
                     vaultwarden-web           2.25.1.b-1           2.25.1.b-2
                        vim-himalaya              0.5.3-1              0.5.4-1
                  webp-pixbuf-loader              0.0.3-1              0.0.4-1
                          wine-gecko             2.47.2-2             2.47.2-3
                           wine-mono              7.0.0-1              7.0.0-2
                              xmobar              0.39-77              0.39-79
                                xplc             0.3.13-8             0.3.13-9
                    haskell-onetuple                    -              0.3.1-1
                               ifuse                    -              1.1.4-2
                               kooha                    -              2.0.1-3
                  mattermost-desktop                    -              5.0.3-2
                         otf-crimson                    -              0.800-1
                     otf-crimson-pro                    -              1.003-1
                            syncplay                    -              1.6.9-4
                         ttf-crimson                    -              0.800-1
                     ttf-crimson-pro                    -              1.003-1
            ttf-crimson-pro-variable                    -              1.003-1
                              zettlr                    -              2.1.3-3


:: Different overlay package(s) in repository core x86_64

-------------------------------------------------------------------------------
                             PACKAGE           2022-02-04           2022-02-06
-------------------------------------------------------------------------------
                            linux510            5.10.96-1            5.10.98-1
                    linux510-headers            5.10.96-1            5.10.98-1
                            linux515            5.15.19-1            5.15.21-1
                    linux515-headers            5.15.19-1            5.15.21-1
                            linux516             5.16.5-1             5.16.7-1
                    linux516-headers             5.16.5-1             5.16.7-1
                             linux54            5.4.176-1            5.4.177-1
                     linux54-headers            5.4.176-1            5.4.177-1


:: Different sync package(s) in repository core x86_64

-------------------------------------------------------------------------------
                             PACKAGE           2022-02-04           2022-02-06
-------------------------------------------------------------------------------
                          debuginfod              0.186-3              0.186-4
                            elfutils              0.186-3              0.186-4
                              libelf              0.186-3              0.186-4
                              libusb             1.0.24-2             1.0.25-2
                              man-db              2.9.4-2             2.10.0-1


:: Different overlay package(s) in repository extra x86_64

-------------------------------------------------------------------------------
                             PACKAGE           2022-02-04           2022-02-06
-------------------------------------------------------------------------------
                            libpamac             11.2.0-6             11.2.0-7
             libpamac-flatpak-plugin             11.2.0-6             11.2.0-7
                libpamac-snap-plugin             11.2.0-6             11.2.0-7
                  linux510-acpi_call             1.2.2-11             1.2.2-13
                   linux510-bbswitch              0.8-112              0.8-114
                linux510-broadcom-wl     6.30.223.271-114     6.30.223.271-116
               linux510-nvidia-390xx           390.147-10           390.147-12
               linux510-nvidia-470xx         470.103.01-2         470.103.01-4
                     linux510-nvidia          510.47.03-1          510.47.03-3
                      linux510-r8168          8.049.02-49          8.049.02-51
                  linux510-rtl8723bu           20220114-5           20220114-7
                   linux510-tp_smapi             0.43-112             0.43-114
                linux510-vhba-module           20211218-7           20211218-9
    linux510-virtualbox-host-modules             6.1.32-5             6.1.32-7
                        linux510-zfs              2.1.2-8             2.1.2-10
                  linux515-acpi_call             1.2.2-11             1.2.2-13
                   linux515-bbswitch               0.8-26               0.8-28
                linux515-broadcom-wl      6.30.223.271-26      6.30.223.271-28
               linux515-nvidia-390xx           390.147-10           390.147-12
               linux515-nvidia-470xx         470.103.01-2         470.103.01-4
                     linux515-nvidia          510.47.03-2          510.47.03-4
                      linux515-r8168          8.049.02-26          8.049.02-28
                  linux515-rtl8723bu           20220114-5           20220114-7
                   linux515-tp_smapi              0.43-26              0.43-28
                linux515-vhba-module           20211218-7           20211218-9
    linux515-virtualbox-host-modules             6.1.32-5             6.1.32-7
                        linux515-zfs              2.1.2-7              2.1.2-9
                  linux516-acpi_call              1.2.2-6              1.2.2-8
                   linux516-bbswitch                0.8-6                0.8-8
                linux516-broadcom-wl       6.30.223.271-6       6.30.223.271-8
               linux516-nvidia-390xx            390.147-6            390.147-8
               linux516-nvidia-470xx         470.103.01-2         470.103.01-4
                     linux516-nvidia          510.47.03-1          510.47.03-3
                      linux516-r8168           8.049.02-6           8.049.02-8
                  linux516-rtl8723bu           20220114-5           20220114-7
                   linux516-tp_smapi               0.43-6               0.43-8
                linux516-vhba-module           20211218-6           20211218-8
    linux516-virtualbox-host-modules             6.1.32-5             6.1.32-7
                        linux516-zfs              2.1.2-7              2.1.2-9
                   linux54-acpi_call             1.2.2-11             1.2.2-12
                    linux54-bbswitch              0.8-185              0.8-186
                 linux54-broadcom-wl     6.30.223.271-186     6.30.223.271-187
                 linux54-ndiswrapper             1.63-141             1.63-142
                linux54-nvidia-390xx           390.147-10           390.147-11
                linux54-nvidia-470xx         470.103.01-2         470.103.01-3
                      linux54-nvidia          510.47.03-1          510.47.03-2
                    linux54-nvidiabl             0.88-185             0.88-186
                       linux54-r8168          8.049.02-47          8.049.02-48
                   linux54-rtl8723bu           20220114-5           20220114-6
                    linux54-tp_smapi             0.43-185             0.43-186
                 linux54-vhba-module           20211218-7           20211218-8
     linux54-virtualbox-host-modules             6.1.32-5             6.1.32-6
                         linux54-zfs              2.1.2-8              2.1.2-9
                     nautilus-legacy             3.26.4-2                    -
                           pamac-cli             10.3.0-4             10.3.0-5
             pamac-gnome-integration             10.3.0-4             10.3.0-5
                           pamac-gtk             10.3.0-4             10.3.0-5
                            qt5-base  5.15.2+kde+r296-2.1  5.15.2+kde+r297-1.1
             qt5-xcb-private-headers  5.15.2+kde+r296-2.1  5.15.2+kde+r297-1.1


:: Different sync package(s) in repository extra x86_64

-------------------------------------------------------------------------------
                             PACKAGE           2022-02-04           2022-02-06
-------------------------------------------------------------------------------
                                fftw             3.3.10-1             3.3.10-2
                          fontconfig          2:2.13.94-2          2:2.13.96-1
                             freetds              1.3.6-1              1.3.7-1
                            ghostpcl             9.55.0-3             9.55.0-4
                         ghostscript             9.55.0-3             9.55.0-4
                            ghostxps             9.55.0-3             9.55.0-4
                         imagemagick           7.1.0.22-1           7.1.0.23-1
                     imagemagick-doc           7.1.0.22-1           7.1.0.23-1
                       kuserfeedback              1.0.0-3              1.2.0-1
                   libreoffice-fresh              7.3.0-2              7.3.0-4
               libreoffice-fresh-sdk              7.3.0-2              7.3.0-4
                   libreoffice-still              7.2.5-2              7.2.5-3
               libreoffice-still-sdk              7.2.5-2              7.2.5-3
                        libxkbcommon              1.3.1-1              1.4.0-1
                    libxkbcommon-doc              1.3.1-1              1.4.0-1
                    libxkbcommon-x11              1.3.1-1              1.4.0-1
                          mesa-demos              8.4.0-6              8.4.0-7
                          mesa-utils              8.4.0-6              8.4.0-7
                        python-numpy             1.21.5-2             1.22.2-1
                     qt5-declarative     5.15.2+kde+r44-1     5.15.2+kde+r45-1
                         qt5-wayland     5.15.2+kde+r46-2     5.15.2+kde+r48-1
             qt5-xcb-private-headers    5.15.2+kde+r296-2                    -
                           qt6-tools              6.2.3-2              6.2.3-3
                           qtcreator              6.0.2-1              6.0.2-2
                         wireplumber              0.4.7-1              0.4.7-2
                    wireplumber-docs              0.4.7-1              0.4.7-2
                        zabbix-agent              5.4.9-1             5.4.10-1
                       zabbix-agent2              5.4.9-1             5.4.10-1
                 zabbix-frontend-php              5.4.9-1             5.4.10-1
                        zabbix-proxy              5.4.9-1             5.4.10-1
                       zabbix-server              5.4.9-1             5.4.10-1


:: Different sync package(s) in repository multilib x86_64

-------------------------------------------------------------------------------
                             PACKAGE           2022-02-04           2022-02-06
-------------------------------------------------------------------------------
                    lib32-fontconfig          2:2.13.94-1          2:2.13.96-1
                        lib32-libelf              0.186-2              0.186-3
                        lib32-libusb             1.0.24-1             1.0.25-2
                  lib32-libxkbcommon              1.3.1-1              1.4.0-1
              lib32-libxkbcommon-x11              1.3.1-1              1.4.0-1



No issue, everything went smoothly
Yes there was an issue. I was able to resolve it myself.(Please post your solution)
Yes i am currently experiencing an issue due to the update. (Please post about it)
Check if your mirror has already synced: